So you're going to the beach but you're not swimming. Perhaps it's that time of the month again and you just wanna be as dry down there as possible. Or perhaps you just wanna chill, read a book, and listen to the waves of the ocean, without soaking yourself wet. But you're unsure sure what to wear. This then is the perfect post for you. Below is my recommended list of what to wear at the beach if you're not swimming.
1. Denim shorts with crop tops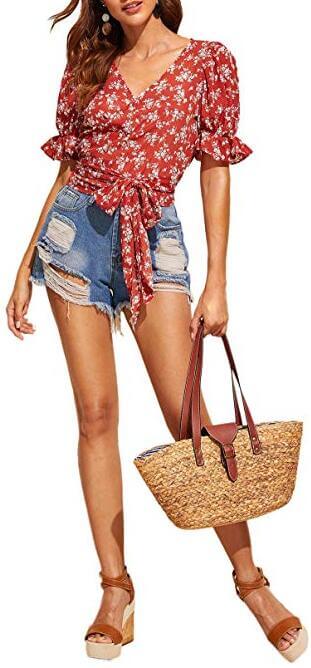 Shop this look on Amazon: crop top, shorts, earrings, straw beach bag
A crop top paired with denim shorts is the perfect outfit if you wanna show off your legs and booty. Wear them with flip flops or sandals.
2. Wrap dress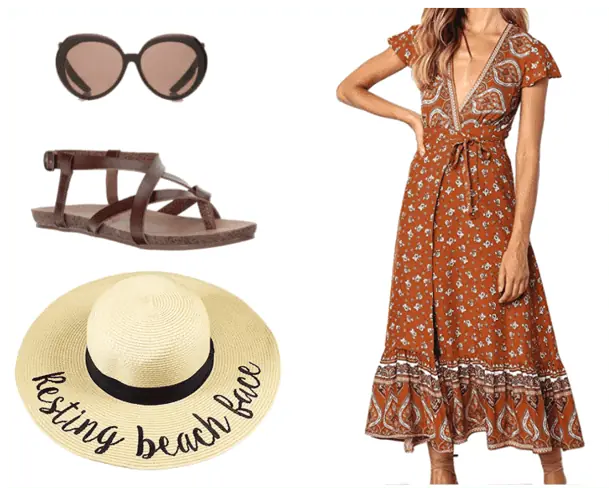 Shop this look on Amazon: wrap dress, sandals, beach hat

A wrap dress is your best bet if you're a fan of Bohemian outfits. Wear it with a wide-brimmed hat, strappy sandals, and sunglasses and you're beach-ready in an instant.
The great thing about wrap dresses is that they look great on any body type. They hug the waist and flare at the hips, creating an hourglass figure. And who doesn't want an hourglass figure?
3. Palazzo slit pants with a crop top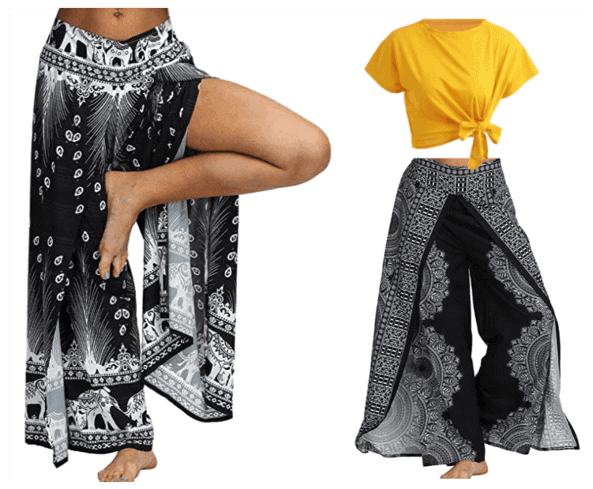 Shop this look on Amazon: palazzo pants, crop tops
Palazzo pants are perfect outfits at the beach for two reasons: they're super comfortable and they're flattering to any body shape.
You just can't go wrong with them. You can wear them in solid colors or printed. A good rule of thumb when choosing colors is, if you're wearing printed palazzo pants, then pair it with a solid-colored top to balance your silhouette. And vice versa.
And if you have short legs, create the illusion of longer legs by wearing high waisted palazzo pants with a crop top. It will create a proportion of 1/3 torso and 2/3 lower body which creates longer legs.
Lastly, if you want to show off your legs, then wear your palazzo pants with slits.
4. Flowy and floral jumpsuit
While it's true that jumpsuits are not everyone's cup of tea, they're still a good alternative if you don't like wearing dresses that are susceptible to being blown by the breeze.
The downside, of course, is that they're a little tricky comes the time to go to the restroom. Other than that, they make a fantastic beach outfit.
5. Flowy dress and strappy sandals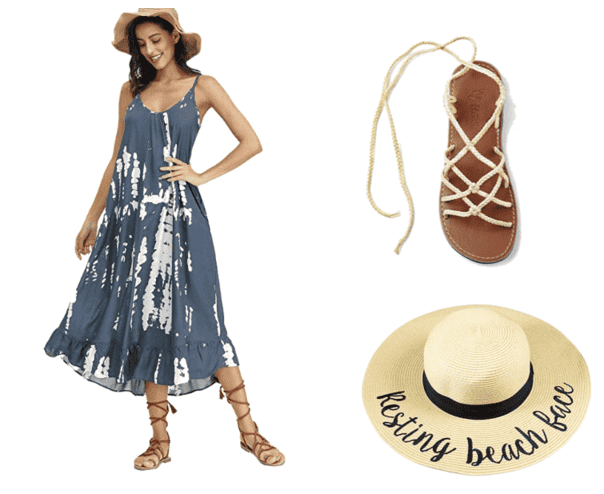 Shop this look on Amazon: dress, gladiator sandals, hat
Flowy dresses are just as flattering as wrap dresses. To add more character to your outfit, add in some strappy sandals with your wide-brimmed hat and you're good to go.
6. Rompers
If you have an hourglass or pear body shape, then a flowy romper will flatter your silhouette big time. A romper will highlight your well-defined curves and large booty without drawing attention to your tummy fats (if any).
If you want to highlight your legs, shop for rompers with diagonal lower hemlines as they'll make your legs appear shapelier and longer.
7. Maxi skirt, crop top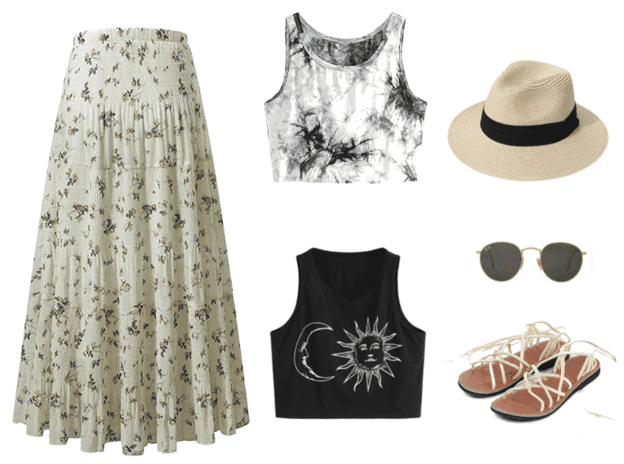 Shop this look on Amazon: maxi skirt, crop tops, sandals, hat
Wearing a maxi skirt with a crop top is just like wearing a dress. Unlike dresses though, you can mix and match them to your liking and experiment with different combinations.
8. A-line short dress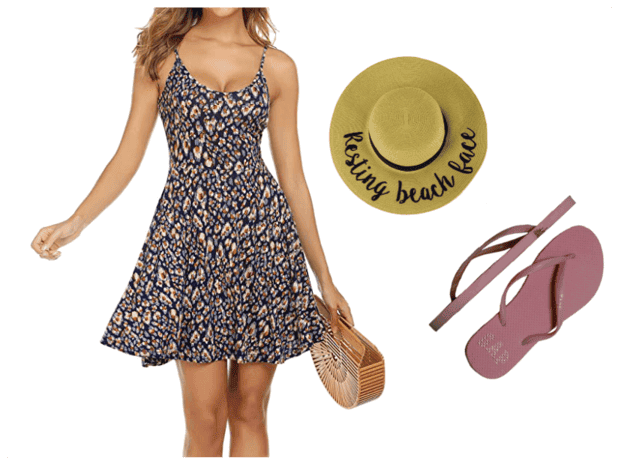 Shop this look on Amazon: spaghetti dress, flip flops, hat
A-line dresses, like wrap dresses, sculpt the waist and enhance the hips. This is a perfect go-to look for women with less-defined curves and straight bodies like rectangle, inverted triangle, and apple body shapes.
9. Statement shirts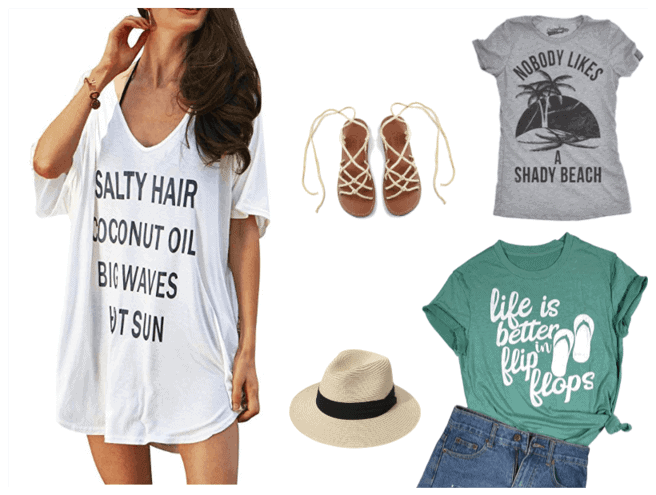 Shop this look on Amazon: Salty Hair, Shady Beach, Life is Better with Flip Flops, sandals, hat
If you're not a fan of girly outfits, then statement shirts are your best bet. You can pick whatever beachy statement you like, pair it with denim shorts, and a fedora hat if you fancy.
10. High-waisted denim shorts with a one-piece bathing suit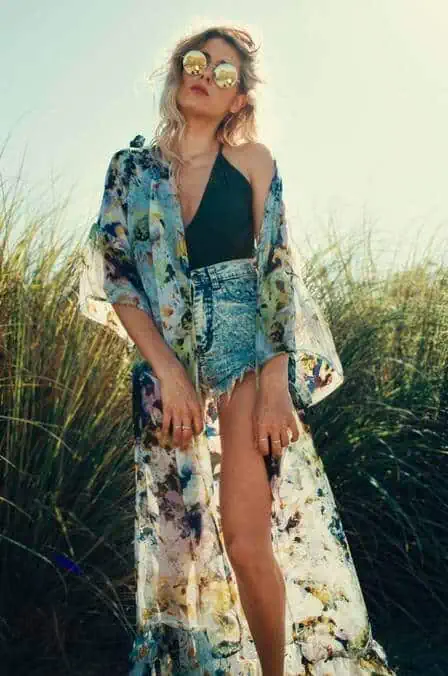 Shop this look on Amazon: denim shorts, one-piece, cover-up
Your one piece swimsuits are not only for swimming. They're so versatile that you can wear them with your skirts, slacks, jeans, and even as a beach top. The good thing is if you change your mind and suddenly wanna swim, then your one-piece is gonna function as a multi-purpose piece for you.
11. Swim dresses
While swim dresses are made for swimming, they technically resemble regular dresses so wearing them even if you're not swimming or even outside the beach is perfectly practical and even flattering if you choose the right cut for your body shape.
12. Swim tankini and shorts
Like swim dresses swim tankinis and shorts look just like regular clothing. Their only difference is that they could be worn both as a regular outfit and a swimwear.
13. Straw beach bag
When shopping for a beach bag, it's a good idea to pick the ones with neutral colors so that they go together with any outfit you wear.
14. Beach towel
If you're planning to just lie down on the shades and listen to the waves of the ocean while reading or relaxing, then you'd also need a wide and thick beach towel.
Just in case…
It is not uncommon to initially decide not to swim but suddenly change your mind once you arrive at the beach with its crystal clear water. And if it's too humid, who's to say for certain that you won't be longing for the sea's calming embrace?
That said, it doesn't hurt to wear your bikinis underneath your outfit in case you change your mind and decide to finally go swimming.
---
If you need a guide on how to pick the best swimsuit based on your body shape and size, read this guide.
Other than that, have a blast!
You Might Also Like: