Whether it's one piece, bikini, tankini, or swimdress, this post will help you determine whether you're wearing the right size and fit. Here's how swimsuits are supposed to fit.
So how exactly are swimsuits supposed to fit? As a general guide, a swimsuit with the right fit is comfortable— no digging underwire, no slipping straps, the cups aren't squishing the breasts, no unwanted wedgies and should fit your figure the way it was promised. If you wanna know the nitty-gritty on how to recognize the right fit from the ill-fitting ones, read on.
How bikini tops should fit
Most swimsuits often come with built-in bras. So it only makes sense that we use the fitting criteria of a bra as an initial guide then adjust it a little bit. Hence, the following criteria:
The band
Tightness: When set to its loosest hook, it should be snug enough to stay put but not so snug to be uncomfortable. You should be able to fit your three middle fingers between your back and the band but not your entire hand.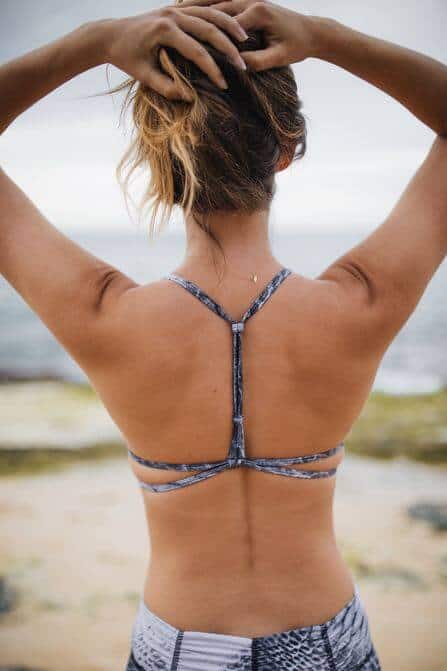 Note: Swimsuits loosen up a bit when wet. Meaning, if your activity mainly consists of heavy swimming and movement, err on the safe side and go for a snugger band size or a top that allows you to adjust the band's tightness.
If you're just lounging around and tanning with occasional swims, then you don't need that much support.
Level: The front and back band of your bikini top should sit at the same level— right below your breasts. Not too high, not too low. When the back band is too high or too low, the cups drop down and the weight of your breasts is passed to the straps. This causes undue stress to your neck and shoulders.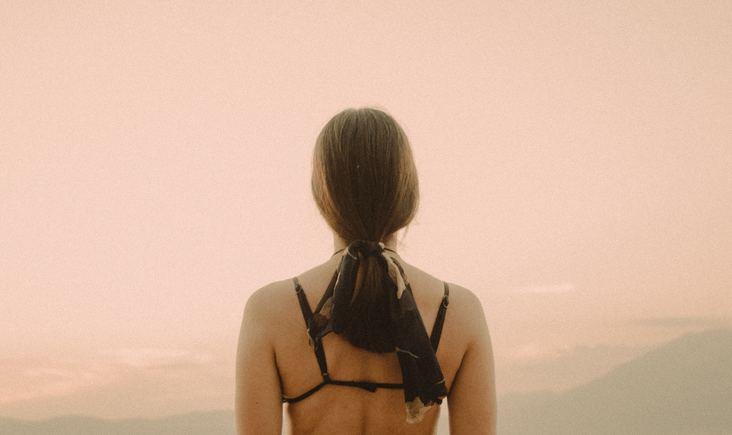 When this happens, adjust the straps to it's longer length.
If the band reaches the recommended level but the fit feels off or the band eventually hikes up, chances are, you're wearing a size bigger than your own. Size down. If the bands are tight in the first place, size up.
But if after resizing and the fit is still off, toss it. Look for a different design or brand. Some bikini tops are just not meant to be worn.
The straps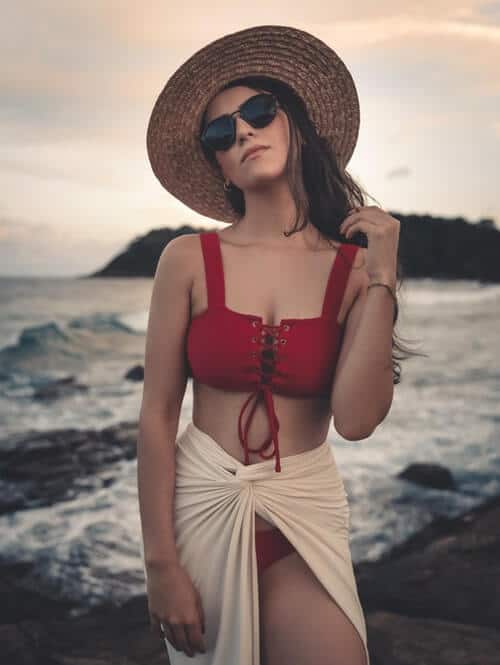 Support: The straps should only support the residue weight of your breasts. Most of the weight (about 80%) must be supported by the band alone. Therefore, the straps should not be digging on your skin. If they are, it means they're carrying more weight than they should be. Adjust it looser.
Tightness: Once properly adjusted, they should be snug enough to fit your three middle fingers under and lift about an inch away from your shoulders.
Most importantly, the straps should never slip off. If they do even after readjusting them tighter, it only means they're set too wide for your shoulders. This usually happens if you have a petite and/ or a pear body shape (read: narrow shoulders).
If this is the case, shop for bikini tops specifically designed for petite or pear bodies. Or look for tops with halter straps as they're unlikely to slip off.
The cups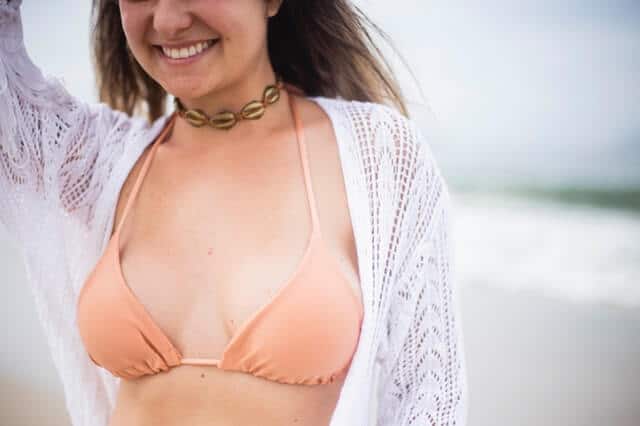 Position: The cups of your bikini top should lie more or less flat against your breast, rather than digging or gaping.
If your bikini top has no business showcasing your sideboobs or underboobs, but it is anyway, then you're wearing the wrong cup size. Cups that are too small tend to reveal the bottoms and sides of the breasts. Cups that are too big create gape.
If you have sized up but it's still smooshing your breasts tissue up and over the edge of the cup, then examine the shape of the cups. Chances are, they're shaped too shallow to fit your breasts. This usually happens to women with cup sizes D and up. Consider a different design.
Again, all these often come with discomfort and an ill-fitting look. So when in doubt, toss it.
The underwires
Position and placement: The wires should not hurt and dig on your skin. Period. They should lie comfortably flat against your sternum rather than poking at you or floating away.
A slight tilt towards your fuller side isn't a big concern, but if the center wires dig in or float away from your body, it's a sign that something's wrong.
Center wires digging in is often a sign of too-big cups while floating center wires could mean too-shallow/ too-small cups or too-wide wires.
Moreover, if the wires dig at your sides, it could be that the cup size of the bra is too small, or the wires come up too high under your arms.
How bikini bottoms should fit
A well-fitted swimsuit bottom should have strong coverage and secure backside. It is something that you put on and never touch again (at least not every 5 minutes.) If you're constantly readjusting your bottom to get rid of an unwanted wedgie, it's a sign that you should size up.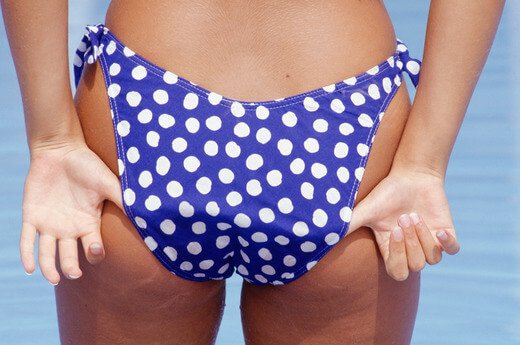 On the other hand, if your swimsuit bottom sags and its fabric loosens when wet, look for a different brand altogether. It means the fabric wasn't conducive to swimming in the first place.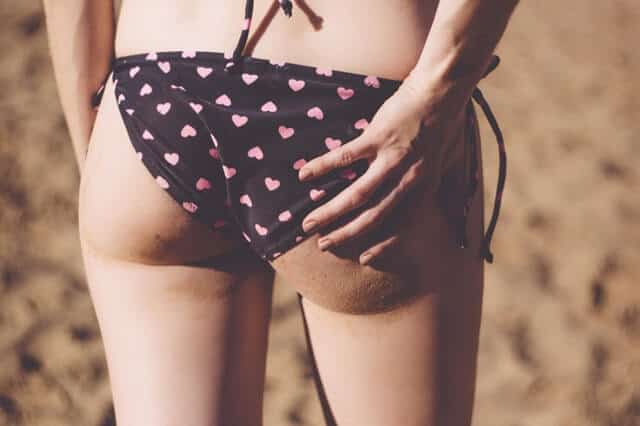 And lastly, whether it's a one piece, a bikini, or a swim skirt, a well-fitted swimsuit bottom should NEVER highlight your muffin top whatever your body shape and size. If it does, size up.
How should a one piece swimsuit fit
One piece swimsuits should sit comfortably on your whole body— bust, waist, torso, hips. The same is true even for one pieces and high waisted bikinis with tummy control panels. When you move, the crotch should stay put and no unwanted wedgie should appear nor should the bottom sag.
The default one piece measurement
Since one piece bathing suits cover much of the torso, manufacturers are forced to make several assumptions when designing them. Here are some of the assumptions:
The default one piece is designed for women who are between 5'4″ to 5'8″ tall—not short, nor long waisted, making it hard for petite or long-torsoed women to find the right one piece that fits.
The wearers should be evenly proportioned between top and bottom. This is okay for body types rectangle, diamond, and hourglass. Unfortunately, the same cannot be said for pear and inverted triangle ladies whose tops and bottoms are at least one size apart.
Wearers should have an even proportioned waist and waistline. Not for apple and diamond body type which tummy is the most prominent part.
So can you still wear a one piece if you're a pear, apple, or inverted triangle?
You sure can. But you need to remember these tips:
If you're curvy, opt for a one piece with stretchy materials to accommodate your figure. A safe percentage is at least 70% nylon or 70% spandex. Avoid 100% polyester at all costs. It's not as flexible.
Before placing an online order, measure your bust, waist, hips, and torso then match it to the sizing of the brand. Here's a guide on how to measure your size accurately.
Or ditch the one piece altogether and buy a tankini instead.
Tankinis will give you a one piece bathing suit look while actually wearing two pieces.
It gives you the flexibility to choose separate sizes for your top and bottom plus it's easier to fit and put on which means easier bathroom breaks. 🙂
Not to mention that you can also mix and match so you aren't tied to one look.
You Might Also Like: