Wearing a bikini for the first time in public can be daunting for a lot of women. Perhaps your culture frowns upon women showing "too much skin". Or perhaps you're intimidated by the thought of exposing your body with its imperfections. Whatever your reasons are, I wrote this post to demystify the whole process for you.
In a nutshell: When wearing a bikini for the first time, you have to consider four factors: what your body type is, how much skin you're willing to show, which body parts you're proud to flaunt, and which problem areas to camouflage.
This way, you can narrow down your choices and focus on pieces that look best on your body shape. Here's an in-depth guide on how to wear a bikini for the first time with confidence and comfort.
Know your body type.
This is the most important tip. You can't go shopping for a bikini without knowing your body type first.
Knowing your body type means knowing your best features and how to flaunt them, as well as knowing your problem areas and how to camouflage them. This will ensure that you're wearing nothing but the best design for your body shape.
There are 5 main body types/ shapes: apple, rectangle, inverted triangle, pear or triangle, and hourglass. Each has its own strengths and weaknesses. And it's essential that you know which body type you are before you spend your dollars.
Choose modest designs over skimpy ones.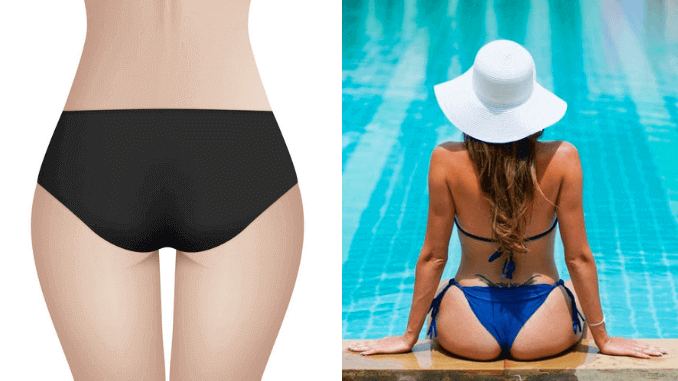 Trust me. If it's your first time wearing a bikini in public, you'll feel ten times exposed and uneasy.
Wearing a modest swimsuit will cut down your uneasiness by half and help you transition smoothly instead of scare you away from wearing a bikini again.
Remember when shopping for a modest swimsuit:
If you're not comfortable showing any butt cheek, opt for swim shorts or high waisted bikinis. Swim shorts look flattering on any body shape, while high waisted ones look best on long-torsoed bodies. Not sure if you can pull off a high waisted look? Check this out: What Body Types Can Wear High Waisted Bikinis?
When opting for a panty style bikini bottom, choose one with a full butt coverage. If you think you're okay showing a little booty, go for Level 3. Level 4 and 5 are way too revealing to be comfortable for a first timer.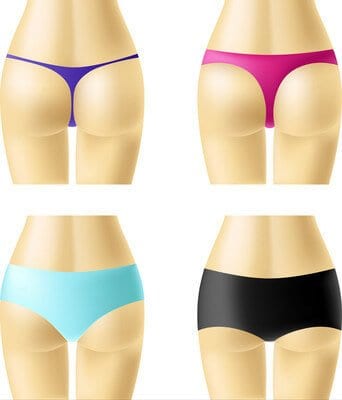 If you don't feel like showing your tummy, go for a one-piece swimsuit and always check its booty coverage level.
You can also opt for tankinis and swim dresses. They're excellent at hiding the tummy in a flattering way.
Take peplum tankinis for example. They slim down the tummy and enhance the hips, creating the illusion of an hourglass figure. Perfect if you're looking to accentuate your curves.
Decide which body parts to boost.
Depending on your body type, the parts that might need some boost could vary. Follow the steps below according to your body type.
If you're a pear or triangle shaped lady, your upper body is noticeably narrower than your lower body. If you want to widen your shoulders and balance your proportion, go for styling tip 1 (scroll down). Your lower body and hips are doing just fine.
If you have a rectangle body shape and you want to enhance your breasts and booty and accentuate your curves, follow styling tip 1, 2, and/or 3 (scroll down) depending on what you're aiming for. If you want to embrace your straight body, skip this. After all, most supermodels do have straight bodies and they look gorgeous as they are.
If you're an inverted triangle, all the drama should be happening at your hips. The goal is to visually widen them as well as enhance your booty. Therefore, follow tip number 2 (scroll down).
If you're an apple body type with your midsection as the most prominent part of your body, follow tip number 3 (scroll down). That's if you want to camouflage your tummy fats and create a more hourglass proportion.
If you're an hourglass, consider yourself lucky as your proportion is already balanced. This means you can literally wear any designs as long as they provide enough support and coverage for a lady with ample breasts and curvaceous hips.
If you're looking to accomplish a particular look though (like more enhanced breasts, slimmer waist, or wider hips), pick any of the tips below.
Tip #1: How to enhance your bust.
For rectangle, apple, and pear
Wear voluminous tops like ruffled off shoulders or push-up tops that enhance your cup size. Voluminous tops accentuate the shoulders ( perfect for pear/ triangle) while push-up bras enhance the cleavage (for rectangle and apple).
Tip #2: How to enhance your hips and booty.
For inverted triangle, rectangle, and apple.
To enhance your booty, wear bottoms that create the illusion of a toned booty. Thongs do the job perfectly. But since we want to avoid skimpy bikinis on your first day, opt for scrunched bottoms with full coverage instead. The scrunched effect will make your booty look more toned than it actually is.
To widen your hips, go for bottoms with tie side details. The extra side strings trick the eyes to see wider hips than you actually have. You can also go for ruffled bottoms. Any voluminous bottoms will do the trick.
Another technique is to wear high-leg cut swimsuits. The hiked up fabric exposes the widest part of the hips defining your hips better. This is not your best choice though if you aren't comfortable exposing your butt cheek since all high-leg swimsuits have tiny, tiny rear coverage.
Wear horizontal stripes as your bottom. Horizontal lines are widening while vertical ones are slimming.
Lastly, and the oldest trick in the book, is to wear printed pieces. If you're an inverted triangle, you can even pair it with a plain colored top (preferably black) to downplay your shoulders even more thus enhancing your hips in the process.
Tip #3: How to enhance your curves.
For rectangle and apple body shape
You can enhance your curves by creating a contrast between your waist against your shoulders and hips. Let's say you want your figure to look like as hourglass as possible.
Then you can do these:
Wear a one-piece or high waisted bottom with an attached tummy control panel to tuck in your tummy fats (if you have any) and provide a more hourglass shape to it. Think of tummy control panels as corsets. Only for swimming and very lightweight.
Look for designs that are the opposite of angular. Triangle bikinis and deep plunging V-neck swimsuits are perfect examples. They distract the eyes from the straightness of your body and provides an area of interest for the eyes to focus on.
Wear patterns that mimic an hourglass shape like peplum or handkerchief tops. Or you can go for an hourglass cutout like this:
Swimsuits that mimic an hourglass shape gives the illusion of a curvier waist. This burgundy one-piece kills two birds with one stone by featuring both hourglass cutout as well as deep plunging V-neck.
Or wear a pair of ruffled top and string bikinis. Ruffled and string bikinis enhance both bust and hips. In the process, it makes the waist appear slimmer through contrast. Take a look at this photo:
The ruffled top widens the shoulders and the string bottom widens the hips. The result? A waist that looks curvier and more defined than it actually is.
Camouflage problem areas.
Problem areas are the part of your body that you're less proud to show off. (If you don't have one, skip this.) Depending on your body type, your problem areas could vary.
For example, pear/ triangle ladies find that when they gain weight, their hips look too big for their bust. If you want to downplay your hips, follow these tips:
Wear dark, plain colored bottoms. Dark colors, especially black, are slimming. The opposite is true for prints and lighter colors so reserve them only as your top, not as your bottom.
Wear bottoms that are devoid of strings and ruffles. They make the hips appear even wider.
Rectangle ladies might want to enhance their breasts and accentuate their curves. The tips have already been discussed above at tip #3.
If you're an inverted triangle, and you want to downplay the broadness of your shoulders, follow these tips:
Shop for simple tops devoid of any ruffles and extra details at the side as they make the shoulders look wider.
Instead, opt for tops with details at the center. They force the eyes to focus at the center, camouflaging your shoulders in the process. Examples are deep plunging V-neck, crisscross, or crochet designs in the middle. Like this:
Shop for tops with vertical and diagonal stripes. Vertical and diagonal lines are slimming while horizontal ones are widening.
Wear plain, dark-colored tops. Black is especially best but feel free to wear any plain colors. Avoid printed tops especially if you're not wearing a bottom that widens the hips (like string or ruffled bottoms).
You can wear a halter top as long as it has wide straps. Thin straps highlight the bulk of your shoulders. If you must wear a halter with thin straps, it has to have that detail in the middle to distract the eyes from your shoulders. Like this crisscross top.
If you have an apple body and you want to camouflage your tummy fats, follow these:
Wear vertical and diagonal lines stripes. These lines are exceptional at camouflaging tummy fats and making you appear slimmer. Avoid horizontal lines as they do the opposite.
Plunging necklines like U or V neck will elongate and slim you down. The deeper the plunge, the slimmer the effect.
Dark, plain colors (like black) are slimming.
For a complete list of slimming designs, click here.
Include a cover-up on your shopping list.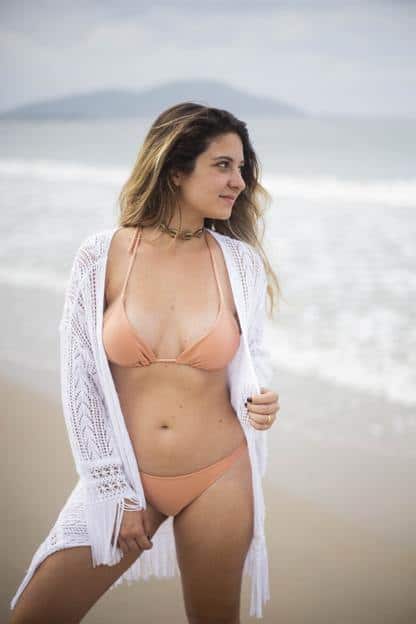 Perhaps wearing a bikini near the shore or when sunbathing is comfortable enough for you. But once you head to the beach restaurant, you might start to feel a little icky with the stares you'll occasionally draw.
A cover-up will make you feel sexy without that uncomfortable feeling of being overly exposed.
You can go for an opaque cover-up with a Bohemian vibe or a see-through for a more daring look. Whatever you choose, don't go to the beach without one.
Denim shorts will do too.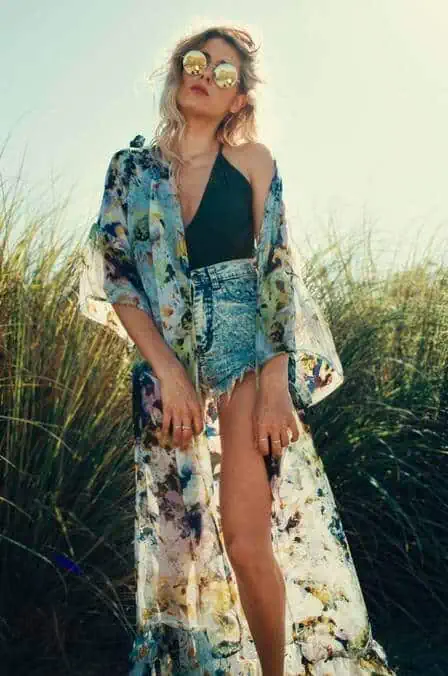 Most of the time, women are generally more anxious to cover the bottom part than the top. So if denim shorts as your cover-up makes more sense to you, it's your call.
I personally prefer shorts over a cover-up because it's easier to move when island hopping. Plus, I don't have to bring additional clothing since denim shorts are so versatile that I can wear them just about anywhere.
Consult a trusted friend.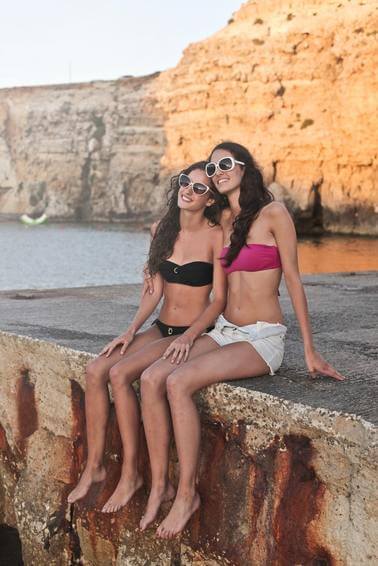 Now that you have your own criteria on how a perfect bikini for you should look like, and you're ready to try it on, it's time to ask a trusted friend's opinion.
It's crucial that your friend knows your criteria and should judge your outfit based on that.
So long as you approve of your adviser's general taste in fashion, you don't really need a fashion expert on this.
The first person who saw me wearing a bikini was my roommate, who, by the way, haven't worn a bikini in her entire life. But she actually ended up giving me the right advice and I felt absolutely great wearing that first bikini.
One thing to make sure though is your adviser must have your best interest at heart, must care about you, and can give you constructive and honest feedback.
Ask your friend to capture you on video/ photo.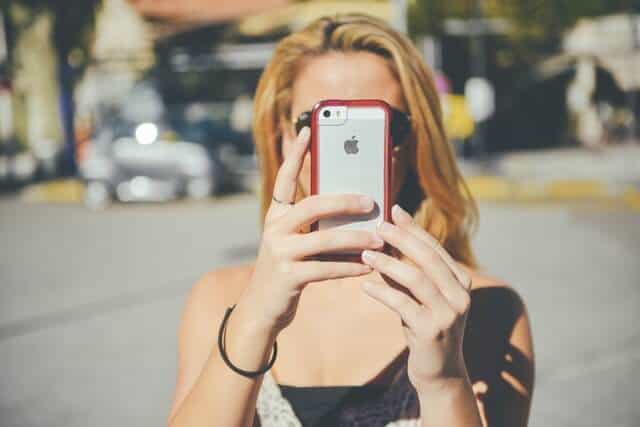 Ultimately, the only opinion that'll matter is yours. So ask your friend to record you on video while you're walking around the house, and take pictures of your back, side, and front, then you can decide if it's the bikini you wanna wear.
If you aren't ready to show yourself to someone yet, set a timer on your camera and take that photo or video. Walk around, watch yourself in the mirror, and get a feel of how comfortable you are, then decide if it's the bikini you want to be seen wearing in public.
Bring along the squad.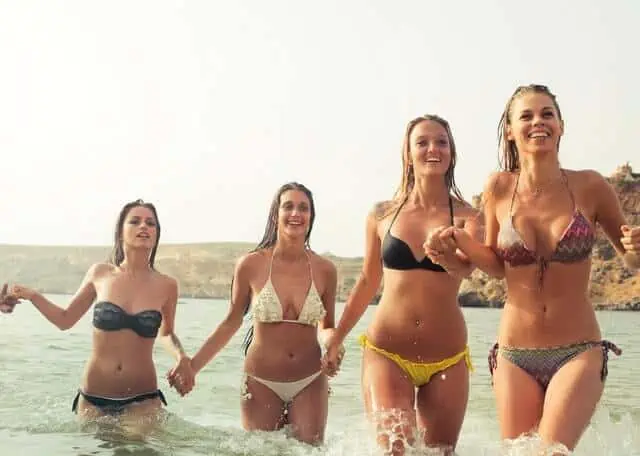 I don't recommend going to the beach alone when you're wearing a bikini for the first time, simply because you'll likely end up not wearing it anyway.
If you're 100% sure however that you can, then go ahead. Preferably, it's better if you go to a resort where most of the beach-goers wear bikinis.
Otherwise, you'll definitely get more stares than you can handle. This advice is to make you as comfortable as possible on your first day.
How to get used to that feeling of being watched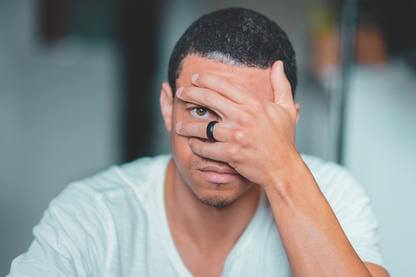 You will be stared at. Period. At some point or another, a set of eyes will wander onto you, consciously or unconsciously.
And that's totally normal. Heck, humans (even women) do this all the time even with clothes on.
If there's something you need to know before wearing a bikini, it's this: you need to be able to accept yourself and your body for what it is and what it is not.
Wearing the most flattering bikini for your body type can only do so much.
If you want to make your tummy appear smaller, by all means, wear swimsuits that'll make your tummy appear smaller, go do your daily crunches.
But you need to be able to accept the fact that at the end of the day, it is your tummy and accepting it for what it is and what it is not, is a better alternative than hating it and making yourself miserable.
Enhancements by choosing the right style are fine but all of that is useless without first accepting yourself. Go to the gym and workout, shop for the flattering swimsuits, but do it primarily for self-love, and less for pleasing other people.
Feel free to break the styling rules.
While there's a standard style guide that defines the assets and problem areas for each body type, you certainly shouldn't let it stop you if you wanna make your own rule. After all, beauty is subjective. This means that you can define your own assets and flaunt them.
For example, you have a pear body. In the standard guide, you normally should tone down your hips while focusing on widening your shoulders. But what if you don't wanna do that? What if you actually wanna flaunt those ample hips that your mama give ya and embrace your pear-shaped goodness?
Or what if you have a rectangle body, straight with barely any curves? What if you actually don't want the extra curves that the guide suggests? After all, most supermodels have rectangle bodies.
Or maybe you're an inverted triangle with an athletic body, with shoulders broader than your hips. You're hella proud of them and don't wanna change a thing.
Then, by all means, create your own rules and wear what makes you you. After all, beauty is subjective and there are various rules across the world. Choose what's yours then own them.
The important thing is, you're wearing your own expression and hella proud with it.