As an affiliate, Answearable earns from qualifying purchases at NO cost to you. Learn More.
Maybe you aren't comfortable showing too much skin at the beach. Or you don't think you look sexy enough to even wear a swimsuit. Perhaps you're trying to hide a certain "problem area". Whatever your reasons are, here's a detailed guide on what to wear at the beach if you're self-conscious.
If wearing a swimsuit at the beach makes you feel self-conscious, the first thing you need to do is understand why.
Is it your first time wearing a swimsuit? Are you going with people whom you aren't comfortable seeing you in your bikini outfit? If this was the case, what do you think will make you feel more at ease?
For most girls, it's usually wearing less revealing swimsuits. It'll make you feel less exposed and naked. You don't have to look like a bag of potato either. These swimsuits are designed to look flattering on any body shape.
If you're trying to hide a certain body part, like your booty or tummy, they're effective at it too. Here are the designs you can wear to the beach if you're feeling self-conscious but still wanna look sexy and classy.
Swimsuits with full booty coverage
We all know that cheeky bikinis are very in today and that they slim down the overall figure and give the booty a toned look. But see, cheeky bikinis aren't for everyone.

So if you don't feel like sporting a cheeky bikini, with half of your butt cheek jiggling and bouncing to the rhythm of your walk, know that you do have a choice. Go for full booty coverage bottoms.
If you wanna hide your cellulite, go for level 1 coverage where your entire butt cheek and upper thighs are covered like boyshorts and swim skirts.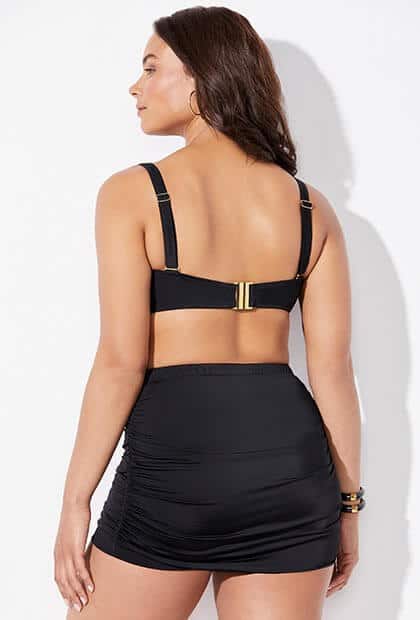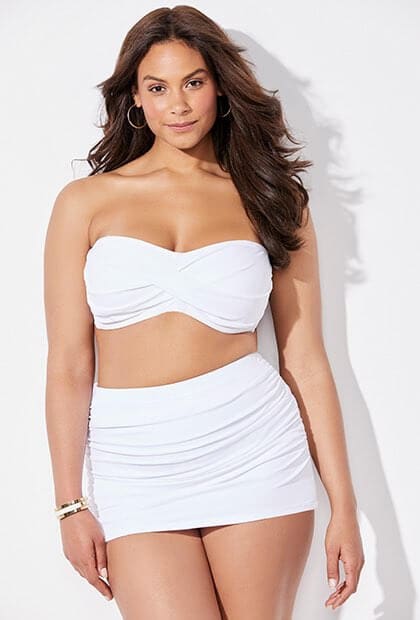 Or you can go for level 2 classic coverage, where your upper thighs are exposed but your butt cheeks are completely covered.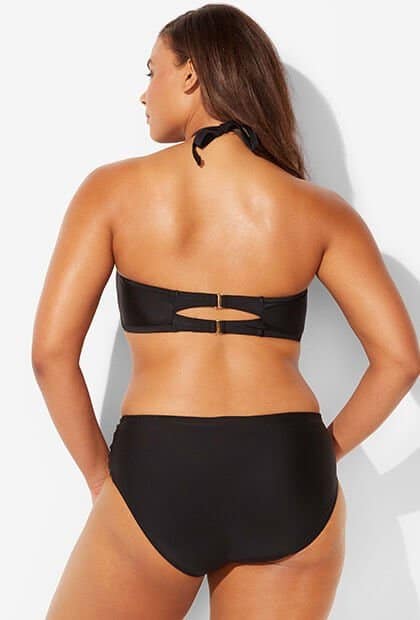 High waisted bikinis
High waisted bikinis are perfect if you want to cover up your tummy fats or if the thought of revealing your belly button simply isn't appealing to you.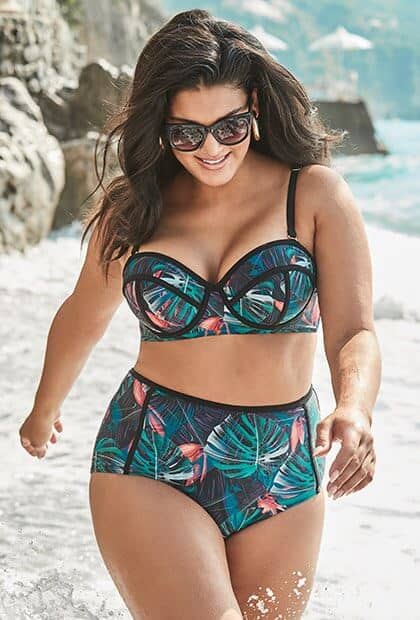 If you want to camouflage your tummy fats even more, go for a black high waisted bottom.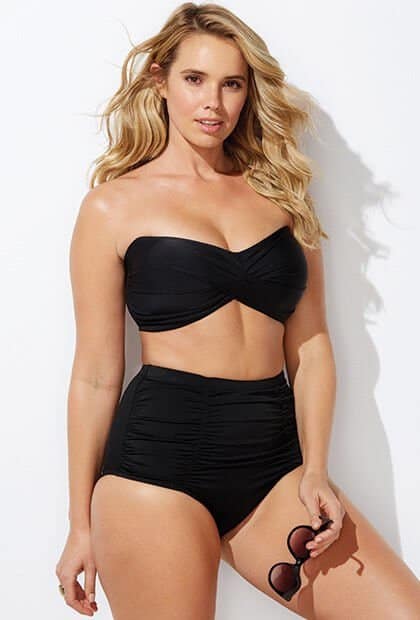 And if your tummy is your main problem area, invest in a swimsuit with an attached tummy control panel. A tummy control panel comfortably tucks in your belly fats and shapes your waist and hips into an hourglass.
Tops that cover the entire tummy
Understand that you don't have to show more skin than you're comfortable with to be sexy and fun. Tankinis are not dead ladies! And they're certainly not boring. Whoever said that clearly didn't get the memo on how to find the right piece.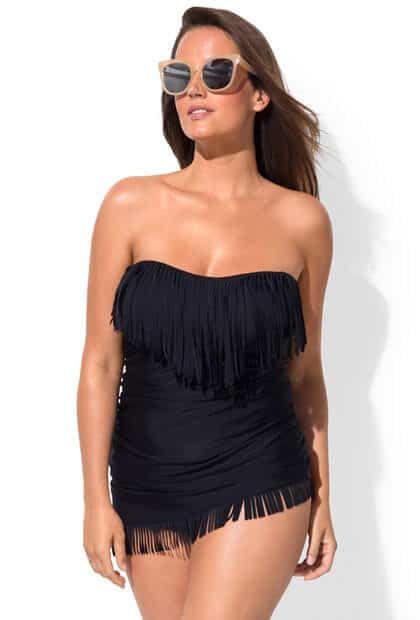 This frilled tankini, for instance, is novel, fun, and sexy rolled into one. It shows enough to tease but not enough to bore. The frills at the bottom highlight the thighs while the sloping diagonal frills at the chest enhance the curves.
Overall, a flattering and classy taste without forcing you to strip.
Peplum tankini
Why hide under an unflattering, bulky piece of fabric when you can wear a peplum? Peplum tops are flattering because they slim down the figure by mimicking an hourglass waist— a silhouette that's always flattering to any woman of any size, shape, and age.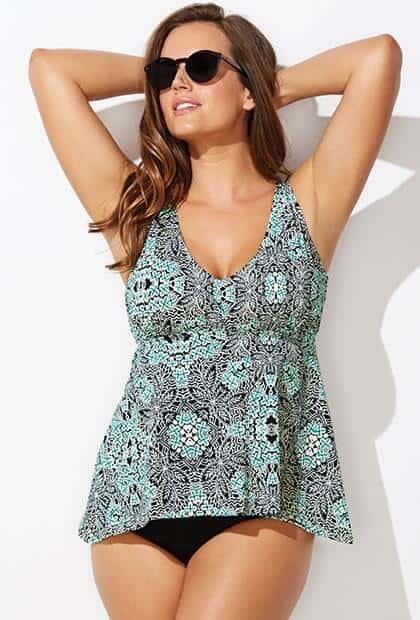 Handkerchief tankini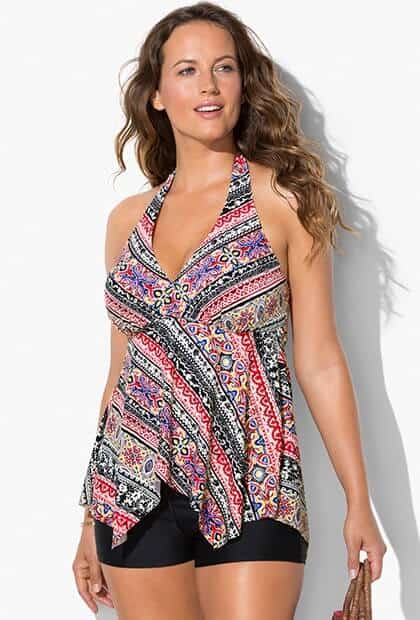 Handkerchief tops slim down your figure for two reasons: first, it slopes into a diagonal line which, just like vertical line, is slimming; second, it's loose and flowy, de-emphasizing the bulk of your tummy in a flattering way. Pair it with a full booty coverage bottom and you barely have to show skin while staying classy and sexy.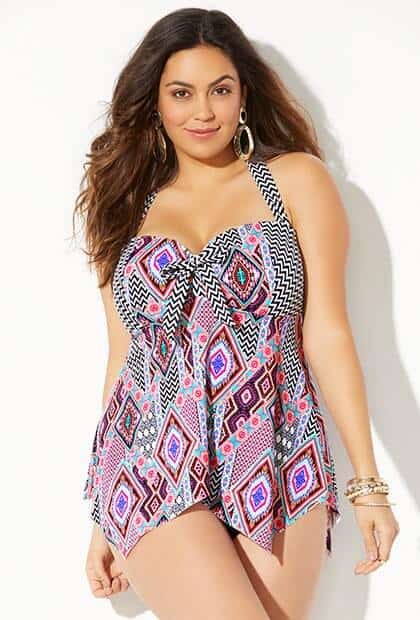 This is perfect if you're at a pool/ beach party with people whom you aren't comfortable seeing you in a regular skimpy triangle bikini. Your boss and colleagues at work for instance.
One piece
One piece is classic and versatile. It can literally function as a swimsuit and/ or a top and can be worn on various occasions, be it formal or casual.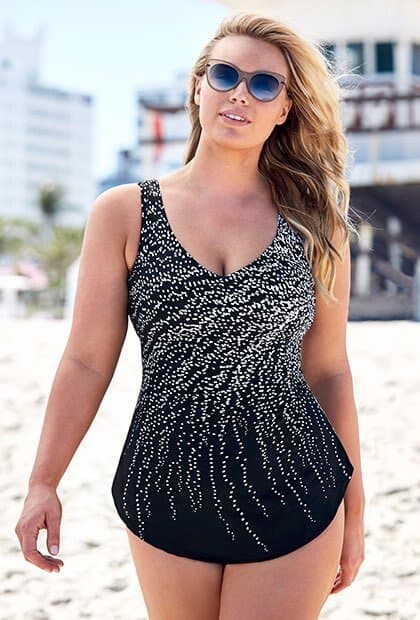 Cover up is your bestfriend!
If you start to feel self-conscious over that dude who's stealing glances at your booty, throw in a flowy cover-up and consider yourself covered.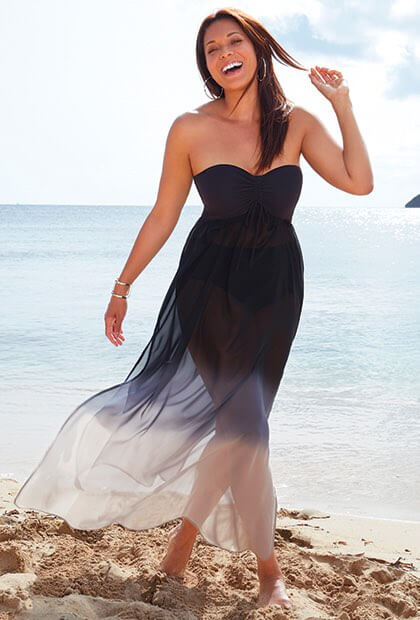 A cover up will help you feel comfortable and make the most of your time at the beach without you feeling self-conscious.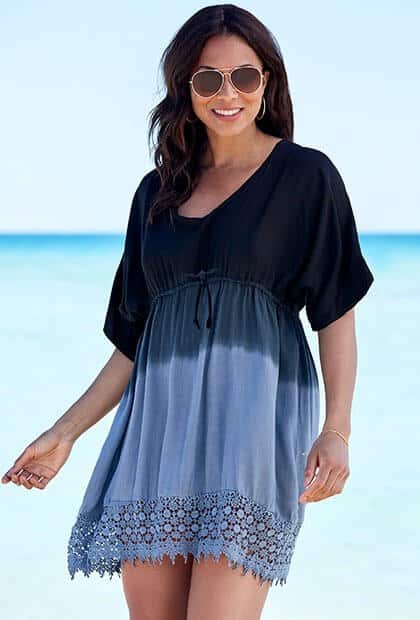 If cover up dresses isn't your thing, feel free to wear a pair of denim shorts and cool sunglasses.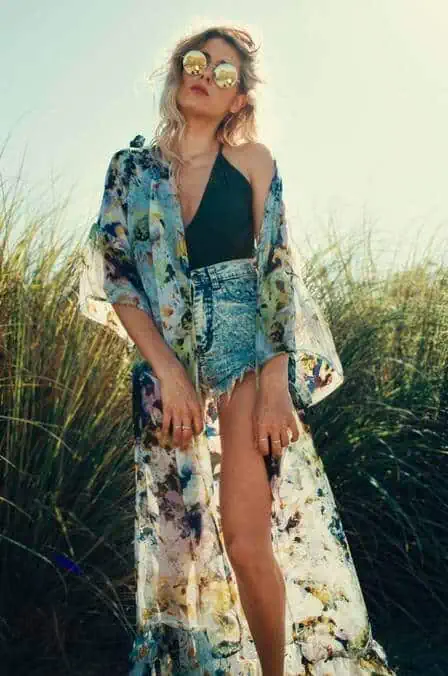 Designs that slim down the tummy and arms
Remember these designs if you're hesitant to wear a swimsuit because of your body fats. The most common concerns I hear are tummy and arm fats.
V-neck: The deeper the plunge of the neckline is, the slimmer it makes your figure. It tricks the eyes into focusing in the middle instead of focusing on your tummy and arms.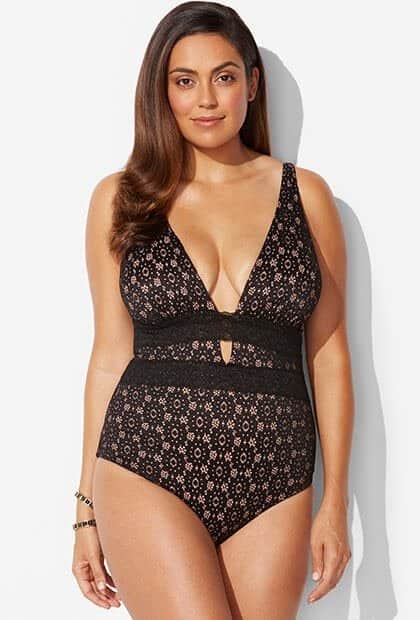 Note: Too deep of a plunge might offer less support for your breasts so if you're large-breasted, be careful of how deep you go.
Diagonal and vertical patterns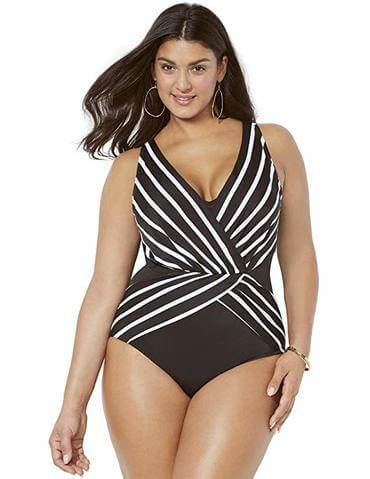 In the same way that V-neck creates a flattering silhouette, spliced diagonal or vertical patterns slims down your figure by distracting the eyes from your tummy and arms.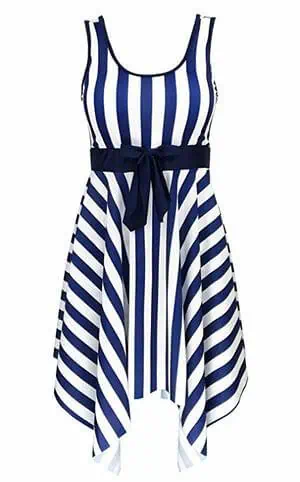 Note: Avoid horizontal lines if you're trying to slim down your figure as it creates the opposite effect of slimming; it makes you gain more width. You can get away with it though if you're super tall.
How to be comfortable in a swimsuit
If it's your first time wearing a swimsuit, it's only normal that you feel like all eyes are on you. The more you do it though, the more you'll get used to the feeling in no time. Aside from wearing less revealing swimsuits, here's what you can do to get used to that uncomfortable feeling.
Find out your body shape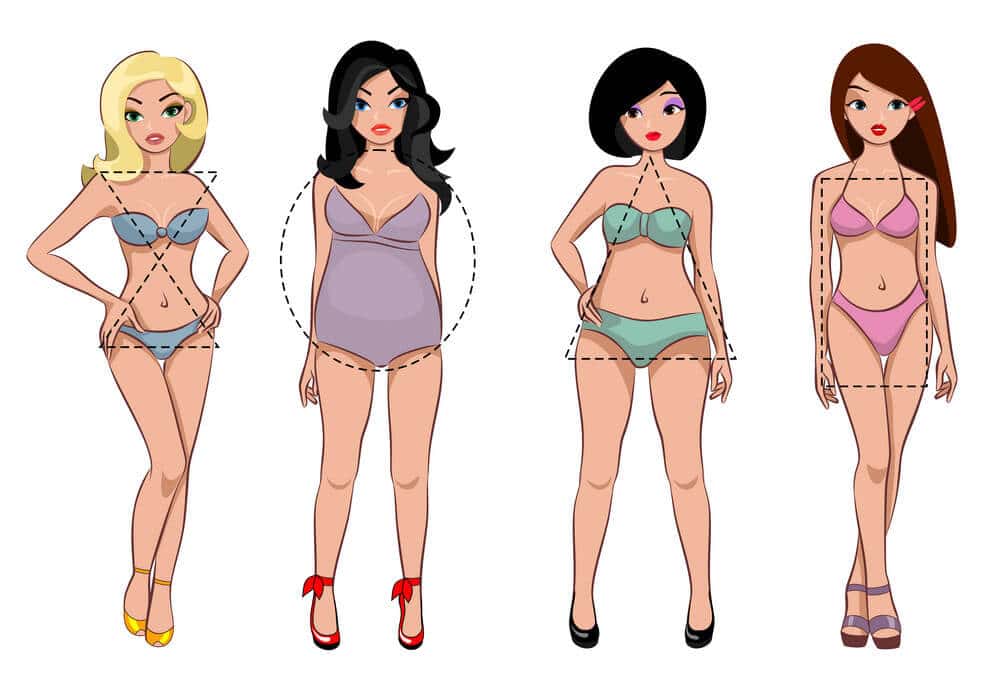 There are 5 basic body shape: rectangle, hourglass, triangle, inverted triangle, and apple. Knowing which type you are means knowing your problem areas, your best features, and which swimsuits will look best on you.
Ask a friend's honest feedback
If you're fashionably challenged, know that you'll always have that one friend who's fashionably updated in every possible way and who'll take great pleasure in treating you for a dress up session.
Wear it with your squad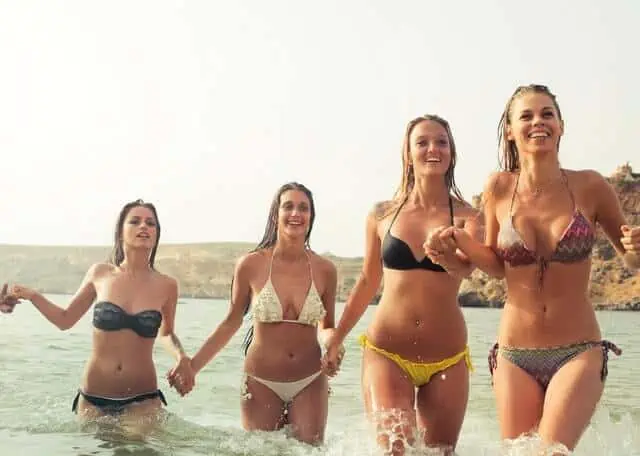 Skimpy or not, wearing a swimsuit feels more relaxed and comfortable if you're doing it among friends rather than alone, or worse, with strangers. So if wearing a swimsuit really does freak you out, recruit your squad to join you and it will definitely put you at ease.
How can I stop people from staring at me?
You can't. You simply can't. That's why you have to train yourself to get used to it. Or at least wear bathing suits that don't reveal more than you want to. That, or swim with your T-shirt on.
Do you have to lose weight to wear a swimsuit?
Not necessarily. But it sure will make your shopping easier.
Famous and affordable brands are now starting to cater to plus size women and while that's a good start, there certainly is still a big room for improvement.
For instance, most plus size models, if not all, have hourglass figures. Problem is, what looks good on an hourglass may not look good on an apple or rectangle. So yeah, losing weight is a good option.
You need to remember though that when losing weight, don't make "looking sexy" as your main motivation. If you do, sooner or later you're gonna feel crappy about yourself. It's only a matter of time before you visit that or this girl's timeline and see a perfect body with 6-pack abs and kale smoothie
Lose weight mainly for your health. The rest should be secondary.
You Might Also Like: