Athletic, strong, broad-chested— these are the adjectives associated with an inverted triangle body shape. If you have this shape, then your likely issue when dressing up is that your frame might look too mannish for your liking. Can you remedy this? Absolutely. With the right choice of clothing, you can enhance your feminine features while also flaunting the positives of your inverted triangle figure. Here's a complete guide on how to dress an inverted triangle body type from head to toe.
But first, let's define how this body shape looks like for both regular and plus size.
How does an inverted triangle body look like?
An inverted triangle body has the following characteristics:
Large breasts
Flat to average butt
Narrow hips and waist
Noticeably broader shoulders than hips.
For this reason, an inverted triangle is also referred to as a "strawberry body" with a bust-waist-hip ratio of either 4-3-2 or 4-3-3.
Here's how a regular size inverted triangle body looks like:

And here's how a plus size inverted triangle looks like:

Note: Not all inverted triangle women were originally inverted triangle bodies. In some cases, a rectangle body could morph into an inverted triangle due to muscle or weight gain.

If you were previously a rectangle but now meet the characteristics of an inverted triangle, this guide is for you.
How to dress an inverted triangle body
Note: These "goals" are my assumptions based on what most (read: not all) inverted triangle-shaped ladies wish their bodies to look like when dressing up. If the following "goals" don't match yours, this guide isn't for you.
Here are your likely goals when dressing up if you're shaped like an inverted triangle:
Widen your hips.
Enhance your butt.
Minimize your shoulders.
Show off your slim waist (your asset) or breasts (optional).
You might ask: Why would I wanna "downplay" my shoulders?

Most inverted triangle shaped ladies (especially plus size ones) prefer downplaying their shoulders because it balances their silhouette.

Being top-heavy, it's very easy for an inverted triangle torso to look disproportionately larger than her lower body with the wrong cut of fabric.
In short, your likely goal is to create an hourglass silhouette: slimmer shoulders, wider hips, and a more prominent booty. If these are what you're trying to achieve, read on.
BEST DESIGNS FOR INVERTED TRIANGLE BODY
If you have an inverted triangle body, then you know (by experience) that not all clothing are created equal. There are those which truly flatter, then there are those that look like a sack of potato.
But in this guide, I've created a list of designs that specifically look great on an inverted triangle shaped body.
So wherever you shop and whatever the price range, you'll know the why behind your every purchase. Take note of these following designs and you can expect a painless shopping next time.
1. Plain-colored top, printed bottom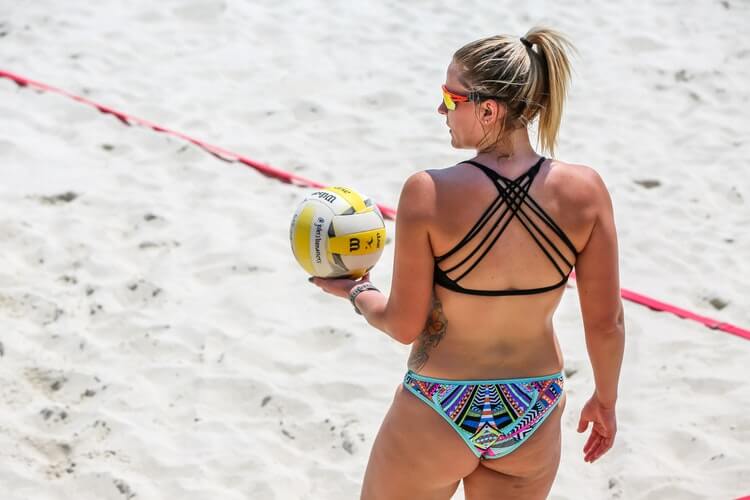 In a nutshell, this is the general idea when dressing up an inverted triangle body. A simple top, because your bust and torso need no further enhancements. An embellished bottom, because the drama should be happening at your hips and buttocks.
In a simplified version, here's how it looks like:
dark, solid-colored top and light/ printed bottom
shoulder-slimming top and hip-enhancing bottom
Does this mean you should only wear black tops and printed bottoms every time?

No. This is only a general rule. Just like any other rules, there are exceptions (which I'll later discuss).

When confused, just remember that your lower body (hips and buttocks) should always outshine your upper body (bust and torso).
2. Hourglass patterns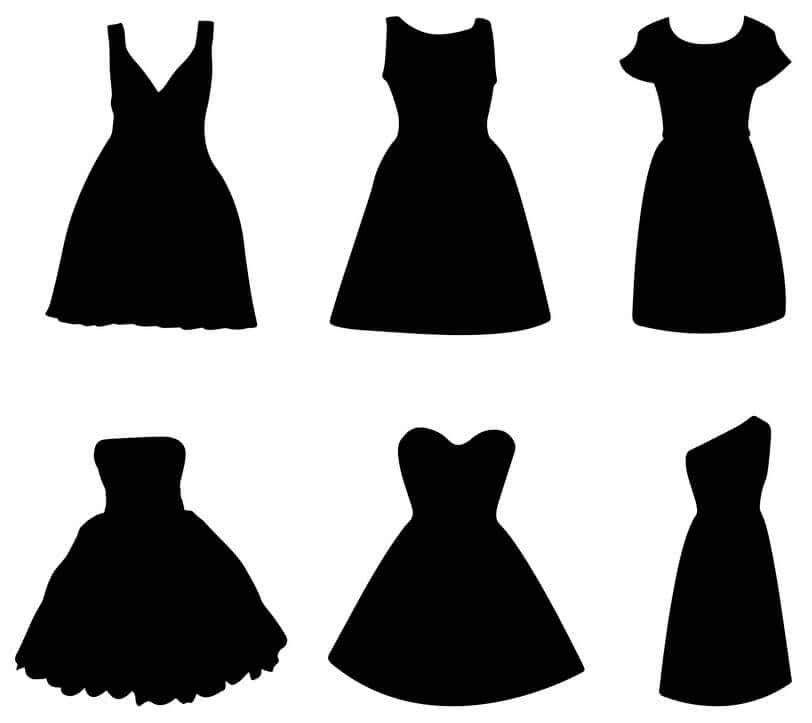 When in doubt, remember this: Hourglass patterns will always look good on an inverted triangle body.
Here's why: They create balance to the overall shape. They flaunt the slim waist while boost the hips as a contrast. The result is a feminine silhouette: slim waist with wider hips.
Designers come up with hourglass patterns by manipulating shapes, colors, fabric, and lines. These trick the eyes to see a voluptuous curve where there's actually very little. Below are some of the examples:
Hourglass-shaped pieces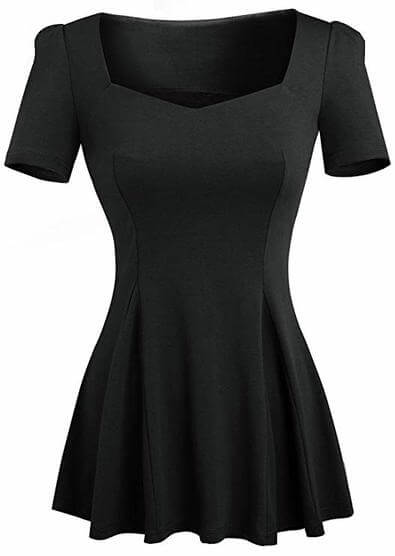 Peplum tops and A-line dresses are perfect examples of forming an hourglass pattern through shape manipulation. They hug the waist (to flaunt the slim waist) and flare at the hips (to widen them), creating the illusion of a more feminine silhouette.
Hourglass cutouts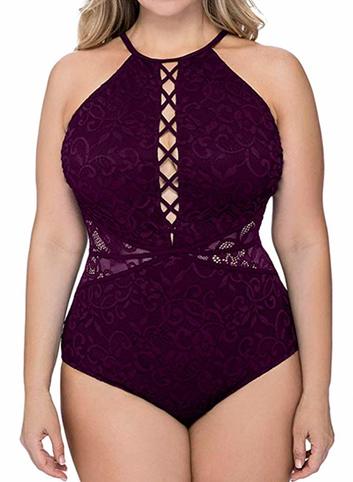 The designer of these bathing suits formed an hourglass impression by creating cutouts on both sides of the waist.
Hourglass prints
This, one the other hand, did so by combining diagonal, horizontal and vertical lines. When worn, this tricks the eyes to see a curvier figure.
3. Diagonals and verticals at the torso
Diagonal and vertical patterns have one thing in common: they're both excellent at slimming.
While diagonals slim down by visually cutting width, verticals slim down by emphasizing length while de-emphasizing width. In short, diagonals minimize while verticals elongate.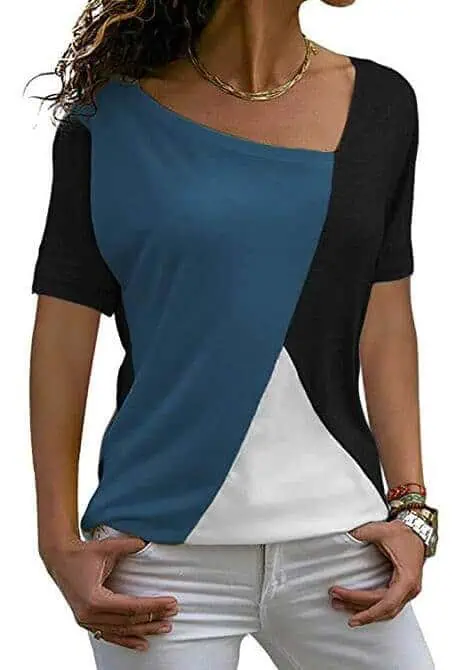 Therefore, it makes sense for an inverted triangle woman to wear these lines and patterns as her top to downplay her broad shoulders.
Would this dress flatter an inverted triangle body?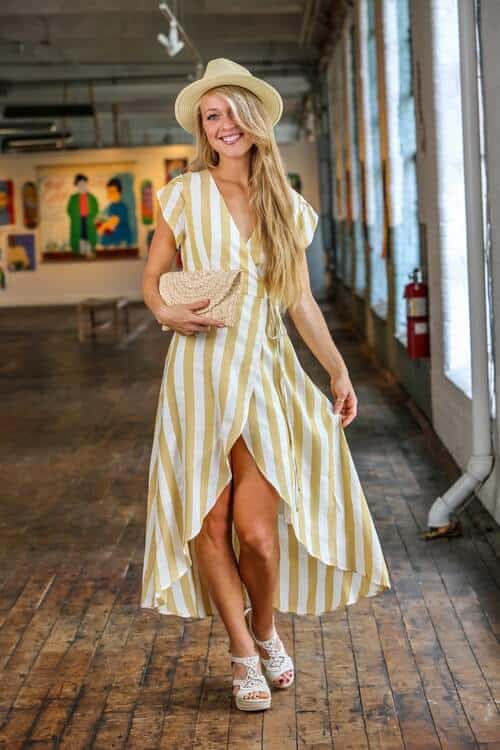 Absolutely! Here's why:

The plunging V-neckline (diagonal) visually cuts the shoulders, while the vertical stripes further tone them down through elongation.

You might ask: "But what about the vertical stripes at the hips? Won't they only make the hips look even narrower?"

While vertical lines are present at the hips, they don't pose an issue since the dress itself is shaped like an A-line— it flares at the hips thus widening them.
4. Horizontal lines at the hips/ lower body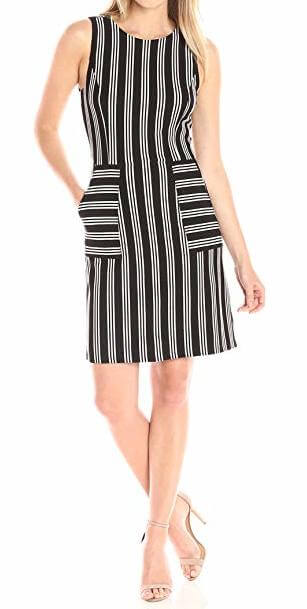 While vertical and diagonal lines are slimming, the opposite is true for horizontal lines. Horizontal lines emphasize width and downplay height.
This, therefore, translates to: Wear diagonal and vertical lines at the top and horizontal lines at the bottom and you'll bring balance to balance your strawberry-shaped figure.
5. Embellished bottoms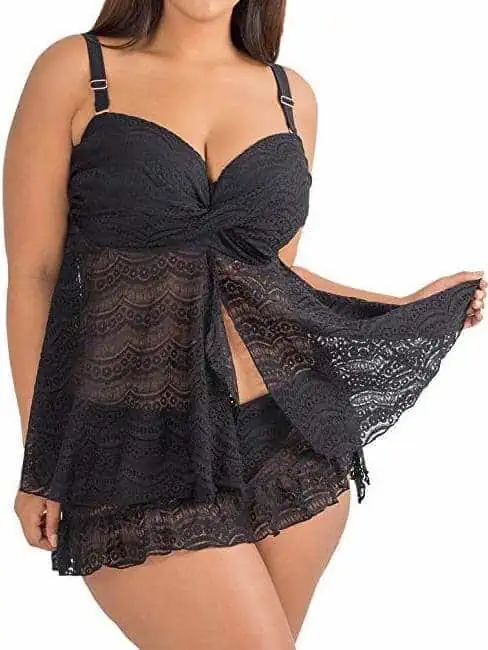 Another great technique to widen your hips is to wear bottoms with volume-enhancing embellishments like frills, strings, and ruffles. They enhance the hips and make them appear larger and wider.
6. Tummy control (for plus size)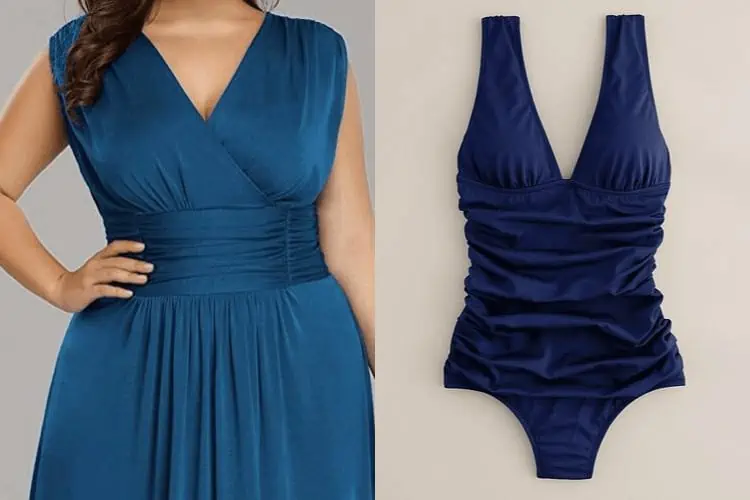 While it's true that inverted triangles gain the least fats in the midsection, the fact remains that this body shape could still benefit from clothing with tummy control panel.
Here's how: Tummy control pieces creates an hourglass shape for the waist by (comfortably) tucking in the tummy fats. While this may not be of much use to regular size inverted triangles, this comes in handy for plus size ones.
7. Plunging necklines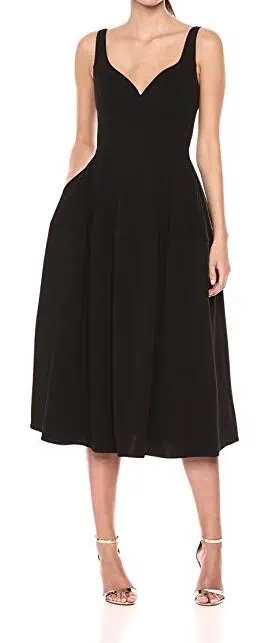 You already know that V-necklines are great for inverted triangle bodies. But here's another tip: The deeper the plunge, the more flattering and shoulder-minimizing it is.
You don't have to wear a V-neck all the time. You can wear the following necklines and get the same flattering effect:
sweetheart
scoop
diamond
decollete (a very deep V)
one-shoulder neckline
Queen Ann neckline
slit (a very slim V)
asymmetrical
illusion neckline
8. A supportive bra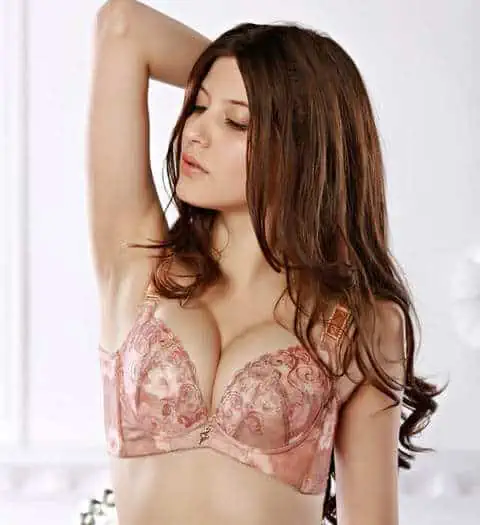 Having ample breasts, it's imperative for inverted triangle ladies to invest in a bra that's not only comfortable but most of all, supportive. This bra (#review) allows the wearer to adjust her cleavage into 4 different levels. If you already have a trusted brand though, then I suggest that you stick to it.
---
BEST JEANS AND TROUSERS FOR INVERTED TRIANGLE BODY
When looking for trousers and jeans for an inverted triangle body, take note of two things: the rise and the fit. The rise is where the waistband hits the body, while the fit refers to the tightness of the seat, thighs, and legs.
The best rise
Low-rise jeans are usually a no-no for your narrow hips as they'll only highlight your lower body's lack of curves. Going high waisted, on the other hand, tend to also flatten the backside.
Mid-rise is the ideal rise for an inverted triangle. At this level, the jeans can lift your booty just right. Not too high to flatten your backside, nor too low to slim down your hips.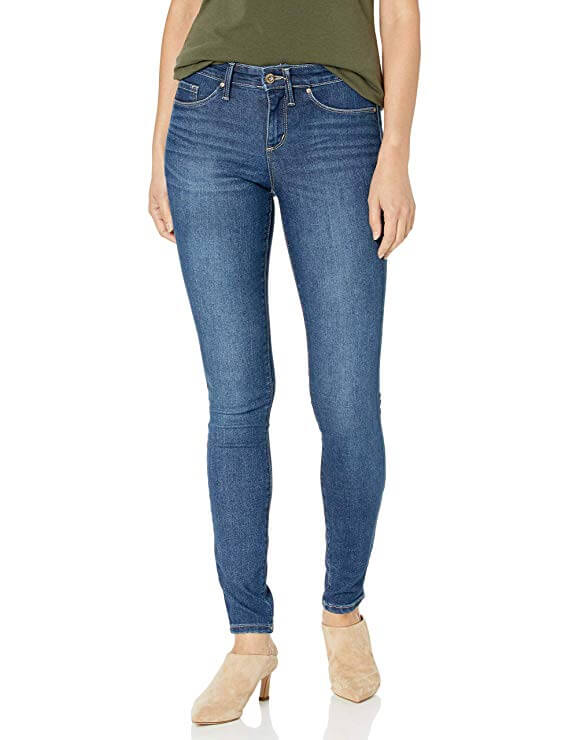 Note: This doesn't mean you should avoid low and high rise bottoms altogether. You can get away with them as long as they meet at least one or two of the following criteria:
These criteria will create an instant butt lift regardless of the rise:
Choose jeans with rounded yokes over straight ones as they'll make the booty look rounder and curvier. (Yoke is the back section of the jeans just below the back of the waistband.)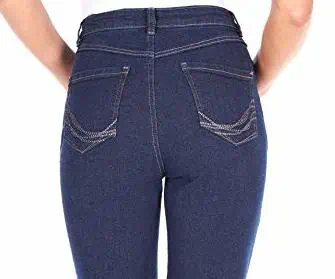 The pocket must sit higher than your butt.
Embellishment like stitching, sequins, and rounded, large back pockets will add volume to your buttocks.
A faded color on the seat will help round out your rear.
For low rise jeans, wide waistbands will enhance your curves and widen your hips. Otherwise, wear a wide belt at your hips and consider it solved.
The best fits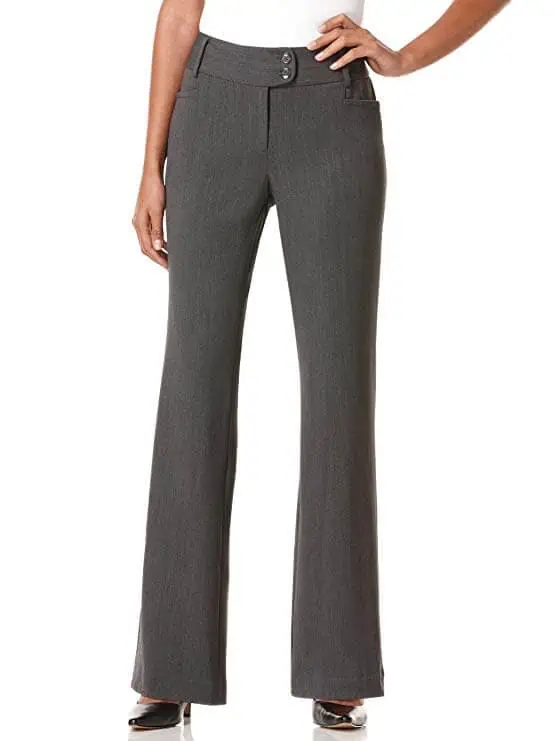 Bootcut, flare, or any pants with leg lines that have wider hemlines than knee area will balance your figure by creating a long and lean look. They'll also form a flattering curve from knee to ankle, thus balancing your proportion.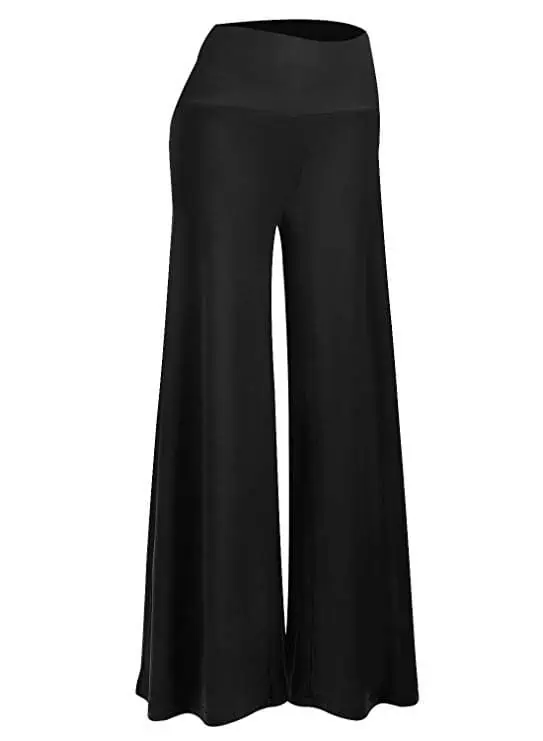 Wide-legged pants are great at balancing a top-heavy figure by highlighting the attention to the lower body. The flowier the fabric, the more movement (and focus) it attracts. This makes culottes a popular choice among top-heavy body shapes.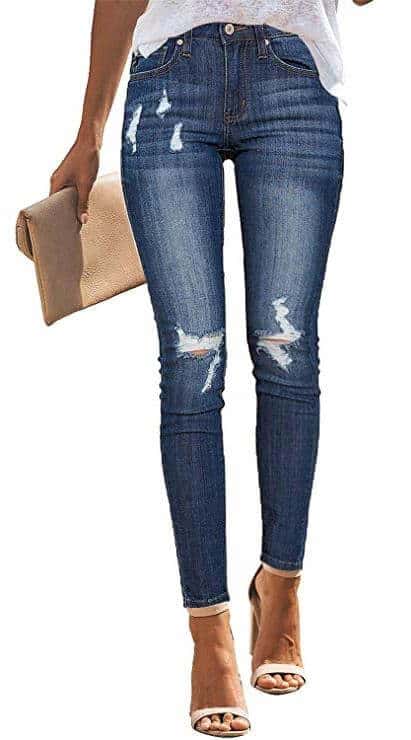 You might think that skinny and slim fitted pants are counterintuitive for a body with narrow hips since they slim down the lower body. But it's the opposite.
While skinny and slim fit pants are slimming, they also contour the lower body into a curvier and shapelier silhouette. This process cancels out the straightness of the lower body— making skinny and slim fitted pants versatile for any body type.
---
BEST SWIMSUITS FOR INVERTED TRIANGLE
The same styling techniques that apply to regular clothing also apply to swimsuits. And that is: choose hip-enhancing bottoms and torso slimming tops. Hence, the following designs: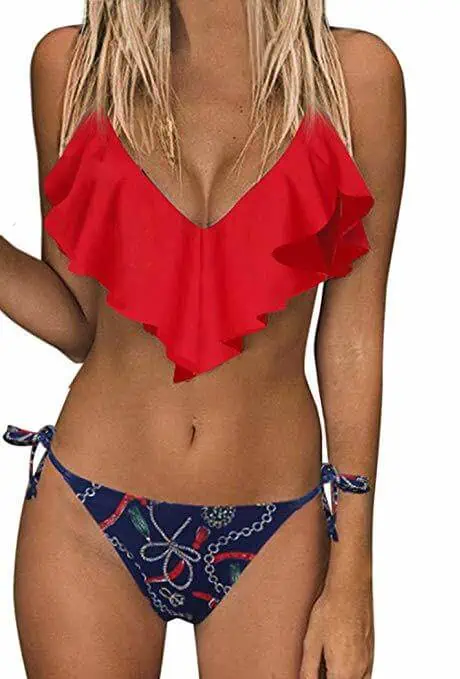 High rise swimsuits: They expose the widest part of the hips, thus making them appear wider.
Embellishments at the hips: strings, ruffles, and frills
Horizontal lines at the lower body and diagonal/ vertical lines at the torso.
Solid-colored top and printed bottom (but you don't have to follow this all the time)
It's important to buy your bikini top and bottom in separate sizes since your bust is wider than your hips.
Swimsuits are a little trickier to pick than everyday outfits. So I've written a separate guide that specifically talks about choosing the best swimsuits for inverted triangles. Click here if you're a plus size rectangle, and here if you're a regular.
---
WHAT TO AVOID
Knowing what to avoid is as important as knowing what to wear. That said, here's a summary of the designs you should avoid:
1. Halters
Halters, especially the ones with tiny straps, highlight the width of the shoulders. While a rectangle could get away with a carefully selected halter, an inverted triangle should just avoid it altogether.
2. Closed neckline
In general, you should avoid closed necklines as they tend to broaden the shoulders. There are, however, exceptions.
For example: If a closed-neckline top/ dress is also a peplum or A-line, then you should have no issue with it since it would still sculpt your body into an hourglass and balance out the effect of the closed neckline.
3. Voluminous embellishments at the shoulders
Reserve the voluminous frills and ruffles for your hips and keep your tops slim and simple. Your bust and torso need no more enhancement but your hips do.
This means you should avoid shoulder-broadening pieces like:
Boat neckline
Puffed shoulders
Horizontal lines and patterns on top
Big, bold patterns on top
4. Funnel-shaped pants/ skirts
Funnel-shaped pants/ skirts emphasize the shoulders while slim down the hips and butt— not a welcome feature for an inverted triangle body. You want the drama to happen at your lower body so avoid the following:
Pocketless shorts and jeans
Jeans with very small waistbands
Straight-legged pants (If you're super tall, you can probably get away with them though. Otherwise, just avoid them altogether.)
---
FAQ: HOW TO DRESS AN INVERTED TRIANGLE BODY
Below are common questions that women with inverted triangle bodies ask when styling, shopping, and dressing up.
How do I dress a petite inverted triangle?
When dressing a petite rectangle, you wanna enhance your height and de-emphasize your width. This means vertical lines and patterns are your best bet.
When it comes to footwear, high heels are obviously your best option but if you want to add more height, wear flesh-colored high heels or match your footwear's color to your pants/ skirts. This will create elongation and make your look even taller.
What's the best coats and blazer for an inverted triangle?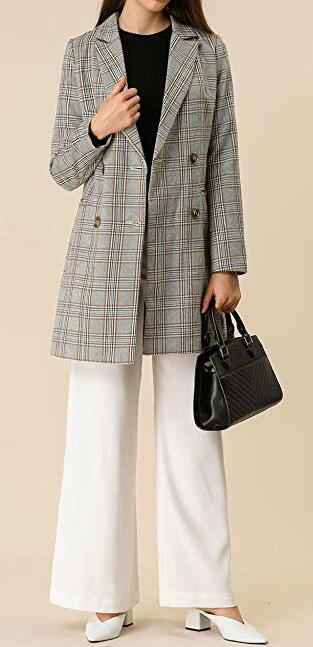 Wear coats and blazers that flares at the hips and accentuate the waist. They'll create an hourglass silhouette for you.
In fact, you can even get away with puffed and structured shoulders as long as the coat flares at the hips to balance it out.
The height is also important. You want the height of your coat to sit lower than your buttocks for an elongating effect.
Unbutton your coats/ blazers to create layers. Layering will create an instant slimming effect because of the opening's vertical lines.
Avoid oversized lapels and buttons as they'll only broaden your shoulders.
How do I accessorize?
A necklace is great in minimizing the shoulders' width as it draws diagonal lines across your chest while highlighting your well-endowed bust.
Wear shoulder bags that sit at your hips. They'll balance your figure by adding volume to your hips. Large handbags will also create the same effect.
You can never go wrong with wide belts at the hips.
Can I wear scarves?
You sure can. But you need to be careful about how you wear them. Do not wrap your scarves in a bundle as it will only broaden your shoulders, hide your breasts, and shorten your neck.

It's also important to wrap them so that they hang vertically. This will emphasize length over width for a slimming effect.
Am I an inverted triangle if I have broad shoulders but small breasts?
If you met all the characteristics described above except the large breasts, then chances are, you were originally a rectangle but due to weight or muscle gain, you morphed into an inverted triangle body.
That's fine. You can still follow all the styling tips in this article. But if you want an additional guide, read this: How to Dress Broad Shoulders and Small Bust.
Is an inverted triangle body attractive?
Obviously, the answer is either yes or no depending on who you ask. That said, I've written a post here on how the media and society view inverted triangle bodies.