Have you ever wondered why a piece of clothing looks fantastic on models but look like a sack of potato once you wear it? It's because most models (especially plus size) have hourglass figures. Meaning, what looks fantastic on them won't necessarily look fantastic on your apple body. If you wanna know how to look great, you wanna know how to dress an apple-shaped body, not an hourglass. This in-depth guide will do just that.
But before we dive into the styling principles, let me first define how it looks like and make sure that, you do, in fact, have an apple body type. (Most women mistake an apple body to a rectangle as both shapes have lesser defined curves.)
What makes an apple body type?
An apple-shaped body has the following characteristics:
Full breasts and rounded shoulders
Little waist definition and most fats reside in the midsection
Flattish to average booty
Shapely legs and ample breasts (your assets)
Here's how a regular size apple looks like:
As you can see, being apple-shaped doesn't necessarily mean you're a plus size. You can be lean and be apple-shaped at the same time. It all has to do with your bone structure.
And here's how a plus size apple body looks like:
If you're a plus size apple, it doesn't necessarily mean you were an apple when you were lean. A woman could morph into a plus size apple regardless of her former body shape.

So if you were formerly an hourglass, rectangle, inverted triangle or pear, but now meet the criteria of a plus size apple, this guide will help you dress for your current body shape.
How to dress an apple body type
Note: These "goals" are my assumptions based on what most (read: not all) apple-shaped ladies wish their bodies to look like when dressing up. If the following "goals" don't match yours, this guide isn't for you.
If you have an apple-shaped body, here are your likely goals when dressing up:
Slim down your waist.
Camouflage your tummy fats (if any).
Enhance your booty and hips.
Minimize your shoulders (or at least avoid broadening it any further).
Show off your shapely legs (or cleavage if you like).
In short, your likely goal is to create an hourglass silhouette: a slimmer waist, wider hips, and a more prominent booty. If this applies to you, read on. This guide is for you.
DESIGNS THAT FLATTER AN APPLE BODY TYPE
There are certain patterns, lines, fabric cuts, and color combinations that flatter an apple body type. Remembering them will ensure that, wherever you shop or whatever the price tag, you will find the pieces that'll show off what you're proud of and camouflage what you aren't.
Take note of the following design principles and you'll never have to worry about shopping again.
1. Diagonal lines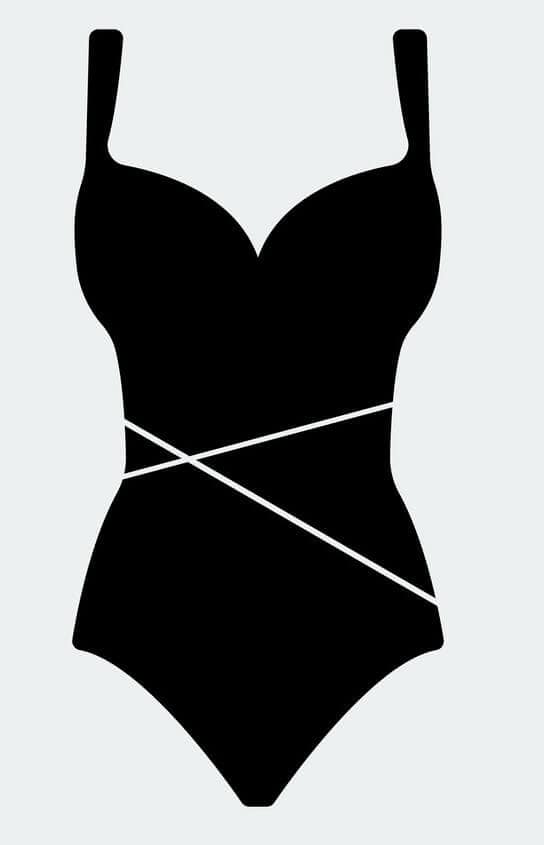 It's no coincidence that plus size brands often use diagonal lines, cuts, and patterns to style their pieces. Diagonals are simply phenomenal at visually dividing the width of the body and creating the illusion of a slimmer frame.
They capture the eyes' focus and hold it there— away from the part you want to camouflage.
2. Vertical lines
Vertical lines and patterns are elongating. They'll downplay your width and enhance your length. For this reason, vertical lines are slimming as well as elongating.
If you're average height or petite (especially petite) you can never go wrong by incorporating vertical lines to your wardrobe.
Would this dress flatter an apple-shaped body?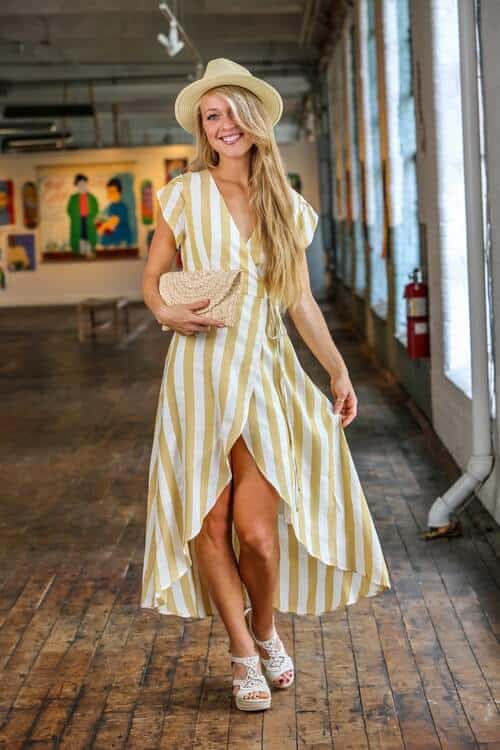 Absolutely! Here's why:

The vertical stripes would elongate the figure while the deep V plunging neckline (diagonal) would slim down the shoulders as well as camouflage the midsection.

What's more, the front diagonal hem would show off the attractive legs of an apple woman.
3. Hourglass patterns
Incorporating hourglass patterns into your clothing will create the illusion of a curvier waist and wider hips. Designers create hourglass patterns by manipulating colors, lines, and fabric.
This one-piece, for instance, uses a combination of lines (diagonal, vertical, horizontal) to form an hourglass pattern.
While this one did so by creating a cutout on both sides of the waist. The result is the impression of a slimmer waist.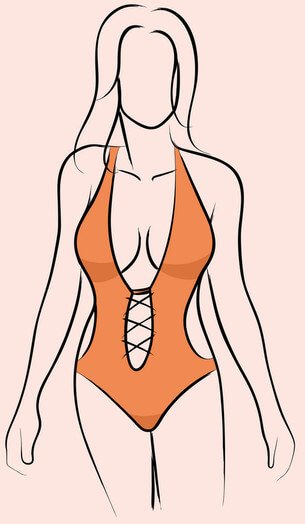 Lastly, this one took advantage of the contrast between opaque and transparent fabric to form an hourglass silhouette.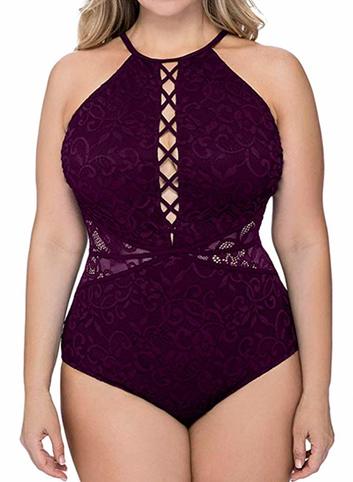 4. Tummy control panel
A tummy control panel is an extra layer of fabric underneath an item of clothing designed to comfortably tuck in the tummy fats. Think of it like Spanx, only it's built-in.
Whether it's a swimsuit, dress, blouse, or trousers, brands that cater to apple body types often attach built-in tummy control panels to their pieces.
5. Ruching in the tummy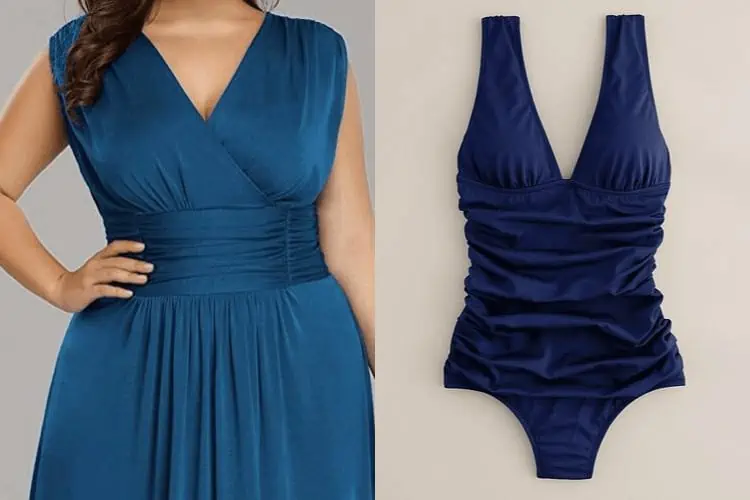 Ruching is a sewing technique that gathers a fabric or ribbon into a repeating pattern to produce pleats, ruffles, petals, or scallops.
These pleats allow extra room for the belly to expand and camouflage itself at the same time.
Ruching is one of the oldest (and most effective) tricks in the book when it comes to slimming down the waist. Not only does it shape the body but also creates an expensive finish on the fabric. For this reason, designers often use ruching when designing formal outfits.
6. Fit and flare cuts
Fit and flare cuts hug the waist and flare at the bottom, creating the silhouette of an hourglass— slim waist with wide hips.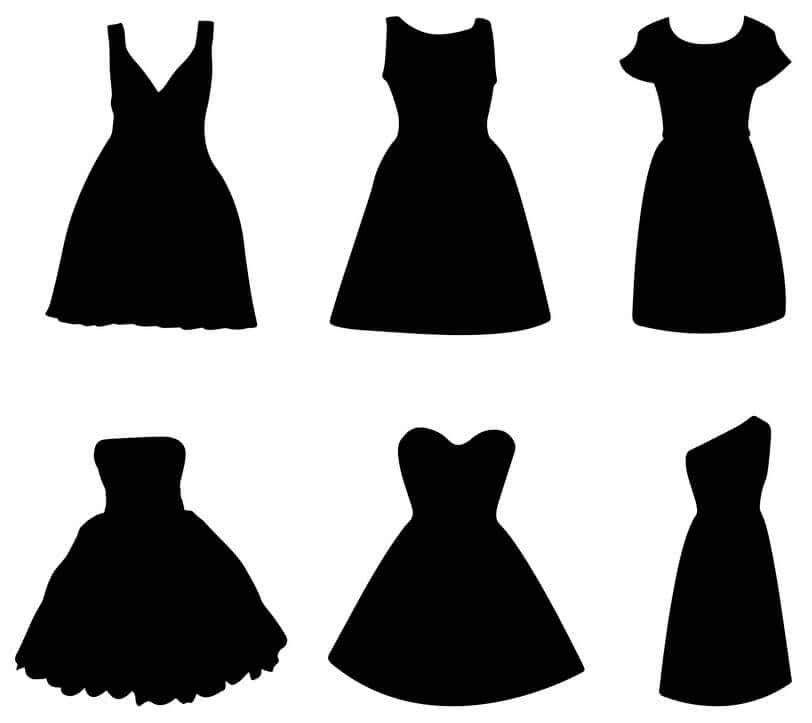 If you find bodycon and tummy control panel too restrictive for your liking, then fit and flare cuts are your best bet since they camouflage not by tucking in your belly but by flaring. This de-emphasizes the actual size of your belly and creates a contrast with your waist. The result is an hourglass shape.
7. Plunging necklines
There are two reasons why plunging necklines look great on an apple. First, they're diagonal so it visually cuts the width of the shoulders. Second, they highlight the breasts which are one of apple's assets.
Not that it's necessary to highlight your cleavage, but the general idea is, if you want to camouflage one part (midsection) then you should emphasize another. In the case of an apple, it's either her well-endowed breasts or her shapely legs, or both.
NOTE: You don't have to wear a super deep neckline to achieve the desired slimming effect. Choose the level that feels comfortable to you— with or without cleavage.
8. Asymmetrical pieces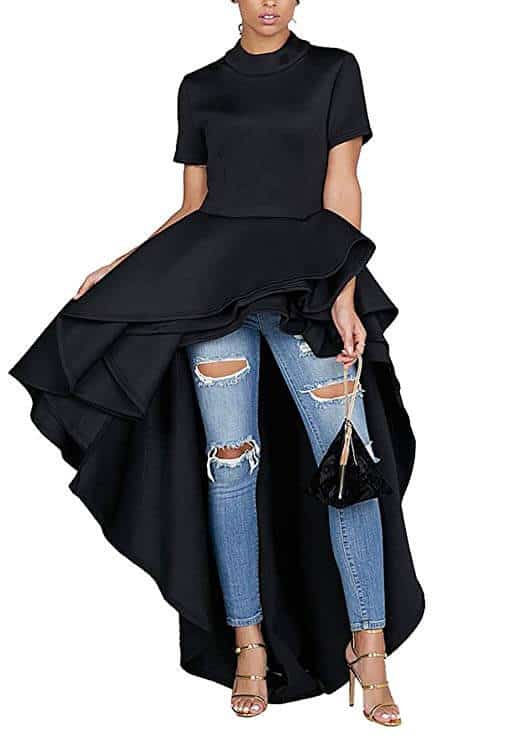 Asymmetrical pieces have two halves that look different from each other. Designers create them by manipulating colors, lines, and shapes.
These pieces are great at confusing the eyes and tricking it to see a slimmer figure. Since one half of the clothing differs from the other, the width of the body is downplayed and minimized. The result is a slimmer figure.
---
APPLICATION
Now that you know the best designs that'll flatter an apple-shaped body, it's time to apply that knowledge into your shopping.
From tops, jeans, trousers, jackets, to dresses, here's a curated list of pieces that'll flatter an apple body type.
---
Best tops and dresses for apple body
These tops have one thing in common: they make the waist look slimmer. They do so by hugging at the waist and flaring at the hips, thus creating an hourglass silhouette.
Peplum top
Peplum top creates an hourglass effect to slim down the waist.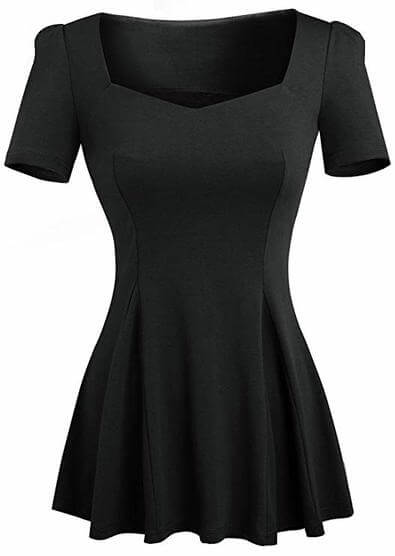 Handkerchief top
Handkerchief top highlights a diagonal hem which effectively minimizes an apple's midsection.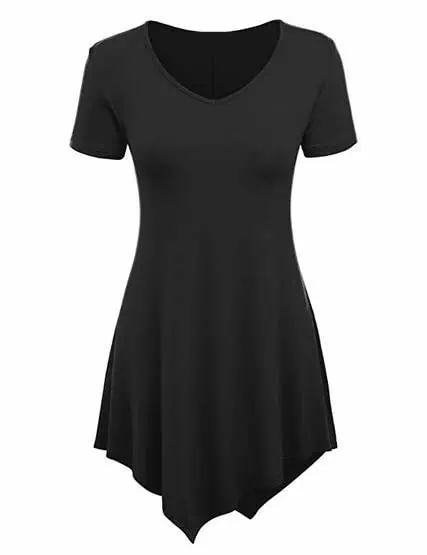 Wrap designs
Wrap blouses and dresses are perfect curve enhancers.
Here's why: When the wrap knot is created, it creates a ruching along with it. This ruching helps shape the waist and capture all the focus, which, in turn, creates a perfect camouflage for the tummy fats.
A-line dresses
A-line is the dress version of a peplum top. It hugs the waist and flare at the hips, creating an hourglass silhouette.
When in doubt, count on A-line cuts to never let you down. It's among the most versatile designs that are guaranteed figure-flattering regardless of body shape.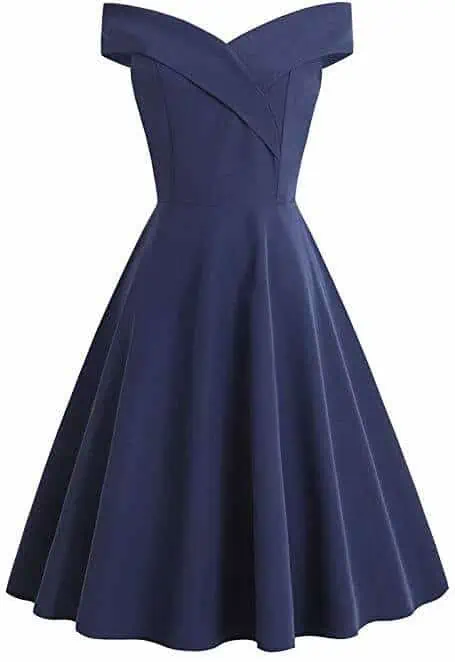 There are three reasons why this dress would flatter an apple body:

1. the deep diagonal neckline that minimizes the shoulders,
2. the vertical, waist-slimming ruching,
3. and the hip-enhancing A-line.

All three don't have to be present, but when they are, expect to look and feel like a million dollars.
Can an apple body wear bodycon dresses?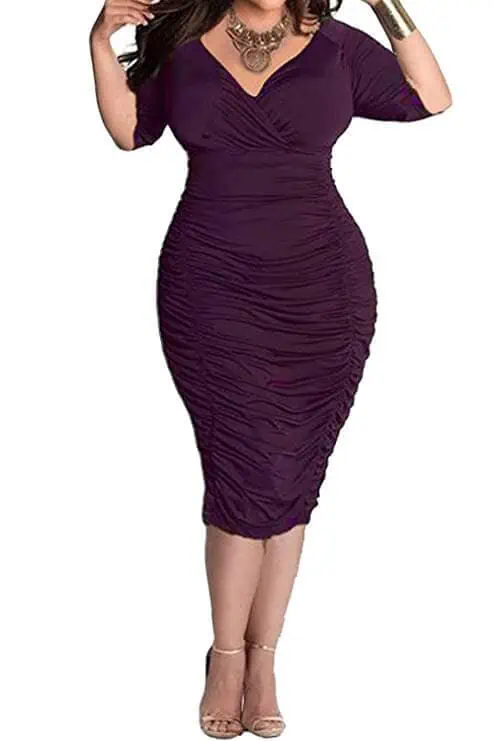 Absolutely! However, you need to make sure that at least two of these elements are present:
Tummy control capability
Ruching in the midsection
Hourglass pattern (in a form of prints or a wrap at the waist)
Diagonal line (could be a V plunging neckline or diagonal stripes)
Vertical patterns (if you want to look taller)
---
Best jeans and trousers for apple body
When looking for trousers and jeans, you need to consider two things: the rise and the fit.

The rise is where the waistband hits your body, while the fit refers to the tightness of the seat, thighs, and legs.
The best rise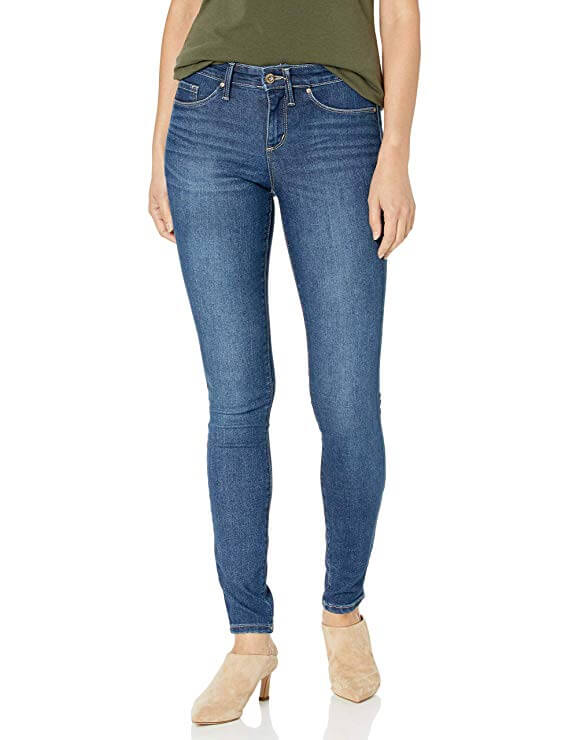 You don't wanna wear a super low-rise jean as it would only highlight your muffin top no matter how lean of an apple you are.

On the other hand, a high-rise one might work but not all the time. Other high-rise jeans could accentuate your belly bulge instead of concealing it. If you really must wear a high-rise pair, look for brands that specialize in tummy control. Otherwise, mid-rise is your best bet.
Mid-rise jean is the sweet spot between low and high rise. Meaning, the waistband sits right across your navel (or slightly below it). Not too high, not too low. In this level, the jean can contain your middle while give you a smooth line at the waist— no muffin top, no belly bulge. Juste parfait.
The best fit
Slim and skinny fit hug everything tightly from thighs to ankles while slim fit is only snug around the butt and thighs then loosens up a tad at the legs.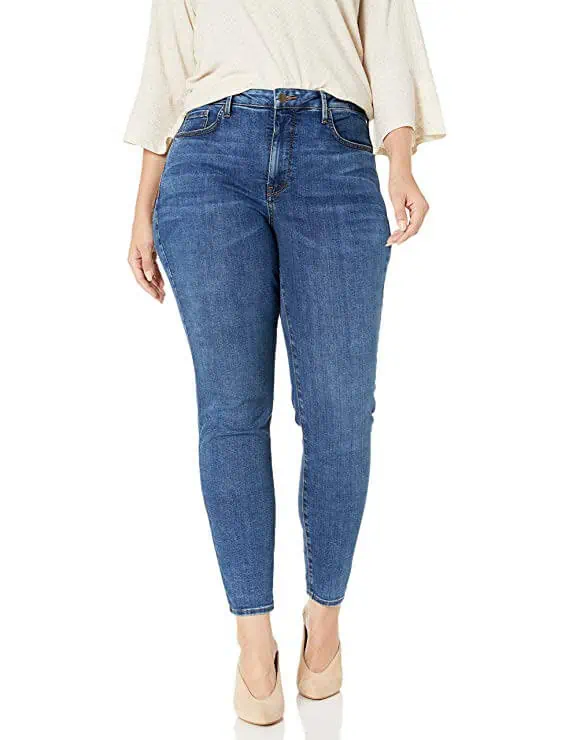 You might think that these fit are counterintuitive for an apple shape. But they're actually flattering.
Here's why: Apple body shapes have lean and shapely legs. Skinny and slim fit highlight the legs. If your goal is to show off your legs, then these cuts are your best.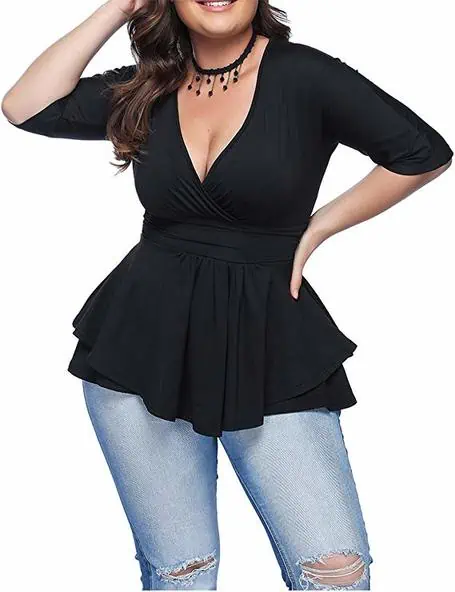 The best way to wear skinny/ slim fit trousers is to pair them with tops that flare at the hips to create an hourglass silhouette and balance out your proportion.

If you wanna emphasize your legs more, a pair of high heels will do the trick.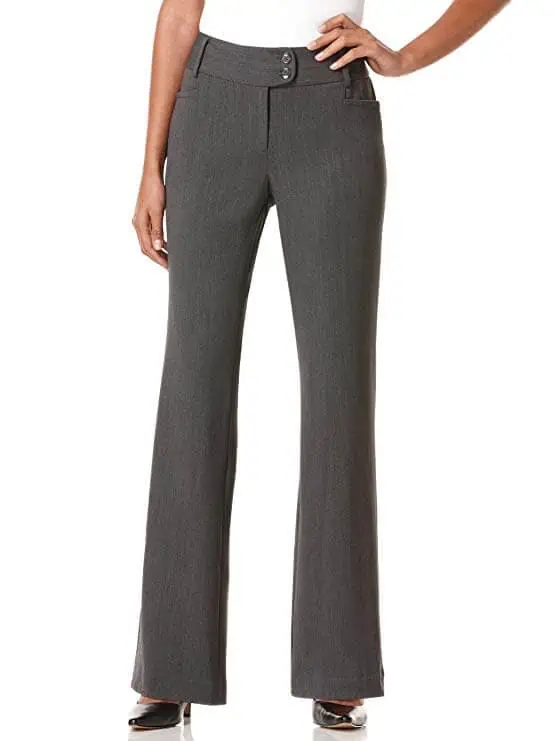 Do not confuse bootcut and flare fit with each other. They both taper at the knees and flares at the legs but they differ in the amount of flare. As you can see, bootcut has a lesser flare.
Why they look great on an apple: The contrast between the narrow knee and leg areas creates a diversion for the eyes. Instead of focusing on the midsection, the eyes focus on the flare. It also brings a visual balance to an apple proportion.

This is a perfect choice if you find skinny and slim fits too restrictive for your liking.
---
Best Swimsuit for Apple Body
The same principles that apply to regular clothing also apply to swimsuit shopping for an apple body shape.
If you're like most apple and you prefer modest swimsuits that cover your tummy, pick the following: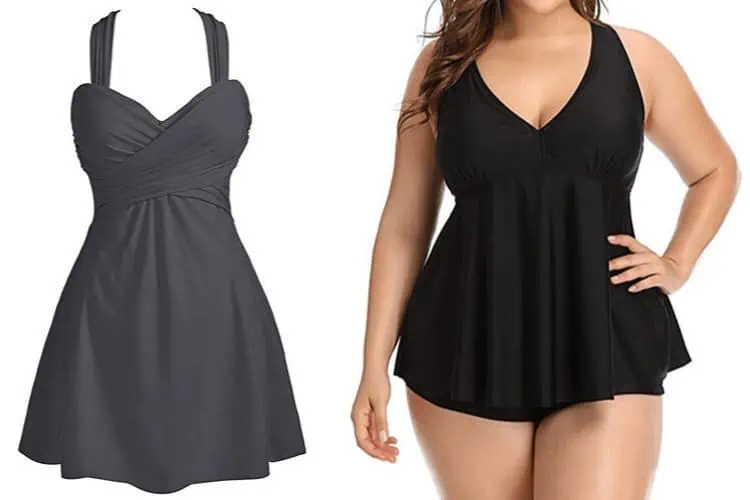 A-line swimdresses
Peplum tankinis
Handkerchief tankinis
One-piece with a tummy control panel
Ruched one-piece
If you prefer to show a little more skin than what one-piece and tankinis allow, then opt for high waisted bikinis with tummy control.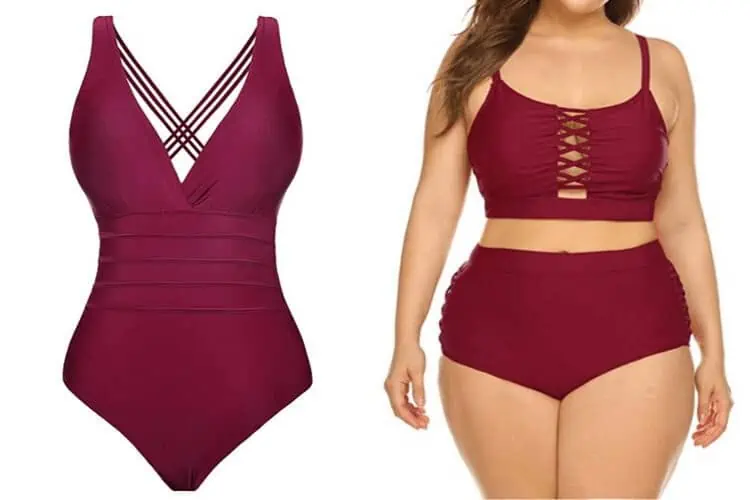 Swimsuits are a little trickier to pick than everyday outfits. So I've written a separate guide that specifically talks about swimsuits. Click here if you're a plus size apple, and here if you're a regular.
---
WHAT TO AVOID
1. Horizontal lines
As opposed to vertical and diagonal patterns which are slimming, horizontal patterns are the exact opposite and emphasize your width. For this reason, you wanna avoid wearing straight necklines and horizontal stripes if emphasizing your width isn't one of your goals.
2. Empire top and dresses
What's wrong with empire cuts? Isn't it a type of fit and flare piece like peplum? The answer is yes, however, it highlights the wrong places for an apple.
Instead of hugging the waist, it hugs the bust. Instead of flaring at the hips, it flares at the midsection. The result is an emphasized midsection. Most apple ladies I meet complain that empire cuts make them look pregnant.
3. Waist-level shoulder bags
Shoulder bags that sit at waist-level will only take away what little shape your waist has. Keep your waist as unembellished as possible and opt for shoulder bags that sit at the hips, or better still— handbags.
4. Halters
Halters will flatter a pear no problem but not an apple. They emphasize the shoulders and bust. Already possessing prominent shoulders and bust, an apple needs no more.
FAQ: HOW TO DRESS AN APPLE BODY
How do I dress my petite apple body?
If you're a petite apple, you wanna focus more on length and making your body look taller than it is. Therefore, you can never go wrong with vertical patterns. And mind you, it doesn't always have to be stripes. Look for vertical patterns in the form of a scarf, jacket's lapel, or a vertical print.
And then, of course, high heels are your best friends.
Can an apple wear prints?
Contrary to popular beliefs, yes, apple-shaped bodies can wear prints and look great in them as long as each piece possesses at least one or two of the 8 rules mentioned above.
This means you can wear any prints, plaid, and patterns you like (except horizontal stripes) and expect to look impeccable.
Is it true that darker colors will make me look slimmer?
Yes, darker colors are more slimming than lighter ones. But do not make this a reason to avoid lighter colors. Color is only one factor among many others. As long as a piece of clothing has at least one of the slimming elements discussed above, then it should flatter your figure, dark-colored or otherwise.
How to wear scarves for apple?
First, wear your scarves so that they wrap once or twice but eventually hang vertically. This will emphasize your length rather than your width. Second, do not wrap your scarves in a bundle as it will only shorten your neck and hide your breasts which are one of your assets.
Can I wear sleeveless pieces?
You sure can. Remember to opt for pieces with wide straps if you want to minimize your shoulders. And when you wear sleeves, avoid the super tight ones as they tend to compress and highlight your arm fats (if any).
When wearing form-fitting clothes, choose structured fabric materials as they define the silhouette without emphasizing the love handles.
Which skirts will flatter my apple frame?
The same principles that apply to dresses apply to skirts. That means you can never go wrong with A-line and other flare skirts. Also, remember that the waistband should sit mid-rise or right across your navel. Too high or too low of a waistband will only highlight your midsection.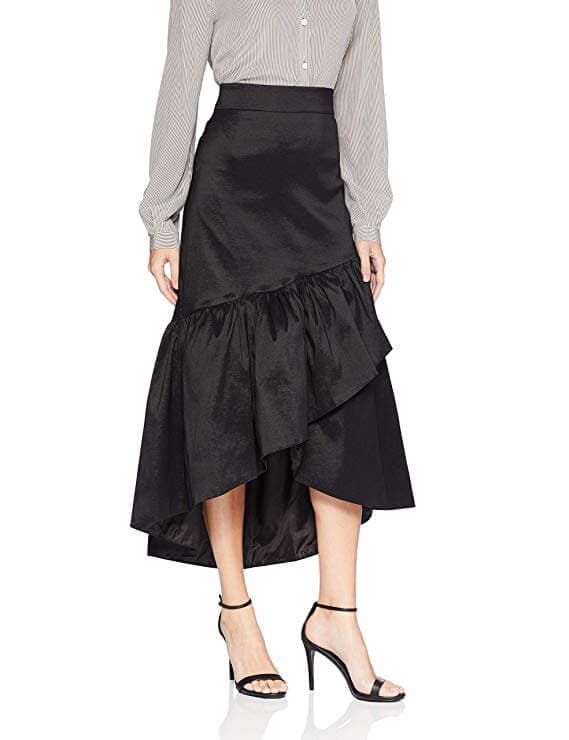 When it comes to length, you can wear any length you like. You can wear above the knee skirts if you wanna show off your legs or wear a full-length for a more modest look.
Can apple body shape wear jumpsuits?
Although jumpsuits are a little tricky to shop for, yes, an apple body shape can wear jumpsuits and look great in them. Remember to look for the following when shopping for jumpsuits:
Ruching in the waist (to camouflage the midsection)
Tummy control panel (to shape the tummy)
Wide-legged jumpsuits to balance your figure and take the focus away from your love handles
No horizontal lines
Vertical lines to look taller
The jumpsuit should hug your waist and not your bust.
Which bags should I use?
Handbags are great, as, unlike shoulder bags, they won't add volume to your midsection. Also, keep their size from medium to chunky.
What are the best jackets for an apple body?
Wear structured jackets with lapels that cascade downwards. They create a vertical line that then elongates the figure and de-emphasizes the width. Like dresses, you want them to be A-line so that they hug the waist and flare downwards.
Avoid jackets with too many details at the breasts. Choose a single-breasted one. Lastly, it helps if the hemline is diagonal for an extra slimming effect, but that isn't necessary if it's already A-line.
What's the best footwear for an apple?
Generally, there isn't any strict rule when it comes to footwear shopping. Medium to high heels, wedges, or platform shoes work well if you want to appear taller. When it comes to boots, chunky, wedged boots will complement and highlight your slim legs even better due to contrast.
What bra should an apple wear?
Unfortunately, the "best bra" will vary for every apple-shaped woman. That said, if you've found the best brand of bra that provides your girls the great support and comfort, stick to it.
I find that bras with thin padding often work best with large-breasted women. They provide robust support without further weighing the shoulders down.
What's the best accessory that an apple should wear?
A necklace is the best accessory that an apple should wear. It creates the same effect as plunging necklines by creating two downward diagonal lines that cut the shoulder's width in half. If you need to wear a high-neck top, wear a necklace to compensate and create an instant slimming effect.