Off-the-shoulder tops are among the most-raved clothing in the fashion industry right now. And it isn't hard to see why. They add a summer vibe to the outfit and make the wearer look more feminine. But you might wonder, do they suit every body type? Don't off-shoulder tops make you look bigger? Can you wear off the shoulder tops if you have broad shoulders? This post will answer all these.
Do off the shoulder tops make you look bigger? It depends on your body shape. If you have a lean pear or hourglass body, then off-the-shoulder tops will look great on you. If you, however, have an apple, rectangle, inverted triangle body, plus size pear or plus size hourglass body, then there are certain off-shoulder tops you should avoid to keep your shoulders from further broadening.
This article will discuss how to pick the best off-the-shoulder tops and dresses for your body type.
How to pick slimming off the shoulder tops
This guide will come in handy if you have one of the following body shapes:
apple (regular and plus size)
rectangle (especially plus size)
inverted triangle (regular and plus size)
plus size pear with prominent tummy fats
plus size hourglass with prominent tummy fats
1. Pay attention to the neckline
Off-the-shoulder tops with horizontal necklines are widening while the ones with diagonal and rounded necklines are slimming.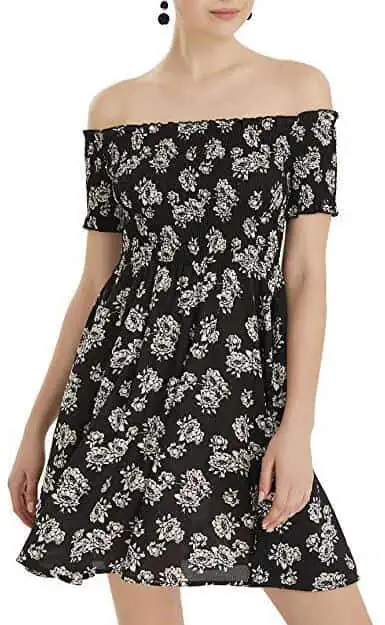 While horizontal lines emphasize width, diagonal and rounded necklines do the opposite. They visually cut and downplay the width, making the shoulders appear slimmer than they actually are.
So if you want to minimize your shoulders, skip off-the-shoulder pieces with horizontal necklines and opt for the following necklines instead:
rounded
diagonal
sweetheart
one-shoulder
asymmetrical neckline
Note: This doesn't mean you should avoid horizontal off-the-shoulder-tops altogether. If an off-the-shoulder piece meets the other criteria I'll discuss above, then you might get away with wearing them.
2. If you must wear horizontal necklines, avoid the clingy ones
This guideline is particularly important if you either have broad shoulders, a plus size body, or prominent tummy fats.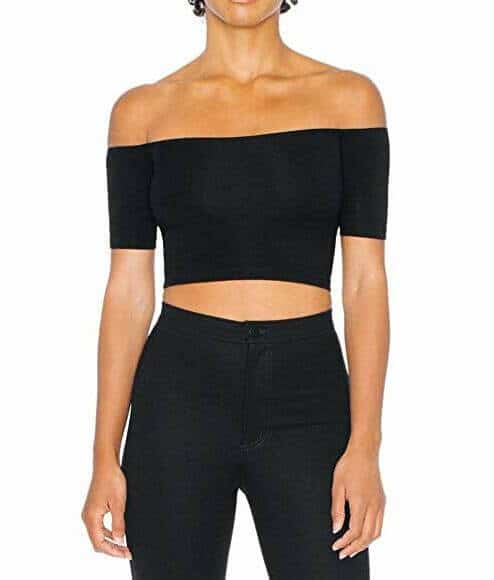 A horizontal off-the-shoulder neckline is more slimming if it hangs off the body and not clinging tightly to your shoulders. The slouch will visually camouflage the expanse of your shoulders while a tighter horizontal neckline will overemphasize it. This makes flouncy and ruffled off-the-shoulder tops so flattering to any body shape.
If you're a lean hourglass or pear though, you can get away with tight and clingy off-the-shoulder-tops. You might wanna wear hip-enhancing pants or skirts to balance them.
3. Pick off-the-shoulder pieces with hourglass shapes
Now that we've discussed the neckline, let's discuss the midsection.
If your goal is to enhance your curves and look slimmer, look for pieces with hourglass shapes. They hug the waist and flare out at the hips, creating an hourglass silhouette. Here are some of the examples:
Mermaid off-the-shoulder dress
As you can see, this dress is slimming for two reasons: The sweetheart neckline minimizes the shoulders while the mermaid hemline enhances the curves. The result is an hourglass silhouette.
Peplum off-the-shoulder top
Whatever your body shape is, you can never go wrong with peplum tops when it comes to enhancing your curves. A peplum top accentuates the waist to slim it down and flares out at the hips to widen it. If tummy fats are your concern, a peplum top won't have problems camouflaging it.
Note: Peplum is one of the pieces that any body type (even an inverted triangle with the broadest shoulders) can wear even with a horizontal neckline. This is because the peplum's flare at the hips balances the horizontal line at the shoulders.
A-line off-the-shoulder dress
Think of A-line dresses as the dress version of peplum tops. Just like peplum, they can be worn even with a horizontal neckline and still look slimming because of its hourglass-shaped midsection.
Wrap blouse and dress
Wrap blouses and dresses create a flattering contrast between the waist and the hips by wrapping around the waist and loosening at the hips. In turn, a ruching is created. This, not only create an expensive finish but also camouflage the tummy fats (if any).
FAQ: How to wear off-the-shoulder clothing
Below are the answers to the common questions women ask when dressing up with off-the-shoulder pieces:
1. What are the best off-the-shoulder pieces if I'm chubby?
If your goal is to look as slimmer as possible, pay attention to your clothing's neckline and midsection. Avoid horizontal necklines and opt for sweetheart and V-necklines since they visually cut the broadness of your shoulders.
Additionally, look for pieces with hourglass-shaped midsections (as discussed above) and avoid the ones with the straight and shapeless midsection.
2. Can I wear tight-fitting off-shoulder dresses like bodycon?
Yes, you can. If you're a plus size though, it might be a little tricky to enhance the curves in your midsection. But you can remedy that either by wearing a shapewear or dresses with built-in tummy control panels.
3. Can I wear off-the-shoulder tops if I have broad shoulders?
You sure can. Remember that the most important factor when dressing up for your shape is to create balance. So if you have broad shoulders, then opt for tops with shoulder-slimming lines like diagonal and asymmetrical necklines.
And if you have narrow hips, then shop for pants with higher pockets as they enhance the hips and buttocks.
Colors and patterns also help. Wear bold colors and patterns as your bottoms and wear solid and dark-colored tops. This will draw the focus to your hips and away from your shoulders. Remember, another way to downplay a body part is by highlighting another.
4. What pants should I wear with an off-shoulder top?
Off-the-shoulder tops are versatile pieces so you can wear them with just about any style of pants, skirts, and shorts and expect to look great in them.
If you need more tips on how to dress for your specific body shape though, this body shape guide will help.