Whether you're a regular or a plus size pear, this guide will show you how to dress a pear body type by discussing styling principles. And by styling principles, I mean the design elements used by designers to style every piece of clothing: lines, patterns, colors, and optical illusions.
You might ask: Why do these styling principles matter so much?
Because knowing them means that, in your future shopping, you will no longer be guessing. Instead, you'll shop with the certainty of a woman who understands why she buys what she buys.
You'll no longer be splurging on pieces just because they look great on the model but because you know with certainty that they'll look great on you.
Whether you're a plus size or a regular pear-shaped woman, look no further. Here's a complete guide on how to dress a pear body type from head to toe.
How does a pear body look like?
Here are the characteristics of a pear-shaped body:
Small to average breasts
Narrow shoulders against wide hips
Very well-defined waist despite a weight gain
Hips and buttocks are prominent and therefore most noticeable during a weight gain
For this reason, a pear body is also referred to as a "triangle body" with a bust-waist-hips ratio of 2-2-4.
Here's how a regular size pear looks like:

And here's how a plus size pear looks like:

How to dress a pear body type
Note: These "goals" are my assumptions based on what most (read: not all) pear-shaped ladies wish their bodies to look like when dressing up. If the following "goals" don't match yours, this guide isn't for you.
If you have a pear-shaped body, here are your likely goals when dressing up:
Enhance your bust.
Camouflage your tummy fats (if any).
Show off your well-defined waist (your asset).
Balance your proportion by enhancing your narrow shoulders while downplaying your wide hips.
You might ask: Why would I wanna "downplay" my hips?

Most pear-shaped ladies (especially plus size ones) prefer downplaying their hips because it creates a balance to their overall proportion.

Being bottom-heavy, it's very easy for pear's hips to look disproportionately larger than her upper body with the wrong cut of fabric.
Here's where contrast comes in. When one body part is downplayed, the other is instantly enhanced. The same applies when styling a pear-shaped body.

When the hips are downplayed, the shoulders, in turn, are enhanced and do not appear as narrow anymore.
The result is more of an hourglass proportion which is the most balanced figure of all female body shapes. If this is your goal, read on. This guide is for you.
FLATTERING DESIGNS FOR A PEAR BODY TYPE
Remember the following designs the next time you shop and never again will you have problems finding pieces that'll flatter your pear-shaped figure.
These designs will show off your asset (your well-defined waist) and camouflage your problem areas (fats in hips and buttocks).
1. Voluminous tops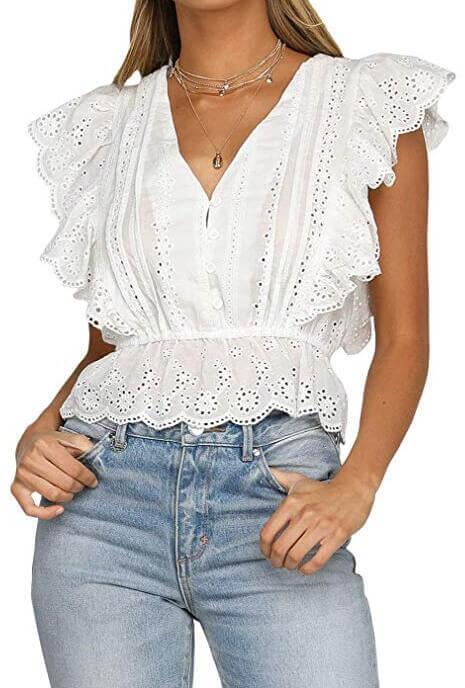 To downplay your lower body, you need to create drama and flare on your upper body, especially on your shoulders. Voluminous and embellished tops will do just that.
It could be in the form of ruffles, frills, or prints. Any details that draw the eyes' focus to the shoulders (away from the hips) are your best friends.
2. Push up bra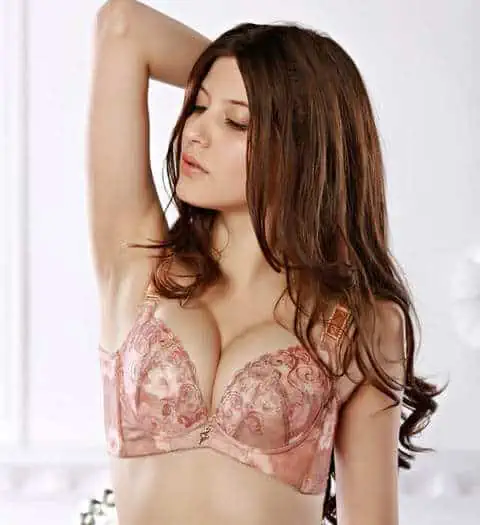 If you're not a fan of voluminous and embellished tops, you can achieve the same enhancement by wearing a push-up bra. It's the oldest trick in the book.
The goal is less about showing off your cleavage through low cut necklines (although, to some degree, it's a great idea, too). The goal is more about creating balance to your proportion by enhancing your bust. Whether you want to wear a high, average, or low neckline is entirely up to you.
3. Horizontal lines at the shoulders
For body types apple and inverted triangle who have broad shoulders, wearing a horizontal line at the shoulders is a no-no. But for a pear, it's simply flattering.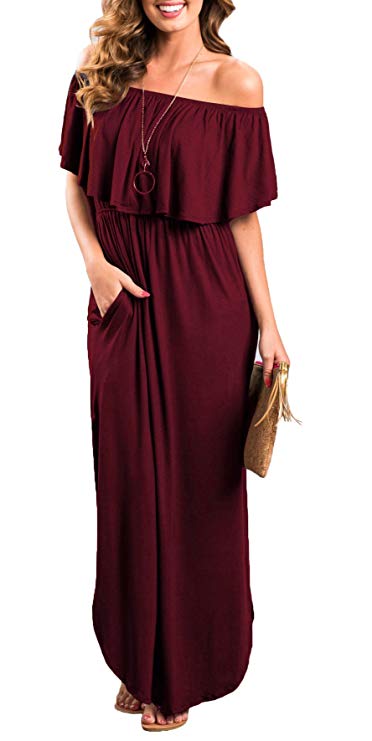 As opposed to vertical and diagonal lines, horizontal lines emphasize width over height. For this reason, they're great at broadening the narrow shoulders of a pear.
Therefore you can wear straight bandeau tops and dresses and expect to look great in them.
4. Halter, high neck, and racerbacks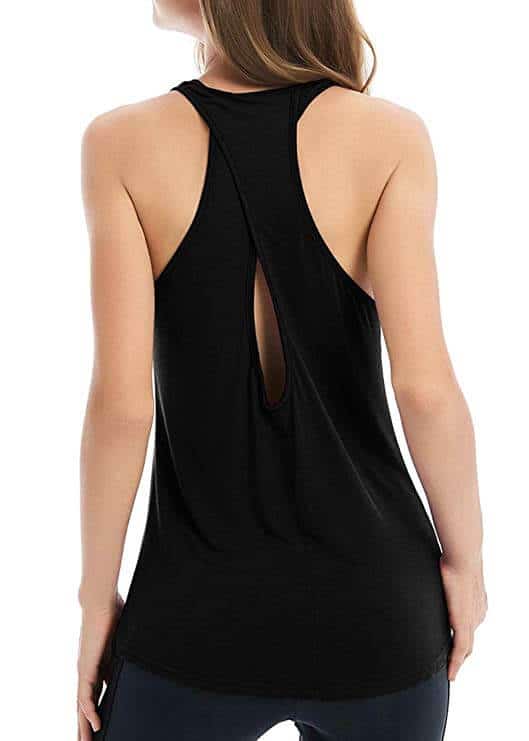 Halters, racerbacks, and high neck pieces highlight the widest part of the shoulders. As a result, they create the illusion of broader and well-defined shoulders which is always a welcome addition to a pear.
5. Unembellished, dark, solid-colored bottoms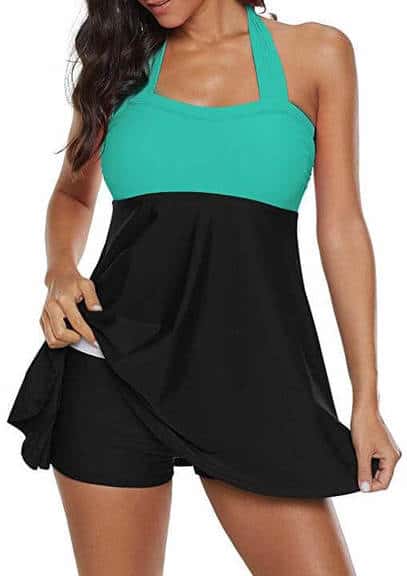 To bring less attention to your hips, keep your bottoms unembellished and devoid of any frills and ruffles. The same applies to colors. Feel free to wear bright-colored tops but keep your bottom dark and solid-colored.
Note: You don't always have to wear dark, solid bottoms. As long as your upper body outshines your lower body, you're good to go. Maintain the balance between the two and you don't have to stick to black pants all the time.
6. Vertical and diagonal patterns at the hips
If horizontal lines highlight the width and make a body part appear wider, then vertical and diagonal patterns do the opposite. They slim down.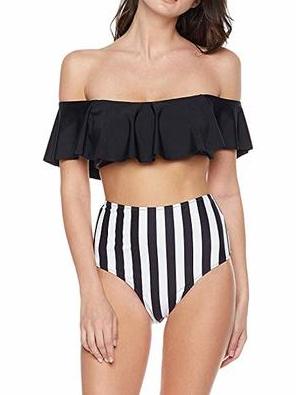 Specifically, vertical lines elongate the body by emphasizing length over width, while diagonal lines minimize by visually cutting the width.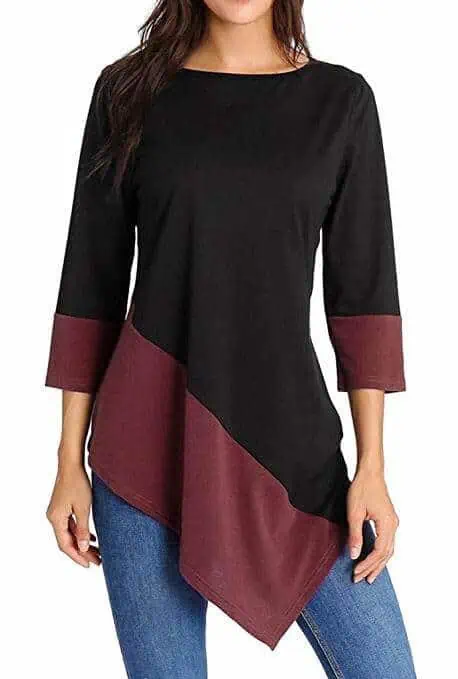 So if you're a plus size pear who wants to downplay the bulk of your hips, wear diagonal and vertical lines and patterns near your hips and buttocks.
7. Ruching and tummy control panel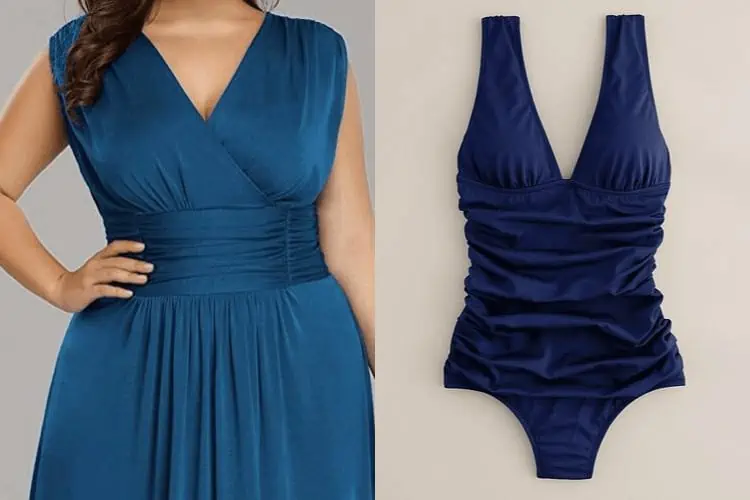 While a well-defined waist is something that comes naturally to a pear-shaped body, it doesn't hurt to wear a tummy control and/ or ruched pieces to camouflage the tummy fats.
A tummy control is an extra layer of fabric that helps tuck the tummy comfortably. Think of it like Spanx, only it's built within the garment.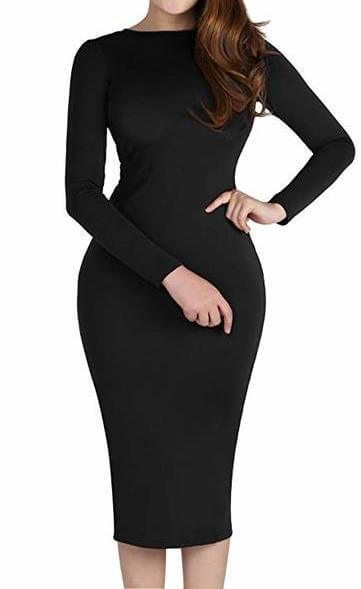 This is especially handy if you're a huge fan of bodycon dresses and want to accentuate your waist but exclude your love handles from view.
A ruching, on the other hand, is a sewing technique that gathers a fabric or ribbon into a repeating pattern to produce pleats, ruffles, petals, or scallops.
The result is not only a slim waist but also an expensive-looking fabric finish. These are what make wrap dresses and tops popular among pear-shaped women.
8. Hourglass patterns
Hourglass patterns will flatter any body shape because it creates an hourglass silhouette which is considered as the most attractive body shape in the world.
You can create an hourglass silhouette by manipulating the fabric's cut, color, and shape. Below are some of the examples.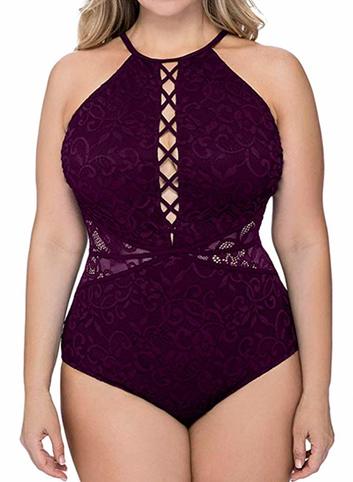 This one piece, for instance, creates an hourglass pattern by contrasting opaque and see-through fabric.
The same principle applies to this one piece. Only this time, the designer combined lines (vertical, diagonal, horizontal) to form the hourglass.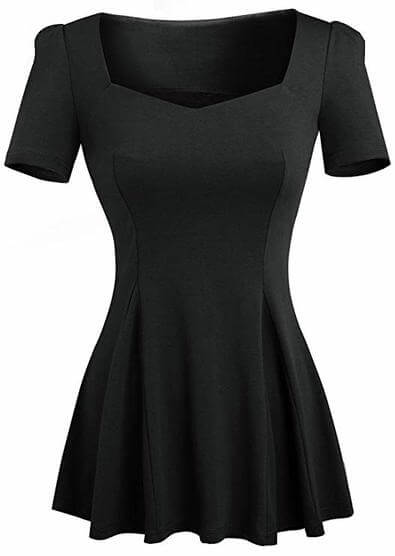 This top's designer formed an hourglass silhouette by manipulating the shape. The result is a waist-hugging midsection (to slim down the waist) and vertically pleated hips (to de-emphasize the hip width).
---
BEST JEANS & TROUSERS FOR PEAR
When shopping for trousers and jeans, you need to consider two things: the rise and the fit.

The rise is where the waistband hits your body, while the fit refers to the tightness of the seat, thighs, and legs.
The best rise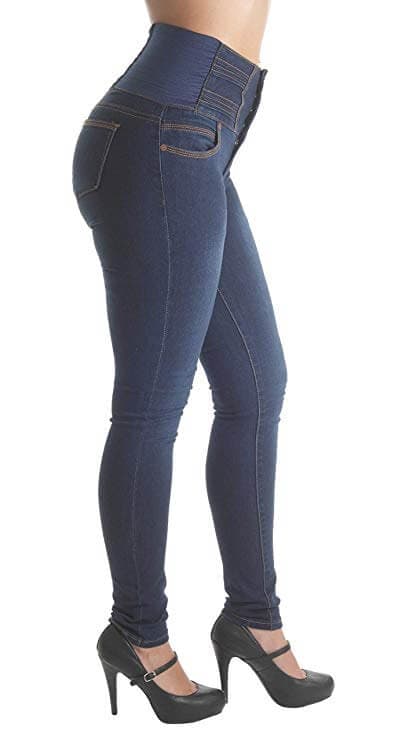 Thanks to your shapely booty, you, a pear-shaped woman, should have no problem looking fantastic in any rise of jeans and trousers.
Of all three though, I recommend high rise bottoms.

Here's why: While low and mid-rise bottoms will, no doubt, look great on a pear, there's a big chance of them highlighting your muffin top (or creating one you didn't have) especially if you're a plus size pear.
For this reason, it's better to shop for low and mid-rise bottoms only in physical stores (not online) as they have a higher chance of return.
High-rise jeans, on the other hand, tuck in the tummy, buttocks, and hip fats so they're highly flattering to your pear figure.
The best fits
You might think that a skinny fit is a no-no for a pear as it highlights the hip fats. But it's quite the opposite.
Skinny fit bottoms are just like tummy control panels. They sculpt, enhance, and camouflage the fats, which in the case of a pear, are residing in her hips and buttocks. The result is a skinnier but shapely booty and slim legs.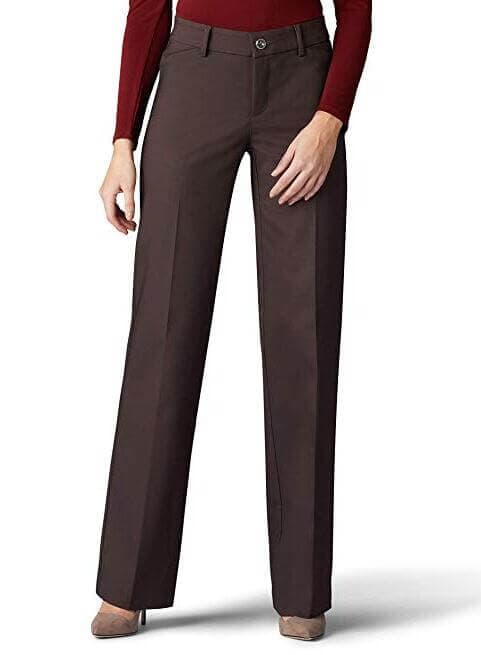 A straight fit is your best choice if you find skinny fit too restricting for your liking but still want to create that slimming effect on your lower body. It hugs the hips enough to flatter them but provides roomier legroom for your legs.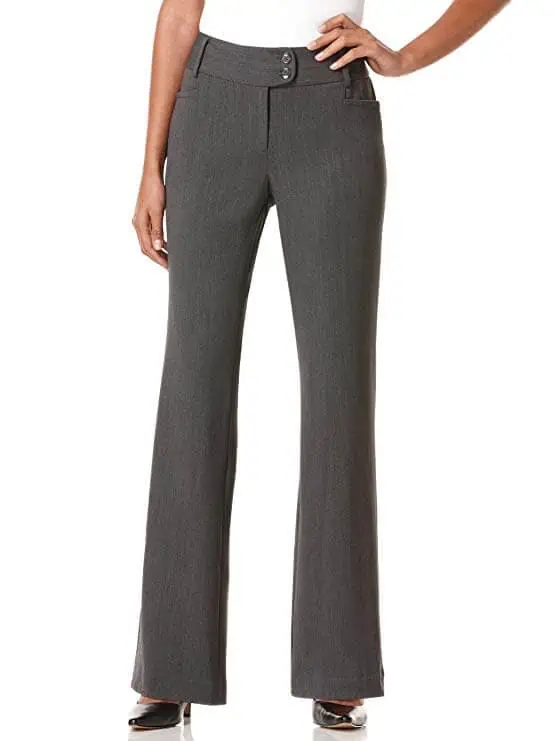 Bootcut and flare bottoms feature a straighter leg fit that widens just below the knee and bells out into roomier hems. What makes them flattering to a pear body are their flared hems. They catch the eyes and draw the attention away from the hips, thus balancing the proportion.
Large back pockets over small ones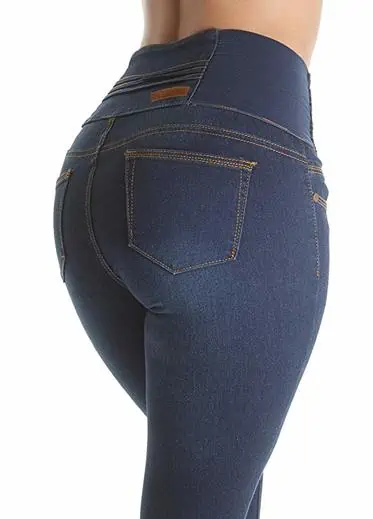 If you have large buttocks (which most pears tend to have) camouflage it by wearing jeans with large back pockets. They'll draw the attention away from your backside's bulk.
Tiny pockets, on the other hand, will make your hips and backside look more substantial due to contrast. Avoid them if emphasizing your backside isn't your goal.
---
BEST SWIMSUITS FOR PEAR BODY TYPE
The same principles that apply to pear's everyday clothing apply to swimsuits, too.
If you prefer modest swimsuits that offer wide coverage than regular bikinis, choose colored tankinis with dark/ black bottoms. The same applies to traditional bikinis and one piece swimsuits.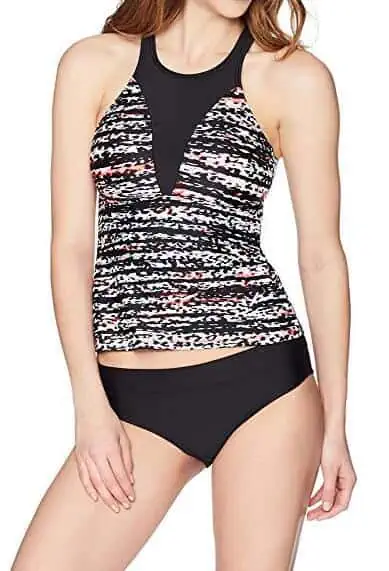 Can a pear wear cheeky bottoms?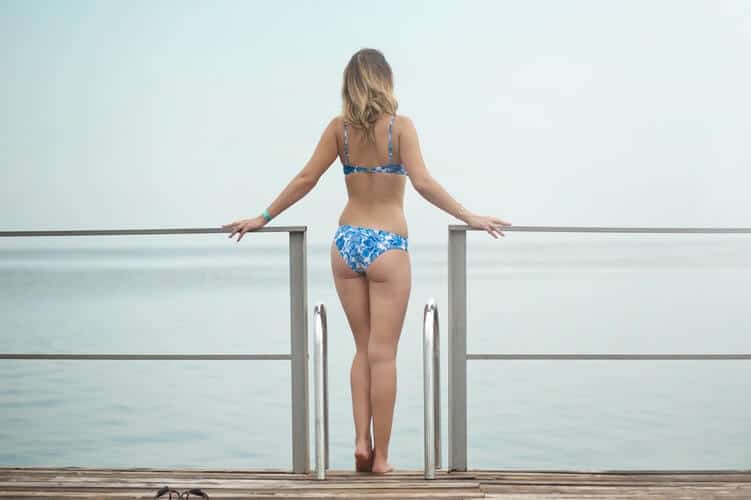 Absolutely! In fact, cheeky bikini bottoms will flatter any body shape since they create a toning effect and provide a lift to the booty. They also camouflage sagging.

Read more about cheeky bikini bottoms here.
Swimsuits are a little trickier to pick than everyday outfits. So I've written a separate guide that specifically talks about swimsuits. Click here if you're a plus size pear, and here if you're a regular.
WHAT TO AVOID
Knowing what to avoid is as important as knowing what to wear. Hence the following guideline:
Avoid embellishments near your hips
Your ample hips need no further enhancements but your torso does. Therefore, keep your lower body unembellished and reserve the drama for your upper body.
When wearing a bikini, avoid bikini bottoms with strings and ruffles. When wearing pants and skirts, avoid glitzy embellishments like belts, buttons, sequins, gemstones, and any bold embroidery near your hips and rear.
Keep them dark and solid-colored (if possible.) If not, then make sure that your bust and shoulders at least outshine your buttocks and hips.
FAQ: HOW TO DRESS A PEAR BODY TYPE
Can I wear A-line dresses?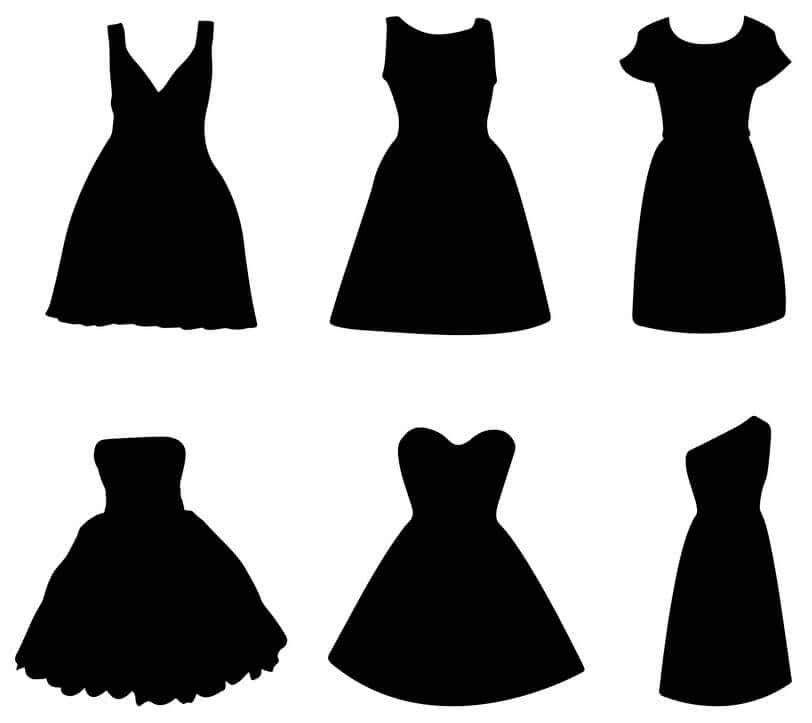 Can a pear wear A-line dresses? Don't A-line cuts make the hips look even bulkier because of its flare?

While A-line dresses flare at the hips which, technically, could widen the hips, they're loose enough to avoid emphasizing the hip fats. They also highlight the waist so the hips don't get all the focus. For this reason, A-line cuts make a flattering piece for any body type.
What are the best necklines for a pear?
These necklines will broaden and enhance the shoulders of a pear-shaped woman:
Bandeau
Boat necks
Scoop and sweetheart necklines (to emphasize the bust)
Can a pear wear V-necklines?
Absolutely. While V-necklines are diagonal, and diagonal lines, technically, could further minimize the narrow shoulders of a pear, they still direct the focus to the upper body and downplays the hips in the process. You can wear them alone or look for tops with puffed shoulders and ruffles to bring more volume to your shoulders.
Which skirts should I wear and how long?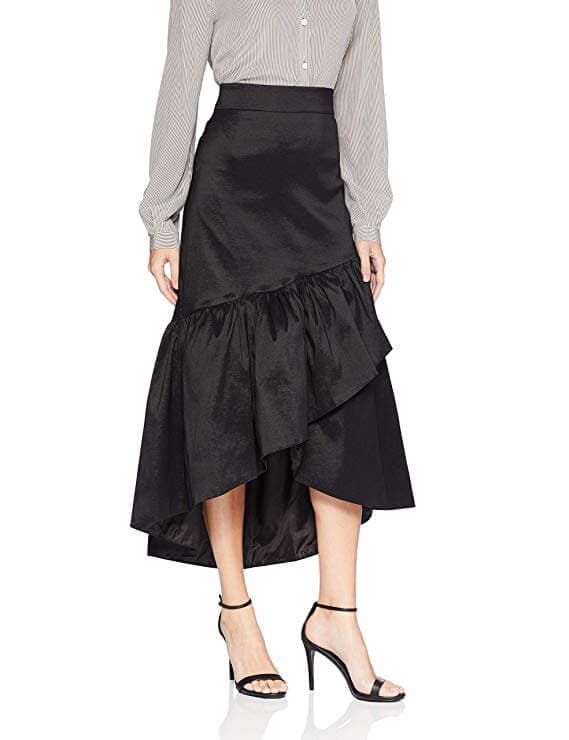 Generally, skirts that hit the knee or ankle are perfect for your pear-shaped body. Anything shorter than knee level would bring the focus to the bulk of your hips.
You can wear ruffles and embellished skirts as long as the embellishments are situated below the knee and along the bottom hemline. This will show off your curvy bottom half without adding bulk to your hips.
Can I wear bodycon and hip-hugging pieces?
Yes. In fact, this is a great way to show off your curves. However, if not chosen well, some bodycon pieces could highlight your muffin tops. This usually happens if you're a plus size pear so be extra meticulous when online shopping.
Shop for bodycon pieces with tummy control panels as they have built-in shapewear within them that tuck in not only your tummy fats but also your buttocks and hip fats so they're generally your best bet.
What are the best accessories for a pear?
A pear can never go wrong accessorizing with scarves, bold earrings, and statement necklaces. They draw the attention to your top half and keep it there. Remember to wear just one bold piece of jewelry at once.
How do I dress my petite pear body?
Focus on length rather than width. This means diagonal lines (to minimize your width) and vertical lines (to elongate your frame) are your best friends.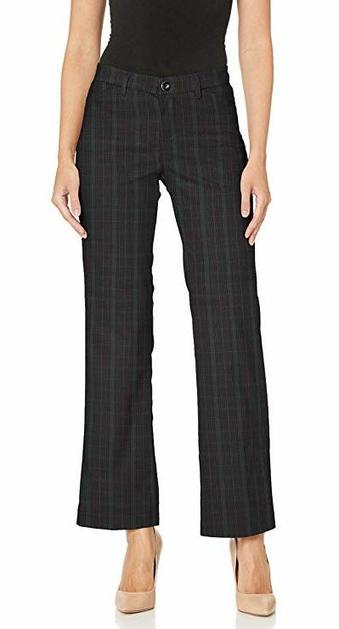 As usual, the good old high heels will give you that extra height. And if you want even more height, wear nude-colored shoes as they create the illusion of longer legs.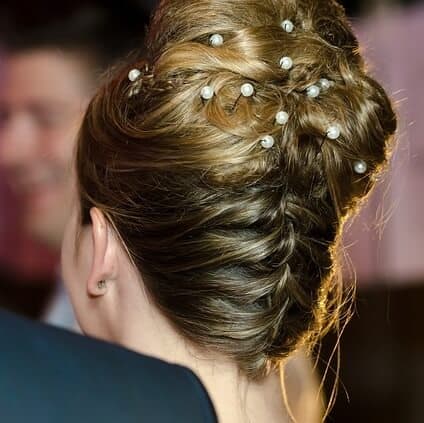 Lastly, an updo or a messy bun hairstyle (or any crownlike hairstyle that adds length to your frame) is a perfect addition.
I'm a pear with short legs, how should I dress?
Just like the petite pear, you wanna incorporate as much vertical and diagonal lines and patterns to your wardrobe. Avoid horizontal lines as your bottom.
Avoid pants that stop at the calves as they'll only highlight the thickest part of your legs. Most of the time, you wanna wear full-length pants.
Wear pants (skinny or wide-legged) with pointy-toed shoes for extra height.
Can a pear body change into a different shape?
Yes, it is possible for a pear-shaped body to change into a different shape. This usually happens after pregnancy or during a weight gain.
Most of the time, female bodies morph into an apple shape. If you were previously a pear but suspect that you now meet the characteristics of an apple body, check out this separate guide. This will also show you how an apple body looks like.
How do I change my pear body shape?
Unless you undergo cosmetic surgery, you cannot change your body shape. You can, however, make it slimmer by following a certain diet or exercise routine. Implement these along with carefully selected pieces of clothing and you can enhance and camouflage certain body parts according to your liking.
Other than that, camouflaging the areas you are less proud of while appreciating your curvy waist already goes a long way.
Are pear-shaped bodies attractive?
Let me begin my answer by saying that beauty depends on the eyes of the beholder.
But if we base the criteria on the mainstream media, then yes, a pear-shaped body is absolutely attractive. You only have to gaze at the likes of Kim Kardashian and you need no more explanation.
If you're not a Kim K. fan, then get this: Slim waist and wide hips have always been the rave way before the Kardashians. You only have to gaze at the centuries-old paintings and masterpieces to agree. 🙂
May this guide deem your shopping painless next time.