If you have a rectangle body type, then your issues when dressing up likely have a lot to do with your curves— specifically the lack of them. But that stops now. In this article, you'll learn the styling principles on how to dress a rectangle or straight body.
After reading this guide you'll know exactly which clothing to wear, which to avoid, and the why behind your every purchase. Here's a detailed guide on how to dress a rectangle body type from head to toe.
But before diving into the styling techniques, let's define the characteristics of a rectangle body, for both plus size and regular
What makes a rectangle body shape?
First off, remember that a regular and a plus size rectangle look slightly different from each other.
Here's how a regular size rectangle looks like: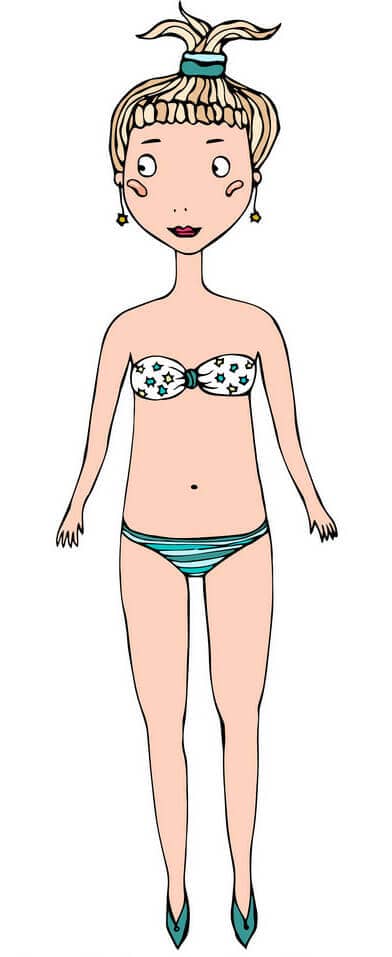 Small breasts
Flat to average butt
Little to no waist definition
Hips, waist, and shoulders share almost the same width. Hence, a rectangular body is also called a "straight or banana body".
And here's how a plus size rectangle looks like: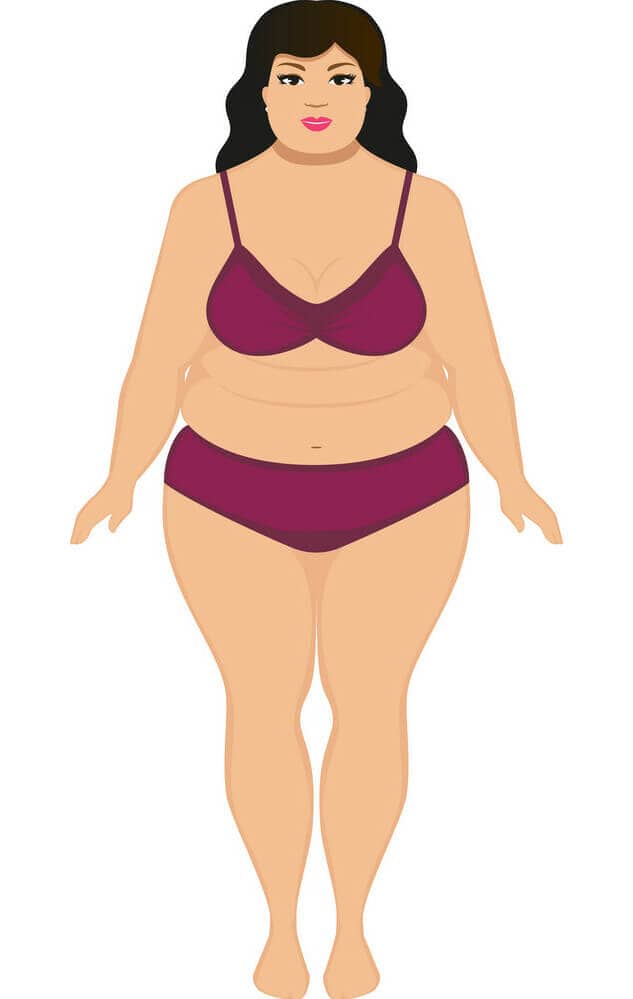 When a lean rectangle gains considerable weight, her fats tend to accumulate in her midsection. Therefore, the description becomes:
Small to average breasts
Flat to average butt
Little to no waist definition
Shoulders grow bulky and angular
In the midsection is where most of the body fats accumulate. As a result, the straight outline between the shoulders, waist, and hips disappears and is replaced with an apple-like shape.
Because of the bulging midsection, most plus size rectangles mistake their shape for a plus size apple. But there's a difference: the shoulders. Apple's shoulders are rounder while rectangle's are more angular.
How to dress a rectangle body type
Note: These "goals" are my assumptions based on what most (read: not all) rectangular-shaped ladies wish their bodies to look like when dressing up. If the following "goals" don't match yours, this guide isn't for you.
If you have a rectangular or straight body, here are your likely goals when dressing up:
Enhance your bust, booty, and hips.
Define and/ or slim down your waist.
Camouflage your tummy fats (if any).
For plus size: Minimize the broadness of your shoulders.
In short, your likely goal is to create an hourglass silhouette: a slimmer waist, wider hips, enhanced curves, breasts, and booty. If this applies to you, read on. This guide is for you.
FLATTERING PIECES FOR A RECTANGLE BODY TYPE
If you've shopped online, then you know that some pieces of clothing that look great on the model could look completely off on your rectangular frame.
The purpose of this guide is to get rid of that very problem and ensure that the next time you shop, you'll know, without doubt, the why of your every purchase. Here are the most flattering designs for a rectangle/ straight/ banana body.
1. Hourglass patterns
If you're in doubt, go for hourglass patterns. They'll never let you down.
They create the illusion of defined curves and an hourglass silhouette: a slim waist and wide hips, which, to a straight body, is always a welcome addition.
Designers achieve the hourglass silhouette by manipulating colors, fabric, shape, lines, and patterns, which are all effective techniques in tricking the eyes to see a voluptuous curve where there's very little.
Below are the examples:
Hourglass-shaped pieces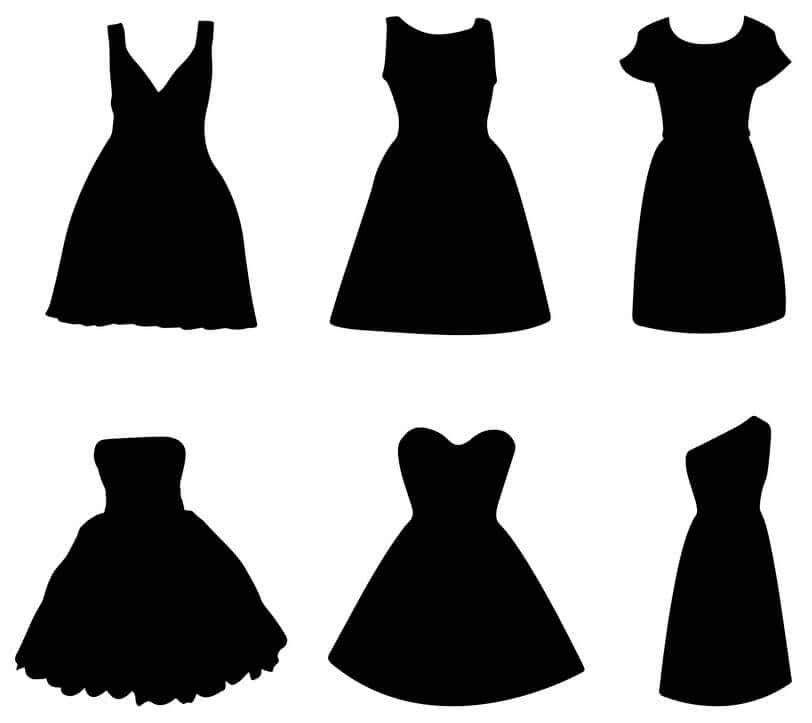 Peplum and A-line pieces are perfect examples of pieces that manipulate shapes to create an hourglass silhouette.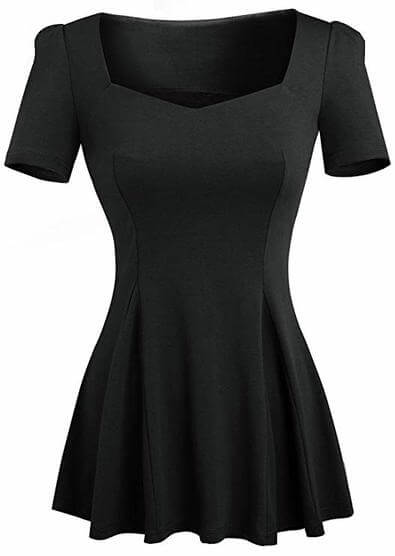 They hug the waist (to slim it down) and flare at the hips (to widen them). By doing so, they create a contrast between the waist and the hips and an hourglass impression is created.
Hourglass prints
This one piece used a combination of lines (diagonal, vertical, horizontal) to form an hourglass pattern. When worn by a straight body, this tricks the eyes to see a curvier figure.
Hourglass cutouts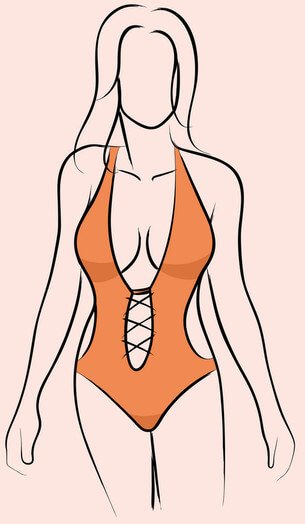 Lastly, these swimsuits took advantage of cutouts to visually slim down the waist while making the hips appear wider.
2. Ruching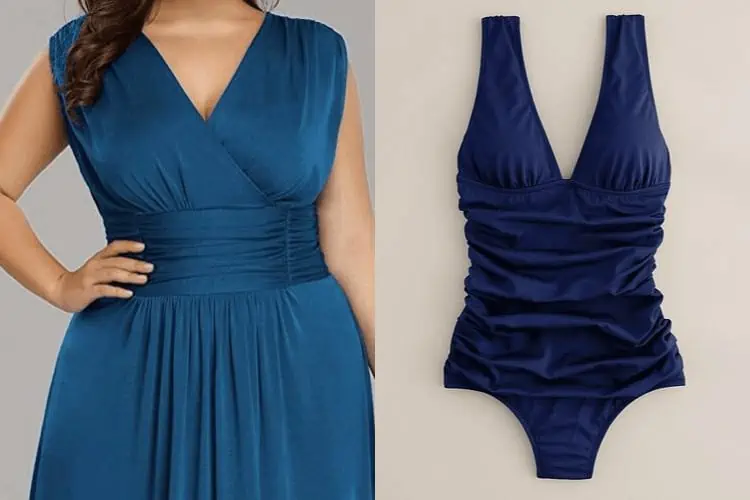 Ruching is a sewing technique that gathers a fabric into a repeating pattern to produce pleats. These pleats allow extra space for the belly to expand but camouflage itself at the same time.
While designers often use ruching for plus size pieces (where there's a lot of belly camouflage to do), it's not uncommon to see ruching in regular size clothing, too.
Lastly, because of their intricate finish, ruched pieces have a special way of making any outfit (of any price range) look expensive and elegant.
3. Wrap designs
Think of wrap designs as breeds between hourglass and ruching.
They accentuate the waist of a straight body by wrapping around it. This wrap, in turn, creates a ruching pattern that camouflages the midsection and enhances the curves. The result is a graceful hourglass silhouette.
This makes wrap designs so popular among rectangular-shaped women. You only need to gaze at the wrap dresses designed by Diane von Furstenberg and you'll understand why.
4. Diagonal lines and patterns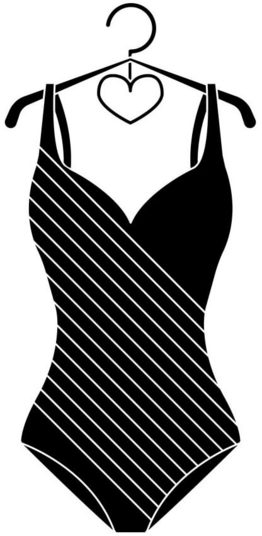 Diagonal lines and patterns are slimming because they distract the eyes from the width of the body. This is especially useful in making the shoulders look less broad and less bulky.
You might say, "But rectangle bodies don't have bulky shoulders!"
That's only true for lean rectangles. When a rectangle body starts bordering to US size 12, the shoulders also starts to balloon along with the tummy.
That's where diagonal lines and patterns come in. Here are some examples of how to incorporate them with your wardrobe.
V-neckline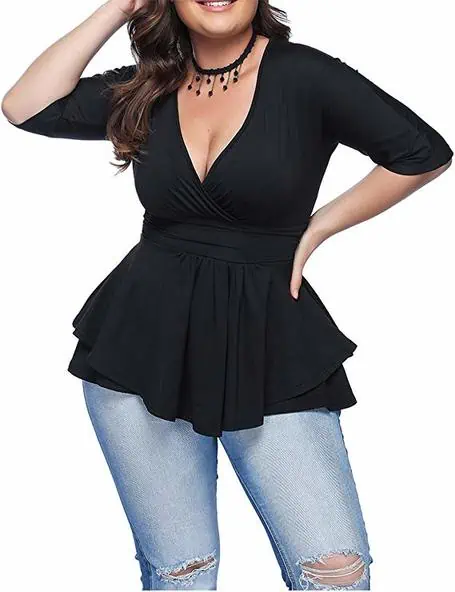 There are two reasons why a V-neckline is flattering to a rectangle body: First, its diagonal neckline visually cuts the shoulders' bulk. Second, it enhances the bust by highlighting the cleavage.
The deeper the plunge, the more slimming the effect. If you're not a fan of highlighting your cleavage though, feel free to choose a shallower V-neckline and you'd still benefit from the slimming effect.
Handkerchief cut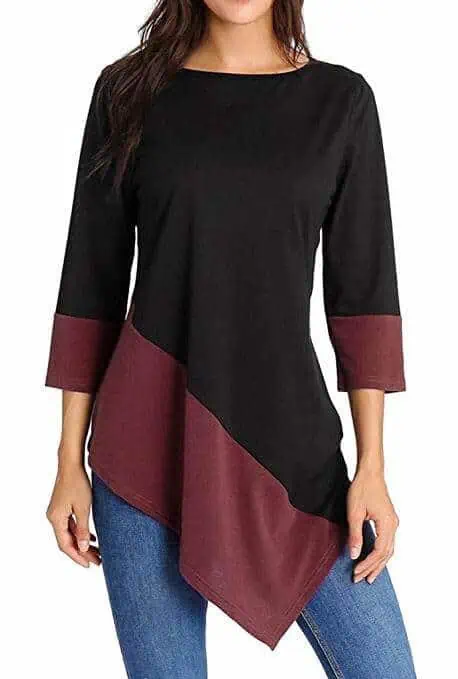 If tummy bulge is your issue, a handkerchief top's diagonal hem will take care of that for you by creating the illusion of a slimmer midsection.
5. Vertical lines and patterns
While diagonal line minimizes, vertical line elongates. It does so by emphasizing length over width. For this reason, petite rectangles (or any petite body shape) can never go wrong by incorporating vertical patterns into their wardrobes.
Would this dress flatter a rectangle body?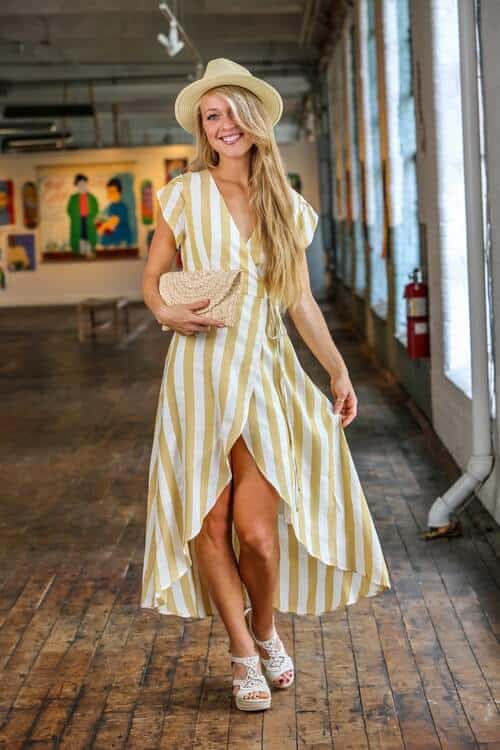 Absolutely! Here's why:

If you're a petite or a plus size rectangle, the vertical stripes will slim you down by visually elongating your figure.

Another plus factors are the two diagonals: the plunging V-neckline (which slims down the shoulders) and the diagonal bottom hemline (which takes the focus away from the straightness).

Lastly, the dress is both an A-line and a wrap-around which (as discussed previously) are both excellent curve enhancers.
6. Asymmetrical pieces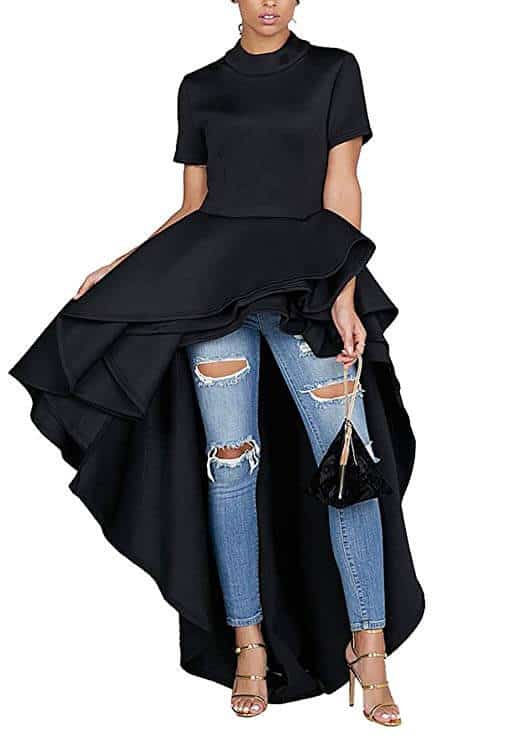 Asymmetrical pieces flatter by breaking the focus away from the straightness of a rectangle body. By doing so, they cut the width of the body into two smaller asymmetrical sections, thus creating the illusion of a slimmer and less angular figure.
7. Tummy control panel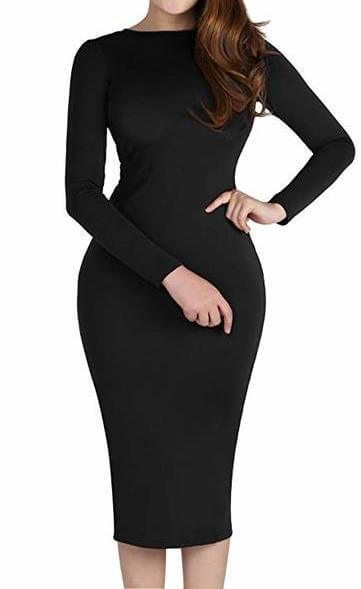 A tummy control panel is an extra layer of fabric built underneath a garment and is designed for two purposes: to tuck in the tummy fats and provide shape to the midsection.
Think of it like Spanx, only it's built within the clothing. You'll often see these pieces from brands that specialize in plus size pieces.
You wanna wear pieces with tummy control panel if:
you're a plus size rectangle,
you're an in-betweener (US size 10-12) where you start gaining the tummy and shoulder fats,
or you just love wearing bodycon dresses but hate wearing Spanx.
8. Push up bra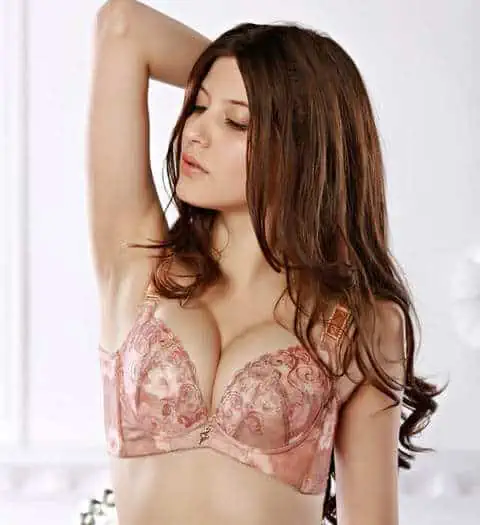 Is push-up bra necessary for a small-chested rectangle?
It's optional and you don't have to wear it if enhancing your breasts isn't your goal.
But the general idea is, to take the focus away from the straightness of your body, you have to lead it somewhere else. Most flat-chested women prefer to draw the focus to their cleavage.
The good thing with push-up bras is, you can control how much cleavage to show and how much to hide so wearing it doesn't mean showing more than you're comfortable with.
9. Frills and ruffles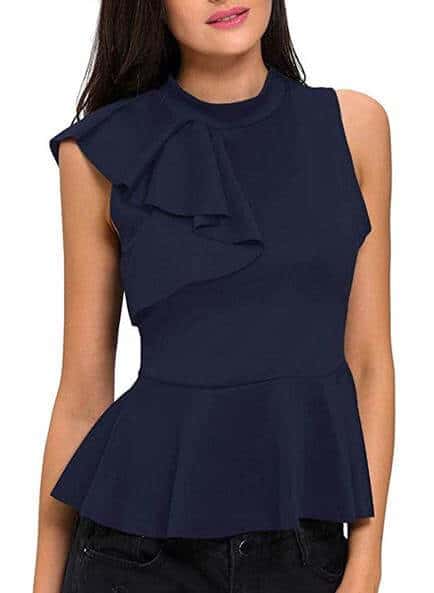 If you're not a fan of push-up bras as your bust enhancer, then tops with ruffles and frills are your best bet. They don't expose the cleavage but make the bust look fuller.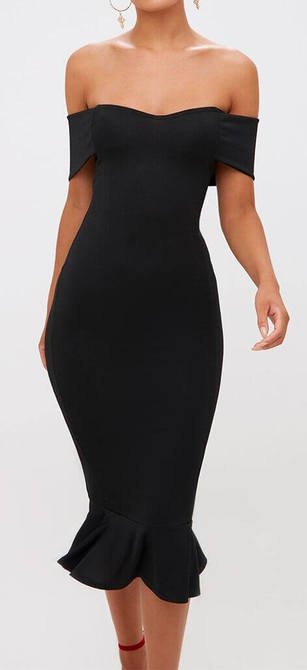 Remember that the spot where the frills and ruffles are situated in the garment matters a lot.
Look for pieces with frills/ ruffles that sit at the bust, hips, or below the knee hemline. They'll create an hourglass silhouette. Avoid ruffles and frills that sit at the waist as they'll only enlarge your midsection.
---
BEST JEANS AND TROUSERS FOR RECTANGLE BODY
When looking for trousers and jeans for a straight body, you need to consider two things: the rise and the fit.

The rise is where the waistband hits your body, while the fit refers to the tightness of the seat, thighs, and legs.
The best rise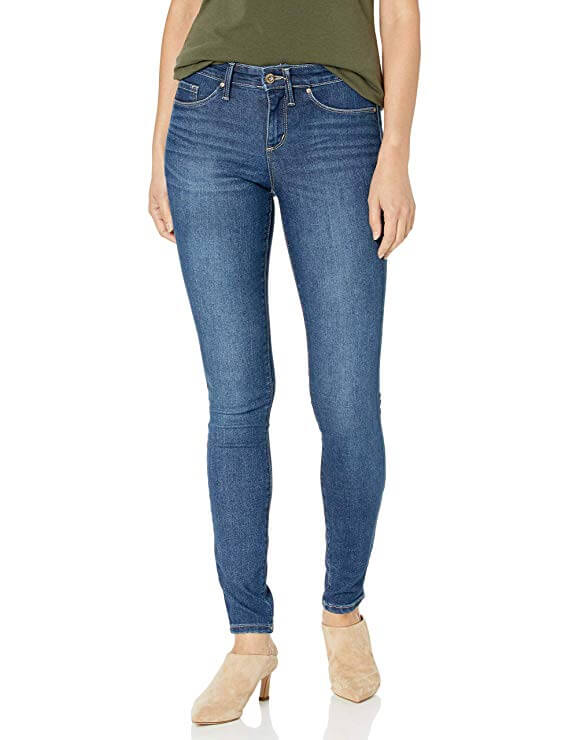 Having a rectangle body myself, I find that the best rise for my straight figure is mid-rise.
High-waisted jeans are great too, but depending on the brand, sometimes, they only highlight the straightness of my hips.
Low-rise jeans, on the other hand, are just a no-no. They flatten the booty and make the legs appear shorter. (If you have to buy low rise jeans, choose the ones with a high back and low front as they'll create the illusion of a waist.)
Mid-rise jeans, however, are perfect. The waistband sits right across the navel (or slightly below it). They're not too high, nor too low. In this level, the jeans can contain your middle while creating a smooth line at the waist— no muffin top, no belly bulge. Just perfect.
The best fits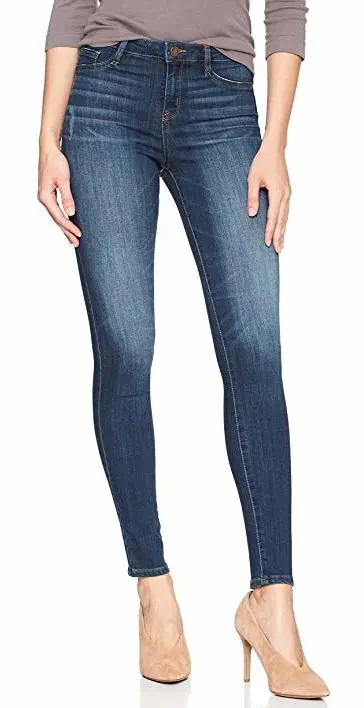 When styling your bottom half, look for fits that are hip and leg-enhancing. Skinny and slim fits do just that. They sculpt the legs and shape the hips to create the illusion of curves.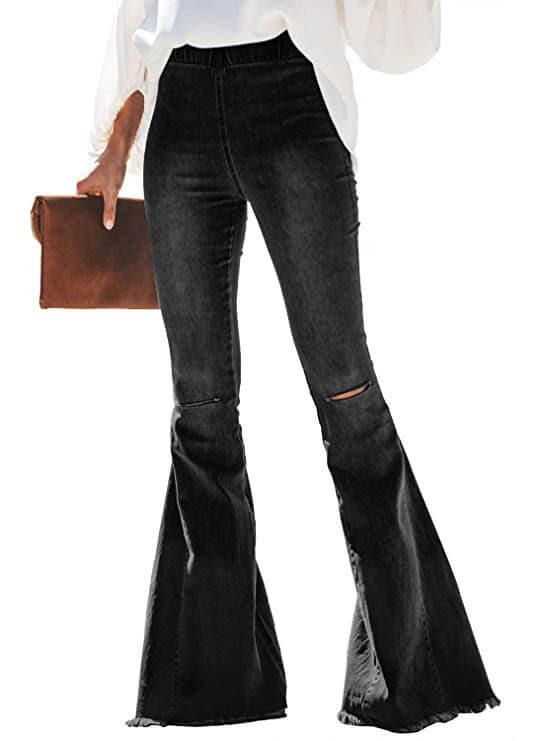 Bootcut and flare pants taper at the knees and flare at the legs, creating a deep contrast between thighs and legs. This, in turn, forms a flattering hourglass silhouette for a straight figure.
Can a rectangle body wear baggy jeans?
Super-tall rectangles can get away with baggy jeans. But if you're a petite or an average height rectangle, then it's not likely going to be the case. Instead, baggy jeans would make you look shorter and wider.
If you want to further enhance your buttocks, look for jeans with rounded yokes. The yoke is the section on the back of the jeans just below the back part of the waistband which is responsible for contouring the booty.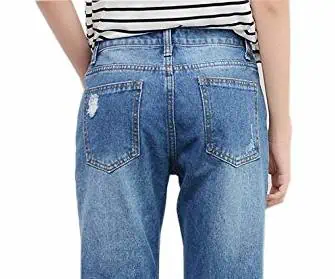 Best Swimsuits for Rectangle Body
The same principles that apply to everyday outfits also apply to swimsuits.
Since creating the illusion of deeper curves is the main goal, then avoid swimsuits that highlight the straightness and flatness of your body especially straight bandeau tops.
You wanna look for designs that are the opposite of straight and flat like the following: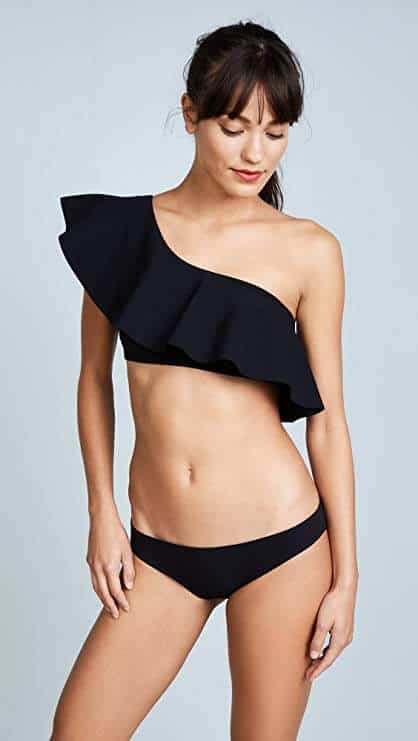 triangle bikinis
cheeky bikini bottoms to tone the booty
strings, frills, and ruffles at the bust and/ or hips
off-shoulder bikini tops with V or sweetheart necklines
high-rise bottoms to expose the widest part of the hips
one piece bathing suits with deep plunging necklines and/ or hourglass prints and patterns.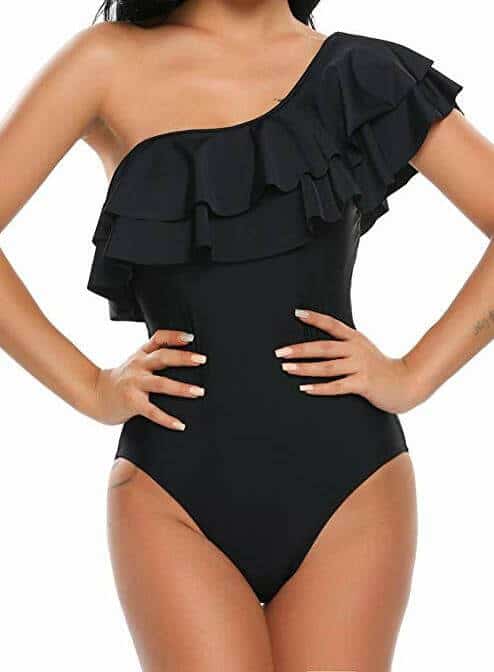 Swimsuits are a little trickier to pick than everyday outfits. So I've written a separate guide that specifically talks about swimsuits. Click here if you're a plus size rectangle, and here if you're a regular.
---
WHAT NOT TO WEAR FOR RECTANGLE BODY SHAPE
Knowing what to avoid is as important as knowing what to wear.
1. Horizontal lines
In general, it's safer to avoid horizontal lines and patterns as they tend to emphasize your width over your height. If you're super tall though, you'll probably get away with straight bandeau tops but if you're average or petite, it's best to avoid them altogether and focus on diagonals and verticals instead.
2. Rectangle boyshorts (swimsuits)
Boyshorts are not something you should wear as your swimsuit bottom if enhancing your hips is your goal. Unlike the traditionally cut bikini bottoms, boyshorts downplay the hips and hides the widest part of the hips. Stick to regular or high-rise bikini bottoms instead.
3. Halters (for broad-shouldered rectangles)
Halters, especially the tiny strapped ones, emphasize and broaden the shoulders. If you're a lean rectangle, this is probably okay. But if you're a plus size or an in-betweener whose shoulder fats are noticeable, it's better to avoid halters.
4. Waist-level shoulder bags
Avoid shoulder bags that sit at waist-level as they'll only take away what little curve resides on your waist. Keep your waist as unembellished as possible and go for handbags instead. If you must wear a shoulder bag, then ensure that it sits on your hips.
---
FAQ: HOW TO DRESS A RECTANGLE BODY
Below are common questions that rectangle-shaped women ask about styling a straight body.
How do I dress a petite rectangle?
If you're a petite rectangle with a short waist, focus on elongating your height while downplaying your width. This means you can never go wrong with vertical and diagonal patterns.
If you want to accentuate your legs, wear lighter colors at the bottom and darker ones at the top.
But you can also wear your bottom and top in one color for a nice streamlined effect.
When it comes to footwear, high heels are obviously your best friends. For more height, wear them flesh-colored or at least the same color as your pants/ skirts to create continuity and the illusion of longer legs.
Can a straight body wear prints and loud colors?
Absolutely! This is especially an effective technique with swimsuits since prints distract the focus away from the straightness of the body.
Of course, you need to make sure that you're wearing the right undertone for your skin. If you have a warm skin undertone, then avoid cool undertones and go for warm, and vice versa.
What are the best necklines for my shape?
Avoid turtlenecks and straight necklines and look for the following:
U or V-neckline
scoop neck
asymmetrical necklines
sweetheart neckline
Which skirts are best for a rectangle body?
The same principles that apply to dresses also apply to skirts. This means you can always count on A-line and mermaid skirts to flatter your figure.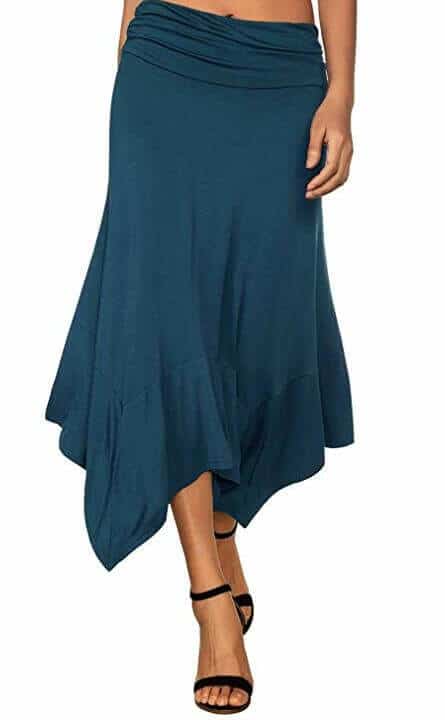 However, note that a rectangle body can look great in just about any type of skirts as long as they're booty and hip-enhancing. This could include bodycon and tight-fitting skirts that meet the criteria.
Can I wear bodycon and tummy-hugging pieces?
Absolutely! Bodycon and tummy-hugging pieces are great on a rectangle body as they create a curvy shape.
If you're on the heavier side though, you might encounter an issue with your tummy bulge but it's nothing that a little ruching or tummy control couldn't remedy.
Which coats should I wear?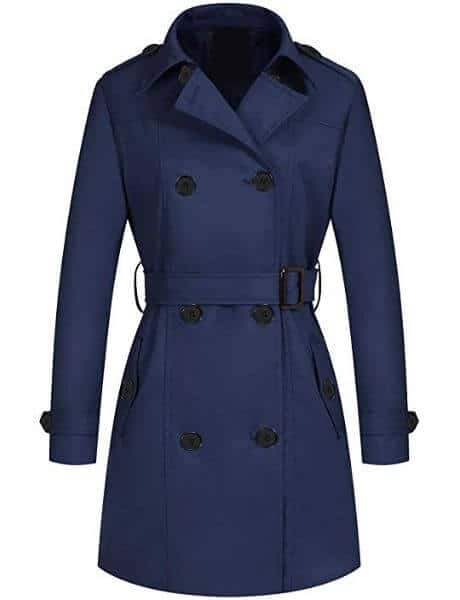 Wear tailored coats that hug the waist or look for ones with adjustable belts and sashes around the waist.
Layering will create an instant slimming effect.
Oversize diagonal lapels and zippers will enhance your bust and de-emphasize the straightness.
Avoid puffy coats and jackets as they'll only blur your waist definition.
Can I change my rectangle body?
Truly changing your body shape into a different one (say, an hourglass) means changing your bone structure. This is only possible by going under the knife (which I don't recommend.)
With a smart choice of clothing, exercise, and a healthy diet, you can easily manipulate the shape of your body without succumbing to cosmetic surgery. Have fun with fashion while learning to love your body as it is. Besides, most supermodels do have straight bodies.
Which celebrities have a rectangle body shape?
Knowing which celebrities have rectangle/ straight bodies will help you develop your own sense of style by copying what you like and ditching what you don't.
Here are some of the celebrities with rectangle/ straight bodies.
Kate Upton
Gwyneth Paltrow
Keira Knightley
Cameron Diaz
Cara Delevingne
Nicole Kidman
Gwen Stefani
Natalie Portman
May this styling guide deem your future shopping both seamless and painless. Questions? Drop them in the comments below and a stylist will get back to you.