Known for their retro Marilyn Monroe look, high waisted bikinis are making a comeback and it looks like they're here to stay. In fact, celebrities like Taylor Swift are making them their signature look. But can every body type pull off the look? Quick answer: no high waisted bikinis don't look good on everyone.
If you're thinking of buying one but still aren't sure whether they're worth it, or if you'd even look flattering in them, read on. Here's everything you need to know about high waisted bikinis.
High waisted bikinis FAQs answered
Why wear them?
It elongates the legs, tucks in the tummy, and creates that retro look reminiscent of Marilyn Monroe which almost every woman on earth loves.
When to wear high waisted bikinis?
Wear high waisted bikinis if you want a sexier version than one piece but a more modest piece than a regular bikini.
They're also perfect for pool parties when you're with people whom you don't feel comfortable seeing you in skimpy bikinis. Your boss and male colleagues for example. Or your boyfriend's parents whom you just met.
Or if you simply wanna add a variety to your style and try something fresh.
Are high waisted bikini bottoms in style?
They absolutely are. When we think of high waisted bikinis, we no longer only think of Marilyn Monroe. We also think of Taylor Swift, Kendall Jenner, Ariana Grande, and other A-list celebrities. If that isn't proof, check out Instagram.
Are high waisted bikinis flattering?
It depends on your body type. Long-torsoed women tend to look flattering in high waisted bikinis, regardless of their body type. Having a curvy waist and wide hips are a plus though, but not necessary. Here's the difference between a woman with a curvy waist vs. one with a rectangle body.
Can I wear a high waisted bikini if I have a straight body and narrow hips?
If you have a rectangle body (waist the same width as the hips) or an inverted triangle (hips narrower than waist), your goal is to widen your hips to balance out your proportion. Remember these tips when shopping:
Go for bikini bottoms with horizontal patterns as they'll make your hips appear wider.
Diagonal or vertical patterns, on the other hand, are slimming, so wear them as your top for an added contrast.
Wear a floral printed bottom and a plain, dark-colored top. Prints emphasize while dark colors de-emphasize.
Tie side bikini bottoms will also add volume to your hips even if they're plain colors.
Do you have to be tall to wear them?
Not necessarily. In fact, some petite women can rock high waisted bikinis and look flattering in them, while some tall women just look off. Your overall body height is irrelevant. What's relevant is the length of your torso vs. your lower body. Here's Lucy Hale sporting a mismatched high waisted bikini.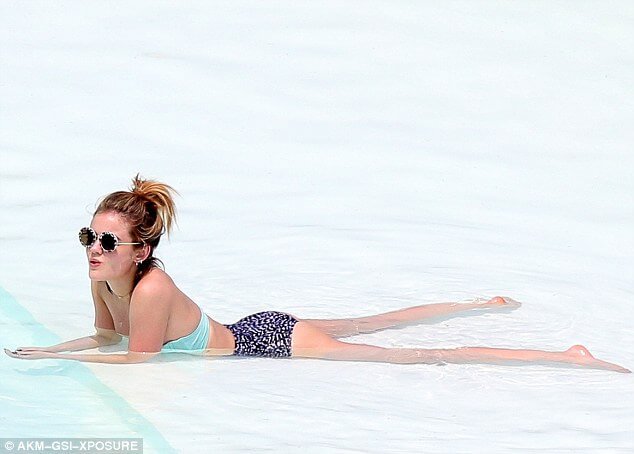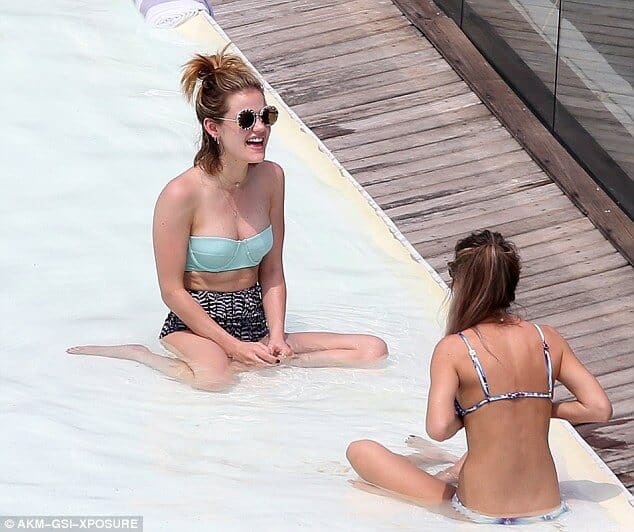 If you have a longer torso vs your legs, chances are, you're gonna look good in a high waisted bikini. Otherwise, you'll just appear shorter as the fabric rises up to your navel area and visually reduce your length. To a long-torsoed woman, this isn't an issue.
But I can't tell whether I have a long, average, or short torso.
True, it can be tough to figure out. The best way to find out is to try one on. If you still aren't sure, ask a fashionista friend's opinion. If she isn't sure, then you probably should just stick to the regular bikinis or the more exciting cheeky bikinis. It's one of those instances when you'll know it once you see it.
Do high waisted bikinis hide love handles?
Yes, it does but only to a certain point. If you're a plus size and your midsection is where you gain most of your fat, it's better to invest in a high waisted bikini with a tummy control panel. If you're a regular size and you're just hiding a little bit of love handle, the bikini alone will suffice.
Do high waisted bikinis make you look thinner?
It depends on the bikini's design and how it would look like on your body type. Remember these tips when shopping for a high waisted bikini:
If you want to camouflage your tummy and hip fats
This is usually the case if you're a plus size apple, diamond, triangle/ pear, and diamond where you gain the most fat in the hips. Skip this part if you're happy with your hips as they are.
Wear black and other plain, dark-colored bottoms as these colors are slimming.
Pair it with a printed top to draw the eyes away from your hips. This will also highlight your bust which is great for small breasted women who want to enhance their breast.
Wear diagonal or vertical prints as your bottoms. These lines particularly elongating, which visually reduce the width of the hips while still retaining the curve.
Avoid a bikini bottom with a horizontal line as it'll only widen your hips.
You can also invest in one with a tummy control panel. It tucks in your tummy fats and shapes it, getting rid of the "spilling fat" effect some plus size women have.
If you want to camouflage your arm fats
Look for tops that draw the attention to your neckline and away from your arms like V-necks and embellishments
Go for diagonal and vertical lines if you want to slim down your torso.
Best high waisted bikini for each body type
As a shopping guide, here's a sample choice of each high waisted bikini that'll look flattering in each body type.
Rectangle body
Wear a colored bottom to widen your hips. If you want to enhance your bust, go for a ruffled top. Overall, this pair will cancel out the straightness of your body.
Triangle or pear
Your goal is to downplay your hips and widen your bust for more balance. Therefore, wear a plain, dark-colored bottom with a ruffled top as it'll add volume to your bust. You can also wear it in prints for more emphasis.
Apple and diamond
If you want to comfortably tuck in your tummy fats, go for a high waisted bikini with tummy control panel. Plain, dark-colored bottom will also slim down your midsection and pairing it with a printed top will accentuate your bust.
If you don't like plain colors, go for tops with decorative embellishments in the neckline. This draws the eyes to your bust, away from your tummy.
Inverted triangle
Go for bottoms with prints or horizontal patterns as they add volume to the hips. Pair it with a handkerchief top to slim down your torso. Also, its "arrow" pointing downwards will emphasize your hips even more.
Hourglass
You can wear almost anything you want as long as it provides support and coverage for your large breasts. The good thing about being an hourglass is, you don't have to worry about balancing your proportion. It already is.