If you own an hourglass body shape, consider yourself a lucky woman. It means you have what some women don't: a naturally slim waist and a proportionately balanced figure. You can practically wear almost anything you like and expect to look great.
While this makes you luckier than most women, this doesn't exempt you from little snags and inconveniences when dressing up your body type. Like other body types, you'll encounter issues that are unique to your hourglass figure.
However, this guide will ensure that you'll be able to deal with those inconveniences to make your shopping painless, fast, and enjoyable. Here's a complete guide on how to dress an hourglass body shape from head to toe.
But first, let's define what makes an hourglass body for both regular and plus size women.
HOW DOES AN HOURGLASS BODY LOOK LIKE?
An hourglass body shape has the following characteristics:
Well-endowed booty and breasts.
Slim and well-defined waist
The shoulders and hips have roughly similar widths.
The shoulder-waist-hip ratio is 4-2-4. For this reason, an hourglass body is also called a "Coca-Cola body", comparing it with the shape of Coca-Cola's glass bottle packaging (not the can).
Here's how a regular size hourglass looks like:

And here's a plus size hourglass: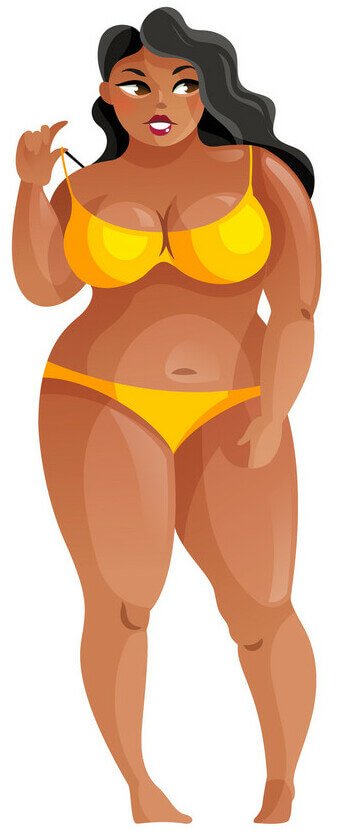 Note: Not all lean hourglass women remain hourglass when they gain weight. Some of them morph into a plus size apple. If you suspect that you now possess a plus size apple, confirm it by looking at this guide for plus size apple's characteristics.
HOW TO DRESS AN HOURGLASS BODY SHAPE
Note: These "goals" are my assumptions based on what most (read: not all) hourglass-shaped women wish their bodies to look like when dressing up. If the following "goals" don't match yours, this guide isn't for you.
If you have an hourglass body, here are your likely goals when dressing up:
Flaunt your curves.
Accentuate your slim waist.
Camouflage the fats of your tummy, hips, and buttocks (if you're a plus size or an in-betweener hourglass).
Lift your breasts and tone your booty.
In short, your likely goal is to show off your curvy and feminine silhouette while camouflaging the parts that you want hidden (like love handles). If these are your goals, read on. This guide is for you.
HOW TO FLAUNT THE CURVES OF AN HOURGLASS BODY
To emphasize your hourglass silhouette, wear pieces with hourglass patterns. Designers form hourglass patterns by manipulating shapes, lines, colors, and fabric. Below are some of the examples:
Hourglass-shaped pieces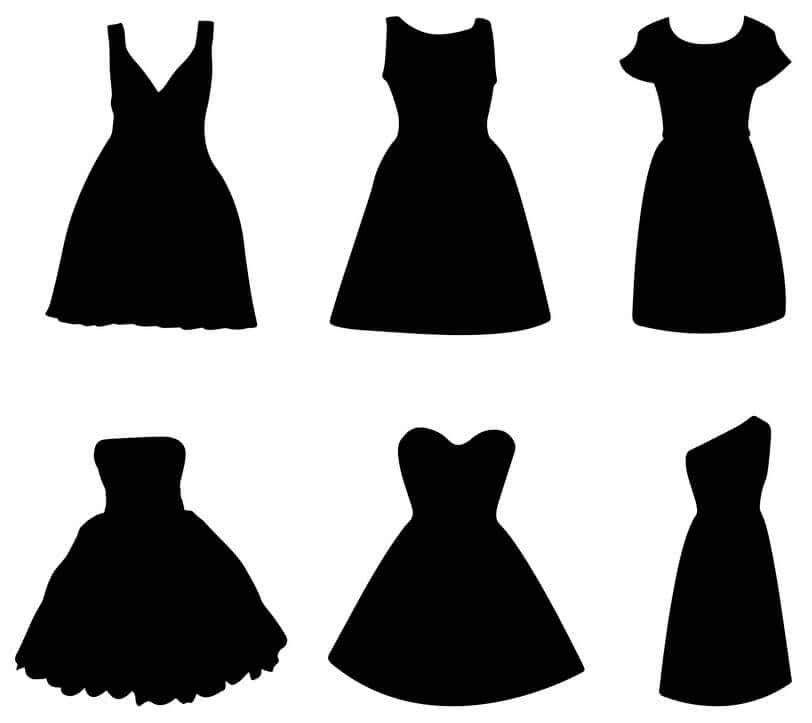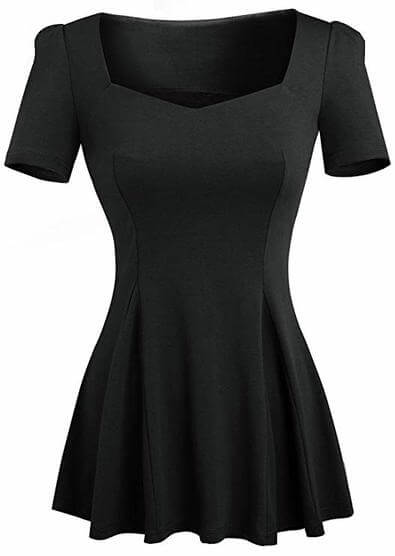 Any piece that hugs the waist and flares at the hips will accentuate the curves of an hourglass body. The best examples are A-line dresses and peplum blouses.
Hourglass cutouts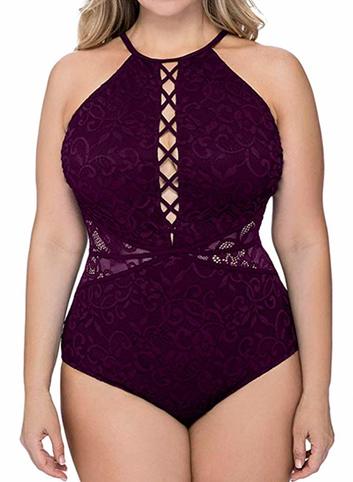 Cutouts on both sides of the waist will accentuate your hourglass figure and flaunt your curves. These may not be your best choice though if you have midsection fats to camouflage.
Hourglass prints
This one-piece bathing suit tricks the eyes to see a slimmer and curvier figure by using the combination of lines (vertical, horizontal, diagonal) to form an hourglass impression.
Wrap blouses and dresses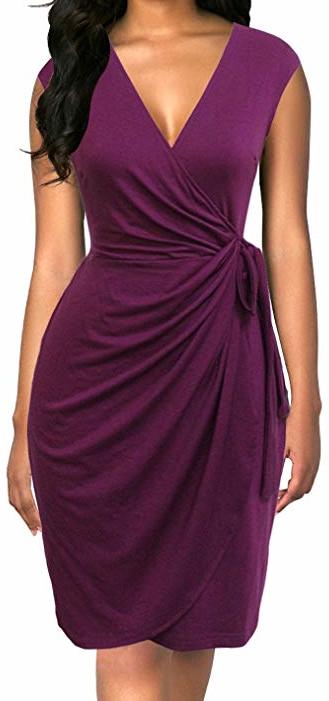 If you prefer slightly loose-fitting clothes, then wrap designs are your best bet. They hug the waist and widen the hips but without compressing the midsection. They're especially great for plus size hourglass who wants to camouflage their love handles but hate the constriction of shapewear.
HOW TO CAMOUFLAGE YOUR BODY FATS
While plus size hourglass bodies possess slim waists even during a weight gain (and only rarely transform into an apple shape), they're not exempted from stubborn belly fats.
If you're an hourglass and your stubborn love handles could use some camouflage, then take note of the following designs.
Shapewear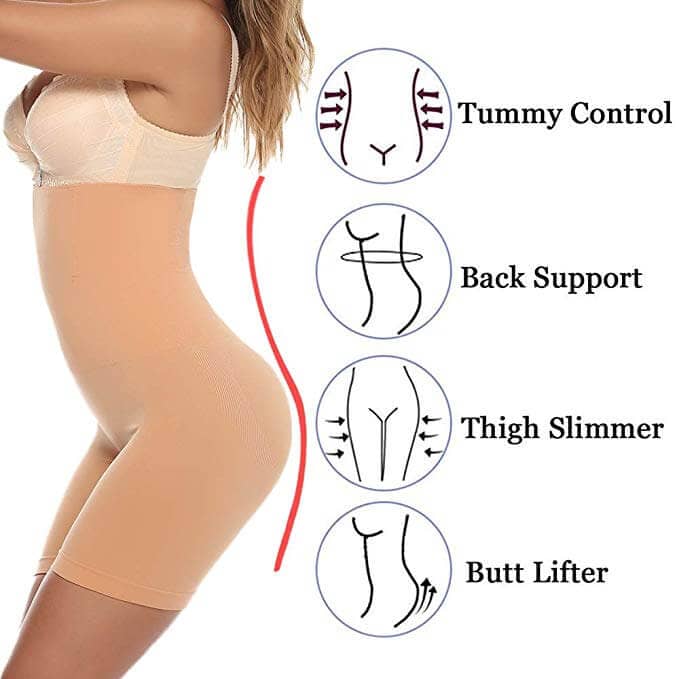 Shapewear are undergarments designed to shape the body by smoothing out and camouflaging the fats at the tummy, hips, buttocks, and thigh while lifting the butt.
If you're a regular size hourglass, you probably won't need it as much. If you're a plus size though, then it will come in handy on occasions when you wanna wear figure-hugging bodycon dresses.
The disadvantage of wearing a shapewear, of course, is that it's little constricting (since it's meant to be tight.)

Note though, that if it's super tight to the point of restricted breathing, then you're wearing the wrong size. You should be able to wear a shapewear without restricted movement or it ruining your day.

In some cases, the quality of the brand also helps. Overall, you should only wear shapewear on special occasions and when necessary. It's not an everyday outfit…which brings us to my next tip.
Built-in tummy control panel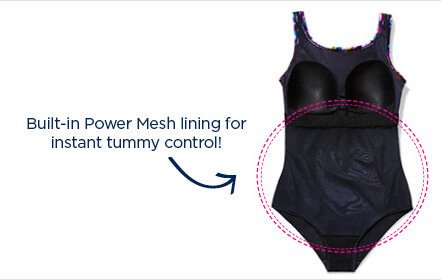 Think of built-in tummy control panels as cousins of shapewear. But instead of being stand-alone pieces, they're attached to the clothing.
You can find tummy control panels in just about any type of clothing that specialize in plus size pieces— from swimwear, dresses, tops, trousers, jeans, shorts and even underwear.
They're also not as constricting as shapewear. In fact, you can barely feel them at all. The downside, of course, is that they provide lesser shape and camouflage than shapewear do. Nevertheless, they're usually more than enough if you're not wearing a super tight outfit.
Unlike shapewear, they're comfortable for everyday wear and are usually enough if you're an in-betweener hourglass (US sizes 10-12).
Ruching and shirring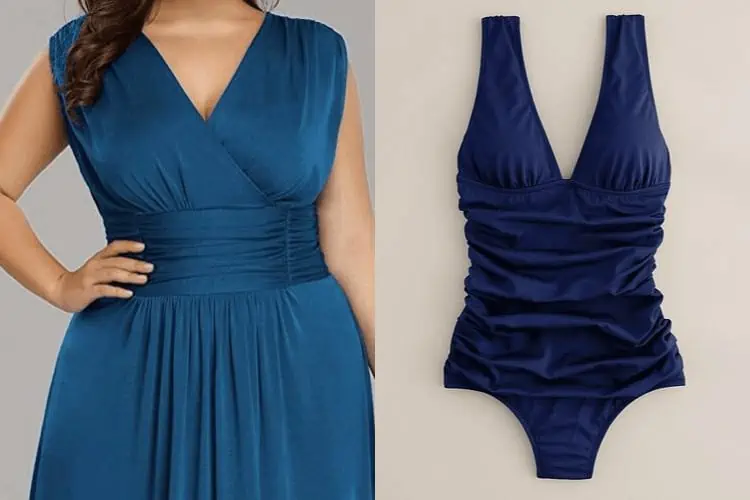 Ruching and shirring are sewing techniques that gather pieces of fabric into repeating patterns to create pleats. These pleats, in turn, create an extra space where the belly fats could comfortably expand but camouflage at the same time.
Designers often use ruching along with tummy control panels but one can exist without the other.
What I like about ruched and shirred pieces is their expensive-looking finish which makes them a staple design for formal clothing.
HOW TO SLIM DOWN A BODY PART
While an hourglass body has the most balanced proportion of all female body shapes, it's not uncommon for an hourglass woman to want to camouflage and slim down some parts of her body. Hence the following designs:
Diagonal lines and patterns
Diagonal lines and patterns are great at visually minimizing the width of the body. So if your goal is to slim down a body part, wear pieces with diagonal lines on the body part you wanna camouflage.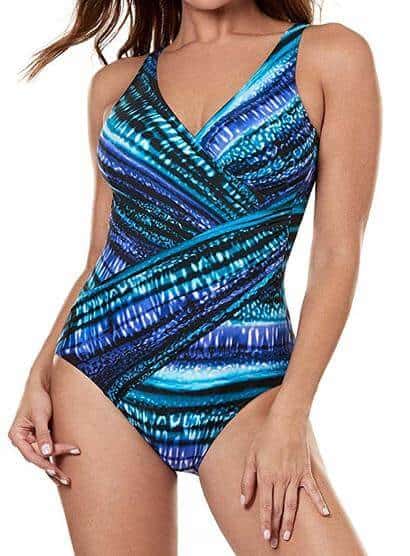 This swimsuit, for instance, features diagonal lines on the midsection. If your goal is to de-emphasize your love handles and make your waist look even slimmer, then diagonal patterns on your midsection will do the job.
On the other hand, if you want to minimize your shoulders, then wear pieces with plunging necklines. Plunging necklines are formed by two merging diagonal lines. The deeper the plunge, the slimmer the effect.
Color contrast
We all know that dark colors are slimming while bright ones are widening. However, you can create another flattering illusion by contrasting dark from bright colors. Here's how:
Let's say that you wanna camouflage your tummy while flaunting your bust. Then the perfect way to do that is by wearing light colors at the top and darker colors at the bottom. Take a look at this one piece: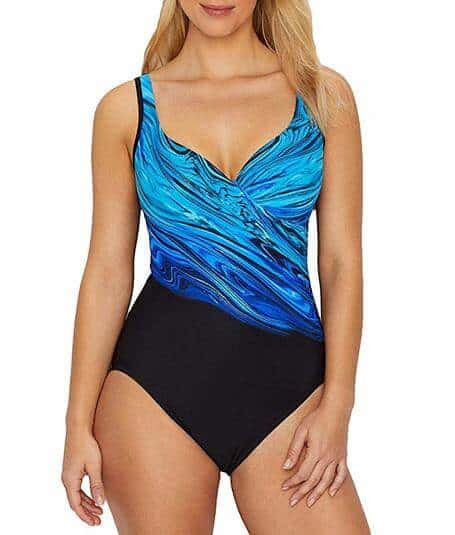 Aside from the plunging neckline and diagonal lines across the tummy, the designer took advantage of the contrast between dark and light colors to de-emphasize the tummy and emphasize the bust.
The reverse is true if you want the opposite effect. Either way, consider yourself lucky for having an hourglass-shaped body as it allows you more styles to experiment with than other body types.
Vertical lines and patterns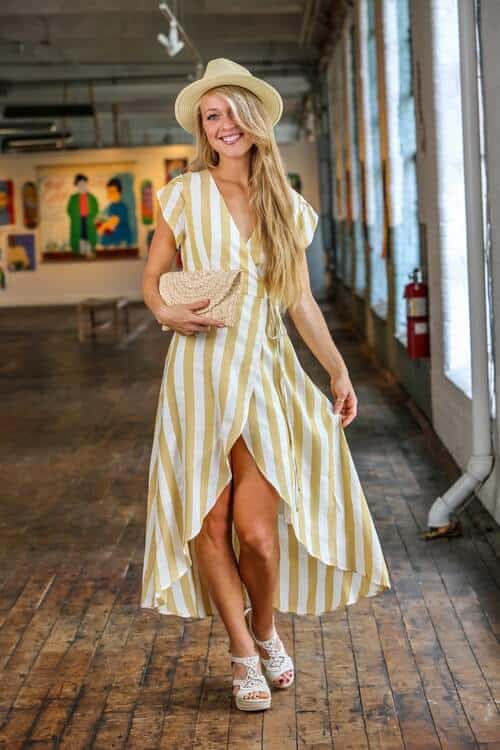 Vertical lines and patterns elongate the figure by emphasizing length and downplaying width. For this reason, they're excellent if you're both a plus size and a petite hourglass. They'll make you look taller and slimmer.
STYLES AN HOURGLASS CAN WEAR WHILE OTHERS CAN'T
While other body shapes (pear, inverted triangle, apple, and rectangle) have few limitations on what they can wear, an hourglass has little to almost none because of its feminine and well-balanced proportion.
That said, here are the designs that an hourglass body can happily get away with while other body shapes can't.
Horizontal lines and patterns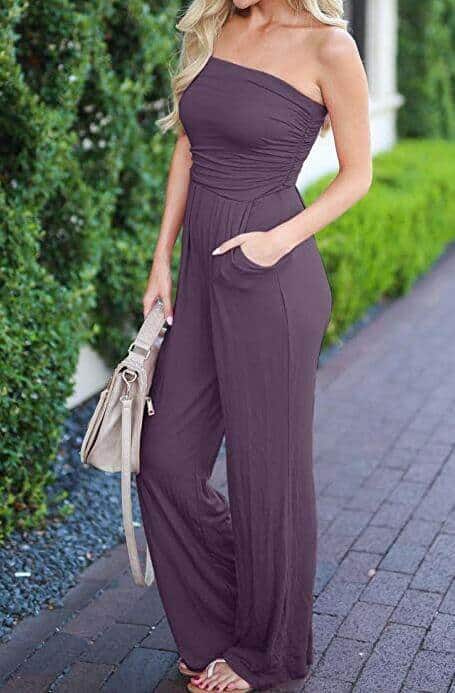 Horizontal lines and patterns emphasize the width and de-emphasize height. This means that for an inverted triangle, she could only wear them as her bottom but not as her top since they'll only broaden her shoulders even more. The opposite is true for a pear.
An hourglass-shaped woman, however, can get away with horizontal lines wherever she wears it on her body. These include horizontal stripes, belts, straight bandeau, and other straight necklines.
Halter neckline
Halters (especially the tiny-strapped ones) emphasize the widest part of the shoulders and make them look broader. For an inverted triangle and a plus size apple, halters are usually not a good idea. But a regular size hourglass can get away with them no problem.
Bold prints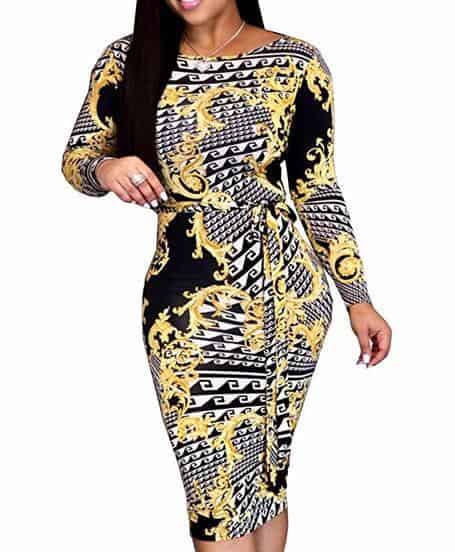 Other body shapes look better in small prints while others look better in large prints. But not both. But if you have an hourglass body, you need not worry about this.
Mix and match colors
Not that other body shapes cannot wear or mix and match colors. It's just that there are certain limitations to avoid disproportionately highlighting their silhouettes.
For example, a pear-shaped woman, when wearing prints and colors, should always ensure that her top's color outshines her bottom's. So the usual advice is: colored top, black bottom. Or if she wears them both colored, then at least the top should be brighter than the bottom.
Since you're an hourglass, then you can pretty much mix and match colors and prints without worries.
ARE THERE DESIGNS THAT AN HOURGLASS BODY SHOULD AVOID?
You don't necessarily have to avoid these designs. I'm only mentioning these because wearing too much of these could create a disproportionate silhouette (which you may or may not want).
Ruffles at the hips and buttocks
Ruffles in your hips and buttocks could make your figure look bottom-heavy. Off-shoulder ruffle tops are generally okay though whether they're horizontal, vertical, or diagonal. But since your hips and buttocks are already well-defined, adding ruffles to it may not always be the best idea.
If you're wearing bodycon and other figure-hugging clothing, then make sure that the material is supportive and moderately thick especially if you're a plus size hourglass. Doing otherwise will unattractively highlight the lumps of fats that you probably want hidden.
Turtleneck and closed necklines
Turtleneck and closed necklines tend to compress the breasts and create the illusion of fats that weren't there before. You can avoid this problem by picking the ones with structured and supportive fabric.
HOW TO PICK THE BEST JEANS & TROUSERS FOR AN HOURGLASS BODY
An hourglass-shaped woman has very little to worry about when shopping for pants. Pretty much any fit or rise of jeans and trousers will flatter her figure.
However, for reference, here are some of the styling tips worth knowing when shopping for pants for an hourglass body.
If you want to emphasize your booty, look for jeans and trousers with rounded yokes. The yoke is the back section of the jeans just below the waistband and it's responsible for contouring the booty.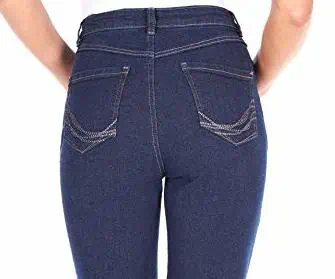 If you want to downplay your butt though, then go for pants with straight yokes.
Do you have love handles? Then be extra careful when buying low-rise pants. They tend to highlight the fats in the midsection. If you're shopping online, stick to a tried and tested brand.
High-rise and mid-rise pants, on the other hand, should fit and flatter an hourglass body with no issues.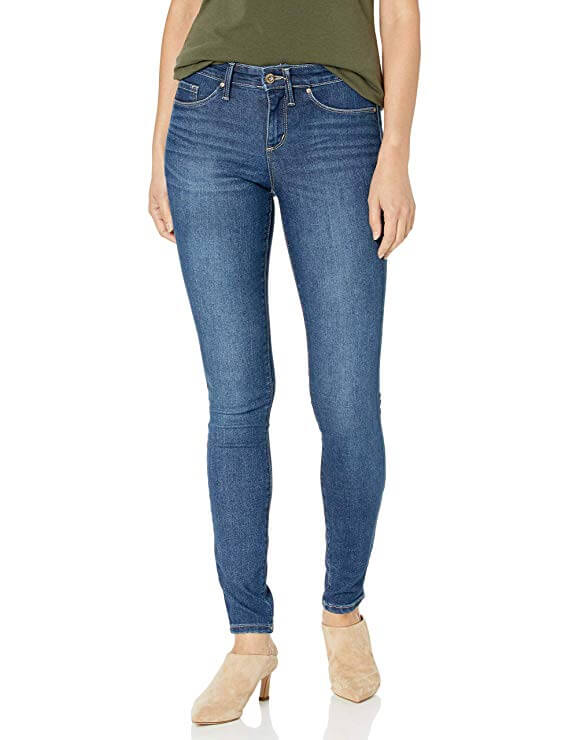 When it comes to the styles of pants, the best fits are usually skinny, wide-legged, straight, flare, and bootcut. But an hourglass could pretty much wear any pants she fancies as long as they don't throw off the balance of her figure.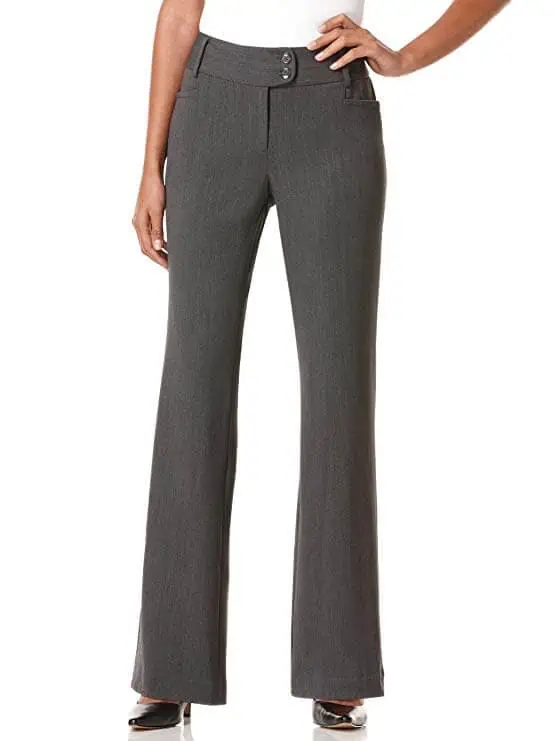 BEST SWIMSUITS FOR AN HOURGLASS BODY
The same principles that apply to everyday clothing also apply to swimsuits. Here are my recommendations according to goals:
If you want to flaunt your curves, wear the following: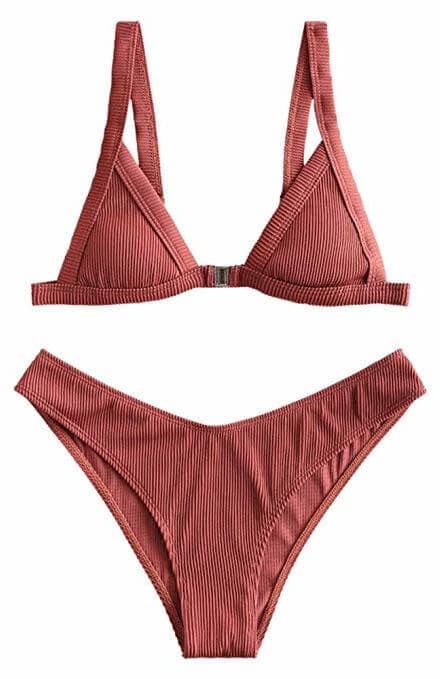 Triangle bikini
One-piece with hourglass cutouts
A-line swim dresses and skirts
Peplum tankini
Handkerchief tankini
To elongate your legs, go for high rise bottoms, while Brazilian bikinis will tone your booty.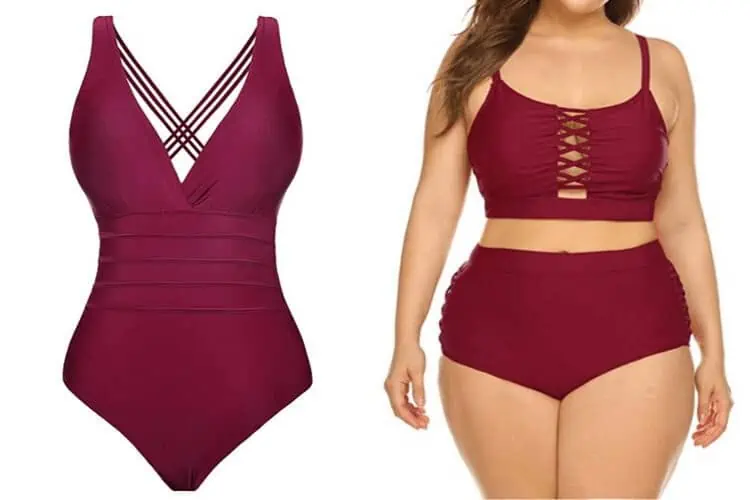 If tummy fats are your concern, pick the swimsuit brands that specialize in swimsuits with tummy control panels.
Swimsuits are a little trickier to pick than everyday outfits. So I've written a separate guide that specifically talks about swimsuits. Click here if you're a plus size rectangle, and here if you're a regular.
FAQ: HOW TO DRESS AN HOURGLASS BODY
Below are questions that hourglass-shaped women commonly ask when dressing up their curvy bodies.
How do I dress my petite hourglass body?
To dress a petite hourglass figure, go for vertical stripes and patterns. They elongate the height while downplays the width.
Of course, high heels are your best friends.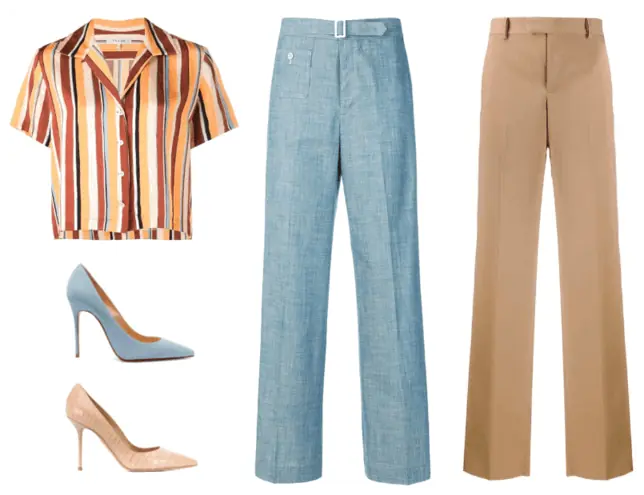 If you want to add more elongation, wear flesh-colored pointy shoes or match the color of your pants to the color of your shoes.
Monochromatic outfits will also make you look taller.
If you have short legs, elongate them with high waisted pants with your blouse tucked in. Crop tops are also great.
How do I dress my hourglass body casually?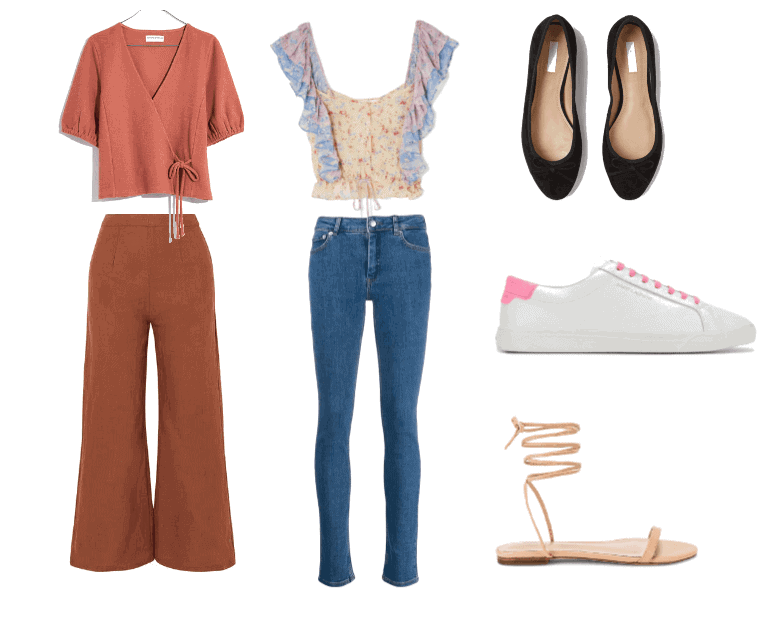 If you want to show off your curvy waist, then go for jeans and crop tops. Pair them with flat shoes, sneakers, or sandals.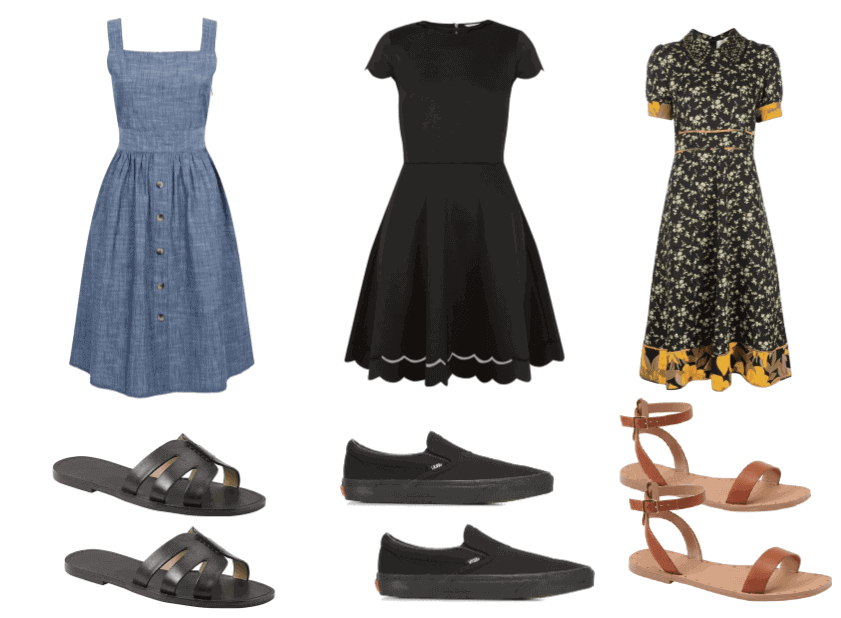 If you want a modest and feminine look, go for A-line dresses. Add a casual vibe by sporting flat footwear like sneakers, open-toed sandals, and even flip-flops.
For chilly weathers, go for pants with bomber jackets.
Any more shopping tips for hourglass women?
If you have to choose between comfort and style, choose comfort every time. Remember, you have an hourglass body, the most coveted female body shape in the world. This means that, with little to no tweak, almost every piece of clothing will look great on you.
Invest in a supportive and comfortable bra. It's amazing how an ill-fitting bra could ruin an impeccable outfit. A well-fitted bra will make a massive difference to your overall look (and sanity).
Which celebrities have hourglass bodies?
If you need more inspirations on creating your own wardrobe, then observe how these celebrities style their hourglass figures. Take what you like and ignore what you don't. This way, you can create a sense of style that you can truly call your own.
Marilyn Monroe
Jennifer Lawrence
Sofia Vergara
Beyonce
Scarlett Johansson
Salma Hayek
Kelly Brook
Candice Swanepoel
Kendall Jenner