If you want to accentuate the curve of your waist, camouflage your tummy fats, and create more of an hourglass silhouette, this guide is for you. Here are the best swimsuits for an apple body shape.
You have an apple body shape if you have:
rounded shoulders
full breasts
flattish to average booty
less defined or almost straight waist
you gain the most fat on your midsection (tummy)
your arms and legs tend to be thinner
Are you a plus size apple? Click here for a different guide.
You don't necessarily have to be a plus size to have an apple shape body. It just means that your midsection is the part of your body that accumulates the most fat, so you're fullest in that area compared to your other body parts like arms and legs.
The good news is you have shapely legs and arms as the fats grow there last. Not to mention you have a well-endowed bust.
The bad news is with just a slight fat gain, your waist could easily lose its curve and shape.
The following is the list of swimsuits that'll look flattering on your apple body shape.
Swimsuits with tummy control panel
Think of tummy control panel as a lighter and more comfortable version of a corset. You can barely feel it's there. It tucks in the tummy fats as well as provide shape to your midsection.
While there's plenty of brands that sell swimsuits with tummy control panel Miraclesuit is one of the leading brands which specializes in them. As you can see, not only do the swimsuits have attached tummy control but their designs are also slimming, designed not only to tuck in the fats but also to camouflage them.
If you want affordable versions of Miraclesuit, check this list out.
Note: If your tummy fats aren't that pronounced, a tummy control might not be necessary. Just use your swimsuit's shape and patterns to your advantage which I'll discuss below.
High waisted bottoms
Not all high waisted bikinis look flattering on an apple body. Especially not if you're petite or average height. Look for high waisted bikinis that elongate instead of widen. The more elongated you appear, the more camouflaged and slimmer your tummy looks.
Therefore, you need to avoid patterns that feature horizontal lines as they widen you. Instead, you wanna look for the following designs:
Wear plain, dark-colored bottoms as they are slimming.
This doesn't mean you can't wear prints and patterns though. You can, as long as there's a contrast between your upper and lower body. For instance, a polka dot bottom with ruffled tops. A ruffled top takes the attention away from your love handles.
High leg cut swimsuits will also enhance your hips. They expose the widest part of the hips creating the illusion of wider hips.
If you can, choose a cheeky bottom and show a little butt cheek. It makes the booty look more toned and defined. When you enhance your booty, it makes your midsection slimmer in contrast.
Best bikini tops for an apple body type
The following tops will look flattering on an apple body shape as they elongate the torso, mimic an hourglass pattern, or provide lift and support for your full bust.
Push up bikini tops with robust support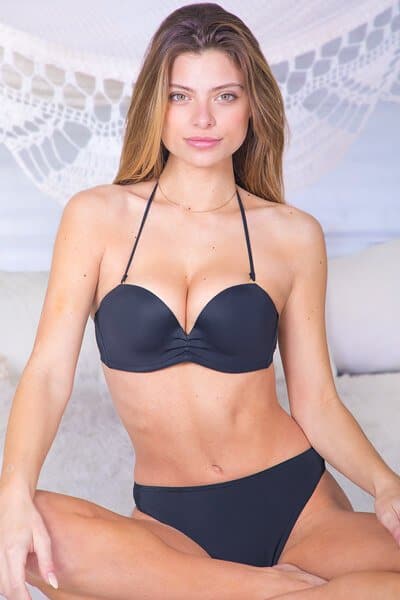 What it does:
Push-up bras are not only for small breasted ladies. Women will fuller breasts, like apple body type, can also benefit from them through lift and support. If breast sagging is your issue, a push-up bra is your solution.
By lifting and enhancing your cleavage, you're drawing the attention away from your tummy.
Handkerchief bikini tops
What it does:
The inverted triangle in the middle visually narrows the midsection.
It doesn't highlight the cleavage themselves but the flouncy material enhance the bust just the same. As a result, the waist appears even slimmer due to contrast. This is a perfect choice if a push-up bra isn't your thing.
Ruffled off-shoulder tops
What it does:
Ruffled off-shoulder tops, like handkerchief tops, distracts the eyes from focusing on your problem area. They make a perfect pair with high waisted bikini (plain or printed).
Peplum tankini tops
What it does:
They hug the waist and flare at the hips making the waist appear slimmer and the hips wider and more defined.
You can never go wrong with peplum tankinis. Printed or plain, peplum tankinis will always look flattering on an apple shaped body. They hide your love handles and yet, they do it in a flattering way.
Peplum tops provide enough area for the tummy to exist without you having to tuck it in. Beauty plus comfort in one. Who doesn't want that?
Best one piece for apple body shape
If one piece is more your thing, here's a list of the designs that'll look best on your apple figure.
Spliced diagonal patterns
What they do:
Diagonal lines that are situated in the midsection visually cancel out the bulk of the tummy fats.
The black and white contrast only emphasizes the diagonal lines and intensifies the effect.
Or you can also opt for a diagonal ruffled one-piece which does the trick just the same.
Deep plunging V-neck
What it does:
The V-neck will flaunt your asset which is your ample breasts.
The plunge distracts the eyes from your tummy and enhances your curves. The deeper the plunge, the more enhanced your curves are. Careful though. You want to choose one that offers enough support for your ample bust.
Best tankinis and swim dresses for apple body
If you prefer tankinis and swim dresses over bikinis and one piece, follow the below styling principles the next time you shop.
A-line cut
For the same reason that peplum looks flattering for an apple lady, A-line cuts create the illusion of a slimmer waist.
"But aren't tankinis and swim dresses for old ladies?", you might ask.
Hell no! Just because you aren't showing as much skin as you would when wearing a skimpy bikini doesn't mean you'll be wearing outdated designs. There a ton of tankinis and swim dresses that look classy and certainly not outdated.
Vertical and diagonal patterns
What it does:
Vertical and diagonal guiding lines create a slimming effect by elongating the body and distracting the eyes from the width of a body part, which, in an apple body's case, is the tummy.
Both of these swim dresses have tummy control panels.
Designs apple body should avoid
Horizontal lines: Especially no horizontal line on your tummy area. This line widens the body which is the opposite of what an apple body needs.
Swimsuits with belt designs that stops the same level as your tummy are a no-no.
Be picky when shopping for straight tankinis and dresses. At least choose one with tummy control or slimming patterns like diagonal and vertical. Most of the time, straight shaped swimsuits look off in an apple body since they highlight the tummy.