If you have broad shoulders and large bust, then you probably have one of these body types: hourglass, apple, inverted triangle, plus size or muscular rectangle. In this article, I'm going to talk about how to dress broad shoulders and large bust.
Being blessed with broad shoulders and large busts gives you ample opportunities to play down and flaunt a wide range of styles. Let's start with the top neckline styles.
Our neck works like a magnet, driving immense attention. And if you have broad shoulders and large busts, you're already pulling in the strings.
How about doing it in style? Selecting an ideal neckline will help soften your appearance and create an illusion of narrower shoulders. This way, it'll balance your proportion.
1. Opt for V-neckline and Y-halters.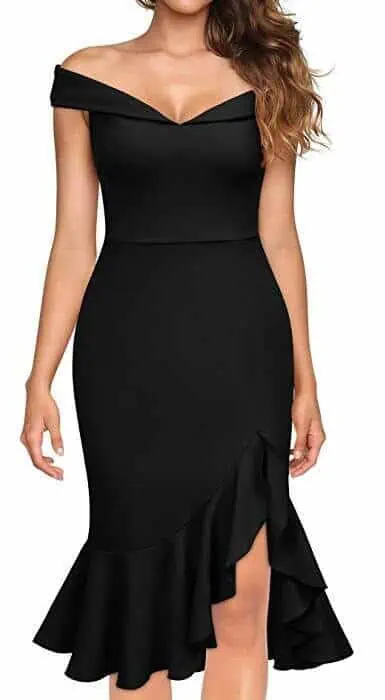 The ideal necklines for showcasing broad shoulders and ample bust is the regular, standard, narrow V-neckline and Y-halter.
These two neckline styles work wonders for women with broad shoulders and fuller bust. They showcase your assets (your ample bust) and create a balance in your entire ensemble.
There are, however, certain halter styles that you should avoid if you don't wanna broaden your shoulders further. Like this one: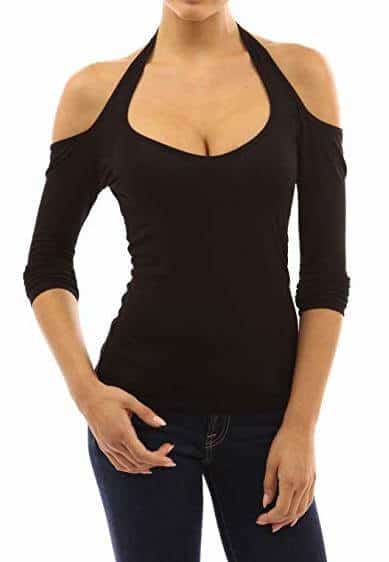 The straps of this halter were formed like an inverted V. This is a no-no for broad-shouldered women. As you can see, the shoulders look too prominent thus sucking all the attention.
Add to that the waist-hugging midsection which only emphasized the broad shoulders against the narrow waist.
Accessories to complete the look: Complete the look with a pair of drop earrings. You can also go solo without any accessory. Let your neck do the talking!
2. Match light-colored bottoms with darker tops.
Unlike the hourglass body type, women with broader shoulders and larger busts have to work on creating illusions to either appear more extensive at the bottom or narrower at the top.
Pairing a light-colored bottom with a darker top does just that. Dark colors (like black) are slimming while light colors are widening.
It's a perfect combination since the color contrasts help in designing an appealing appearance – which is a Narrower Top.
3. Accentuate your waist.
You're endowed in the upper body and not in the lower part? That's where you need to apply a few tricks and tips to balance out your figure by emphasizing your waist.
Peplum for the not-so endowed bottom
Have you heard of "peplum sheath" or "peplum tops"? These are awesome when it comes to accentuating your not-so-endowed waistline. Peplum tops or sheaths are short tops, designed with a gathered flared style from the midriff till the waist.
The structure of the top goes easy on your waist, but the flare pattern balances the fuller shoulder. The style adds volume to your hip region.
4. Wear A-Line and skater skirts to add volume to your hips.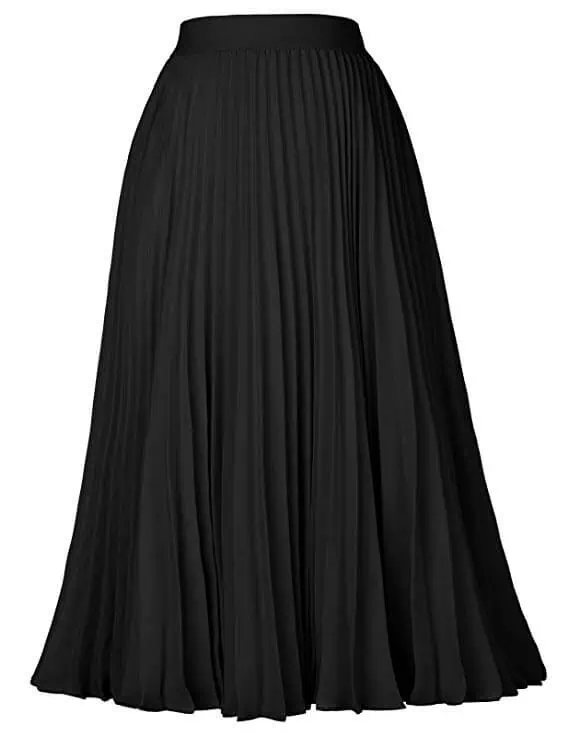 Let's start with A-line skirts. They fit around the hip and waist area naturally, without limping down. A-line skirts are tight at the hips and waist. They're designed to flare out from the hip area, giving your bottom a triangular shape.
Skater skirts look fab on inverted triangle body type or women with wider shoulders and larger busts
Go for skater skirts that are designed in the form of high-waisted skirts. They not only help conceal your tummy region or bulge but also work wonders on balancing your lower body.
5. The best pants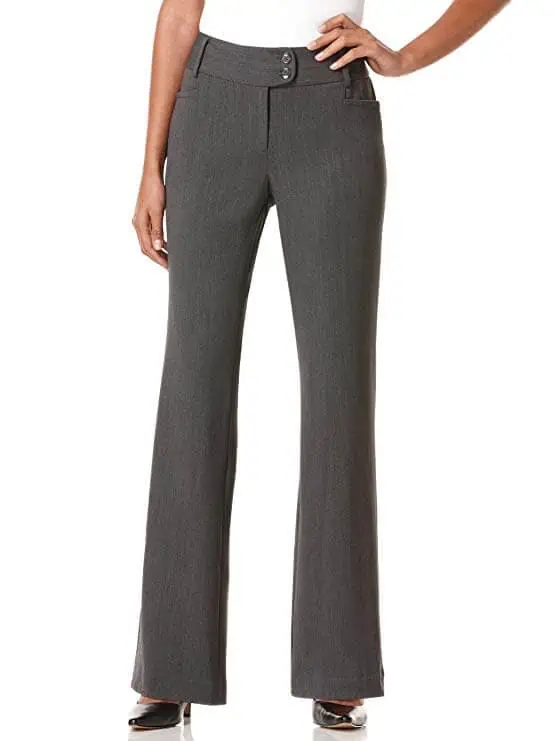 Bootcut or flare jeans are the best pants for broad-shouldered women as they create balance to the overall figure while drawing the focus to the bottom and downplaying the shoulders in the process. The result is a harmonious level of curves. The same thing could also be said for other wide-legged pants.
6. Opt for wide straps over tiny ones.
When you're heavily graced with an ample bosom and broad shoulders, you simply cannot bank on tank tops. They will only make you look colossal. Tiny spaghetti straps are not ideal for women with an inverted triangle shape or broader shoulders and large busts as they emphasize the broadness of the shoulders.
Wider straps conceal shoulder weight
In fact, wider straps are what you should opt for because they add objective between your shoulder and neck, thereby making your upper body emerge smaller than before. Wider straps allow a proportionate distribution of your weight – ideal for emphasizing your neckline.
Just sleeve it the diagonal way
We've talked about straps. Now let's focus on sleeves. Sleeves are not just a simple design of fabric, added to a top or dress. They're the source of fashion semblance, especially for women with wide shoulders and large bust. So, selecting one according to your body type is critical for the ultimate style statement.
Choose sleeves with a diagonal cut. Why?
Sleeves with diagonal cut or style soften the appearance of your upper body. The diagonal lines further play down your bust size.
How to accessorize broad shoulders and large bust
The key to drawing attention away from your chest is to complete your ensemble with the right accessories.
Go for longer necklaces as they drive a natural source of attention to the bust area.
Wear scarves that go down till your hip or waist area. They help elongate your midriff.
Avoid small belts. Go full-on with Broad, Wide Belts, since they add volume to your waist region.
Broad shoulders and large bust dressing tips
Pencil and straight cut pants are not for you. They fail to flaunt your assets.
Avoid wide scoop and boat necklines. They're the biggest enemies of your shoulders, devised to make them look wider than they already are.
Say NO to closed and boat necklines, they work to make shoulders look wider.
Avoid tops that give a fitted look to your waist.
No turtle or high-neck tops. They will add more weight to your heavy bosom.
Stay away from styles that add volume to your shoulders, like shoulder pads, puffy sleeves.
Wear scarves or tops with single colors. Avoid those with patterns.
Your imperfections are signs of perfections. We all come in diverse shapes and sizes. And that's what makes us uniquely beautiful. Dressing according to your body type will make you feel confident, awesome, and real.
If you want to dress for your specific body type, then pick yours from the following: