As an affiliate, Answearable earns from qualifying purchases at NO cost to you. Learn More.
This post is for you if you're looking for the best swimsuits for a plus size rectangle body. You're a rectangle shaped plus size if your body meets the following characteristics:
little or no waist definition (almost straight)
breast and booty are small to average
you gain the most fat on your midsection
angular shoulders
You might sometimes wonder whether you're a plus size apple or a plus size rectangle.
The differences between the two are their shoulders and breasts. Apple's shoulders are rounded while rectangle's are angular. And when it comes to breasts size, an apple is well-endowed where a rectangle is either flattish or average.
If you're a plus size apple click here instead for your guide.
If you're a plus size rectangle, here are your likely goals when looking for a swimsuit:
enhance your breasts
camouflage your tummy fats
enhance your curves and create an hourglass silhouette
visually elongate your body (necessary if you're a petite rectangle)
Peplum tankinis
Use contrast to your advantage. If you wanna camouflage a certain problem area, then you need to emphasize another part of your body.
In the case of a plus size rectangle, the bulk of the tummy can be camouflaged by accentuating the hips. Hence, peplum tankinis.
Peplum tankinis resemble an hourglass shape. Meaning, slimmer waist with wider hips. Never mind that a rectangle's actual shape is straight. Peplum tops hug the waist and flare at the hips creating a flattering contrast.
Let's just say that you can never go wrong with a peplum tankini if you're a plus rectangle body type.
A-line swim dress
Whoever said that swim dresses and tankinis are boring just don't know how to look for the right cut. If you're an apple or rectangle, avoid swim dresses that hug both your midsection and hips.
The possibility of them looking flattering on you is a million to one chance simply because no contrast is happening between your hips and waist.
A-line cut swim dresses will provide you that much-needed contrast and flare because of their very designs are similar to peplum.
Hourglass patterns
Hourglass patterns come in handy if you're not a fan of peplum tankinis and A-line swim dresses but prefer one-piece instead.
Even if one piece doesn't flare at the bottom, like peplum tankinis do to enhance your hips, it can, however, create an hourglass figure by using patterns. Take this one-piece for example:
The overlapping diagonal lines in the middle create the impression that the waist is slimmer and the hips and bust are more defined. Instead of the focus to wander to the tummy, the diagonal guiding lines direct the eyes to focus on the hourglass pattern instead. Simple, yet very effective.
Tummy control panel
A tummy control panel is an extra layer of fabric material added to a swimsuit (one piece or bikini bottom) to tuck in tummy fats and shape to the waist.
Overall, this creates a firmer midsection, visually reducing your tummy fats and keeps them from sagging.
Swimsuits with installed control panel usually cost a little bit extra. But with the reliable support they provide, it's definitely worth to invest in at least one.
If you're bored of the usual one piece and tankinis, why not go for high waisted bikinis with tummy control?
Here's a list of the best plus size bathing suits with tummy control panel—affordable and high-end combined.
Swimsuits with diagonal lines
Diagonal lines slim you down by distracting the eyes from focusing on the width and bulk of your tummy and softening your edges. Whether it's a swimsuit or a daily outfit, you can always rely on diagonal lines to create that much-needed slimming effect.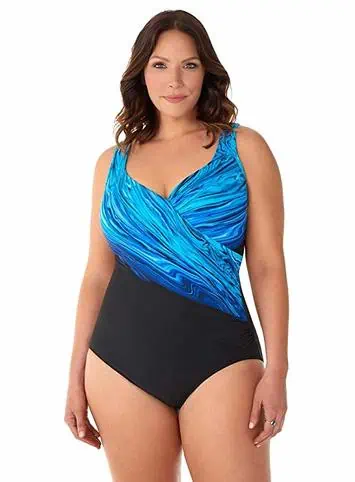 Not only does this one piece uses the power of diagonal lines for slimming. You'll notice that at the tummy, the color is dark but at the bust, it's light blue. This isn't a random color choice.
Top brands who specialize in plus size swimsuits use dark colors to slim down and light colors to enhance.
Therefore, in the case of a plus size rectangle, the black at the bottom is to camouflage the tummy fats and the lighter blue is to enhance the breasts.
Vertical lines (for petite rectangles)
Vertical lines visually elongate the body and make the wearer appear taller than she is— the very reason why petite rectangle should always incorporate vertical lines to their wardrobe.
The taller you appear, the less wide you become.
Horizontal line, on the other hand, should be avoided by plus size rectangle ladies. It adds more width to your proportion, making you appear bulkier and shorter.

Instead of width, a plus size rectangle should strive for more length—something that horizontal line can't provide.
V-neck to elongate the arms
If you're trying to visually lengthen your arms and torso, V-neck is your best friend. The plunge basically does what a vertical or a diagonal line does to a plus size rectangle. It slims the figure down.
Whether you're petite or not, go for V-neck when you're in doubt. You just can't go wrong with it.
Push-up bikini top
Plus size rectangles usually have small to average breasts. If you want to enhance them, go for the oldest trick in the book: wear a push-up swimsuit bra.
Ruffled and flouncy bikini tops
If push-up bras are just a no-no for you, then opt for ruffled and flouncy tops. They don't exactly enhance the cleavage but they're excellent at making your breasts look more defined than they are.
Because of the style's voluminous fabric, it camouflages the flatness of your bust.
The good thing about having small breasts is you don't have to worry about support. So you can basically wear any ruffled flouncy tops you set your eyes on.