As an affiliate, Answearable earns from qualifying purchases at NO cost to you. Learn More.
Can you look good in a swimsuit if you're fat? Absolutely. When before, you can only sport and look good in a swimsuit if you have a fat, formidable confidence to defy stares, now you can, because brands are starting to realize that your size exists—a big, unexplored market ripe for the picking.
Thanks to social media—a new and improved media that takes real people's opinions into consideration— brands are now starting to cater to plus size women. Plus size models now have a chance for a big break—something that has never happened before. And although the sizing is still pretty much shitty and the representation is still far from the true entirety of this diverse sizing, it's a promising start, nevertheless.
So, with the old unwritten rule (saying only skinny ladies can wear swimsuits) ditched, is it really possible to look good in a swimsuit if you're fat? Yes! In all certainty, yes!
But let's be real here. You're here because you want a no-bullshit guide on how to really look good in a swimsuit. That means I'm not gonna tell you to "wear what you want 'cause it's your body". Skinny or not, not all designs look good on every body type.
And note: True, plus sizes are starting to be recognized but that doesn't mean beauty standard has changed overnight. The tips I'll recommend here will still follow and try to achieve the standard beauty criteria: smaller tummy, shapely legs and arms, and camouflaged fats.

For if I suggest otherwise, who'd follow it? Deep inside us is the need to dress not just for ourselves but also for other people. It's a fact we want to deny or even alter, but a fact nonetheless.
With that established, here's a guide on how to look good in a swimsuit when you're a plus size.
Know your body type and its "problem areas"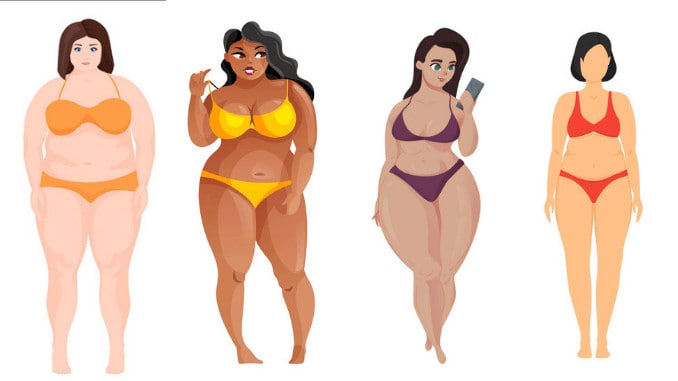 There are 6 main plus size body types: rectangle, triangle or pear, inverted triangle, apple or round, hourglass, and diamond. Each type has their weaknesses or their so-called "problem areas". Problem areas are the part of your body that is the least flattering. If the standard beauty criteria are to be followed, you have to camouflage them so that:
you can achieve a more flattering body proportion by downplaying the least flattering parts.
you can highlight the parts of your body that you're most proud of.
If you don't know what body type you are, read this: Best Plus Size Swimsuits Based on Your Body Shape: A Detailed Guide.

This guide will help you determine in which body shape you belong, what your problem areas, your best features, and the best swimsuits that'll look flattering on you.
Pay attention to your tummy
Every plus size lady, whatever body shape she has, will always have a bulging tummy issue. Therefore, in times when you aren't sure what to buy, remember this one rule which you can never go wrong with: Look for cuts that mimic a slim waist.
A peplum tankini is a great example. It hugs the waist and flares at the bottom creating a contrast that slims down the waist.
You can also go with cutouts. The more exposed skin there is, the more daring the look is. Or you can go for mesh cutouts which exposes the skin yet leaves some to the imagination.
If you want more examples of the best tummy slimming swimsuits that mimic a slim waist for any plus size body type, read this: Best Slimming Swimsuits for Plus Size Women: Any Body Shape.
Invest in swimsuits with tummy control panels
If you're bored of wearing loose-fitting swim dresses but reluctant to sport a bikini due to your tummy, buy one with a tummy control panel. It shapes your waist, comfortably tucks in your tummy fats, and gets rid of that spilling fat effect that usually happens when a plus size lady wears a body-hugging swimsuit.
The good thing about most tummy control swimsuits is, they're specifically made for plus size women so most of their designs and patterns are already slimming.
Read: Plus Size Bathing Suits with Tummy Control: Top Picks.
How to choose the right bra for your breasts size
If you have large breasts (cup D+), forget about creating more volume. Instead, aim for a more lift and sag-free look. Shop for bras that have proper boning, comfy underwire, and thin padding. Avoid thick padding at all cost. They'll only weigh you down and are even worse when soaked.
If you have small breasts, don't shy away from push-up bras with underwires as they will enhance your overall figure. Not all of them are uncomfortable, mind you.
If you want to invest in a comfortable, high-quality swimsuit bra, try Upbra. It's a whopping $89.00 but it's probably the push-up bra that pleased the most women in history when it comes to comfort.

In fact, the brand applied for a patent because it invented a unique mechanism quite different from a typical push-up bra—it allows the wearer to adjust her cleavage into four different levels.
But if you really don't want to have anything to do with push-up bras, there's another way to enhance your breasts. Wear tops with extra details like ruffles and frills.
You can also wear a printed top. If you do, pair it with a dark plain colored bottom to create contrast. This technique works well for women who have big hips as dark color de-emphasizes the hips while print enhances the bust.
Tame your bloating 2 days prior
Two days before your beach day, avoid foods that cause the stomach to balloon. You'll be surprised at how much of it is your actual tummy and how much of is bloating. By avoiding (or at least minimizing) these foods for 2 days before your big day, you're basically cutting your tummy size in half.
processed carbs
sugar
salt
cheese
processed foods
Instead, you want to eat more:
proteins
green veggies
fresh fruits
Fiber-rich foods (they facilitate the bowels).
I'm not saying you should deprive yourself of food, but rather, eat healthy, high-quality foods. There's no alternative to this. Even the tummy control panel isn't going to help much if you're bloated due to crappy foods.
Slim down your arms and shoulders
To camouflage big arms and broad shoulders, look for a swimsuit with a plunging neckline. Not only does it elongate the torso but also draw the eyes in the middle and keep them there—meaning, away from your shoulders and arms. The deeper the plunge, the more slimming it is.
This is always perfect for women with small breasts. If you're busty though, be careful. Only buy one with additional breast support like this one. The plunge is very deep but the mesh securely holds it together.
Vertical and diagonal lines are also great for slimming your body down for the same reason that it keeps the eyes in the middle, downplaying your arms and shoulders.
The contrast of black and white helps to emphasize that spliced diagonal effect making it even more slimming and flattering.
Back fat
First, make sure you're buying the right size. Second, avoid swimsuits with tiny multiple straps at the back as each strap will into dig into your skin and create individual folds, resulting in those flesh folds. You wanna shop for bathing suits with regular single straps on both shoulders. It also helps if they're thick.
If you do have a back fat caused NOT by your swimsuit, look for one piece or bikini tops that cover the back.
Cellulite
Cellulite. You can hide it or you can flaunt it. If you want to hide it, go for tankinis and swim dresses with longer hemlines. That's if you don't mind ditching bikinis forever.
The thing with cellulite is, there's no escaping it. Slim or fat, almost everyone has it. Heck, even Kim K has it. It would be a shame to ditch bikinis for bulky swim dresses just to cover it up.
I say we don't need one more spot to hide. The tummy is quite enough, thankyouverymuch. The more women choose to show their cellulite, the more it'll become a norm, and the more confident we can be about it. How about that?
Can you look good in a swimsuit if you're fat?
Absolutely. But let's be real here. If your criteria for looking good is looking skinny in a swimsuit, then the answer is no. The right swimsuit for your body type, in a degree, will slim you down, but it has limitations.
Looking good in a swimsuit isn't entirely the same as looking skinny. Your self-esteem has a big part in it too, as well as the criteria you set for yourself. If you subconsciously compare your body with skinny models, for sure you're gonna feel crappy.
This is why the inclusion of plus size models like Ashley Graham in the runway is a big, big step for plus size women to finally feel that they belong.
Messages like embrace your body sounds great and all. But with the obvious all-skinny-models-only walking the runway, is that even realistic?
If we, however, see more and more plus-size models representing plus size bodies in the runways and media, it'll make shopping and dressing up a little less depressing for us. And hopefully, the sizing is gonna get better. Soon.