Belly bulge, love handles, tummy fats. We may call them different names but in one thing we all agree: When dressing up, we want them hidden, camouflaged, downplayed. Heck, even an hourglass-shaped woman with the most well-defined waist still complains about belly bulge. So is it possible to find a dress that flatters your figure and hides your belly bulge? You betcha! Here are the best plus size dresses that hide belly bulge, love handles, and tummy fats.
Note: All recommend dresses in this article are curated to be universally flattering to any plus size body type. So whichever you pick, expect to look great in it.
Without further ado, here are the best plus size dresses that'll visually slim down your tummy fats and make you look 10 pounds lighter.
1. Hourglass-shaped dresses
Hourglass-shaped dresses hug the waist and flare out at the hips, therefore, creating the illusion of a slimmer waist and wider hips. The end result is an hourglass silhouette even for an apple body with the most prominent belly bulge.
Here are some examples of hourglass-shaped dresses:
Fit and flare dresses
A-line
The difference between A-line and fit and flare dresses is the amount of flare. Fit and flare dresses have wider flare than A-line. Both, however, create an hourglass effect for any plus size body.
Wrap dresses
What makes a wrap dress a great tummy slimmer is its ruching. Ruching situated on the tummy makes room for the belly to expand while camouflaging its bulk at the same time. It's literally the dress that every plus size ladies can never go wrong with!
2. Vertical stripes
Vertical lines and patterns emphasize length and downplay width. Hence making you look taller. The taller you appear, the less bulky your belly looks.
The opposite is true for horizontal lines which only make the body appear shorter and wider—and with it, the belly.
Wanna see the difference? Take two photos of yourself— one wearing horizontal stripes and one wearing vertical stripes, and see the difference.
Therefore, if you wanna look slimmer, it's generally better to just avoid horizontal lines and go for vertical.
3. Diagonal lines
Diagonal lines, like vertical lines, are slimming but in a different way. While vertical lines elongate, diagonal lines distract the focus from the width of the body, thus creating the effect of reduced width. There are a few ways designers make this happen:
Diagonal patterns at the midsection camouflage the belly bulge by taking away the focus from the midsection.
Diagonal sleeves (or V-neckline) are great for broad-shouldered women who wanna downplay their shoulders. This dress is a perfect combination of diagonal and vertical lines working together to create a slimming illusion for a woman on the heavier side.
If you wanna make your legs look taller and slimmer, rely on dresses with diagonal hemlines to do just that. You see, you can always rely on diagonal lines to not only hide your belly bulge but also slim down your overall figure.
4. Dresses with tummy control panels
Can you wear a bodycon dress without making your belly bulge the highlight of your outfit? You absolutely can with the magic of dresses equipped with tummy control panels.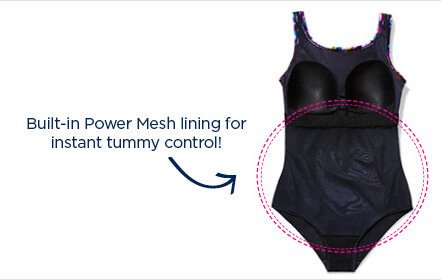 Tummy control is the extra layer of fabric that helps comfortably tuck in the tummy. Think of it like corsets but way more comfortable. These dresses usually have elastane mixed in for stretchability but enough robust material to hold in the tummy.
Note: Dresses with tummy control panels offer less camouflage than traditional shapewear. Most of the time though, they're more than enough making them a great choice for everyday outfit especially if wearing Spanx feels too restrictive for your liking.
5. Asymmetrical dresses
Asymmetrical dresses have two halves that look different from each other, be it in colors, prints, cuts, or lengths.
Think of them as having the same effect as diagonal lines— they visually minimize the belly bulge and slims down the figure by capturing the focus and distracting your eyes from the actual width.
---
FAQ when shopping for tummy-slimming dresses
There are 5 different female body shapes. This means that what looks great on others might not necessarily look great on you.
Although the dresses I recommended above are universally flattering to any body type, this doesn't change the fact that there are other factors you should pay attention to when shopping for the best dress.
Hence, the following questions plus size women commonly ask when shopping for tummy-slimming dresses, along with their answers.
Which neckline should I wear for my body type?
Your neckline is like a magnet. Whether you want to or not, it'll draw attention. So whatever you wear, it pays off to pay attention to your neckline.
The necklines that flatter any body type are V-neckline, rounded, scoop neck, sweetheart, decollete, and other diagonal/ non-horizontal necklines.
These necklines are slimming for broad-shouldered body types (inverted triangle, apple, plus size rectangle, ) while also flattering for a narrow-shouldered body like pear.
However, body types like pear (with narrow shoulders) and hourglass (with the most balanced proportion) can get away with horizontal necklines like straight bandeau, closed, and boat necklines. If you're an apple, plus size rectangle, and inverted triangle, then it's generally better to avoid these necklines.
Can I wear a sleeveless dress if I have big arms?
Absolutely! However, you wanna avoid sleeveless dresses with tight and tiny armholes. They'll squeeze your arm fats and will only make them look flabbier. Instead, opt for dresses with loose and roomy armholes as they create the illusion of slimmer arms.
Avoid sleeveless pieces that cover the entire shoulders. Instead, opt for ones that expose the shoulders a little more. They'll make your arms appear longer. The longer they appear, the leaner they become.
When you can, opt for thick straps over thin ones. This isn't an absolute rule but it helps downplay the arm fats.
You also want to be careful with sleeveless halters. Avoid halternecks with inverted V straps as they'll highlight your shoulders and along with it, your arms. Instead, choose the ones with Y shaped halter. More info about that here.
To camouflage your arm fats more effectively, wear a watch or a bracelet. Doing so will highlight your wrist and take the focus away from your arms. The bolder your wrist accessory is, the better.
Lastly, if you're a fan of sleeveless blazers, then it's time to layer it up. Like vertical lines, layering will minimize your figure's overall width.
Will ruched dresses make me look slimmer?
Generally, they should. One of the main purposes of ruching in garments (apart from making your outfit look expensive) is to camouflage your tummy fats. If you look at brands that specialize in plus size pieces, then you'll see most of their pieces with ruching, most of which are located in the midsection where the love handles are.
The dresses I recommended above are universally flattering to all plus size body types. However, if you want a more in-depth guide specific to your own body type, then pick yours from the options below. Don't know your body type? This guide should help.