As an affiliate, Answearable earns from qualifying purchases at NO cost to you. Learn More.
Often tagged as "granny panties" or "diaper", high waisted bikinis are NOT every woman's cup of tea. While some women can pull it off, others are happy to ditch it and stick to the standard bikinis and one-pieces. If you're undecided whether it's a yay or a nay for your body shape, read on. So what body types can wear high waisted bikinis and look best in them?
High waisted bottoms look good on bodies with long torsos. When worn by a short-torsoed body, the effect is a visual decline in height, making the wearer appear shorter than she is. This isn't an issue for long-torsoed women since their torsos are more elongated in the first place.
The best celebrity example who has a gorgeously long torso is Taylor Swift. If you Google her pics, you'll often see most of her signature looks incorporate high waisted bottoms, be it her swimsuits or her everyday outfits.
Hourglass, pear, and diamond vs. rectangle
The thing about high waisted bottoms is, it not only emphasizes the curves but also the lack thereof.
For body types hourglass, pear, or diamond body type, where the waist is well-defined and the hips are wide, a high waisted bikini will emphasize your curves in a flattering way. If you're one of these body types, it's almost a 100% guarantee that you'll look great in it.
If you're rectangle shaped, however, it will emphasize the straightness of your body, instead. Like this.
A long-torsoed woman, like the model above, can pull it off though. But if you aren't particularly tall nor long-torsoed, then it's safest to avoid high waisted bikinis altogether.
For long-torsoed rectangles who want to add more curves, ruffled tops are your better bet over the plain ones since they add more curves to your overall figure and distracts the eyes from focusing on the straightness of your hips and waist.
If you want to widen your hips instead, go for bikini bottoms with horizontal lines not vertical and diagonal.
Printed bottoms will also enhance your hip volume over plain colored ones.
Note: There's a current trend that prefers bodies without curves over the hourglass-y ones. You might have also noticed that there are more supermodels with rectangle bodies than there are hourglasses. If you wanna follow this trend and don't care about curves, feel free to wear any top with your bottom.
What about apple body shape?
It isn't impossible to find a flattering high waisted bottom for an apple body, but it might prove to be hard since your tummy is where you store most of your fats. For this reason, it's better to invest in swimsuits with tummy control panels. Tummy control panel tucks in the tummy fats while providing shape to your waist and avoiding the fat spilling effect that usually happens with apple figures.
If your goal is to slim down your waist and hips, remember these designs and patterns when shopping:
Wear black or dark colors as bottoms as they're naturally slimming.
If you want to emphasize your breast and take the attention away from the bulk of your tummy and hips, pair your black bottom with a printed top.
Bottoms with vertical or diagonal lines slim down your hips, while horizontal line widens them.
Avoid bottoms with horizontal line if your goal is to camouflage the fats on your waist and hips.
If you're petite
Most petite can actually pull off a high waisted bikini. You see, it's not about your overall body height but on how much proportion your torso is getting vs. your whole body.
Some petite women have short proportioned torsos, while others have long ones. Those ones with long torso proportion will look flattering on a high waist, especially if they're looking to elongate their legs.
It's also a plus if you have a smaller waist than your hips (body types hourglass, pear, and diamond) as it'll add more definition to your figure. The best example is Lucy Hale who's a 5'2″ and can rock a high waisted bikini.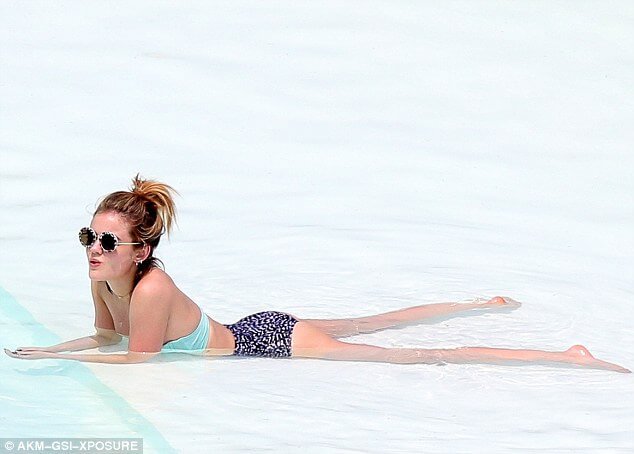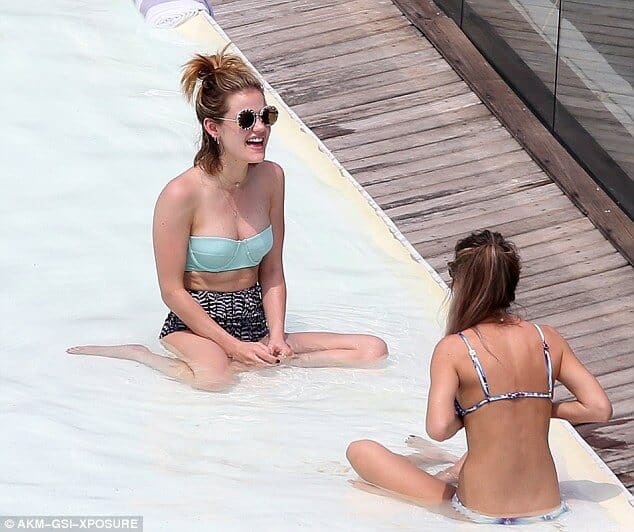 But how exactly do you know if you have a long, average, or short torso? That's where the challenge lies. It's a question that only you can basically answer.
If a piece of clothing looks off to your eyes, chances are, it probably is. This is one of those instances where, in order to find out, you have to try on. And if you still aren't sure after trying on, ask a friend's second opinion.
Some body types are just more flattering in traditional bikinis than on high waisted ones. And knowing that is a good thing as it'll allow you to focus on styles that only flatter your figure. You can experiment on cheeky bikinis for instance which, by the way, look good on a wide range of body types, especially for petite ladies.
What body types can wear high waisted bikinis?
If you have a long proportioned torso, you'll look flattering in a high waisted bikini no matter your shape and size.
It also helps if you have a curvy body such as hourglass, pear, and diamond as means more definition to your overall figure. This isn't a requirement, but a plus.
For petite ladies, it's usually tricky to tell until you try an actual high waisted bottom yourself. If it doesn't feel right for you, abandon high waisted bikinis and go for one piece and regular bikinis instead.
If you're an apple body type, invest in swimsuits tummy control panels as they help tuck in the tummy fats and provide shape to it.
Why wear a high waisted bikini
When worn by the right body type, the results are elongated legs, with a flattering effect on the overall figure.
It's also the perfect outfit if you want a sexier version than a one piece but more modest than a traditional bikini.
And for those ladies who love retro, high waisted bikinis are the perfect 10.
Do high waisted bikinis make you look thinner?
It depends on the design. Vertical and diagonal lines on a high waisted bottom will slim down your hips. If you want to slim down your torso and arms though, go for deep plunging V necklines.
For more tips on the slimming designs fit for any body shape, read this guide specifically addressed for plus size women. If you're a regular size, you still can learn from this as the same principle applies.
You Might Also Like: