A reader wrote: In a few weeks, I'll be traveling to the Philippines for a long-overdue vacation. The idea is to savor the country's beaches and tropical goodness, escape from the winter in the US, and get some tan along the way. Anyway, my question is, how many swimsuits should I pack for this vacation? The vacation will last 10 days in total, 7 of which I'll be spending at—you guessed it— the beach!
So how many swimsuits should you pack for vacation? If you're a minimalist, I'd say 2-3 swimsuits each week should keep you covered and comfortable for 7 days. If you prefer options, go for 4-5 for each week. Anything more than that is usually just clutter. And in this article, I'll explain why.
But first, let's explore all the possible scenarios that might apply to you and feel free to tweak whenever it makes sense.
If you want to fit everything in a carry-on
If you're traveling light, go for:
2-3 swimsuits
2 cover ups
a pair of flip flops
You're probably thinking: How am I gonna survive with 3 swimsuits for the entire week?
And the answer is: For years, minimalist have survived with even less. Some of them go for two— enough to wear a dry pair while the other is being dried in the patio. (And I'm sure some of the extreme minimalists go for one.)
"But I'm not a minimalist, dummy!", you say. "I just wanna travel light and fit everything in a carry-on bag, free from the worries of losing my luggage."
Well, there you go— 3 swimsuits maximum. Three is a perfect number to account for unexpected situations like what if it drizzles in the patio or what if the elastic of my bikini gave up on me while still fitting everything in a carry-on.
Mind you, you don't have to be a minimalist to opt for less. You could just be a regular consumer who's terrified enough of the possibility of losing your luggage.
If you hate unwashed swimsuits but still wanna pack light
If you hate unwashed swimsuits but still want to pack light, you only need one additional item:
Some people are completely okay with wearing unwashed swimsuits as long as they're dry. But if that grosses you out big time, you can always do a little washing right after swimming.
I know, I know. It's a vacation and the last thing you wanna do is laundry. But think about the silver lining here: You're prolonging the life of your swimsuits by ridding them of salt water and chlorine as soon as possible.
Besides, it only takes 5 minutes to wash and another 30 to dry in the balcony through the summer breeze.
"But I really don't want to think about laundry during vacation."
If that's the case, phone the resort and ask if they offer a laundry service or if there's one nearby. And depending on your swimsuit's fabric you might wanna request a "hand wash only".
But if you prefer options but don't want to go overboard, you can add one piece for each item:
4 swimsuits
3 cover ups
1-2 pairs of flip flops
Mix and match to create new looks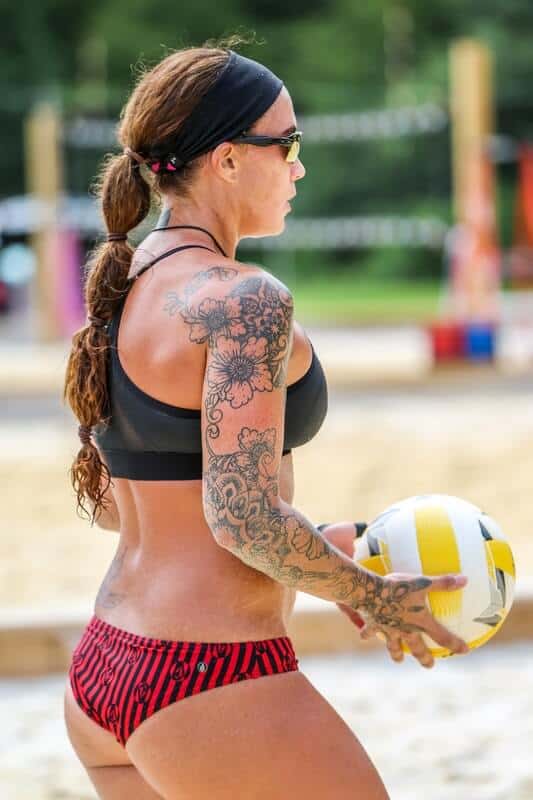 You don't have to look like you're wearing the same thing throughout your vacay. If you're a big fan of bikinis, mixing and matching will work on your favor. Here's how:
Bikini mix and match rules:
Solid dark colors are slimming. They're also great at downplaying a certain portion of the body (i.e., tummy and hip fats, broad shoulders, etc).
The opposite is true for prints. They draw more attention and are great at enhancing (i.e., make your breasts larger and your hips wider). If you don't like prints, opt for ruffle and strings bikinis to yield the same effect.
Mix and match based on your body shape
Pear ladies, should opt for solid-colored bottoms to downplay their hips with printed and/ or ruffled tops to define their breast and shoulders.
Inverted triangle women should do the opposite: solid-colored tops to downplay the shoulders with printed and/ or ruffled (or string) bottoms to make the hips appear wider.
Rectangle and apple ladies could wear a simple top paired with string bikini bottoms to add volume to their hips and enhance their curves.
Hourglass (the lucky devils) can mix and match anything they like.
How do I choose which swimsuits to bring?
Bring only your absolute favorites.
Most women bring 10 pairs of swimsuits for their vacation only to end up wearing 5. Repeatedly.
Bringing your just-in-case swimsuits may seem like a good idea. But more often than not, they often turn into clutter when it's time go home and the souvenirs don't fit.
"How do I know if a swimsuit is my 'absolute favorite'"
It'll make you feel like a million dollars— if it sparks joy when you're wearing it. If it doesn't, then leave it behind.
Last year, I made the mistake of bringing a one-piece just for the sake of "diversifying my wardrobe". While I don't look bad in a one piece, I certainly ignored the fact that I feel absolutely no joy wearing a one piece style. I've always been a bikini lover and will probably always be.
Consider the activities you'll be participating in.
If you're planning to snorkel, a rashguard is a great idea. It's not as bulky as a wetsuit but it's excellent in protecting your skin from the damaging UV rays of the sun.
When you're in the water, you might not feel the sun as much but make no mistake: In the water, the sun's UV rays will bore into your unprotected skin just the same.
Other snorkeling gears: You can bring these yourself or rent them when you get there. Again, ask the resort if it's available.
snorkel goggles
snorkel mask
snorkeling shoes
You can never go wrong with a sundress
Choose sundresses over capris for a versatile, laid-back, feminine look. You can wear them while enjoying your coconut juice at lunch or while shipping your wine over candlelit dinner.
If you're high maintenance
Or if you just hate the thought of doing any type of laundry-related chores while on vacation, (nothing wrong with that), and you absolutely hate wearing the same thing twice, (nothing wrong with that, too) you always have the option to bring one swimsuit per day.
Not a typical choice of the majority but if you can, then why not?
You Might Also Like: