There's a reason why cheeky bikini bottoms are trendy: they tone the booty and slim down the figure like no other swimwear piece can. In fact, they're no longer just a fad. With Kardashians and influencers posing with their high cut, skimpy bikinis in Instagram, it's probably safe to say that cheeky bikini bottoms are here to stay.
If you're thinking about sporting a cheeky bikini for your next pool/ beach adventure but aren't sure if you can pull it off, this post is for you. Here are the answers to your questions about how to wear a cheeky bikini bottom for the first time. Because, chickening out just when you're about to reveal yourself, simply isn't fun.
Frequently asked questions about how to wear cheeky bikini bottoms
Why wear them?
Why not? First, it creates a slimming effect. Second, the tan line is minimal. Third, it tones the booty better than any full coverage bottoms by highlighting the most prominent portion of the butt. Fourth, it provides an extra lift and avoids your booty from sagging. Think of it like push-up bras— only for booties. Fifth, we'll they're very, very comfy. Need I say more?
Who can wear cheeky bikinis?
Anyone. Cheeky bikinis look good on any body type whether it's a rectangle, apple, triangle or pear, inverted triangle, or hourglass. The catch? Not everybody can wear it because it requires a lot of confidence. But like all other skills, confidence can be improved.
Can women with big butt wear them?
Absolutely. Cheeky swimsuits are not only for women with small to average booties. Aesthetically, cheeky swimsuits look flattering on any booty size because they make the booty appear more toned—and a little extra tone does nobody harm. So why the heck not, eh?
How cheeky should I go?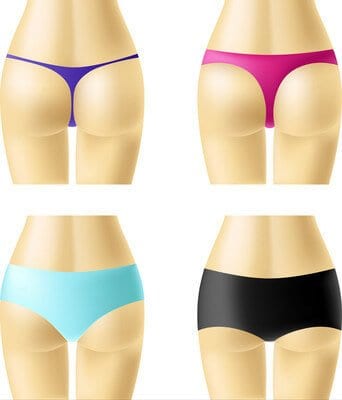 There are 5 levels of booty coverage. Each coverage has a personality of its own.
Level 1 is sporty, with the upper thigh and booty covered.
2 is classy, where the thighs are bare but the butt cheeks are completely hidden.
Level 3 is playful, where a little cheek starts to show.
4 is adventurous, worn mostly by surfers as it accommodates the most movement.
Level 5 is daring with the least fabric coverage (thong as an example).
Where can I buy cheeky bikinis and one piece?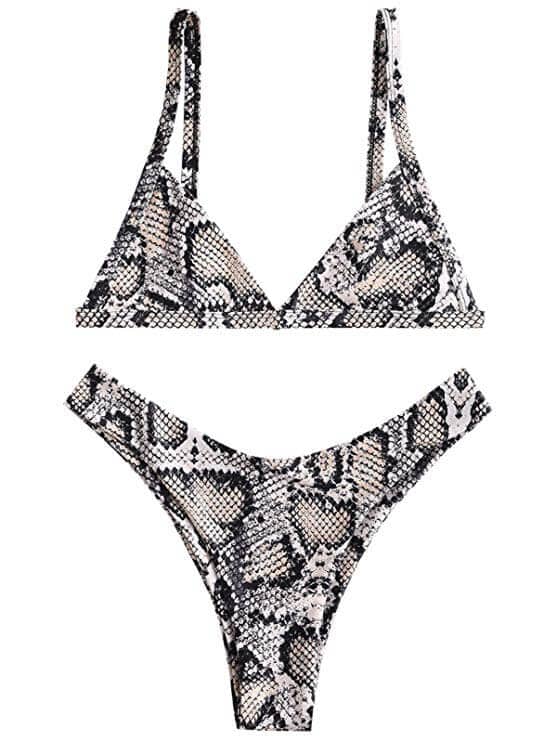 Based on my experience, their swimsuits are stretchy, true to size, and high quality (although I've only tried their swimsuits but not their other line of clothing).
Can I wear it even if I'm not confident enough?
You can. Confidence doesn't have to be 100% the first time. Start with level 3 where the bum cheek is only slightly exposed then work your way up if you feel like it.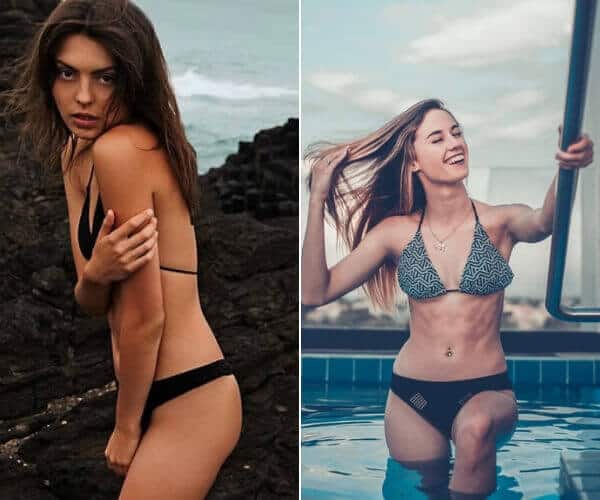 How to be confident wearing a cheeky bikini for the first time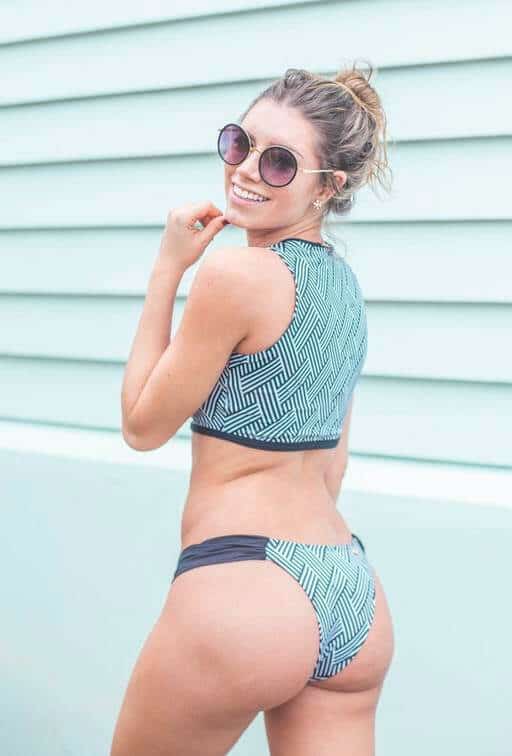 Adjust your body language. If you wanna appear confident and not give the impression that deep inside, you're feeling conscious, pay attention to your posture and the way you carry yourself.
A cover-up is a brilliant idea if you wanna cover up every time you feel self-conscious. If you don't have one wear shorts.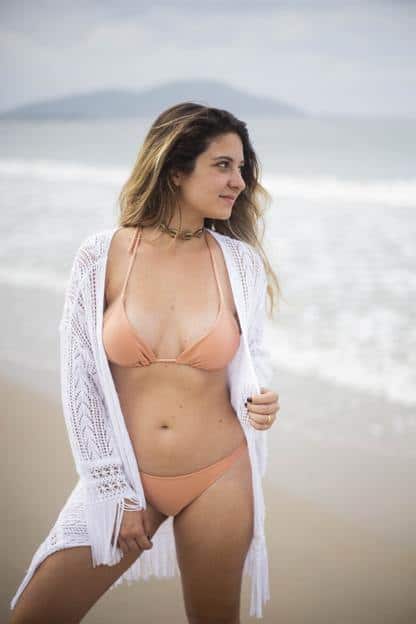 Make sure you're in a place where wearing a skimpy swimsuit is acceptable and where nobody is likely gonna catcall at you.
Walk leisurely with your head high and keep your arms open instead of closed. When your posture is open and comfortable, your confidence tends to follow. The opposite happens when your posture is closed and slouching which only makes your anxiety worse.
I still need some help building my confidence.
If you can't gather the courage just yet, invite a trusted friend over to your house and let her be your honest but fair critique and cheerleader. Her saying things like "Yasss queen… slay!" will already boost your confidence a hundredth fold. On the other hand, should there be any unwanted sight, she'll point it out to you and help you resolve it.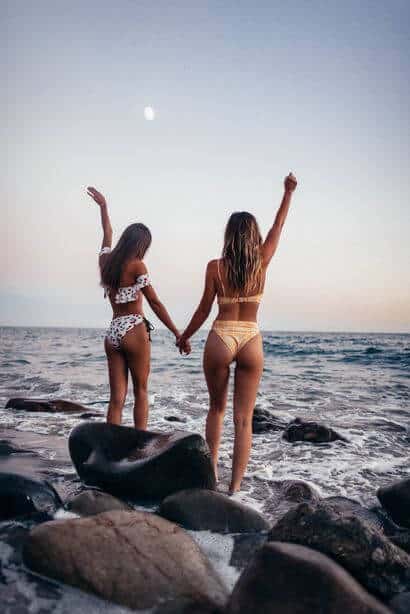 You can also convince the whole squad and wear them cheeky bikinis together. It's called moral support.
How should a cheeky bikini bottom fit?
Like any bikini bottom. Only a little barer at the rear. As long as the garter around the hips is strong enough to support its own weight when wet, you're good. You'll know if it's too tight as it'll dig on your skin and create a muffin top that wasn't there before.
Why are cheeky bikini bottoms trendy?
First, celebrities and social media influencers love 'em for their flattering and slimming look. Second, in an age where twerking is a thing, it isn't hard to imagine that cheeky bikini would become what it is today. (No shame on that BTW). Lastly, it empowers women to feel confident showing off their asset from time to time and not conform to the typical "dress code" if they don't want to. Men, after all, show off their abs by going shirtless.
Are cheeky bikinis appropriate?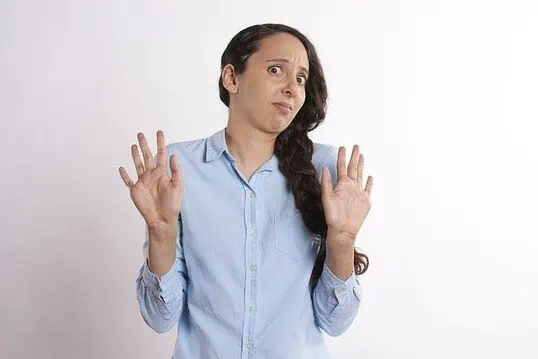 It depends on several factors. You could wear boyshorts in the company of conservative folks and they'll call you scandalous. Wear the same thing among thong wearer folks and they'll call you pious. Before wearing a skimpy bottom, ask yourself these Q's:
If you wear this bikini, will the people you're with be comfortable seeing you in it? If no, consider wearing a more covered version.
How important are these people in your life? Do their opinions matter? If yes, reserve the skimpy bikini for your besties' beach party. I asked myself this question just a week ago when I met my boyfriend's parents at a beach for the first time. I'm glad I did.
If you're traveling to foreign beaches and pools, it pays to do a little research about what's considered appropriate. Look it up on the internet or call the resort you're visiting and ask directly.
Will men stare at me?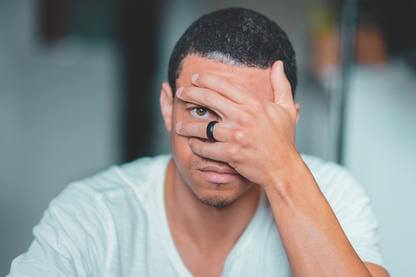 Yes. Sexuality has been hardwired to the human's DNA. Men have been staring at women for millennia. And if they're not, then something is wrong. (Kidding).
Kidding aside though, think of staring as a compliment. Besides, the days of men staring wide-eyed at women wearing skimpy bikinis don't happen that much anymore—unless of course if you're in Muslim countries and other conservative settings where bikinis are usually a heck no.
Is it okay for a teenager to wear cheeky bikinis?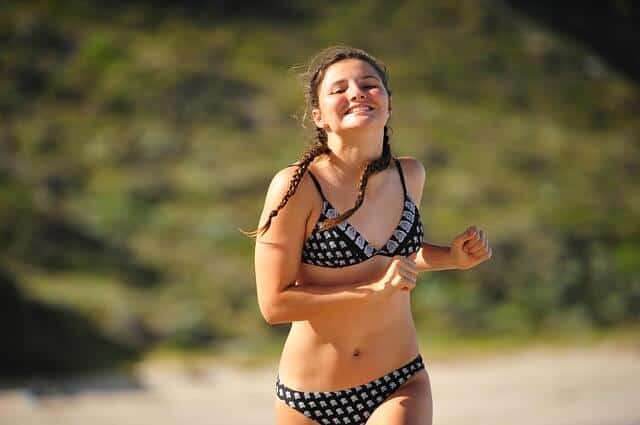 There isn't a straight answer. It really depends on where you are and who you're with. If you're at a beach where locals and tourists alike aren't wearing revealing bikinis, you might wanna reconsider. It's not a matter of conformity but rather of comfort and peace of mind. You can't possibly rock an outfit when everyone is throwing dirty and judgmental looks at you. Or can you? Choose your poison.
Do I need to get a wax?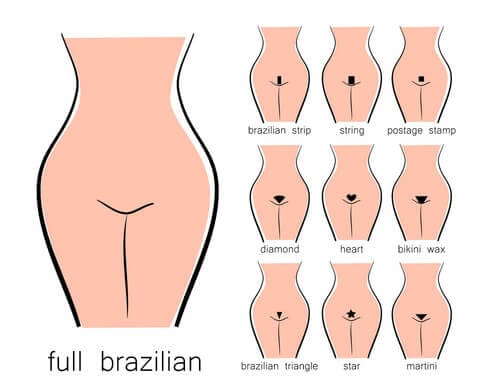 It helps to pay for a professional waxing if you haven't tried waxing for a cheeky bikini before. This is to make sure that the result is flawless and no hair is sticking out for the public to see.
To prepare for a waxing session, follow these steps:
Shower at home.
Do not shave your hair. Just trim them to at least 4-5 mm short so the wax can still pull them.
Then watch the video below.
My husband/ boyfriend doesn't want me to wear one.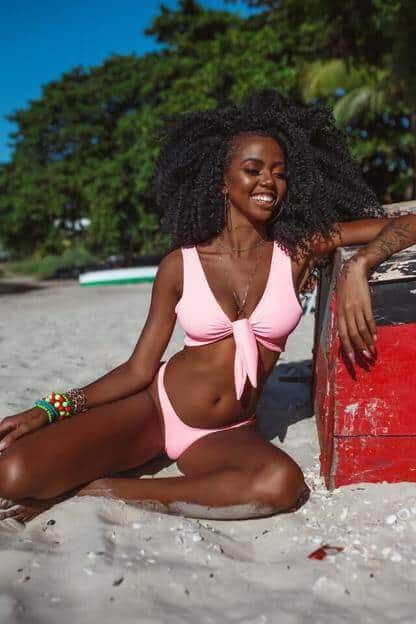 First, understand why. Is it because he's jealous of other guys staring at you? If so, tell him you're gonna get stared at either way. Women are getting stared at all the time. Unless he wants to hide you in a cellar.
Or does he find it inappropriate and feel embarrassed? If so, you can both make a compromise. Let's say you wear a thong (level 5 coverage). Perhaps you can go for a little bit more fabric coverage like level 4 or 3. Both of you happy.
But if he bans bikinis completely from your life, a little reevaluation of your relationship probably would be wise.
Styles of cheeky bikinis
V-cheeky bikini is shaped like a "V" and covers around 50 to 70 percent of the glute muscle or bum cheek. The booty coverage is between levels 3-4
Brazilian bikini is about 1 inch smaller, covering only 30% each cheek and is shaped to be more of a curve. Booty coverage: level 4-5.
Thongs have the least fabric. It looks like a typical bikini bottom at the front covering the female parts but leaves most of the buttocks uncovered. The band typical is a thin waistband and a thin strip of material. Booty coverage: level 5.
What's the most flattering style?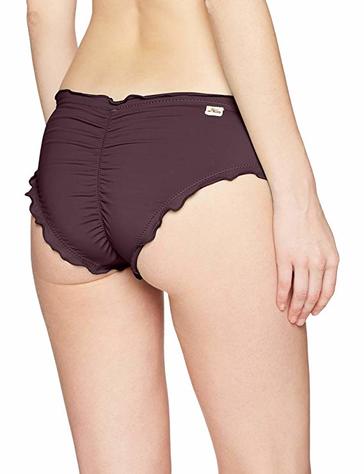 If you want to tone your booty even more, scrunched bikini is the most flattering style because of the scrunched butt effect that defines the booty. It's also the most comfortable as it stays in place and doesn't shift like other bottoms do, hence no need to check and readjust it.
If you want to widen your hips, choose high-cut Brazilian bikini. They're sit higher on the hips and are shaped like a V to highlight the widest part of the hips. Zaful sells a lot of these designs.
What's the best fabric?
If you want a long lasting bikini that contains the most resistance to chlorine and saltwater, choose polyester. Nothing beats polyester when it comes to durability. It's also hydrophobic so it absorbs the least water, making it fast to dry and very light for the wearer to move. When it comes to fading, it's the most resistant.
If you aren't comfortable with polyester, try PBT (Polybutylene terephthalate) which contains identical properties with traditional polyester, only enhanced and customized to better accommodate movement and sports. This type of fabric is a little bit on the expensive side but expect it to last for years even if you're a frequent swimmer. Brands like Speedo use this fabric a lot.
If you're allergic to anything polyester, like some people are, choose either nylon or spandex. They're not as strong as polyester but they have their own strengths. Spandex or Lycra can be stretched many times but still recover to its original shape.
Nylon is hydrophobic like polyester and stretchy like spandex but doesn't completely recover its shape when stretched too many times. And when exposed to the sun, it's the first one to fade. They're very comfy though.
You Might Also Like: