This post is for you if you wanna know how to choose the best swimsuits for a pear body shape. You have a pear or a triangle body shape if your shoulders are noticeably narrower than your hips, your waist is well-defined, and your hips are the widest and most prominent part of your body. When you gain fats, they tend to accumulate on your hips.
This means that your hips are always a size or two larger than your bust and you'd sometimes need to buy your bikinis in separates. If the fabric is stretchy enough though (like nylon and spandex), it's okay to buy them in one size.
If your goal is to visually slim down your wide hips while defining your shoulders and bust, this article is for you. Here's how to pick the best swimsuits for a pear body shape.
Are you a plus size pear? Click here instead. I have a different guide for you.
The challenge: Because your bust is narrower than your hips, the overall goal is to balance your proportion out by choosing swimsuits that attract the attention to your bust and away from your hips.
That doesn't mean your hips are something you should hide. It just means that they're already doing fine on their own that you can go ahead and pour your styling efforts on your bust. Here are the best swimsuits that'll flatter a triangle or pear-shaped figure:
Push up bikini tops
Pear ladies tend to have a flattish to average chest. If you wanna balance out your triangle proportion, emphasize your upper body by accentuating your cleavage. Thus, the good old push-up bras.

To get the most out of your dollars, shop for comfortable push-up bikini tops. (Yes, they exist!) The straps should stay in place and not fall off, the underwires shouldn't dig on your skin and your girls should be able to "breath" instead of being squashed.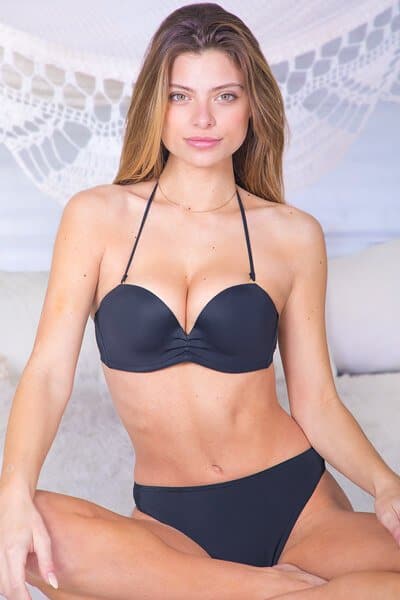 Voluminous bikini tops
Just so you know, it isn't necessary to modify your cleavage if you don't want to. If you hate squishing your girls in a push-up bra, wear voluminous tops with frills and off shoulder ruffles.
Ruffles, frills, fringes, textures, and prints—anything that shines and/or moves is perfect as a top for a pear-shaped lady. They visually add volume to your narrow torso and helps balance your figure. They don't enhance the cleavage but they enhance your upper body just the same.
Plain colored bottom with a printed top
The bottom should cover enough of your hips and butt enough for it to be comfortable. High waisted bikinis are perfect, too. Preferably, choose one that's black and devoid of any prints and embellishments. Reserve the embellishments for your upper body.
If you don't like black, you can pick any color. Remember, your hips are already gorgeous. All the drama should be happening at the top.
Can't you wear printed and light colored bottoms then? You absolutely can. But you need to remember one rule which is: Your bikini top should always outshine your bottom no matter what.
High waisted bikinis
Pear-shaped and hourglass body shapes have the sweet advantage of having the curviest waist and hips of all body types. If you're one, then trust that any high waisted bikinis will look flattering on you.
Scrunched bikinis
I've included scrunched Brazilian bikinis as they work in any body type. Whether you have a big, flat, or average booty, scrunched bikinis will always look good on you.
What it does is it gives your booty a more toned look than it actually is. If you're trying to camouflage some booty fats, go for a full coverage version. The good thing about them is you don't have to wear them skimpy. They come in different booty coverage.
Horizontal stripes to widen your torso, vertical to narrow your hips.
Remember that vertical is slimming while horizontal is widening. If we apply this principle to a pear body shape, you should wear a vertical stripe bottom and/ or a horizontal stripe top.
Straight-across bandeau tops
In the same principle that horizontal lines widen your torso, the same applies for straight-across bandeau tops.
While straight bandeaus are a no-no for an inverted triangle body because they widen the torso, they're perfectly flattering on a pear for the same reason. In fact, no other body shapes rock bandeaus like a pear lady. Especially the straight-across bandeau which accentuate the shoulders.
Halter tops with tiny straps
Why tiny straps and not the wide ones? Well, tiny straps create the illusion of wider shoulders. It tricks the eyes into believing that, since the straps are tiny, the shoulders must be wide. The magic of contrast.
Best one-piece designs for pear body shape
Although your hips are one size bigger than your shoulders, it is definitely not impossible to find swimsuits that stretch enough to accommodate your pear-shaped goodness.
Just remember to choose one-piece with stretchy materials like nylon and spandex/ Lycra. 100% polyester is not stretchy enough for your hips.
When it comes to picking the best one-piece design for you, the same principle applies which is more drama and flair at the top than the bottom. Hence this curated list of best one-piece for pear body shape:
Again, if you want to emphasize your breasts without the need to show off your cleavage, rely on ruffles to do the job.
This one-piece combines the magic of V-neck which both enhances the breasts and defines your shoulders. The crisscross and horizontal stripes at the chest does a perfect job in emphasizing the upper body while slimming down the hips with its vertical stripes.

What designs to avoid
Avoid bikini bottoms with embellishments. They make your hips appear even wider.
Stay away from plain colored tops that are devoid of any embellishments. They make your torso appear even narrower. If you must wear a plain colored top, choose one with embellishments. And vice versa. You wanna balance out your proportion by emphasizing your bust.
Celebrities with pear body shape
If you're undecided on which styles to own and which to ignore, I suggest you follow the style of celebrities that share your body shape. Here's a list of celebrities that, like you, are pear-shaped.
Kim Kardashian
Beyonce
Jennifer Hewitt
Taylor Swift
Feel free to break the rules
This guide suggests that you downplay your hips and widen your upper body. However, if you want to emphasize your hips instead, it is absolutely your call. Kim Kardashian, for example, is all about hips and curves.
And if you check Instagram, you'll see that high-leg cut swimsuits are so trendy today that all body shapes are sporting them.