You want the best swimwear that will fit your needs. A swimwear that will not only make you feel like a million dollars but one that's also comfortable and durable. The problem is you're unsure about which fabric to choose. Well, hang in there because, in this post, I'll discuss everything for you. Here's how to choose the best fabric for your swimwear.
So what is the best fabric for swimwear? It depends on your water activity. If you're a competitive swimmer with speed as your priority, opt for a PBT fabric. If you're an occasional beachgoer who wants to enjoy the beach while looking fashionable, a mix of nylon and spandex is your best bet. And if you're scuba diving, neoprene is excellent for proper insulation.
That's the short version of this post. If you want to dive deeper on each of these fabric's properties, here's a complete guide for you:
Best Swimwear Fabric for Performance
PBT (Polybutylene Terephthalate)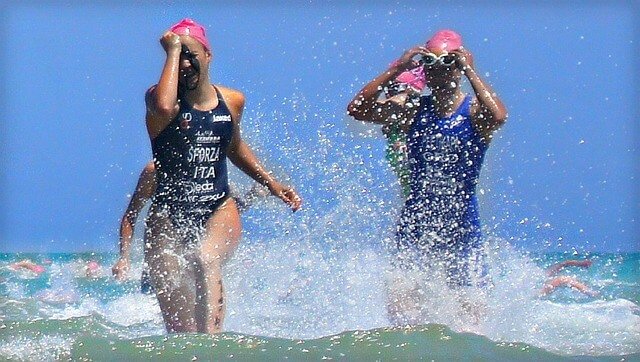 Just think of PBT as an improved version of Lycra.
PBT, like Lycra, is a member of the polyester family of plastic fiber. But unlike Lycra, PBT has a matte finish and is not slippery on surfaces. It also stretches but not as much as Lycra.
A bad rep for polyester?
PBT belongs to the family of polyester. Is that a bad thing? Not as such.
Although most people associate polyester with words like uncomfortable and cheap, it has actually come a long way since its birth in 1941, along with science.
PBT, for example, was customized so that it retains its best qualities while improving on its not-so-useful aspects.
Now, PBT possesses remarkable properties that make it the ideal fabric for competitive swimming and other athletic garments.
Pros:
PBT is an extremely strong fiber that can endure and recover from the assault of the sun, chlorine, saltwater, and stretch. So much so that it surpasses nylon (and all other swimsuit fabric) in terms of durability.
Unlike spandex which traps in moisture, PBT is highly breathable, making it resistant to humidity and perspiration.
PBT can withstand UV light so it's one of the best fabric for making UV-resistant swimsuits. This also means that it can retain its color longer and won't easily fade when worn outdoors.
Cons: Other than its steeper price tag, I daresay PBT has no disadvantage. It is tough and rigid in strength and durability, yet so lightweight and soft when worn, making it the perfect fabric for swimming competitions.
Verdict: If you're a hardcore swimmer and need a swimsuit that ticks off all criteria of being lightweight, comfortable, and durable, you won't find a better fabric than PBT.
Neoprene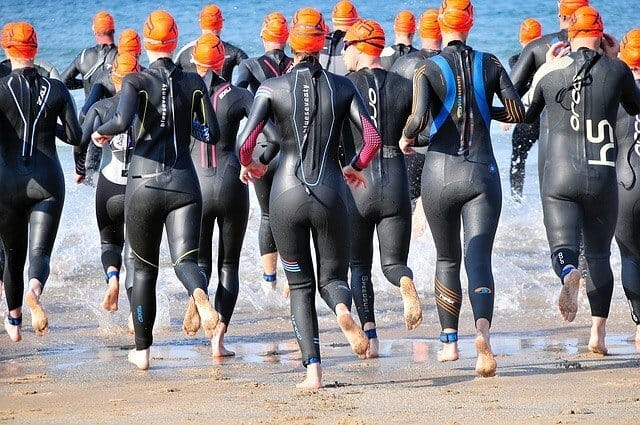 Neoprene is technically a synthetic rubber. This means the method of stitching is different than that of a "regular" swimwear fabric.
Pros:
Remarkable insulation: Neoprene's insulating quality is far more superior than other fabrics, making it the best choice of fabric for making scuba suits. A thickness of 2 to 3 mm is generally best geared towards proper insulation.
More buoyant than polyester: Being a rubber, neoprene is technically made with microscopic air bubbles, resulting in a naturally lighter, more buoyant and flexible swimwear. It's everything a competitive swimmer can ask for.
Durable: Like polyester, it is incredibly durable and can withstand a wide variety of damage and temperature. It can also retain its shape well.
Latex-free: Polyester (the cheap ones) are often made with latex. Unfortunately, some people are allergic to latex. Neoprene solves this problem by being latex-free.
Cons:
Neoprene isn't breathable so only wear it when the temperature requires. You can, however, still wear a neoprene bikini on a hot summer day. Maybe not a one piece or wetsuit though.
Verdict: Neoprene is the best swimwear fabric if keeping hypothermia at bay is your top priority.

Latex-free, it's also a great alternative if you need a high-performance swimwear but you're allergic to the latex in polyester. Make sure though to buy only from brands that specialize in wetsuits/ scuba suits.
Best Swimwear Fabric for Fashion
Spandex (Lycra® / Elastane)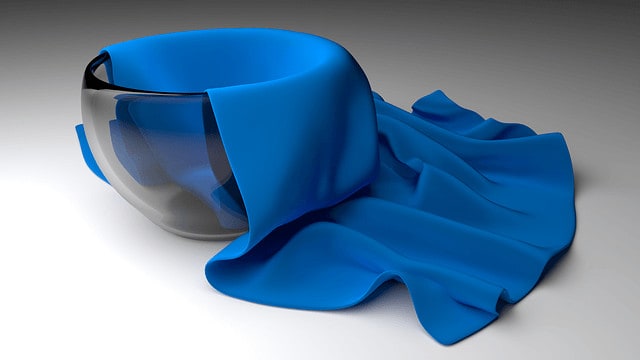 Pros: Think of spandex like a rubber. Only more elastic, durable and stronger. If you check your wardrobe and look for anything that stretches, chances are, spandex is part of its composition. It's literally everywhere.
Cons: However, using a 100% spandex on a swimsuit is not a good idea. First, it has a slippery finish so it tends to glide off on surfaces where you're supposed to stay put and sit. A no-no in the pool.
Second, it isn't breathable so it traps in moisture. Trapped moisture increases the risk of yeast infections and skin blistering.
Third, it's sensitive to heat. When machine dried or ironed, spandex puckers permanently. Therefore, you must only hand wash and air dry it.
Lastly, a 100% spandex swimsuit can highlight your flaws—flab rolls and cellulite dimples—as it grips your body tightly due to high elasticity.
Verdict: Spandex is great for adding elasticity to swimsuits. However, DO NOT buy a 100% spandex. Not only is it uncomfortable and unflattering but also dangerous!
Nylon (Polyamide)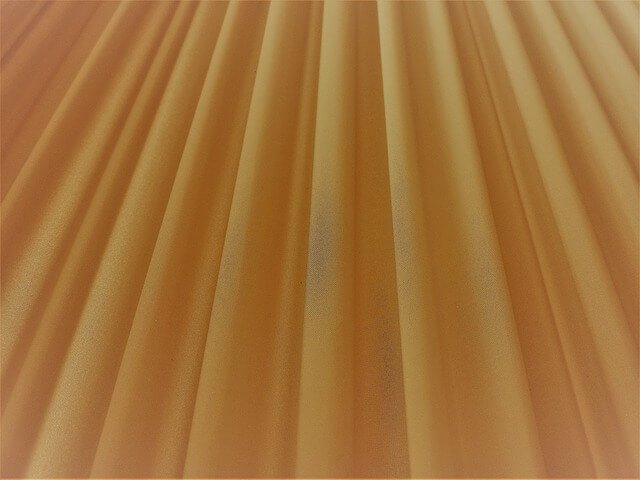 Pros: It's safe to say that nylon is the most-loved fabric of the fashion industry. And why not? First, nylon hugs the body in a flattering way. It flows over the skin— not grip it as spandex does. It's comfortable too. Not to mention its soft, luxurious finish that almost mimics that of a silk.
Other characteristics:
Fairly durable (with proper care)
Care: Hand wash and air dry for longevity
Dries quickly
Lightweight and comfortable
For added flexibility, nylon is often blended with spandex with the common ratio of 80-85% nylon and 15-20% spandex. With this ratio, you get the best of both fabrics.
Cons: Unfortunately, nylon doesn't retain its color as much as its counterparts (like say, polyester). When exposed to constant chlorine and saltwater, its color tends to blur and bleed.
You can, however, slow down this deterioration process by washing your swimsuit with freshwater or a Suit Saver Solution (#ad) right after swimming.
Verdict: Nylon and spandex blend is your best bet if you're going to the beach with the absolute goal of looking impeccable. It will hug your body in the right places and camouflage your problem areas. It's also comfortable and soft.

Careful with buying them in prints though. A low-quality nylon will likely blur and bleed after first wash so choosing a trusted swimwear brand is the key.
Fabric weaves
Do not confuse fabric with fabric weave. Fabric is well… fabric. But fabric weave simply is the finished texture of the fabric after its yarns are interlaced in a certain way.
Simply put, a nylon will always be a nylon. However, depending on the various methods of interlacing its yarns, it could give birth to a whole new set of fabric look and finish.
There are hundreds of fabric weaves but the swimwear industry is channeling its market through the following weaves of fabric.
Note that any type of fabric (nylon, polyester, etc,) can be used for these weaves.
Ribbed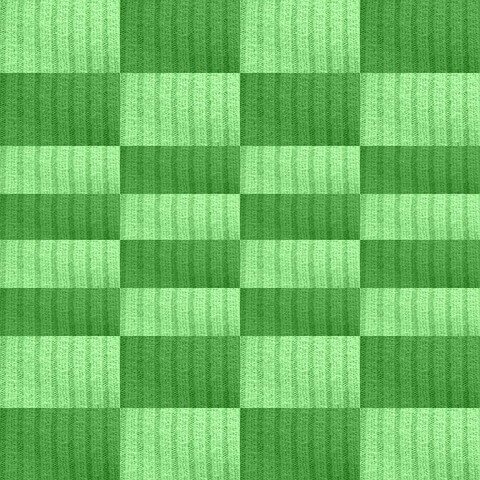 To create a ribbed texture and create the ridges, the knit and purl stitches must be alternated. Designers often use nylon for ribbed weave but polyester also isn't uncommon.
Pros: The great thing about ribbed fabric is it can resist abrasion and crease-like nobody's business. Hence, it can keep its shape pretty well. It's also soft and comfortable to wear making it a great weave for swimwear.
Cons: It could fray easily so you gotta be careful of where you sit.
Velvet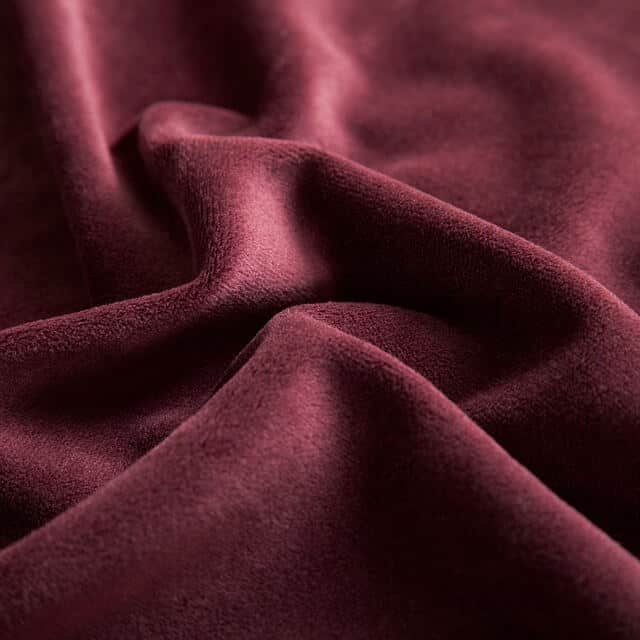 From eveningwear, velvet is now beginning to infiltrate the swimwear industry. And its no wonder. Velvet's finish and super soft texture give off a luxurious vibe to both the wearer and the beholder. It's elegant yet effortless.
Cons: It's high maintenance. Dry clean is the only best way to wash a velvet and preserve its composition.
Mesh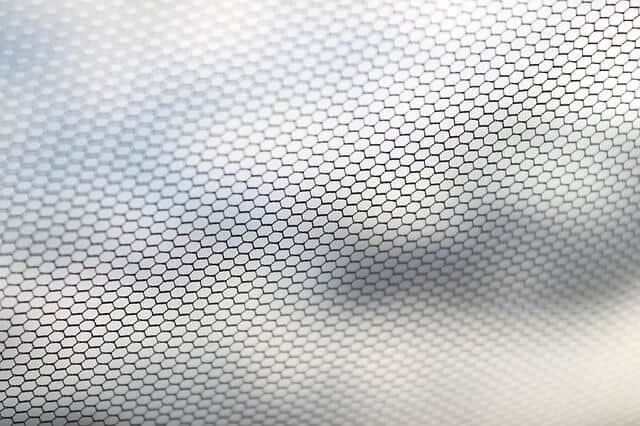 Mesh is see-through so it's ideal for creating cover-ups as it dries quickly. However, designers are getting creative by integrating mesh with swimwear. They often use mesh to create contrast and interest.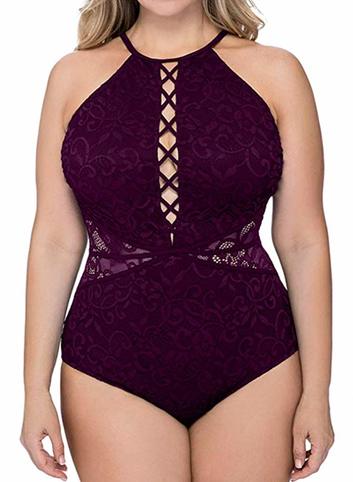 This one piece, for example, uses a small amount of mesh to sculpt the waist and make it appear slimmer.
Crochet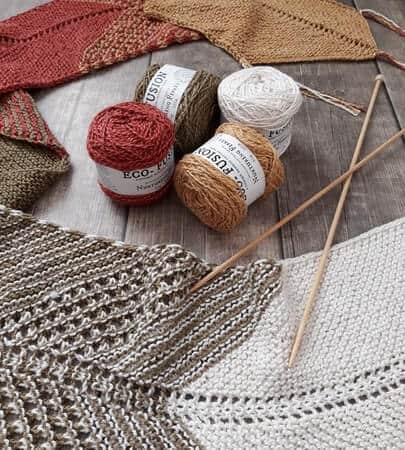 Knits and crochet used to be just a winter fabric. However, with designers mixing in novelty with their designs, they came up with crochet as a fashion swimsuit. It creates interest and focus for the eyes.
Cons: Crochet, regardless of the fabric used, is considerably heavy when wet. This is why it's perfect as a fashion swimsuit but shouldn't be worn for performance swimming.
Which are sustainable?
The problem with most swimwear fabric (polyester, nylon, spandex) is that they're synthetic. This means they do not decompose and regenerate for the environment. Instead, they go to the landfill. Not to mention the harsh effects they cause before and during production.
Fortunately, fabric brands like ECONYL® and REPREVE® are now taking steps to lessen the fashion industry's negative impact on the environment.
ECONYL® recycles nylon while REPREVE® creates their swimwear fabric from recycled plastic bottles. It is unclear, however, as to whether all types of plastic gets recycled or just the colorless ones.
Still, it's an important step towards influencing buyers' choices and putting pressure on fabrics suppliers who are yet to make an effort.
Next week, I'll write a list of environment-friendly swimsuit brands and their exact recycling processes.
I hope this article has helped you decide the best fabric for your swimwear.
You Might Also Like: