A friend of mine, who hasn't worn a bikini in her entire life, asked whether high waisted bikinis are modest. She's thinking about wearing a bikini for the first time but afraid to expose more skin than what's "acceptable".
To her, it's always been one piece, tankinis, and swimdresses. So I decided to do a little research online and see what people around the world think about high waisted bikinis. Here's the overall finding:
Generally, high waisted bikinis are considered modest by most people around the world. However, the answer could still vary depending on religion, culture, occasion, the cut of the bikini itself, and the people who'll be seeing you in it.
So if you want a definitive answer based on your own criteria of what's modest and what isn't, here's an in-depth guide of how to look for the perfect high waisted bikini according to your purpose.
Types of high waisted bikinis according to purpose
Let's say you're attending a company pool party and everybody's expected to wear a swimsuit. The problem is, you don't want your male officemates seeing you in a bikini. For you, work and bikini shouldn't be even put together in the first place.
You sure want to look sexy, but you don't wanna lose that professional and classy vibe. You wanna stay as covered but as stylish as possible.
1. If you want as much coverage as possible
If coverage is your top priority, opt for a high waisted bikini that offers a full to moderate butt coverage.
This gorgeous and modest high waisted bikini from Amazon comes in 5 different colors. And if you see the photos of the reviews from customers who bought, you'll understand why.
As you can see, modestly doesn't mean being boring. I especially love how the top was cut into an inverted triangle which creates a smaller waist effect. The narrow tip of the inverted triangle also makes the hips appear wider due to the side by side contrast. The bottom by the way has a full butt coverage. Overall, a classy taste.
2. If you want to camouflage your tummy but still look sexy
If you want to specifically hide your tummy area in a sexy and flattering way, this is your go-to bikini. Since it's peplum shaped, any bulge from your tummy isn't going to pop up. Tucking in your tummy isn't something you should bother with, either.
Butt coverage: full
Plus size: available
3. If you want to rock vintage
This vintage high waisted bikini comes in 16 different colors in stripes, plain, and floral. So if polka dots aren't your thing, then you aren't stuck with it either. The butt coverage also offers a full if you're looking for a modest swimsuit.
4. If you want to look uniquely stylish
Who says high waisted bikinis are boring? I'm telling you, you don't find unique bikini style like this everyday.
Take a closer look at the bikini bottom and you'll see beautiful cutouts at the side which adds more interest and flair to the hips. This is also great for women with some extra tummy fats to hide.
What to avoid when shopping for a modest high-waisted bikini
1. Avoid bottoms with low butt coverage.
Sure high waisted bikinis cover your midsection just fine. But if there's one thing you need to remember when shopping for a high waisted bikini bottom, it's this: the butt coverage has to be at least medium to full. Anything less than medium might be a little daring for your taste.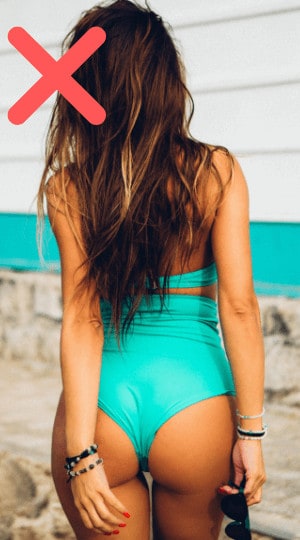 2. Avoid high waisted bikinis that look like lingeries.
If modesty is your top priority, you definitely don't want to go to the beach with the outfit below. It sure looks like a high waisted, and it sure does have a good coverage in the bottom area. But the extra bling plus the mesh covering the midsection gives that impression that it might serve an extra purpose other than being a swimsuit.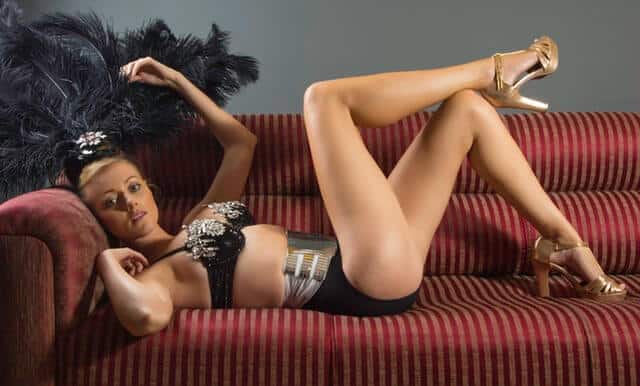 2. If you're a large breasted woman, don't buy flimsy bikini tops.
Large breasted women should opt for bikini tops with reliable breast support. Triangle bikini tops with flimsy strings for support are a no-no, unless you're an A or B cup. Nobody wants a wardrobe malfunction.
An alternative to high waisted bikinis
If you still feel like high waisted bikini shows more skin than you wanna show, you might wanna consider tankinis, and one piece. Tankinis are especially good for covering your tummy but still shaping it in a flattering way, while one piece offers the most coverage.
I especially love one piece because I love the freedom of being able to wear it anywhere. Pair it with your favorite denim shorts or jeans for a casual look, or with a long skirt for a semi-formal or formal look
Overall, high waisted bikinis do have their own charm, and they're especially great if you're trying to find the very fine line between showing more skin than a one piece allows but lesser skin than what skimpy bikini shows.
You Might Also Like: Modest Swimsuits for Plus Size Women Based on Body Type