In a professional setting, the staple attire is all about collared polos, blouses, pencil skirts, slacks, and blazers. But have you ever wondered if you can wear a dress at work? In this article, find out how to shop for work-appropriate dresses and style them.
So is wearing a dress appropriate for work? Wearing a dress is appropriate for work if it has the right length, sleeve, neckline, fabric, color, and fit. Generally, the more structured the dress is, the more professional you look; and the flowier it is, the more casual you look.
While there are different types of dresses, not all are appropriate for work if you wear them as is. Here's how to choose the right dress and how to make the ones you already own appropriate for work.
What Makes a Dress Work Appropriate?
A dress is appropriate for work based on its length, neckline, fabric, fit, color, and sleeves. Below are guidelines on how to determine whether a certain dress is suitable to wear in a corporate office.
Length
Your hemline should be no higher than your knee. This means that you can never go wrong with knee-level, midi, and maxi-length dresses. In some cases, however, it's still possible to rock a dress that stops slightly above the knee. But that's up to your level of comfort.
To determine the shortest possible dress that you're comfortable in, try this quick test:
Put the dress on with your usual work shoes.
Sit straight on a chair with both of your heels on the ground.
Measure the distance between your hemline and your knees.
If the distance between your hemline and knees is within 1-1.5 inches, it should be comfortable enough for you to move while sitting. Any longer than that would be too restricting.
Neckline
There's no limit to the style of necklines you can wear. While closed necklines are generally considered safe bets, don't let that stop you from experimenting with open ones such as V-necks, boat, square, edge, and surplice.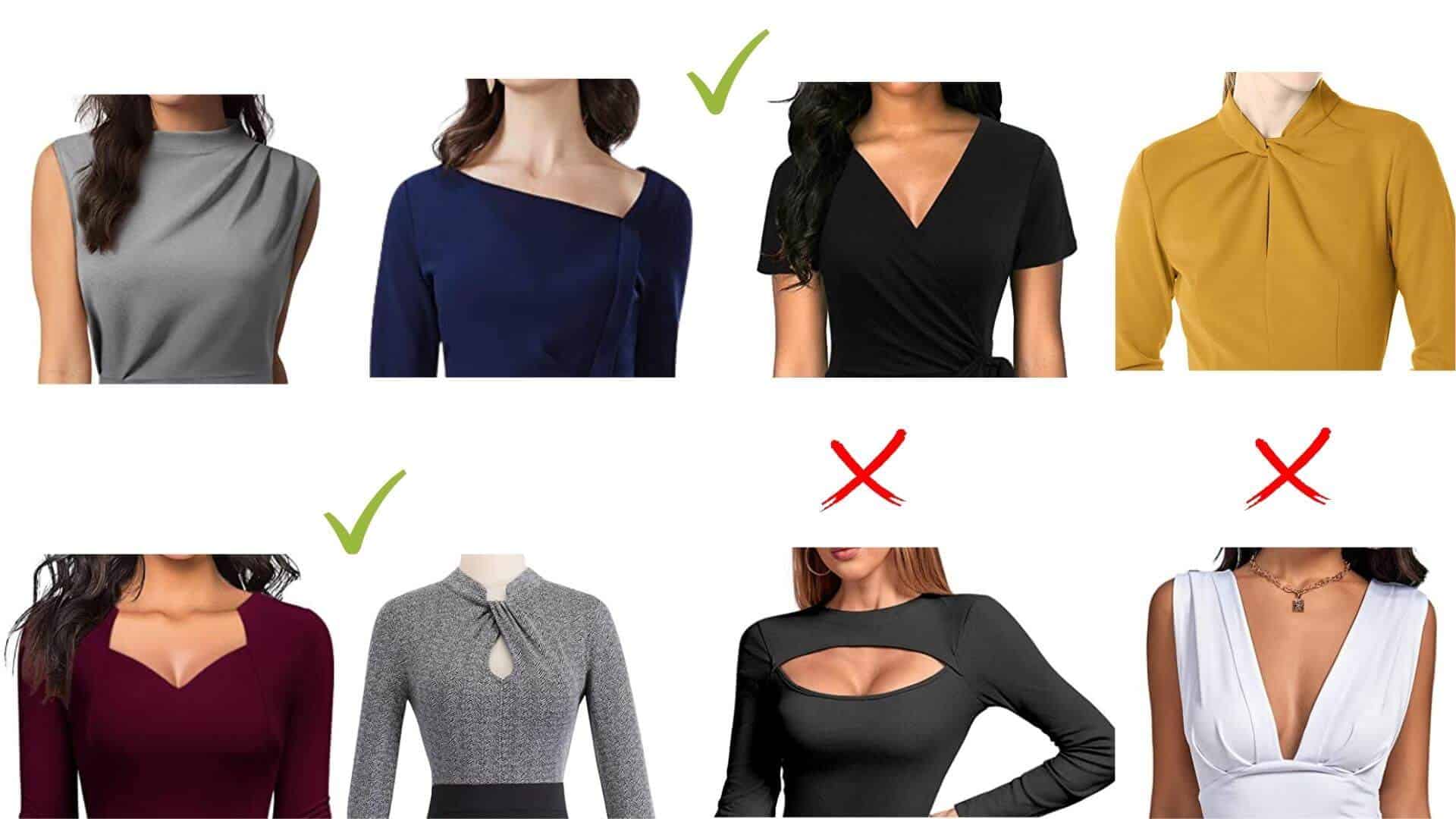 There is, however, a limit to the plunge your neckline could go. Here's a rule of thumb: If you find yourself constantly readjusting your neckline for fear of exposing too much, chances are, it has too deep of a plunge.
Fabric and fit
Fabric and fit are correlated. The higher the quality of the fabric is, the more flawless and professional the fit. The lower the quality, the flimsier and ill-fitting the fit. This is no surprise. You've probably noticed this on several occasions.
So if you're aiming for a figure-hugging silhouette (like bodycon), go for textured and/or lined fabrics. Textured fabrics help hide underwear lines that are all too clear when wearing plain and thin fabrics.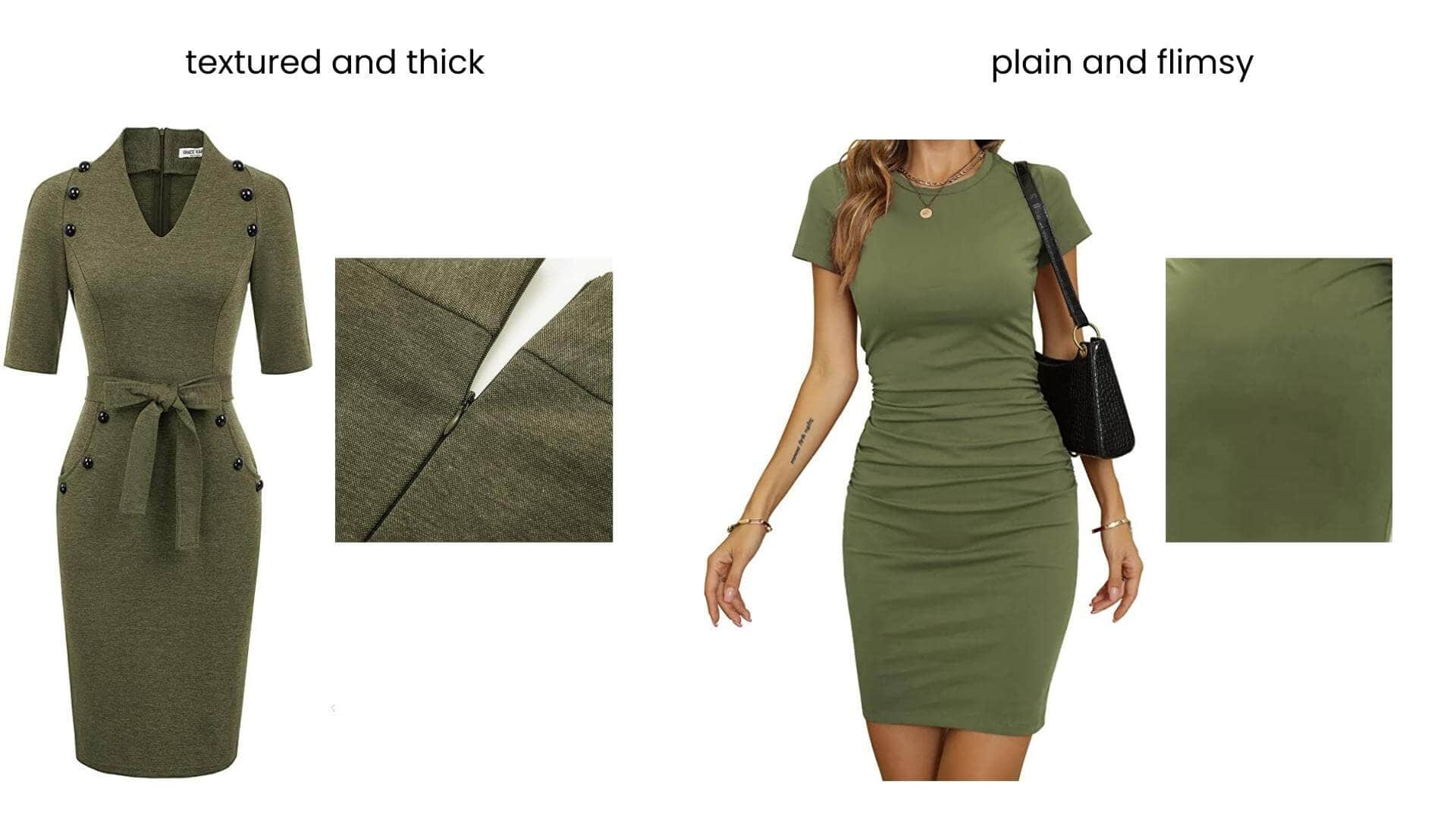 You can still wear a non-tailored dress as long as the style isn't meant to tightly hug the curve of your whole body (like A-line, shift, and fit and flare dresses). However, if you're aiming for a bodycon fit, tailored and/or textured fabrics are your best option.
So when you can, choose high-quality materials like high-grade cotton, linen, and silk. At the very least, polyester and other synthetic fibers also offer great capability in this area although not very sustainable.
Whatever happens, stay away from thin and see-through materials. They're great for the beach, not for work.
Colors and Prints
You can never go wrong with neutral colors like black, white, navy blue, army green, gray, and beige. They're versatile and can easily mix and match with other pieces.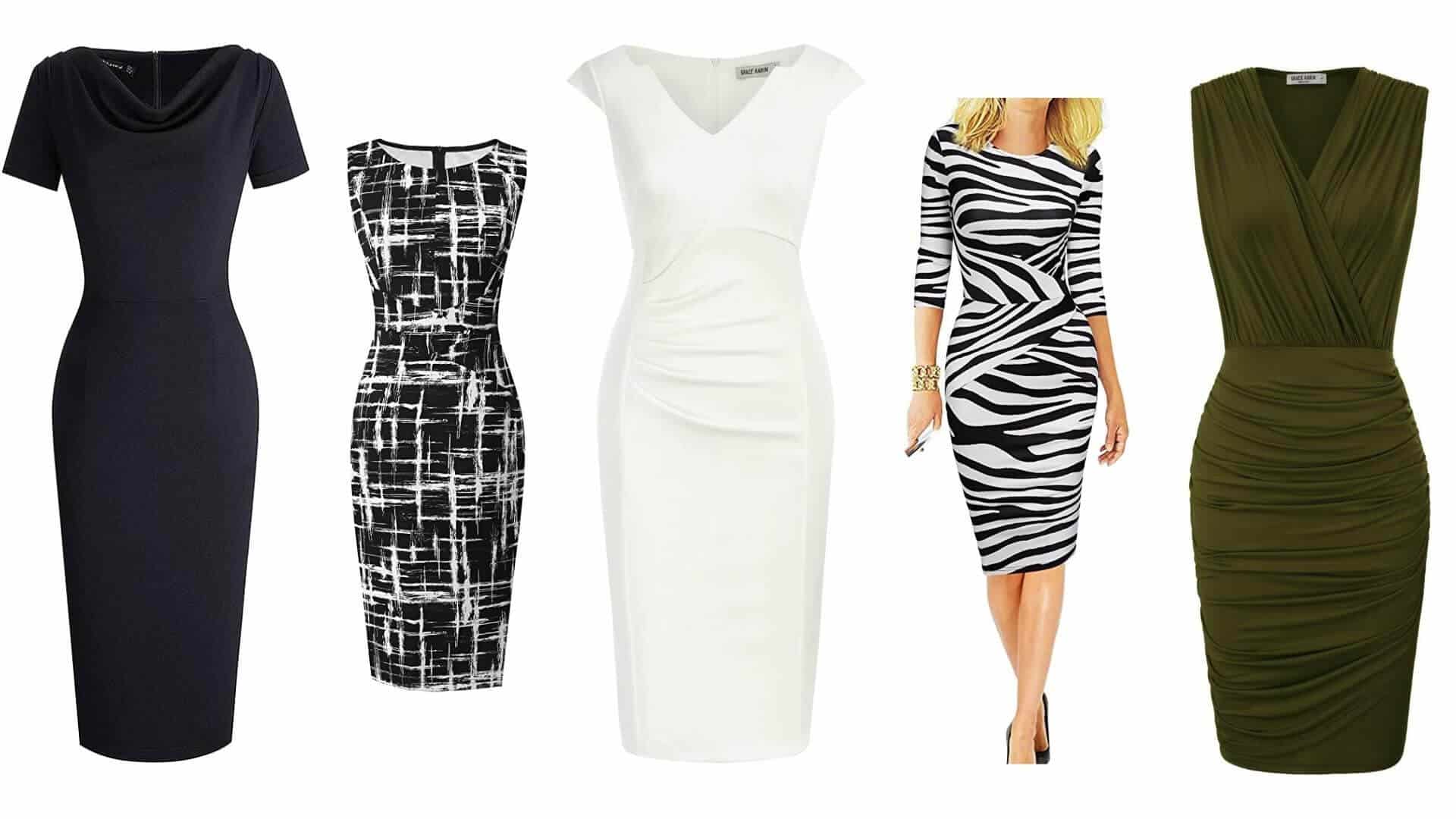 If you have a warm undertone, bright and vibrant colors are perfect. Whatever color you choose, avoid neon colors at all costs! They'll just get too much attention and most of it unwanted. Additionally, prints and patterns are great as long as they look pleasing and harmonious to the eyes. Avoid colors and prints that are too busy.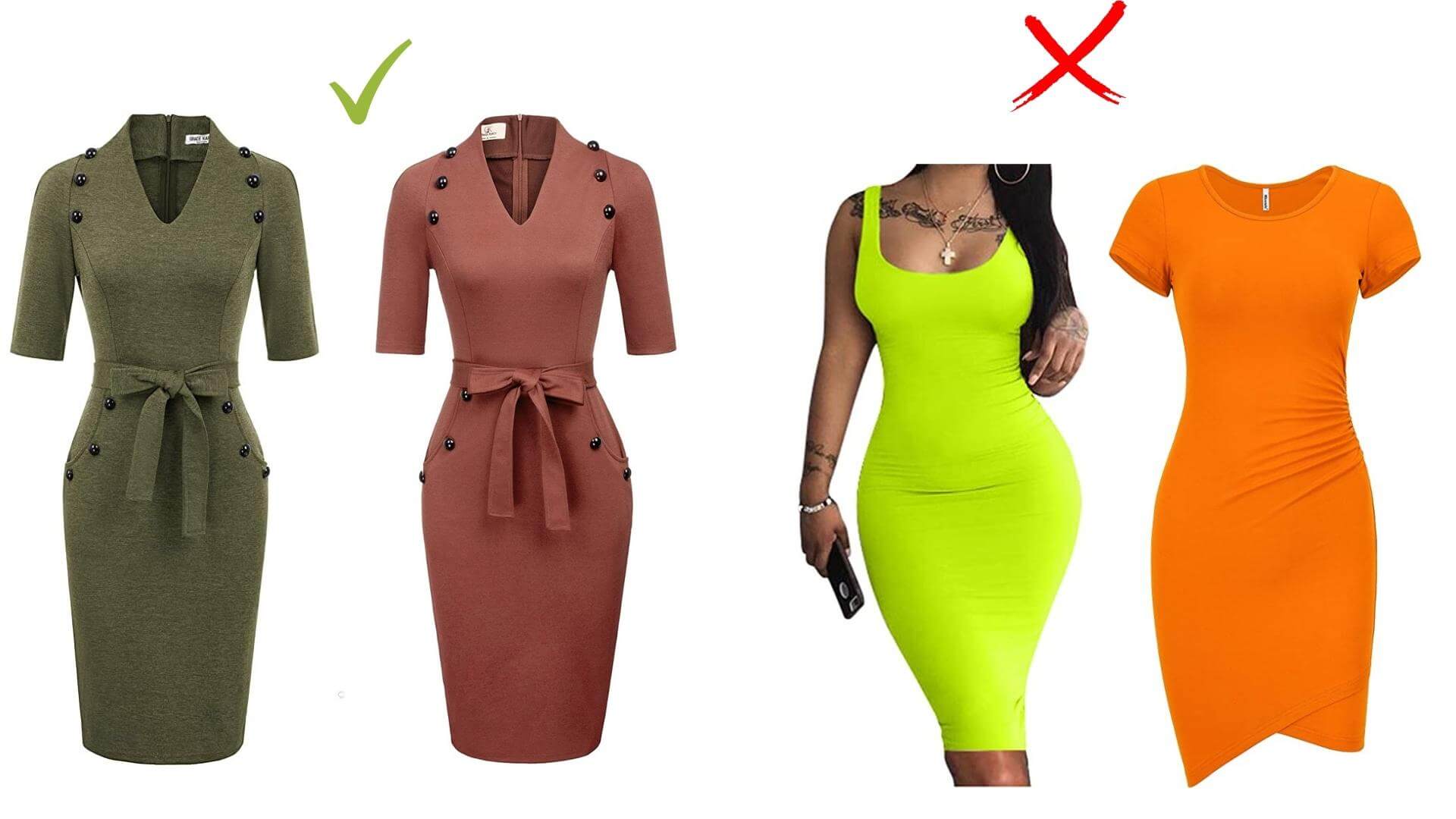 Sleeves
You might think that sleeveless dresses are a no-no in the workplace. But if your dress code does not explicitly prohibit them, you can get away with them as long as you tastefully pick them.
Remember this: When shopping for a sleeveless dress that you have no plan to wear a blazer on top of, opt for a tailored fit with a thick fabric. Like this.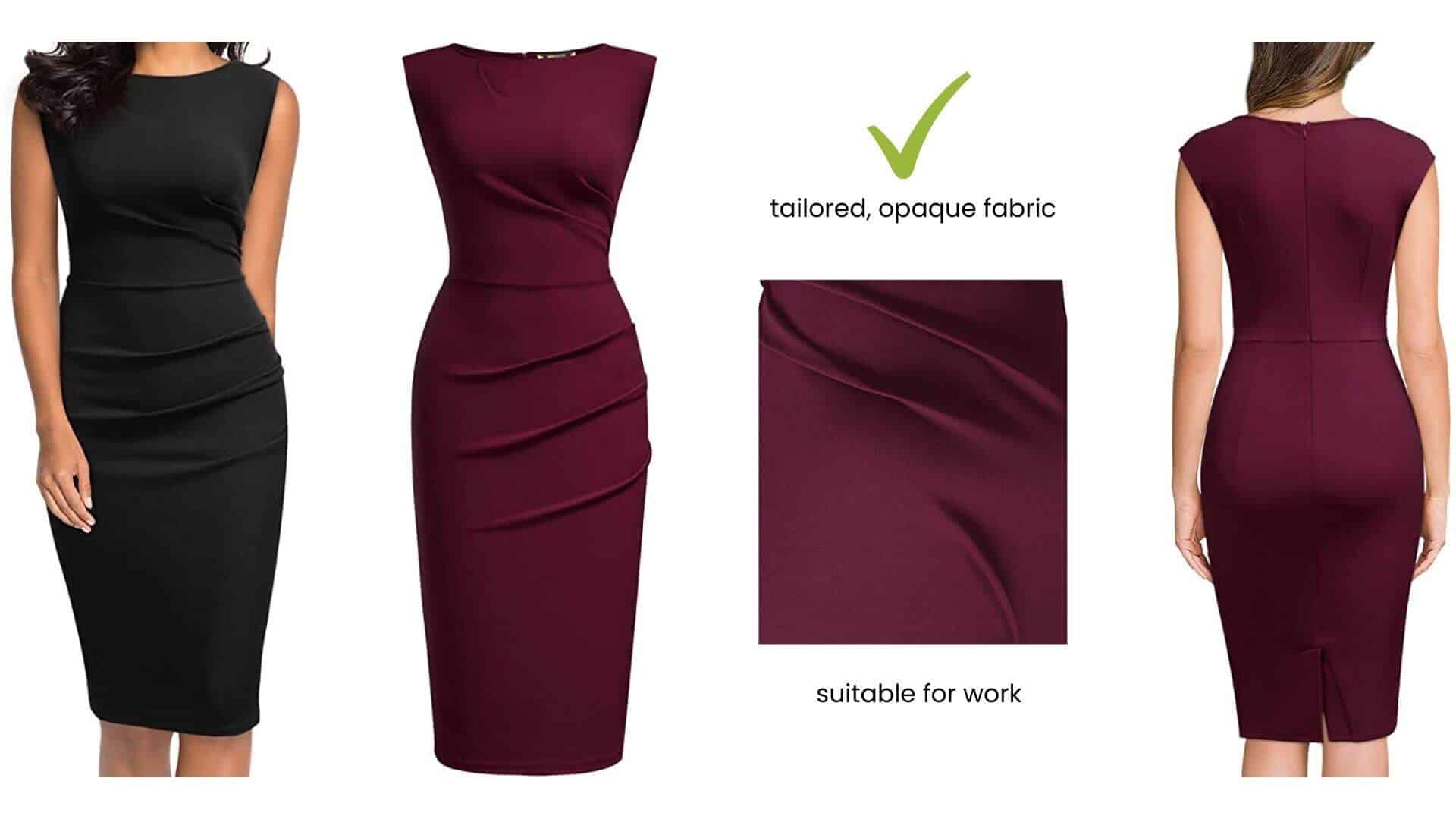 This dress is the perfect balance of sexy and professional.
At first glance, you'd think that you can't possibly wear this at work because it's figure-hugging and sleeveless. However, if you look closely, this dress has two redeeming qualities: a thick fabric and a tailored fit. A balance, therefore, is achieved!
Not all sleeveless dresses are suitable for work though. Dresses with straps like spaghetti and halters are downright informal so either wear a blazer on top or avoid them at all costs!
If you need recommendations for work-appropriate dresses, refer to this: 15 Best Work Appropriate Dresses for Women.
How to Modify Dresses for Work
As previously mentioned, not all dresses are meant to be worn at the office, especially if they are way outside the guidelines. But remember, in fashion, you can always play around with the stuff you have in your closet and mix and match!
If there's one key to making your "inappropriate" dress suitable for work, that is to top it off with a blazer or a smart cardigan to make your attire look more conservative.
Here are some dresses that you can modify by using a blazer or cardigan.
T-shirt Dresses: In the mood to wear something casual at work? Go for your t-shirt dress, but it may seem too casual if you wear it as is.
Instead, pair it with a blazer, wear smart heels, and complete your look with a stylish clutch or shoulder bag. Now, you are good to go and give off a more professional vibe to your officemates!
Sleeveless Dresses: Wearing sleeveless at work especially when it's tube style, halter top style, or spaghetti strap is a huge no-no. However, when the summer season strikes, you would want to wear something more breathable.
The good thing is that you can still wear your sleeveless dress provided that it has the right length and conservative neckline. Then, pair it with a blazer or cardigan capped off with smart heels and a chic bag.
Summer or Sundresses: Speaking of the summer season, you might think that it's the time to wear your sundress. The good news? You can wear it at work while remaining to give off that girl-boss vibes.
You just have to make sure that your sundress is made of appropriate high-grade material and not see-through. The colors should be vibrant yet warm, and the print not flashy and disturbing. And coming from the previous item, if it's sleeveless, pair it with a blazer or a cardigan.
And there you have it! That's how you make your dresses appropriate for work! With the blessing of your company's dress code, you should now be able to dress effortlessly with femininity and class.
If you're unsure though, ask your HR. Chances are, they would allow it as long as the overall look gives off a professional vibe. Hence, the above-mentioned guidelines.
Still, the bottom line in fashion is to wear something comfortable while following the guidelines, rather than putting style as the first priority. After all, it doesn't pay to look stylish yet feel uncomfortable and awkward while hustling. You got to look and feel the part!