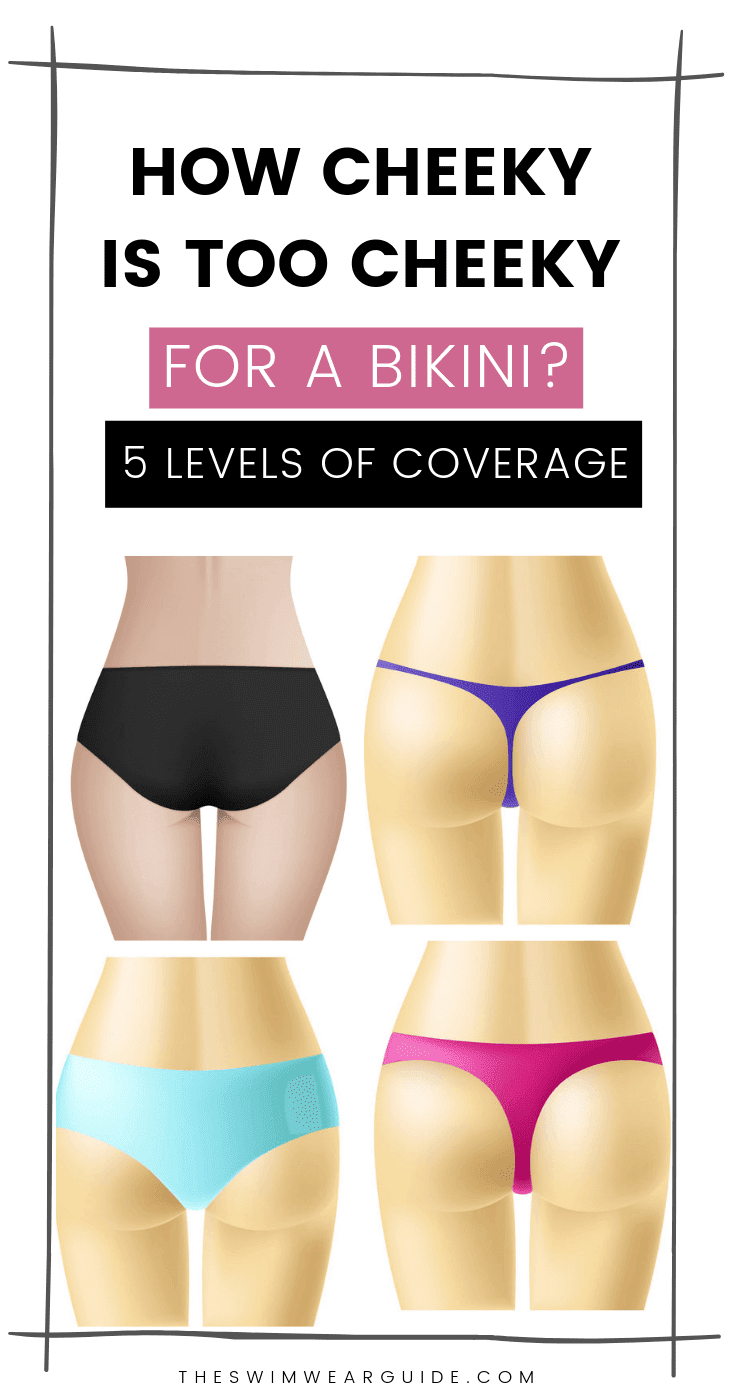 So you're thinking about wearing a cheeky bikini for the first time, but you aren't quite sure how cheeky you should go. You're probably scared of revealing too much booty cheek than you're comfortable with. In this post is the answer.
So how cheeky is "too cheeky" for a bikini? It depends on your personal level of comfort and personality. Find the average and you'll know exactly how much cheek to show while staying confident and true to the personality you wanna represent. Here are the 5 levels of booty coverage and each of their meaning. Because remember, we wear clothes to tell a story about ourselves, whether we're aware of it or not.
Levels of Swimsuit Butt Coverage and Their Meaning
Here are the 5 different levels of swimsuit butt coverage and what message each level of fabric coverage represents.
Level 1: Sporty

Level 1 offers the most butt coverage. The fabric goes all the way down the hips, covering the whole butt and the upper part of the thighs. Boyshorts and compression shorts are the best examples.
If you gravitate towards level 1, more than its more revealing counterparts, chances are, you're a sporty type of person and you value freedom of movement and comfort more than anything else. When there's a good long swimming to do, you'd rather be properly dressed for it.
Most of all, you loathe having to check every 5 minutes to see if your butt is still in place. Hence, you rarely bother with cheeky bikinis and only reserve it when you're feeling lazy (which happens once in a blue moon).
Level 2: Classy

Level 2, on the other hand, offers less fabric coverage than level 1. Instead of partially covering your thighs, it's exposing them fully. Your butt, however, is fully covered showing little to no cheek.
If you want more of a sexier version than boyshorts (level 1), but aren't comfortable exposing your butt cheek, level 2 is just right for you. It's the perfect mix between sexy and classy.
Occasions: If you're with people whom you aren't comfortable showing off your butt cheek to, (like your boyfriend's parents or male colleagues at work), Level 2 coverage will give you that level of mental comfort. If it still sounds too much skin for you though, don't hesitate to go for level 1.
Level 3: Playful

Some women don't like going full coverage as for them, it looks like a "diaper butt". This is where level 3 comes in.
Level 3 is where a little butt cheek starts to show. If you're still experimenting with cheeky bikinis, go for level 3 so you won't feel overwhelmingly exposed at first.
This level of coverage is a combination of sexy and playful. Sexy because it highlights a little cheek; playful because it shows a little but leaves even more to the imagination. Such a tease.
Level 4: Adventurous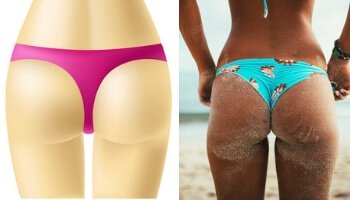 Level 4 is what you wanna go for if you're feeling a little more adventurous than what level 3 allows. Exposing more skin than level 3, this level offers an even more lift and tone for your booty.
What's more, it accommodates movements excellently. As you may have noticed, this is what most surfers wear when playing with the waves. Surfer or not though, once you try and end up liking this, you'll never want to go back.
Tip: If you like beach games, choose a scrunched style like the photo above. Not only does it sculpt your booty to perfection but is also anti-wedge, meaning, it stays firmly in place and you won't have to adjust it every 5 minutes.
Level 5: Carefree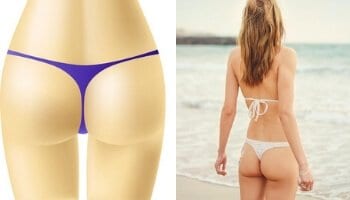 Level 5 is the best coverage for tanning. Having the slightest impediment of fabric, it creates the most realistic tan you could possibly get without getting naked.
This isn't only for tanning though. If you feel that fabric is an unnecessary accessory that only gets in the way between you and the beach, go all out with level 5 whichever beach you want.
Level 5 is a mix between daring and carefree. If this is you, feeling conscious about what people might think about your thong is the last thing you wanna stress about. Besides, who needs that when there's the beach, the breeze, and the sun?
Why wear a cheeky bikini and who can wear it?
Cheeky swimsuits are effective in toning and visually enhancing the booty. They're especially flattering for body types that have less defined lower body like hips like rectangle, apple, and inverted triangle since the fabric hikes up a tad bit higher, which then exposes the widest and most prominent part of the booty, giving it an extra lift. This creates the illusion of a more toned and defined booty. Body types like hourglass and pear look flattering in it too.
Remember when wearing a cheeky swimsuit for the first time:
Wear the coverage that you think best suits your preference in terms of comfort and personality. You don't wanna go too cheeky when you know that in your heart of hearts, you're most comfortable with levels 2 and 3.
If you're curious to experiment with cheeky bikinis but tend to feel conscious in public, start with level 3. It'll allow you a breathing room to get used to it. And who knows, you might hike up to level 4? Or not.
If you're traveling to a foreign beach country, it helps to research the allowed dress code for bikinis. Some Muslim countries are strongly against revealing swimsuits.
Try it at least once. If you don't like it, there's always Level 1 and 2 to go back to.
Conclusion:
Social media is filled with photos of influencers sporting cheeky bikinis over full coverage ones. At this point, it's safe to say that cheeky swimsuits aren't just fads. They're here to stay.
Peruse this guide and you'll be able to choose which butt coverage is best to wear in every occasion. Enjoy!
You May Also Like: