As an affiliate, Answearable earns from qualifying purchases at NO cost to you. Learn More.
This post is for you if you're looking for the best swimsuits for an inverted triangle body. You have an inverted triangle body if:
your upper body is wider than your lower body,
you have wide and broad shoulders with large breast,
hips are narrow,
your waist is slim but minimally defined due to narrow hips
your bottom tends to be average to flattish.
Are you a plus size inverted triangle? Click here for a different guide.
When choosing the right swimwear for an inverted triangle body, the goal is to visually reduce the width of the upper body and shoulders, then enhance the width of the hips. You can do this by wearing bikini bottoms that add volume to your hips while wearing tops that slim down the broadness of your shoulders.
This way, you're enhancing your hip's volume while drawing the attention away from your shoulders. Thus, a balanced and more feminine look is achieved. Here's a complete list of the best swimsuits that'll look good on an inverted triangle body.
Choose swimsuits with hip-enhancing effect.
Here's our curated list of swimsuit designs that will enhance the slim hips of an inverted triangle body. These styles either manipulate a swimwear's shape or color to achieve the desired "hip effect".
High-leg cut swimsuits
The higher the cut of your swimsuit, the more enhanced your hips will look. High-cut swimsuits expose and highlight the widest part of your hips—a part that's hidden with regular cut swimsuits.
This then creates the illusion that you have wider hips than you would have if you wore a regular cut swimsuit.
What's more: High-leg cut swimsuits elongate the legs. Not that you would need it much, though. Most inverted triangle ladies are already gifted with long and shapely legs. But if you wanna flaunt your shapely legs even more, then you know what to wear.
Note: If you aren't comfortable exposing your butt cheek, a high cut swimsuit isn't for you. Good news is, there are alternatives:
Tie side bikini bottoms
All the drama should be happening at your hips. Therefore, pour all your styling efforts into them by choosing bikini bottoms with embellishments at the side of the hips.
The tie side details at the hips create a "hip effect" making your hips look wider and more defined than they actually are.
The good thing with tie side bikini bottoms is, you don't have to wear them cheeky or skimpy since they come in different booty coverage levels starting from full coverage to thong. They'll enhance your hips without you showing more cheek than you're comfortable with.
Remember: Bikini bottoms with side details like ruching, tie knots, belts, sashes, frills, and ruffles make your hips appear wider. They balance your inverted triangle proportion.
Scrunched bikini bottoms
A scrunched bikini bottom makes your booty appear leaner and toned by camouflaging your booty fats. It does that through its scrunched effect. The scrunched effect creates the illusion of bulging glute muscles instead of the booty fat that they actually are.

And if you wanna add more definition, opt for bottoms that reveal a little butt cheek.
Brazilian bikinis and thongs
To enhance a certain body part and make it appear more sculpted than it is, you gotta show off a little part of it and cover the rest. Take push up bras for example; they accentuate the breasts by showing off some cleavage.
Brazilian, thong, and cheeky bikini bottoms do the same thing but only with your booty. They make your behind look more toned than it would have looked in full coverage bottoms
They also enhance your curves and create a slimming effect. The lesser butt coverage your swimwear has, the more accentuated your booty appears.
But do you have to be that daring? What if you just want to enjoy the beach without adjusting and readjusting your swimsuit because it barely covers what you want it to cover?

The good thing is, you can actually choose the levels of booty coverage.
Level 3 (playful) shows a little cheek but leaves a lot to the imagination. Perfect if you want to accentuate your booty but still with a conservative air to it.
Level 4 (adventurous) shows a little more butt cheek than level 3. Perfect for surfing. Example: Brazilian bikinis.
Level 5 (carefree): offers the least coverage. The best example is thongs. Perfect if you want the best tan and the least fabric restriction.
Undecided? For an in-depth guide on how to wear a cheeky bikini for the first time, this is for you.
Ruffled bottoms
Ruffled bottoms will enhance you in the place where you need the most enhancement—your hips.

And if you want a more covered version, go for ruffled swim skirts. They're just as flattering.
A-line swim skirts
A-line swim skirts define the hips by hugging the waist and flaring at the hips. This creates the illusion of a slimmer waist and wider hips due to contrast.
Plain top with a printed bottom
Printed pieces make you appear bigger while plain colors, especially dark ones like black, slim you down.
If we apply this styling principle to an inverted triangle body, the rule becomes: a plain colored top to slim down the shoulders, paired with a printed bottom to enhance the hips. The result? A balanced and more feminine proportion (if that's what you're aiming for).
Tops with detail in the middle
Look for bikini tops with eye-catching details in the middle like crochet or crisscross. They force the eyes to focus on the middle of your chest instead of the width of on your shoulders. The is a slimmed down pair of shoulders.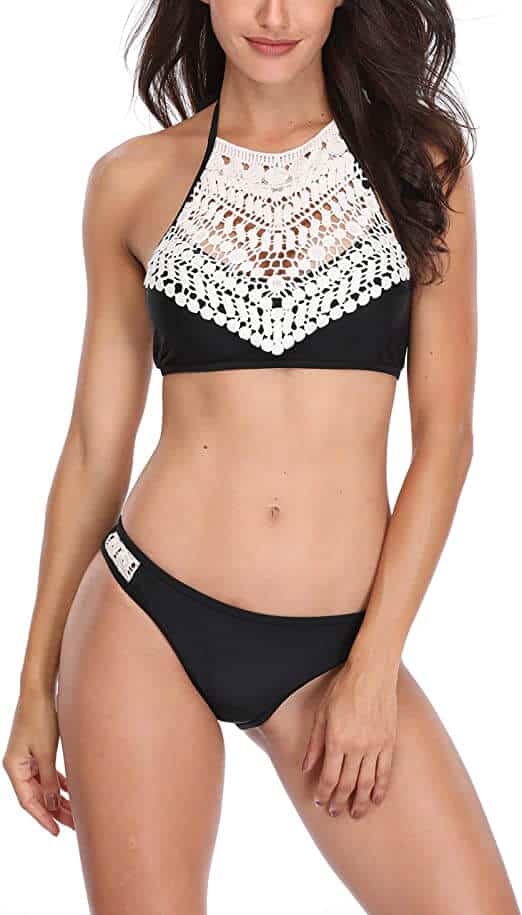 Halters with wide straps
Some say that halter tops are a no-no for inverted triangle ladies as they make the shoulders appear even wider. And this is true, but only for halters with tiny straps.
Tiny straps have a tendency to cut into your shoulders. It also creates contrast against the broadness of your shoulders making your shoulders appear even broader.
Wide straps don't have this issue as they're wide enough not to accentuate your shoulders and avoid it from looking unbalanced. And if you want reliable support for your ample breasts, you just found the best bikini top.
Plunging neckline
The same principle applies to V-neck and plunging necklines. They take the attention away from your shoulders and keeps the interest in the middle where the plunge is. A diagonal ruffle in the middle doesn't hurt either.
Peplum tankinis
Peplum tankinis hug the waist and flare at the bottom. This creates a sculpted waist silhouette and enhanced hip volume. Overall, the result is a flattering hourglass figure.
Handkerchief tops
Handkerchief tops create the same hourglass effect as peplum. They're the perfect top if you're going for a more feminine silhouette.
A-line swim dresses
If you're a fan of swim dresses, you can never go wrong with A-line dresses. They hug the hips and flare at the bottom. They'll downplay your torso but widen your hips.
Plain or printed?
Ever notice why black makes you slimmer? Because it's the darkest color of the spectrum. This means that if you want your hips to appear larger, stay away from black bikini bottom unless it has ruffles or tie knots in it to emphasize your hips.
Therefore, wear plain dark colors only as your top as they'll make your shoulders appear narrower, and wear prints as your bottom as they'll enhance your hips. You can also opt for loud colors like neon if you're tan.
What about stripes?
Top: Wear vertical and diagonal lines as they'll slim down your torso. Avoid horizontal line as it'll only widen it.
Bottom: The opposite is true. Go for horizontal lines to widen your hips and avoid vertical and diagonal lines as they'll only narrow it down.
Inverted Triangle Shopping Guide
Shop as if you're looking for a bra.
Some bikini tops are bad news for an inverted triangle woman. Your bikini top has to offer considerable support. Under no circumstances should you buy one with flimsy straps. Either that or risk spilling your breasts out in the open.
It's better to shop for them physically than online. But if you have to do it online, go get a tape measure and get your exact bust, waist, and hip measurements and make sure they correspond to the size of the one piece.
Comfort first
Sometimes it's possible to go one size down in a one piece and still fit your torso in it. But only if the fabric is stretchable enough. Take note of fabrics like nylon and spandex as they're more stretchable than polyester.
If at any point, the fit feels off, it means that piece isn't for you.
Or go get a tailor.
If it breaks your heart to abandon that gorgeous one piece, your best bet is to visit a tailor. Or really, just get a bikini.