As an affiliate, Answearable earns from qualifying purchases at NO cost to you. Learn More.
"So I'm wondering: Is a swimsuit necessary at all for aquatic parasailing? I mean, you basically need a body of water to call it "aquatic parasailing" but you won't be spending your time in the water but above it. So do you have to wear a bathing suit to parasail? If not, what's the proper dress code?"
Do you have to wear a bathing suit to parasail? Yes, in fact, parasailing operators recommend it for warm days. The dress code, however, becomes a little trickier during cold and windy days. Here's a guide detailing which swimsuits to wear for parasailing according to weather.
Swimsuits to wear when parasailing on summer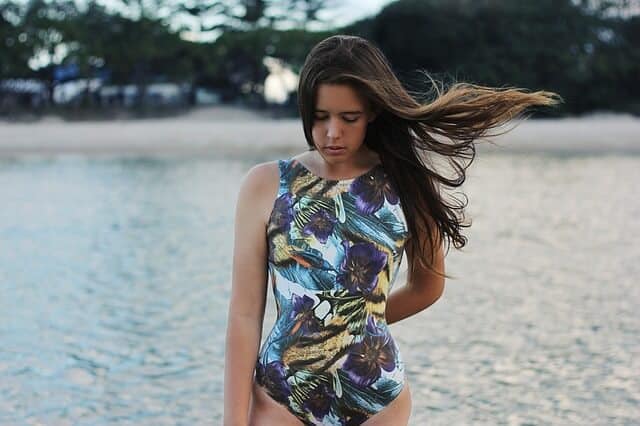 The parasailing dress code on warm weather isn't complicated. You can wear anything you like— whether it's regular clothes or swimsuit— as long as it isn't loose or flowy. Wearing tight enough clothing prevents you from getting tangled with the parasailing equipment's buckles and straps.
If you're a woman, here's a guide on how to pick the best swimsuit for your body type.
Sporting a bathing suit while parasailing is your best bet if you plan on spending the day later at the beach. You can choose to wear it alone with the provided life jacket or you can wear it underneath your regular clothes.
If you're wearing a swimsuit, make sure its elastic is tight and the lock of the bra secure.
Not that you'd be tossed around in the water by default but err on the safe side and anticipate the worst-case scenario: the possibility of the rope breaking and you being dragged in the water for a while before a rescue could get to you.
Parasailing dress code on cold and windy days
Can you parasail on cold and windy days? Absolutely! You just need to dress the part to avoid catching hypothermia.
To do that, wear a fabric that is great with insulation even when wet like polyester, PBT, neoprene and, fleece.
For temperatures greater than 50 degrees
If the temperature is greater than 50 degrees Fahrenheit, wear a fleece jacket and bottom over a rashguard (preferably neoprene) to keep you warm both in the air and on the boat.
For temperatures lower than 50 degrees
For temperatures lower than 50 degrees Fahrenheit, nothing beats a neoprene wetsuit to keep you toasty and warm while up in the air and while landing on the boat when water is splashing around.
Footwear
On warm days, you won't need footwear at all. On cold and windy days, however, you will.
The traditional beach shoes (or aqua socks) should suffice for insulation. Make sure though that, like your clothing, it's tight enough to stay securely in place while the wind is blowing.
Do NOT wear open-toed shoes, flip flops and sandals. They contribute very little to insulation and increase the risk of entangling you with the parasailing equipment's straps and buckles.
Headwear (optional)
Most headwear should pose no issue when parasailing. You can wear sunglasses to protect your eyes from the sun's reflected rays on the water, and a hat for extra shield from the sun.
If you don't want any hat on your head, then at least slather an SPF 50 sunblock/ sunscreen and your skin should be safe from the sun's penetrating UV rays.
How much SPF for skin protection
Although you'll only spend 10-15 minutes up in the air, make no mistake. Parasailing exposes you to strong UV rays so do not skip skin protection regardless of your skin color.
If it's summer and the sky is almost cloudless, use an SPF 50 sunblock or sunscreen.
If it's cloudy, an SPF 30 should suffice. Don't settle for anything less and reapply as often as suggested in the package.
What to bring and wear in the boat
What to wear on the boat: If it's summer, you could get by with a hat, a pair of flip-flops, and a sun-proof cover-up over your suit. If it's cold, go for a jacket.
First aid kit: Your parasailing guide, for sure, will have their first aid ready on the boat but if you have special needs, you should bring your own specialized first aid kit.
A small waterproof bag where you'll store the essentials which are vulnerable to water like your smartphone and wallet.
A reliable towel to dry you off.
A tote or backpack to store all the essentials mentioned above.
What NOT to wear and do
Knowing what not to wear is just as important as knowing what to wear so pay attention to these:
Do not bring your camera! It's too risky. If you really must preserve the view up in the air, choose a parasailing team that offers a photo service. Most parasailing guides attach a GoPro to capture their customers' moments up in the air. (Besides, wouldn't you wanna enjoy the scenery rather than spend the whole time struggling to keep your camera from falling off?)
Avoid wearing baggy and loose-fitting clothes. The parasailing equipment is riddled with straps and buckles that could easily entangle your clothing as soon as wind joins the equation.
Wearing an open-toed footwear like sandals and flip flops is a no-no. They offer no insulation hence serving no purpose up in the air.
Do not go parasailing without skin protection. If rash guard and hat are too bulky for your liking, wear a bikini or a one-piece alone but do not skip the sunblock. Remember, the higher you go, the harsher the sun is.
Parasail with nothing but the recommended clothing above and you should be safe.
Why wear a bathing suit to parasail
If you want to spend the rest of the day at the beach after parasailing, then wearing a bathing suit would be more convenient than wearing regular clothes.
Have a blast with your parasailing adventure!
You Might Also Like: