A rectangle or straight body has many assets but a big booty isn't one of them. If you own this body type, you've probably asked this question more times than you could count: "How do I make my hips look wider, my booty bigger, and my shape curvier when wearing jeans? Which are the most flattering jeans for my rectangular body?"
The good news is, in this article, you'll learn everything you need to know about choosing the flattering jeans for a straight body. From a jean's waistband, wash, rise, style, embellishment, up to its fit, here's a complete guide on how to pick the best jeans for a rectangle body.
Rectangle's goals when jean shopping
Note: These "goals" are my assumptions based on what most (read: not all) rectangular-shaped ladies wish their bodies to look like when wearing jeans. If the following "goals" don't match yours, this guide isn't for you.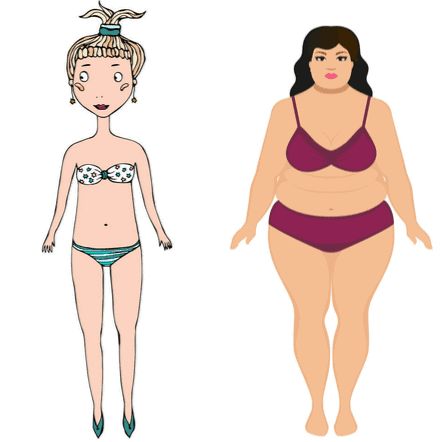 Whether you're a regular or a plus size rectangle, your likely goal when shopping for jeans are the following:
Widen your hips.
Enhance your booty
Create the illusion of a curvier waist.
In short, the goal is to make your body look like an hourglass.
The waistband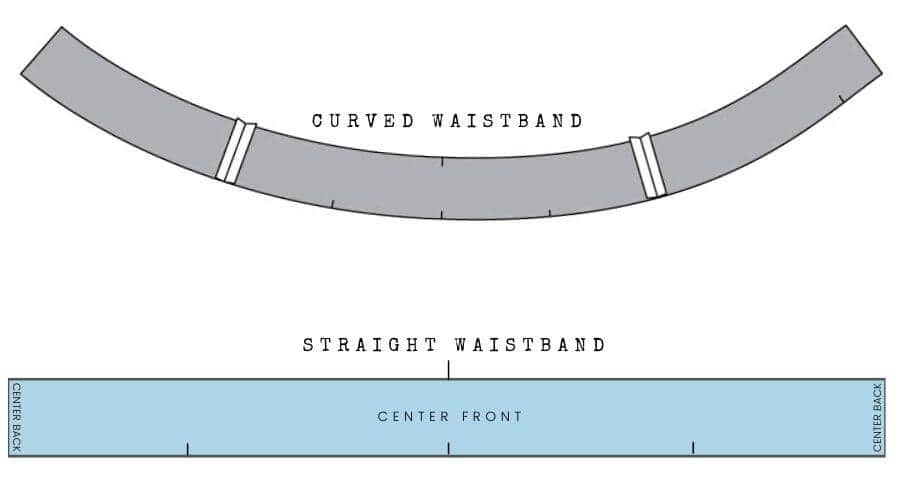 A curved waistband is more suitable for a plus size rectangle with a generous backside because it allows extra space for the buttocks to expand, thus preventing the unwanted butt cleavage.
However, if you're a lean rectangle, with a small to average booty, opt for a straight waistband to avoid gapping at the waistline.
The yoke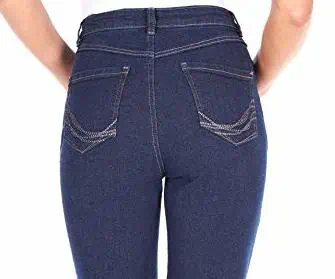 The yoke is the lining that sits between the back waistband and the back pockets. If your goal is to enhance your booty, choose rounded yokes over straight ones. They make the booty appear rounder and shapelier while straight yokes make it look flatter.
Pockets or no pockets?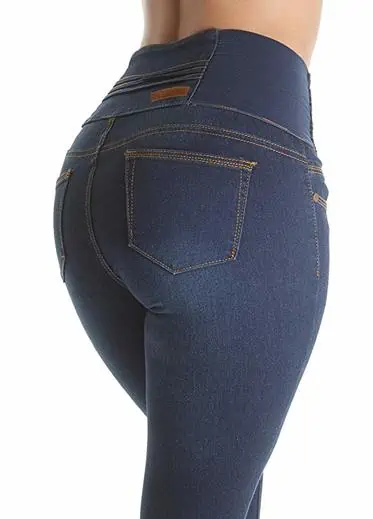 Women with rectangle bodies should always opt for jeans with back pockets. Pockets add volume to the buttocks.
Where the back pockets sit also matters. To enhance your booty, the back pockets should sit high on your butt. The higher they sit, the more lifted and toned your booty looks.
Pockets size: Opt for jeans with small back pockets as they make the booty look larger. Large back pockets are best reserved for women with naturally large butt.
Embellishments
Like pockets, embellishments near the hips and buttocks add volume to the lower body. They aren't necessary but when chosen right, they could be a plus.
Luckily, as a rectangle, you have the luxury to experiment with various jean embellishments like buttons, flaps, belts, sequins, and bold stitching—unlike pear who are bound to keep her jeans devoid of extras.
The best wash
Bright-colored jeans make the hips look wider while dark ones make them slimmer.
This doesn't mean you should avoid black and dark-colored jeans though. Depending on how you style it, the color shouldn't matter so much.
To visually sculpt your legs, look for jeans with fading or "whiskering" on the front thigh and seat of the jeans.
The jean's rise
Jean's rise is the length of the jeans from the crotch to the waistband. How you choose the rise will greatly affect how your lower body looks.
There are 3 basic levels of jean rise (high, medium, and low) but to be more detailed, there are actually six:

| | |
| --- | --- |
| RISE | WAISTBAND HEIGHT |
| SUPER HIGH | More than 1 inch above the waist |
| HIGH | 1 inch above the waist |
| MEDIUM | Sits precisely on the waist |
| MEDIUM TO LOW | 2-3 inches below the belly button |
| LOW | 3-4 inches below the belly button |
| ULTRA LOW | Very low: 5-6 inches below the belly button |
Low-rise jeans are best worn by lean rectangles. They highlight the widest portion of the hips, thus widening them.
If you're a plus size rectangle with considerable tummy fats, avoid low-rise. It'll only push your tummy's extra weight up your waistline, creating a muffin top.
If you have a long torso but short legs, go for high-rise jeans. The longer your torso, the shorter your legs look. A high-rise jean will remedy that by creating the illusion of a higher waistline, thus elongating your legs.
Any body type can never go wrong with medium and medium to low-rise jeans. They're not too high, nor too low. They're neutrally placed so they won't highlight fats nor shorten legs.
BEST JEANS FOR A RECTANGLE BODY
We've already talked about the specifications; now let's talk about the cut and fit. The best jeans for a straight body are those which are curve-enhancing. Hence the following:
1. Bootcut jeans
Bootcut jeans flatter a rectangular body by hugging the buttocks then slightly flaring out at the knees down to the ankle. Doing so creates the illusion of shapely thighs and legs, thus compensating for the rectangle's undefined curves.
2. Flare jeans
Also known as "Bell Bottoms", think of flare jeans like bootcut jeans, only with exaggerated flare at the ankle.
Popularized in the '70s, this style isn't every woman's every cup of tea. If the flare is too much for your liking, opt for the bootcut instead.
3. Wide-legged jeans
Wide-legged jeans are loose-fitting, rectangular pants with roughly the same width from the hips down to the ankle.
You might think that this is counterintuitive for a rectangle body but it's actually super flattering.
Because the fit is loose and relaxed— (not clingy) the straightness of a rectangle is de-emphasized, not highlighted.
In fact, wide-legged jeans flatter not only a rectangle body but any body and butt shape. With its clean and fluid cut, it brings balance to the silhouette making it one of the most versatile pieces in women's fashion.
How to style: To style, wear wide-legged jeans with waist-hugging tops. For a casual look, dress them down by sporting a pair of sneakers or open-toed shoes. For a formal look, dress them up by wearing high heels.
4. Trouser jeans
Trouser jeans, as the name implies, has the classic styling and fit of traditional trousers. They're often mistaken for wide-legged jeans but there a difference: While wide-legged jeans are relaxed-fitting around the buttocks, trouser jeans are fitted.
They're often mistaken for wide-: While wide-legged jeans are relaxed-fitting around the buttocks, trouser jeans are fitted.
How to style: Like wide-legged jeans, you can wear trouser jeans in both formal and casual settings. If they're black and devoid of extra embellishments, you can even wear them as alternatives to traditional trousers and nobody would probably even notice.
5. Skinny jeans
Skinny jeans offer a slim fit from the buttocks all the way to the ankles by hugging everything (thighs, buttocks, ankles) in.
They flatter a straight body by creating the illusion of shapelier legs and thighs.
As a rectangle, your main goal when wearing this style is to take advantage of its flattering fit without narrowing your hips which tends to happen if you don't pay attention to the position of the back pocket as well as the shape of the yoke and the waistband.
(See above in case you missed the guide on how to enhance your hips and buttocks by identifying the right waistband, yoke, and back pockets.)
6. Straight jeans
Think of straight jeans as skinny jeans, only a little bit roomier in the knees and ankles.
This is the perfect fit if you're a rectangle with big calves or if you find skinny jeans too tight for your comfort.
7. Cigarette jeans
Not quite skinny but not quite straight, cigarette jeans are relaxed on the calves but snug on the thighs.
What separates it from skinny and straight fits is that it's shorter. It often stops just an inch or two above the ankle.

The problem with cigarette jeans is that they shorten the legs, so consider yourself lucky if you have a long leg line.

If your legs are average height or short, play with optical illusion to elongate your legs. You can do that by wearing shoes that match the color of your jeans or your skin.
JEANS THAT A RECTANGLE SHOULD AVOID
Because a rectangle's booty is not the most well-endowed of all, it's generally a good idea to avoid baggy jeans (boyfriend and girlfriend jeans) as they make the booty look smaller and the hips narrower. This is okay for hourglass and pear but not for a rectangle.
It doesn't mean you have zero chance of looking good in them though. It's just that they're very easy to style wrong and then you'd likely end up with a piece of garment you don't feel particularly feel your best in.
If you're supermodel tall, you could probably get away with them. Otherwise, stick to the shape-enhancing jeans and you won't have to be guessing.
Exception: Baggy jeans are flattering if the fit is fluid or flowy like the wide-legged and palazzo pants. Boyfriend and girlfriend jeans just don't have these qualities. They hug the body in a way that narrows the hips and buttocks.
FREQUENTLY ASKED QUESTIONS:
How do I style my petite rectangle body when wearing jeans?
To style a petite rectangle, you need to create the illusion of height. There are a few ways to do that:
First, high heels are always gonna be your best friend. Second, wear flesh-colored shoes or match the color of your shoes to your jeans to visually elongate your legs.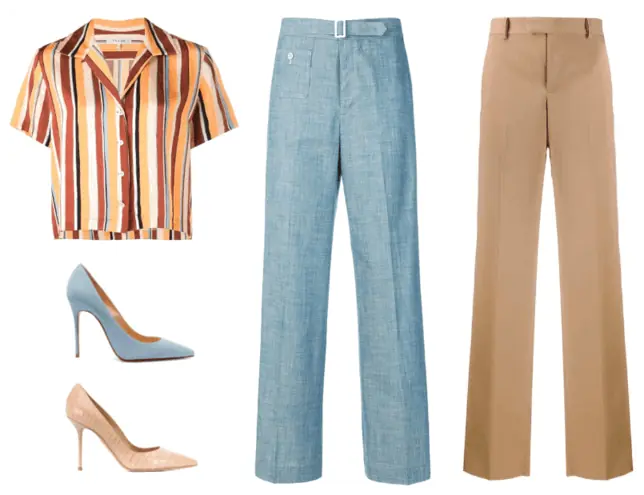 Third, wear vertical stripes when possible. And fourth, follow the rule of thirds.
What is the Rule of Thirds?
The rule of thirds states that a 1/3 to 2/3 ratio (and vice versa) is the most aesthetically pleasing division of spaces. You can see this ratio everywhere in arts, nature, and architecture (see Eiffel tower) and it's especially useful in fashion.
To create the 1/3 to 2/3 silhouette, simply wear a high waisted pair of jeans with a top. You can either tuck in the top or wear it short.
1/3 to 2/3 ratio elongates the legs.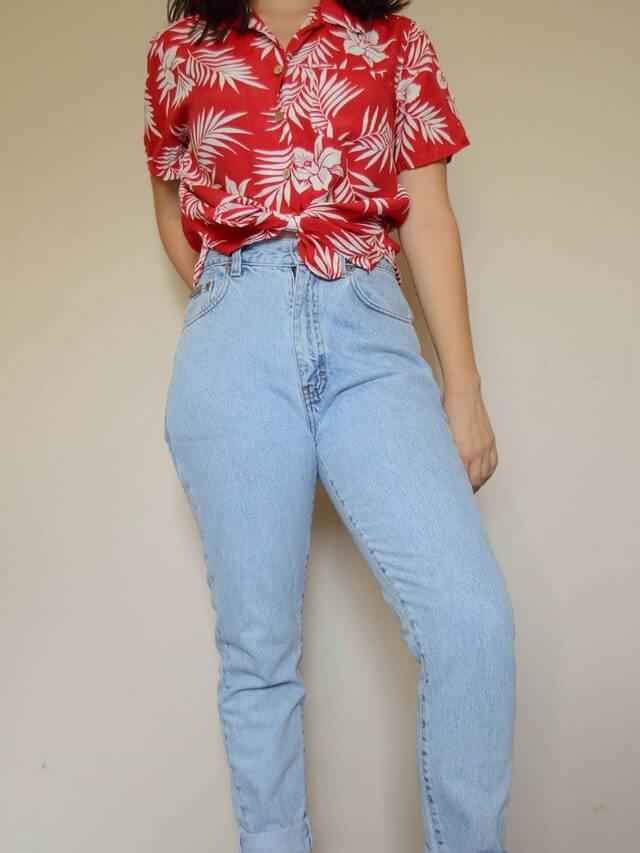 To create the 2/3 top to 1/3 silhouette, wear a short dress or a long tunic over your pants.
This ratio elongates the torso.
Note: The Rule of Thirds is less like a rule but more of a guideline. Meaning, you don't always have to follow it to achieve a flattering look.
Which tops should I wear with jeans?
When wearing jeans, wear tops with hourglass shapes and patterns as they'll enhance your curves and compliment any jeans.
When wearing jeans, wear tops with hourglass shapes and patterns as they'll enhance your curves and compliment any jeans.
Can a rectangle body wear cropped jeans?
If you're a tall rectangle with long legs, you should have no issues looking great in cropped jeans.
If you're petite or average height though, only wear cropped jeans that are tapered in the calves to slim down your figure and elongate your legs. Lastly, the Rule of Thirds will never let you down.
You Might Also Like: