One reader asked: Just out of sheer curiosity, can you wear a cover up while swimming? Wouldn't it be strange for the people around? Or is it common in most places and nobody would bat an eye?
Technically, you can wear a cover up while swimming. However, the question would boil down to why? Personally, I couldn't think of a reason why someone would want to wear a cover up if the main goal is to swim comfortably. Unless you're photo shooting in the water and you wanna wear a flowy fabric for visual effect, I see no reason for wearing a cover up while swimming.
I can, however, cite a few reasons why someone would wanna wear a cover up while swimming and I've provided alternatives.
Possible reasons for wearing a cover up while swimming + better cover up alternatives
Modesty
You're probably living in a place where the majority of people aren't comfortable wearing cheeky bikinis and revealing clothes in general. If you're concerned about showing too much skin than you're comfortable with, you don't have to wear a cover up while swimming! Instead, wear the following:
Swimdress
Who needs a cover up if a swimdress can perform both the job of a cover up and a swimsuit?
It's a perfect alternative if you're uncomfortable exposing your tummy. And of cellulite is your concern, you can simply opt for a lengthier one like this:
Unlike cover ups, swimdresses offer built-in shorts. Meaning, you can swim comfortably, knowing you're securely covered in the places you want hidden.
You just won't get that from a cover up.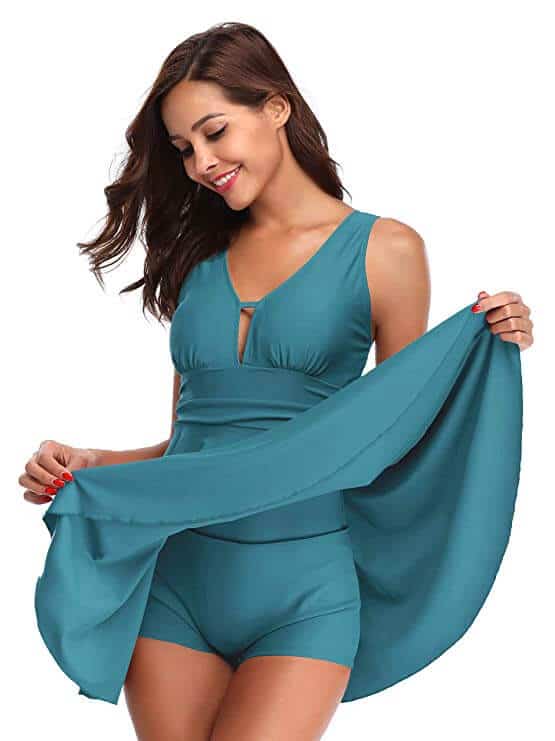 Most importantly, a swimdress is made specifically for swimming so you sure can bet it's comfortable.
How to choose a swimdress design: If you want a design that you can never go wrong with regardless of your body shape and size, choose an A-line cut. It hugs the waist and flare at the hips, creating an hourglass effect, thus accentuating your curves.
Bikini bottoms with butt coverage levels 1 & 2
There are 5 levels of butt coverage but you wanna go for levels 1 and 2 if you're not a fan of exposing your groin and booty area.
Level 1 is sporty and covers the whole butt and some parts of the upper legs.

Level 2, on the other hand, leaves the upper legs exposed but the entire butt covered.
If you want to learn more about the 5 levels of booty coverage, head over to this article: How Cheeky is Too Cheeky for a Bikini? 5 Levels of Coverage.
Tankinis
If you're a long-torsoed woman and finding a one piece swimsuit is as rare as winning a lottery ticket, tankinis are your best bet. Not only can they look like a one piece but they're also easy to take off when going to the bathroom.
Or you can look for swimsuit brands that specifically cater to long-torsoed women. I've written an in-depth guide on how to find long-torsoed swimsuits here: Best Swimsuits for Women with Long Torso (Which Actually Fit).
---
Sun protection
If you're wearing a cover up in the hopes of shielding your skin from sunburn, you're doing it wrong.
Cover ups are not meant for skin protection but for modesty. Their fabrics range from sheer to flimsy so they can dry easily—meaning, no SPF whatsoever.
If sun protection is your main goal, wear a rash guard and swim leggings with SPF 50. Not only are they thick; more importantly, their fabrics are specifically made to block the harmful UVA and UVB rays from the sun.
Or just slather on a sunblock. Forget about your cover up.
---
Why do people swim with their clothes on?
So if wearing a cover up is not advised, why are there people swimming with their clothes on?
Because of cultural differences. Most Muslim countries, for instance, require Muslim women to wear a burkini (or burqini) when swimming to maintain modesty according to their religion.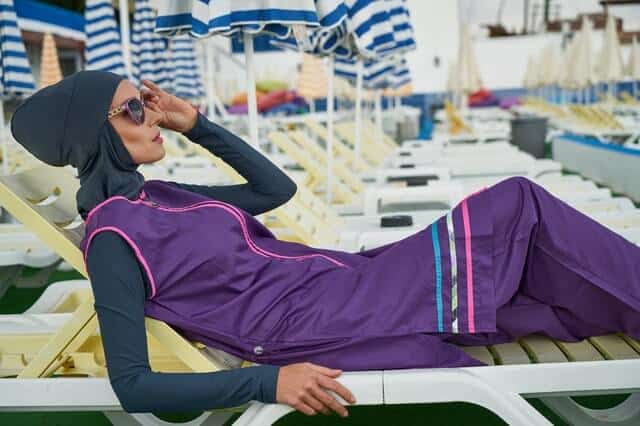 And as bulky and covered burkinis might look like to non-Muslim women, they're actually quite comfortable once worn as they're specifically crafted for swimming. Meaning, unlike cover ups, they're perfectly safe to swim in.
Another example is the Philippines. In this country, it is not uncommon to see Filipino beachgoers swim with their clothes on. This doesn't apply to the whole population though, as most millennials tend to stick to the traditional Western way of swim dressing.
Why you should NOT wear a cover up while swimming
Wearing a cover up while swimming is uncomfortable at best and dangerous at worst. The last thing you need is a piece of clothing that could make it harder for you to save yourself should the need arise.
You also don't want your garment to cause you early fatigue by slowing you down. Your bathing suit material has to allow water to smoothly pass through it or by it. And that means getting a swimsuit, not a cover up.
That's why swimsuits are made snug fitting for two reasons: to flatter your figure and more importantly, to accommodate your movement in the water for safety and comfort.
In short, wear a cover up AFTER swimming, not during.
What if I'm just splashing around?
If you're just splashing around in calm and shallow water and you don't plan to swim at all, you can probably get away with wearing regular clothing. You won't be exerting too much effort and you're not at risk of getting trapped in a coral.
Just remember to avoid cotton if you can. Cotton tends to bind with water more strongly than other fabrics so it's heavier and causes way more drag.
If you're snorkeling or sea diving though, that's a completely different story. You gotta need a wetsuit for that.
You Might Also Like: