Although brands are now getting more and more inclusive with their sizing, most plus size women are still at a loss when it comes to swimsuit shopping. Which designs will flatter my shape? How do I hide my tummy fats, slim down my arms, enhance my curves, etc? What about colors? Should always wear black and avoid white? Are there any swimsuit shopping hacks for plus size women I should know about?
I will answer all these questions for you once and for all. At the end of this post, you should be able to confidently tell which swimsuit cuts will flatter your figure and why—without even trying them on. If you want to make your online swimsuit shopping a breeze, look no farther. Here are 6 swimsuit shopping hacks plus size women should know.
Pick a swimsuit based on your body type.
This is probably one of the most important swimsuit shopping hacks plus size women should know.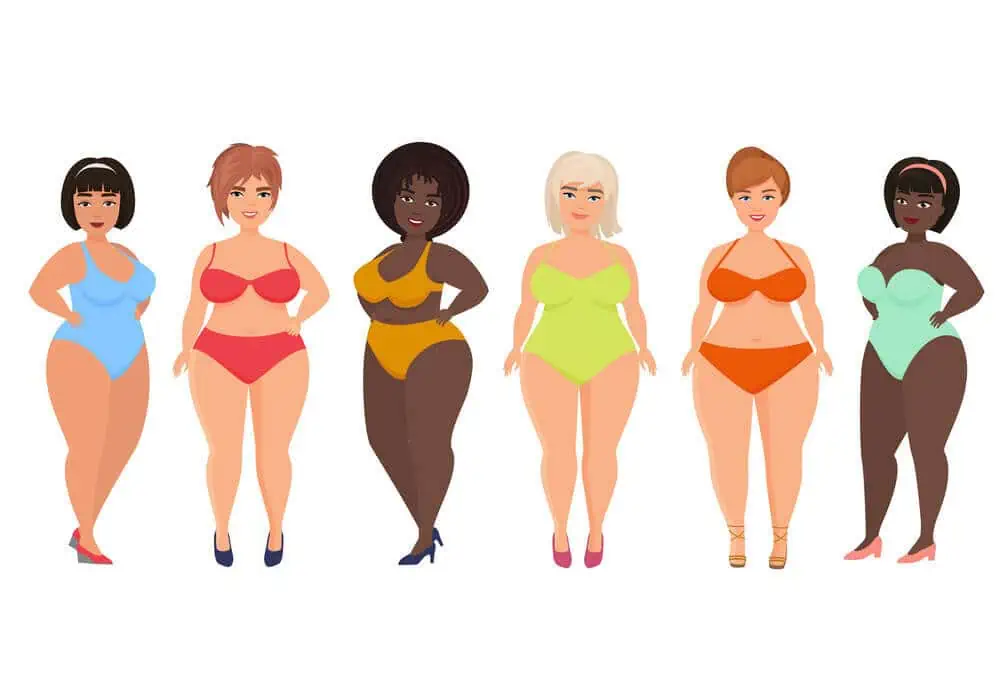 Have you ever wondered why a certain swimsuit looks good on the model but, for some reason, just looks wrong on you? It's because women's body shapes vary. And not all body shapes look good on every swimsuit cut.
There are 5 main women body types:
This means that if the model is an hourglass (most plus size models are), and you're an apple, there's a big chance that swimsuit isn't gonna look flattering on you.
Aesthetics, whether we like it or not, follows a certain set of principles. And shopping for a plus size swimsuit is no difference.
To find out your body type and which swimsuits will flatter your figure, read this: Best Plus Size Swimsuits Based on Body Shape. In this post, I discussed in detail why certain bathing suit cuts look better on your shape than others.
Take note of these 5 universally slimming designs.
If you were to forget all my tips but one, then you should take note of the five universally slimming designs.
Universally slimming designs are cuts that will always look flattering regardless of the wearer's body shape and/ or size. Meaning, if you're in doubt as to what piece to buy, you can always rely on these designs to steer you clear from the ill-fitting ones.
1. Plunging necklines
Plunging necklines are excellent in making your torso and arms appear slimmer. As opposed to straight necklines (which only emphasize width), plunging necklines prevent the eyes from focusing on the bulk of your arms and shoulders by creating an interest.
The deeper the plunge, the more slimming the effect. If you aren't comfortable exposing your cleavage though, you can always choose the level of plunge you are comfortable with.
Or you can also implement the plunging effect on your back. Like this:
V-neck or rounded, you can never go wrong with deep plunging cuts.
2. Peplum tankinis
Peplum tankinis hug the waist and flare at the hips. This creates the illusion of an hourglass silhouette—slim hips and wide hips. If your body type has little waist definition (apple, rectangle, inverted triangle), peplum tankinis will work like magic.
3. Handkerchief cuts
Like peplum, handkerchief cuts create the illusion of an hourglass silhouette by hugging the waist and flaring at the hips.
The only difference between peplum and handkerchief is the hemline. Instead of a regular straight hemline, a handkerchief cut features downward arrows which are excellent at elongating the torso and de-emphasizing the body's width and belly.
4. A-line swim dresses
Like peplum cuts, A-line swimdresses create a flattering contrast by slimming down the waist and enhancing the hips. They do a phenomenal job of not only camouflaging your tummy fats but also making your figure look more shapely and feminine.
5. Ruching or shirring on the midsection
Ruchings and shirring are strips of fabric gathered and pleated down together into a garment. When they appear in bathing suits, it is more often to camouflage tummy fats and less to decorate.
It's no wonder then that swimsuits with tummy control panel often have ruching/ shirring added in them.
While control panels work on the inside, ruching and shirring work on the outside, making sure that the camouflage looks as natural (and stylish) as possible.
If you want to see more examples on universally slimming designs, head over to this post: Best Slimming Swimsuits for Plus Size Women: Any Body Shape.
Look for hourglass patterns.
Why hourglass? Why can't we just embrace our own body shapes for what they are? And why can't designers design clothes that cater not just to hourglass but all body shapes?
Let me tell you about a research conducted by Dr. Barnaby Dixson, a New Zealand anthropologist who studied what different sexes found attractive throughout history.
In his study, a group of volunteers was shown various pictures of a woman, where her hips, bust, and waist were digitally altered.

He then asked them to rate the image for attractiveness and while they studied the photos used infra-red cameras to track their eyes.

Despite most men being drawn initially to the woman's cleavage, it was her hips and waist that were in fact what they found most attractive.

Men rated images with an hourglass shape and a slim waist … as most attractive, irrespective of breast size," said Dr. Dixson, from Victoria University of Wellington.

Source: Hough, Andrew (2010-08-26). "Women with hourglass figures and perfect waists most attractive, study finds".
An hourglass figure is a biological signal of good woman's health and high fertility, scientists concluded.
Even paintings of nude women dating back from 18th century flaunted women with hourglass figures. The iconic Marilyn Monroe certainly didn't help. Fortunately, brands are now starting to cater to the long-neglected body shapes.
Does this mean we women will just magically stop trying to look like an hourglass? Unfortunately, no.
Everywhere we look, most women aim towards achieving an hourglass figure—big breasts, narrow waist, and wide hips. We can't help it. Most of us are somewhat wired to want to look like an hourglass.
Fortunately, there are healthy ways to achieve this without deforming the ribs or misaligning the spine: by choosing swimsuits designed to fit your own shape but still look like an hourglass. Below are some of the examples:
This one-piece, for example, creates an hourglass illusion by crisscrossing diagonal lines. The good thing is this was designed to fit any body shape.
This one piece uses contrast between mesh and opaque fabric to draw an hourglass impression right on the midsection, thus accentuating the waist.
Beware of stripes.
Not all stripes look flattering on plus size bodies. Hence these simple guidelines below:
Only wear horizontal stripe if you know why you're wearing it.
If your goal is to elongate your body and look slimmer, the last thing you wanna wear is a horizontal stripe. In general, horizontal stripe emphasizes width instead of length.
EXCEPTION 1: You can wear a horizontal stripe as your bikini bottom if you're an inverted triangle (top-heavy, with narrow hips. It makes your hips appear wider, thus balancing your proportion. Other than that, avoid horizontal stripes altogether.
EXCEPTION 2: A plus size hourglass might get away with horizontal stripe though. Think of Ashley Graham. Otherwise, it's wiser to just avoid it.
Vertical and diagonal stripes are plus size's best friends.
Vertical patterns work wonders by visually elongating your body and making you appear taller than you are. As a result, your body looks slimmer. Vertical stripe is especially recommended for petite plus size.
Diagonal stripe, on the other hand, visually slims you down by distracting the focus from your body's width and steering it into a diagonal direction instead.
You don't have to wear black and avoid white every time.
While it's true that black is slimming and white makes you look wider, there are so many exceptions to this rule. And color is not only the determining factor of whether or not a swimsuit will look good on a plus size body.
Take, for instance, this white bathing suit.
While it's certainly an all-white one piece, we can't discount the plunging crisscross neckline that runs at the torso. Plunging neckline, as I stated above, is one of the 5 universally slimming designs in fashion.
Add to that the high-cut hip area that accentuates the hips and encourages an hourglass silhouette. Forget the fact that it's Ashley Graham. This cut will look flattering on any body shape.
NOTE: The opposite is also true. It does not matter if you're wearing an all-black swimsuit if the cut just isn't right for your shape. It's just gonna look off. Remember, when it comes to looking slimmer, the swimsuit's cut is more important than its color.
This is why knowing which swimsuit designs look good on your body type is more important than just wearing black and avoiding white.
Look for a plus size specialist brand, not a generalist.
Is it possible to look great wearing a random brand of swimsuit?
Absolutely! If you browse on Amazon, you'll find tons of affordable swimsuits by relatively unknown brands that garnered excellent customer reviews.
However, it may take a series of purchases, returns, and experiments before you find the best swimsuit that will suit your own body, flaunt your assets, and camouflage the problem areas you want hidden.
This is why I highly recommend that you invest in a plus size specialist brand rather than a generalist.
Miraclesuit, for instance, is best known for its comfortable bathing suits equipped with tummy control panel and slimming designs. Hence the name.
What's the advantage?
The advantage of trusting brands that specialize in plus size figures is obvious: They know exactly what they're doing. They know which technology and material work best, as well as the problems plus size women face that generic brands are almost usually oblivious to.
Bottom line: If you truly want a foolproof design that will fit your needs a hundred percent, look for a specialist brand, not a generalist.
Those are the six swimsuit shopping hacks plus size women should know. Once you apply these tips, finding a plus size swimsuit that will fit your body, flatter your figure, and hide the problem areas you want hidden will be a breeze. You'll know exactly what to look for.
You Might Also Like: