While it's possible to wear a dress at work, not all dresses are meant to be worn at the office. Depending on the neckline, length, style, fabric, and fit, some dresses are more work-appropriate than others. So in this article, we made a list of 15 best work-appropriate dresses for working ladies from casual to business formal. Some of these might already be even in your wardrobe.
Without further ado. Here is a quick guide on the types, styles, and designs of dresses that are appropriate for work.
1. Simple Knee-Length Dresses
If you want to have a go-to dress for your corporate attire, you can never go wrong with a simple knee-length dress. This one has the correct length, style, and sleeves.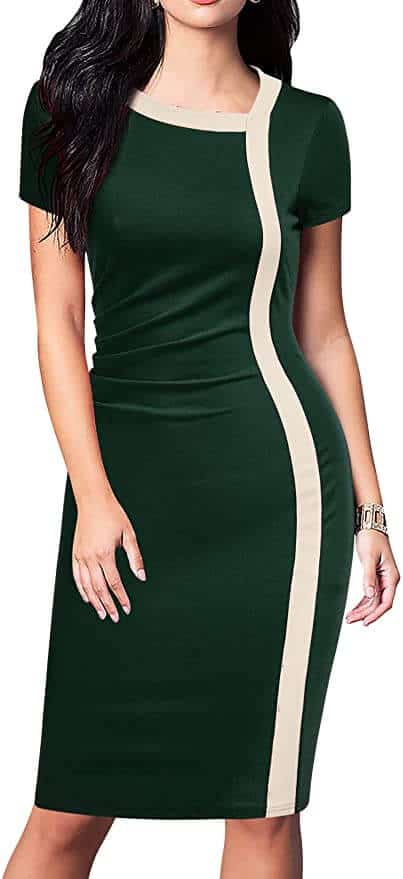 Simple dresses like these are easy to style as they feature a minimalist design meant to highlight your curves. You can finish this look with a bangle, smart heels, and a chic bag, and you're good to go! To polish, wear a necklace or a watch.
Best worn during random working days and simple internal meetings.
2. Below-the-Knee Dresses
If you are the more conservative type who likes to wear a dress that's a little longer, dresses that fall below the knee are the right ones for you. Watch out on the length though. It should only be just below the knee; approximately 2 inches longer than a simple knee-length dress.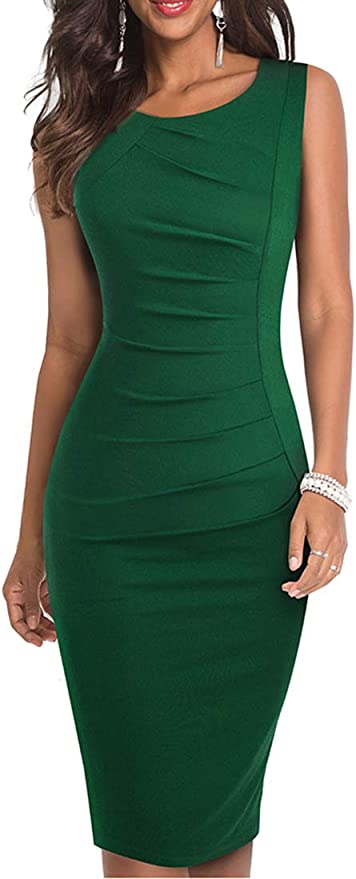 This is a sleeveless dress but this can be worn at work. Simply pair this with a blazer or a smart cardigan and you got yourself an outfit suitable for a corporate environment.
Best worn during: Random working days and client meetings
RELATED LINK: How to Modify Dresses for Work
3. Long-sleeved Dresses
Dresses with long sleeves are underrated nowadays, but it is very practical during the winter season, or even during random cold days. In spring, it might even be possible to ditch the blazer all day long.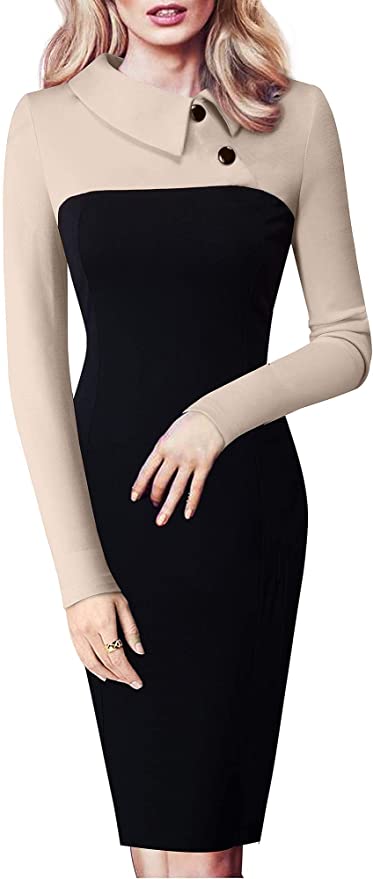 In addition, you may also be among the ladies in the corporate world who are uncomfortable leaving your underarms exposed to the public gaze, and that's perfectly fine! These dresses may be the best choice for you to keep your confidence level high while acing your professional look.
Best worn during: Winter, autumn, spring season, cold days, corporate events, and client meetings.
4. Dress with 3/4 Sleeves
Meanwhile, you are not limited if a full long-sleeved dress is not to your taste. Opt for a dress with 3/4 sleeves instead that runs just until the elbows. This is a very unique and elegant option while remaining suitable as a business professional attire.
You may notice that this dress features a mini slit that runs until slightly above the knee. This is okay provided that it does not show a large portion of your legs. Mini slits elevate the structure of your dress allowing you to pull off a more bossy vibe in the office.
Best worn during random working days, corporate events, and internal and client meetings.
5. Collared Dresses
Don't you notice how the staple attire in the corporate world is all about blouses, polos, and most importantly, collars? Collared dresses are a fusion of formality and style. Wear this as is to pull off a smart casual look or pair with a blazer or a coat for a formal get-up.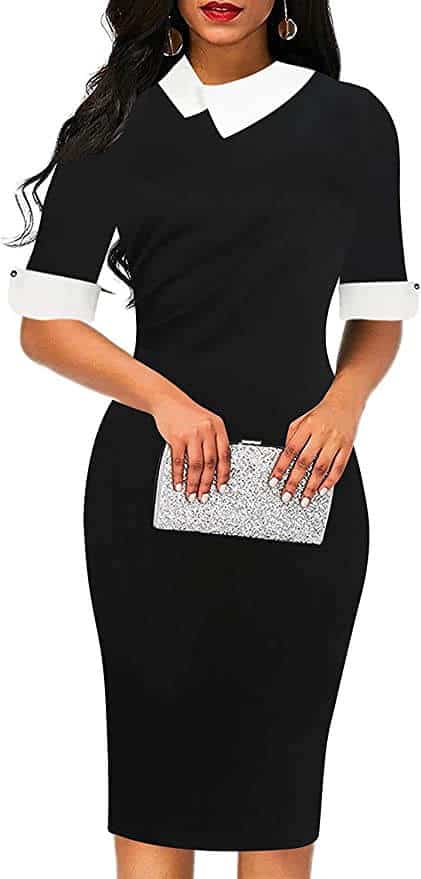 There's no doubt that collared dresses are the epitome of elegance and class. With the right design, you can't only achieve a professional look but also a feminine one. If you're the conservative type, this is best for you. Aside from the conservative coverage it provides, it also has the appropriate length.
Best worn during outside client meetings and corporate events especially those with after-parties (e.g. launches)
6. Half-Collar Pencil Dresses
If a full-on collared dress is not your style, opt for a half-collar pencil dress. Half-collar dresses allow you to pull off a powerful and authoritative look.

Due to its structured fit and knee-level length, this dress is suitable in the workplace despite it being sleeveless. But if you're aiming for a more conservative look, you can play around by topping it off with a cardigan. Whether you have an office cocktail party or you just want to elevate your fashion, this dress is all you need to achieve a retro or vintage style.
All you have to do is wear a small and simple beret, bring a vintage-style clutch, and then you got it! Below is a style inspiration.
Best worn during: Client meetings, pitch presentations, and corporate events/gatherings
7. Dresses with Pockets
Pockets in a dress? Hell, yes! After all, who doesn't need pockets? They're excellent additions for women who mean business. Going for a mini break but hate carrying a handbag full of stuff ? Pocketed dresses will help you with that! Now, you don't have to walk around with your chunky handbag full of stuff.
Do not underestimate small pockets. You never know how many they can fit. For all you know, it can fit your huge-sized phone or long wallet. As long as it serves its purpose, a dress with pockets is a good investment.
Best worn during random working days and simple internal meetings.
NOTE: You may notice in the sample dress above that it features a V-neck. These types of necklines are okay given that it does not reveal a huge portion of your chest area. A shallow V-neck is still suitable to be worn at work. Still, be prepared with your blazer or cardigan!
8. Peplum Dresses
In the mood to power dress at the office? Go for the peplum dress! It is an elegant yet very simple attire. The design adds fullness to your hip area and creates an illusion of a cinched waist. Also, they're excellent belly fat slimmers.
Note: There are plenty of peplum variations but not all of them are work-appropriate. Avoid peplums that feature skirts, sleeveless designs with thin straps, with an overly tight fit.
Best worn during client meetings, presentations, corporate events, and holiday events.
9. Button-down Dresses
If it's just a random day at work, a button-down dress is a perfect outfit. These dresses feature an easy-breezy, soft, and smooth fabric making them comfortable to wear! When summer strikes, you don't want to wear an outfit that only adds to your distress aside from the ever-present heat.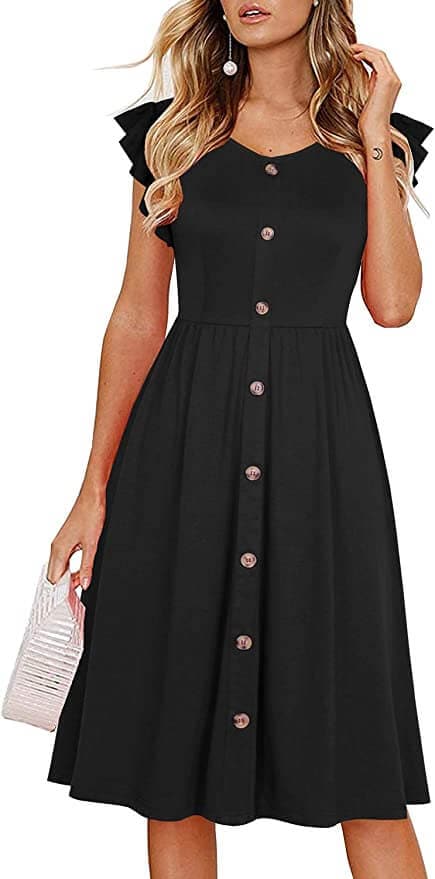 Button down dresses usually come with a flowy skirt so choose the ones that are at least knee-level and aren't very flowy. You don't want to be caught unawares by a sudden gust of wind. Remember the general rule of wearing dresses at work: the more structured the dress is, the more professional; and the flowier the dress is, the more casual you look.
You would also want to be wary of the fabric. If it's thin and see-through, it's not work-appropriate and might be more suitable for the beach or parks.
Best worn during: Summer season, random working days, and simple internal meetings
10. Dresses with Ruffles
Oh, the ruffles! If there is a usual design in every office dress (or even blouse!), you will notice that ruffles are very common, but this design is timeless and does not fade over time. It elevates your style while remaining professional.
You won't have a hard time looking for a variety in your dresses because usually, one brand makes several styles with ruffles located in the different parts of the dress (be it on the sleeves, waist, or chest area, similar to the styles above). Wearing dresses with ruffle designs is a wise choice if you're getting a little bit tired of plain and minimalist work dresses.
Best worn during random working days, internal and client meetings, and corporate events.
11. Dresses with Harmonious Prints
Speaking of getting tired of wearing plain outfits at work, another option is dresses with visually harmonious prints. While the usual practice is to wear plain outfits, it definitely wouldn't hurt if, from time to time, you add prints into the mix.
Careful with the print selection though! You want the print to be harmoniously formal and minimalistic, not distracting. The focus should still be on you, your confidence, and your presentation. Remember, you are wearing the dress, not the other way around. Never at any point in time should you let a dress wear you!
Best worn during random working days, internal and client meetings, and presentations.
12. Wrap Dresses
If you want to look elegant, opt for a wrap dress. Its diagonal neckline will add intrigue to your ensemble. It's figure hugging waist will flatter your waist. Wrap dresses are simply timeless pieces designed to elevate one's style to perfection all while maintaining an air of simplicity and effortless fashion.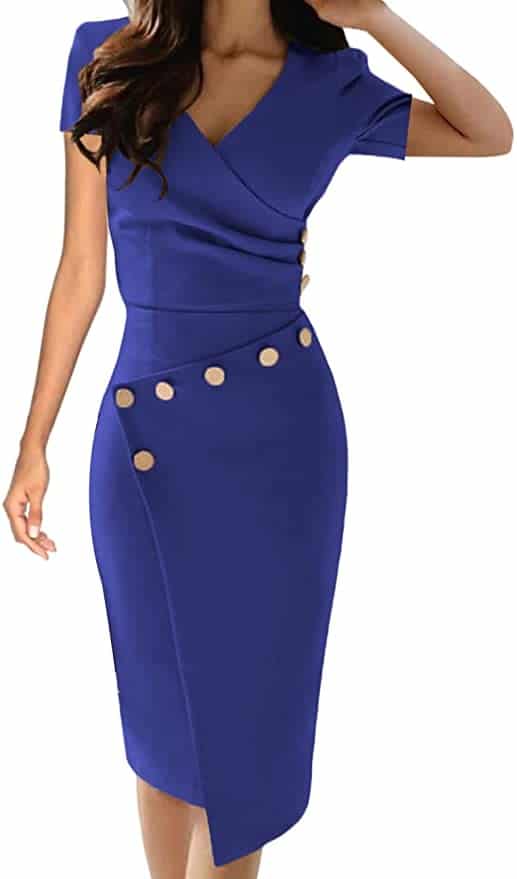 No matter the occasion at work, you simply can't fade in the crowd with this stunner dress! Wrap dresses with V-neck will show off your collarbone as an accent as well as hug your waist for an hourglass look.
Best worn during: Client meetings, corporate events/parties, and presentations
13. Laced Dresses with Lining
If you want a more lightweight and hassle-free work outfit, go for lace dresses. Just make sure that they offer sufficient lining from your chest down to your knees.
Be careful with the aftercare of lace dresses with fragile fabrics. These dresses are usually hand washed or dry cleaned as they're susceptible to developing lint. Nothing's more annoying than witnessing your precious lace be reduced to lints. Once it is, it simply cannot be redeemed.
Best worn during random working days, client meetings, presentations, and corporate events.
14. Dresses with Sheer Sleeves
If you're feeling like Emily in Paris (or wherever your office is located), level up your office attire with a sheer-sleeved dress. It's a very elegant and sweet style that just shows off your unique personal charm and accentuates your natural figure.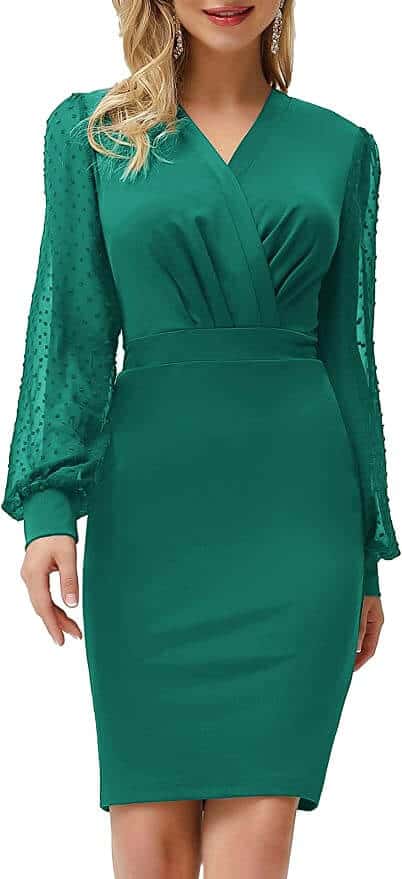 These types of dresses will save you a lot of time as they already offer enough glamour that accessories may no longer be necessary. If you want to take it to the next level though, finish the look with ankle-strapped heels and an elegant set of earrings and a ring.
Best worn during coorporate events, client meetings, and presentations.
15. Dresses in Stretchable Fabric
For the final item, consider the material your dress is made of. A dress with a stretchable fabric is a major plus point because it adds extra comfort to your overall tasks.
For sufficient comfort, choose materials with at least 5% of spandex or elastane. This should allow you to walk from one office to another without feeling cramped. Remember, while looking stylish in the workplace is paramount for confidence, not feeling like a prisoner of your own device clothing is just as important.
Best worn during random working days, client and internal meetings, and presentations.
Related Questions
Can I wear a maxi dress at work?
If your dress code does not explicitly prohibit wearing a dress, you can wear maxi dresses at work. To achieve a professional look with maxi dresses, opt for ones with collars, neutral colors, and/or minimalist prints. Maxi dresses come in so many styles that it's simply impossible to ban them altogether.
However, some formal industries such as law firms and accounting might not allow maxi dresses. So when in doubt, ask. More casual industries like marketing and advertising are usually lenient with maxi dresses. Just keep in mind that they should have an appropriate print, color, and fabric.
To learn what makes a dress appropriate for work, this article will show you.