If your body shape is an inverted triangle, or a plus size apple or rectangle, chances are, you have broad shoulders. You're probably hesitant to wear sleeveless outfits for fear of looking masculine. Well, worry no more because in this article I'll show you the best and worst sleeveless pieces if you're a broad-shouldered woman.
Can broad shoulders wear sleeveless and look great? Broad shoulders can wear any sleeveless outfit as long as the fit accommodates the entirety of the wearer's shoulders. Shoulder accommodation, in a sleeveless outfit, means following the shape and expanse of the wearer's shoulders instead of downplaying them. It means making no attempt to "visually reduce" the shoulders but highlighting them as is.
This sounds counterintuitive but this article will explain why providing shoulder accommodation is better than trying to hide or downplay them- especially for broad shoulders. You'll also learn the best practices in finding the best sleeveless fit for your shoulders.
Why "downplaying" your broad shoulders is never flattering
The conventional advice for broad-shouldered women has always been: Wear sleeveless pieces that downplay the shoulders, make them look less broad, and hide their actual width to avoid looking manly. While this advice is well-meant, it's unfortunately misguided.
Think about it. If your outfit's shape is narrow while your shoulders are broad, an inevitable contrast is created. This contrast, unfortunately, results in an ill-fitting look.
Simply put, outfits that do not follow the contours and shapes of their wearer's shoulders will only end up looking off and unflattering. They create an obvious disharmony that never looks good. While some may not end up in an extremely ill-fitting ensemble, they end up looking dull.
Note: I'm not talking about outfits that are too small for you. (You should only wear outfits your size.) I'm talking about outfits that do follow your size but do not follow your shoulders' shape. They're never flattering.
Case in point: Have you ever worn two outfits of the same design but one ends up looking off while the other flattering? It's because the overall feel of the outfit has less to do with its design but more to do with its fit or bone structure accommodation.
If an outfit follows your natural lines and shapes, it will end up looking flattering. If it doesn't, then there could only be two results: ill-fitting and dull.
How to pick the best sleeveless fit for broad shoulders
So if it's more about fit and accommodation and less to do with the style, how can you choose the right fit for a sleeveless outfit? Well, the most accurate answer is, that you simply can't 100%.
It's because fit and fabric stretchability are factors that you just can't fully determine until you put on an outfit. The good thing is there are ways to improve your online shopping success rate.
And it has a lot to do with the shape of your shoulders. You see, not all broad shoulders are created equal.
A sleeveless piece that looks good on your shoulders doesn't necessarily mean it will look good on others. That said, here are the 2 types of broad shoulders and the best sleeveless outfit for each.
For broad, angular shoulders with narrow hips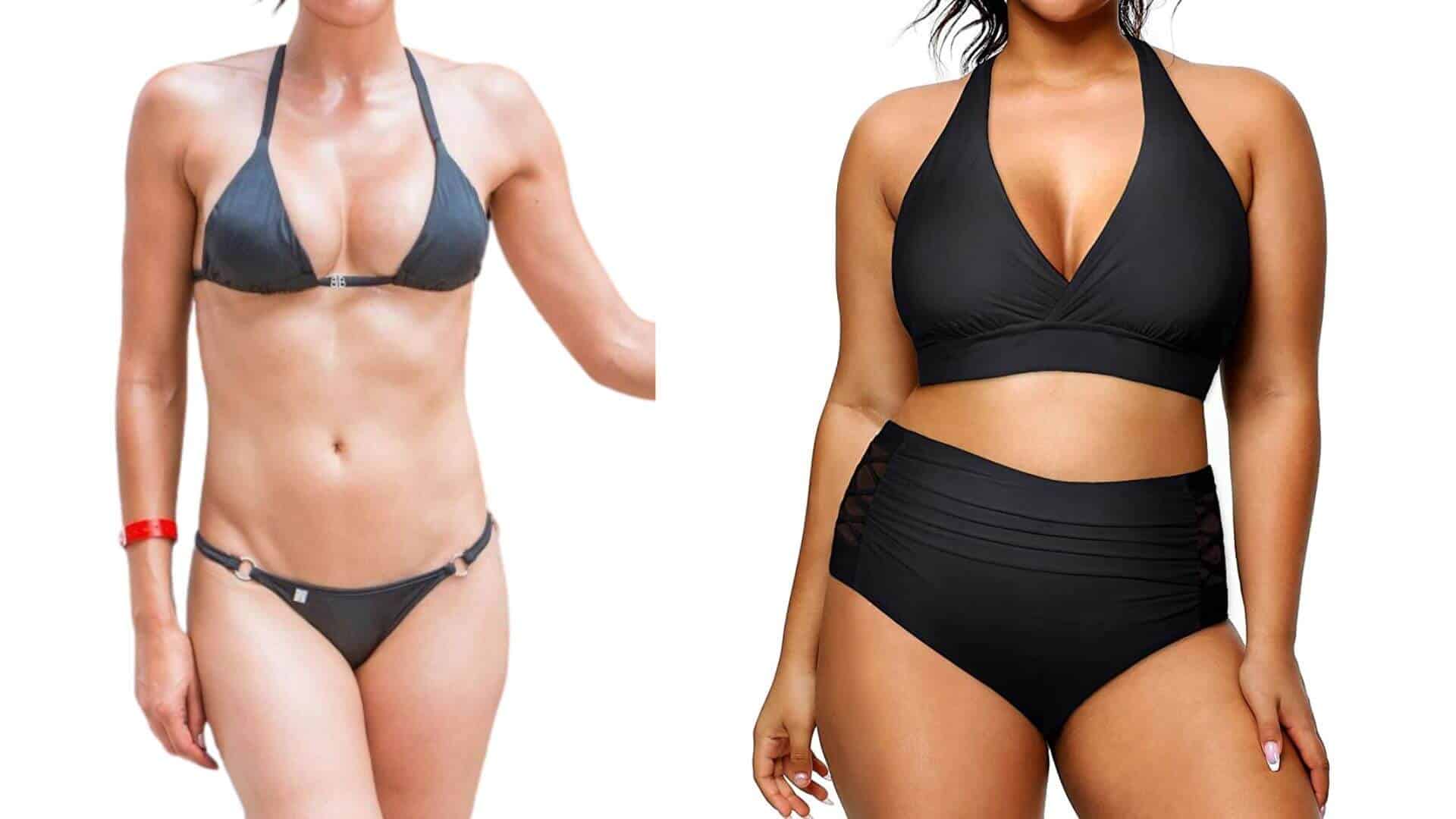 Broad shoulders with narrow hips are the true inverted triangle bodies where the shoulders are visibly wider than the hips. This could also apply to muscular and plus size rectangles.
If you have broad shoulders with narrower hips, chances are, you have angular shoulders too. In this case, shop for sleeveless pieces with streamlined necklines. The goal is to mimic and complement the natural shape of your angular shoulders, not downplay it.
"Streamlined", in this context, means open, relaxed, and free. It offers no resistance to the broadness of your shoulders. Instead, it highlights them. It's freeing, not confining; open, not close; wide not narrow. Think of water languorously sashaying its way into a calm, lazy stream.
The result? An almost bare yet extremely elegant silhouette.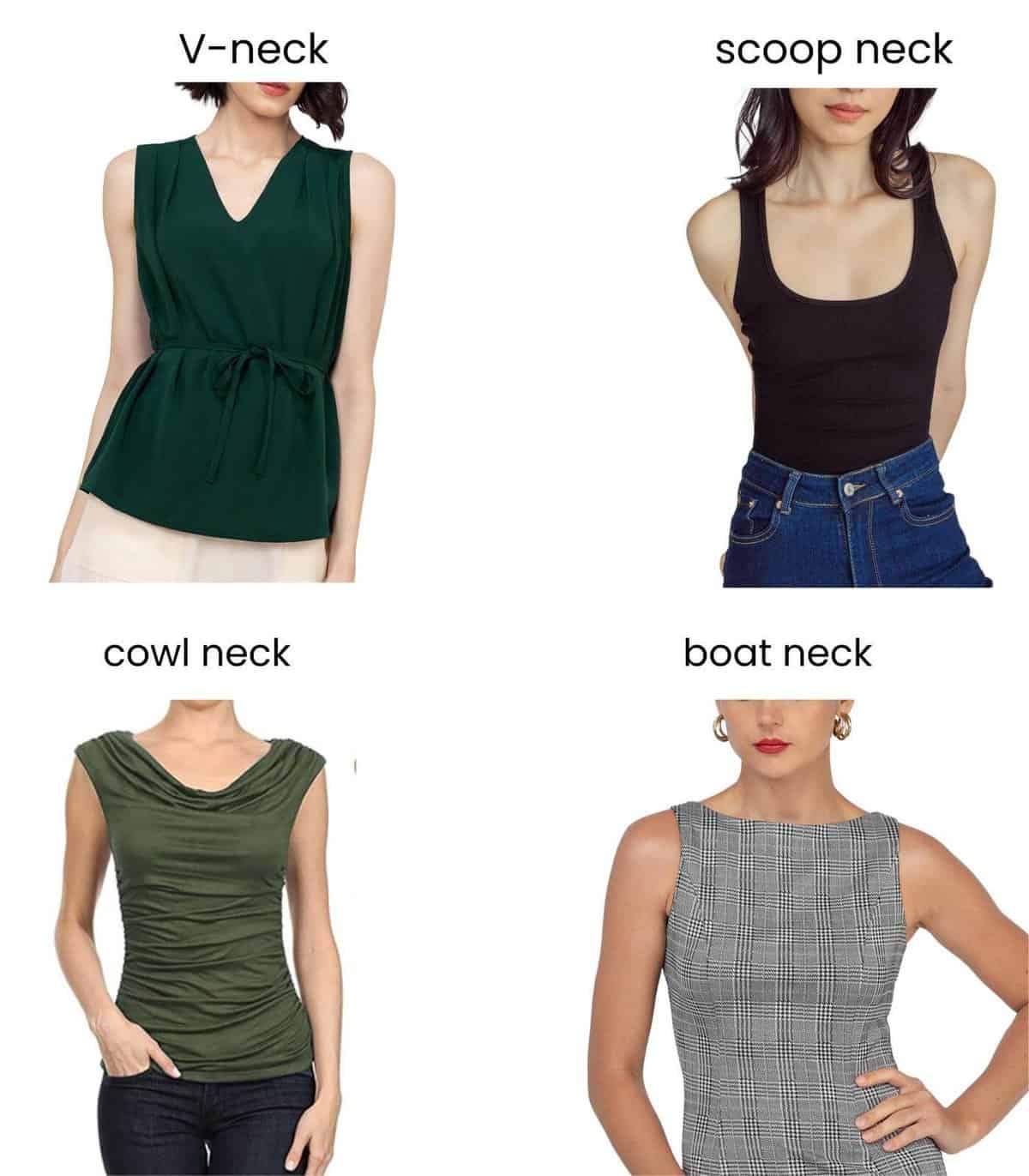 Examples of streamlined and simple necklines are the following:
boat
halter
V-neck
cowl neck
asymmetric
off-shoulder
long flowy tops
diagonal necklines
scoop (wide opening)
designs that drape and hang
spaghetti straps that are wide and far apart enough to not confine the shoulders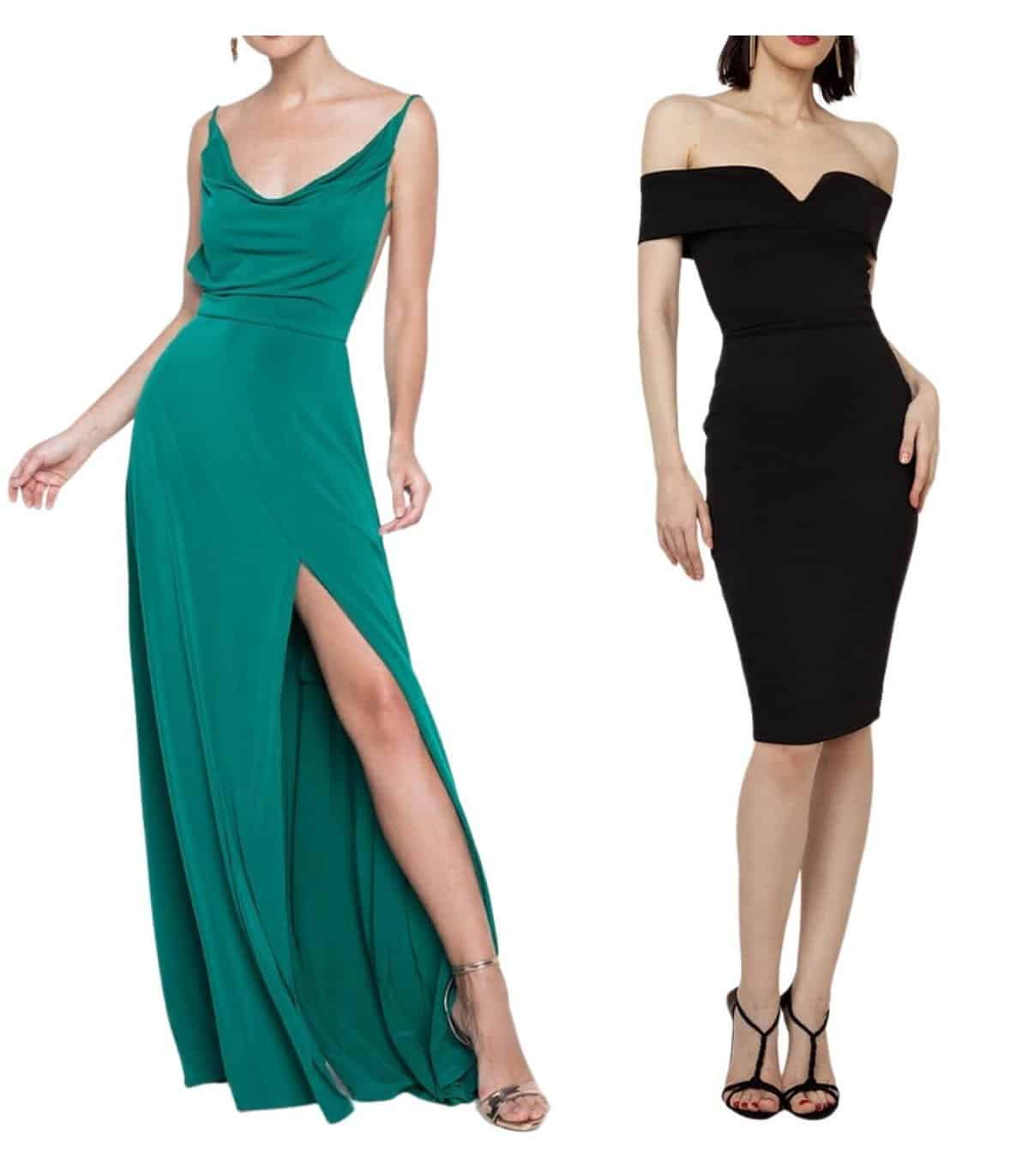 "But won't I look too manly if I let my broad shoulders in plain view?" Absolutely not! Try it for yourself and see the magic happen. Instead of subjecting your shoulders to a narrow-shaped outfit, experiment with open and relaxed necklines and see the difference.
For broad, rounded shoulders with equal hip width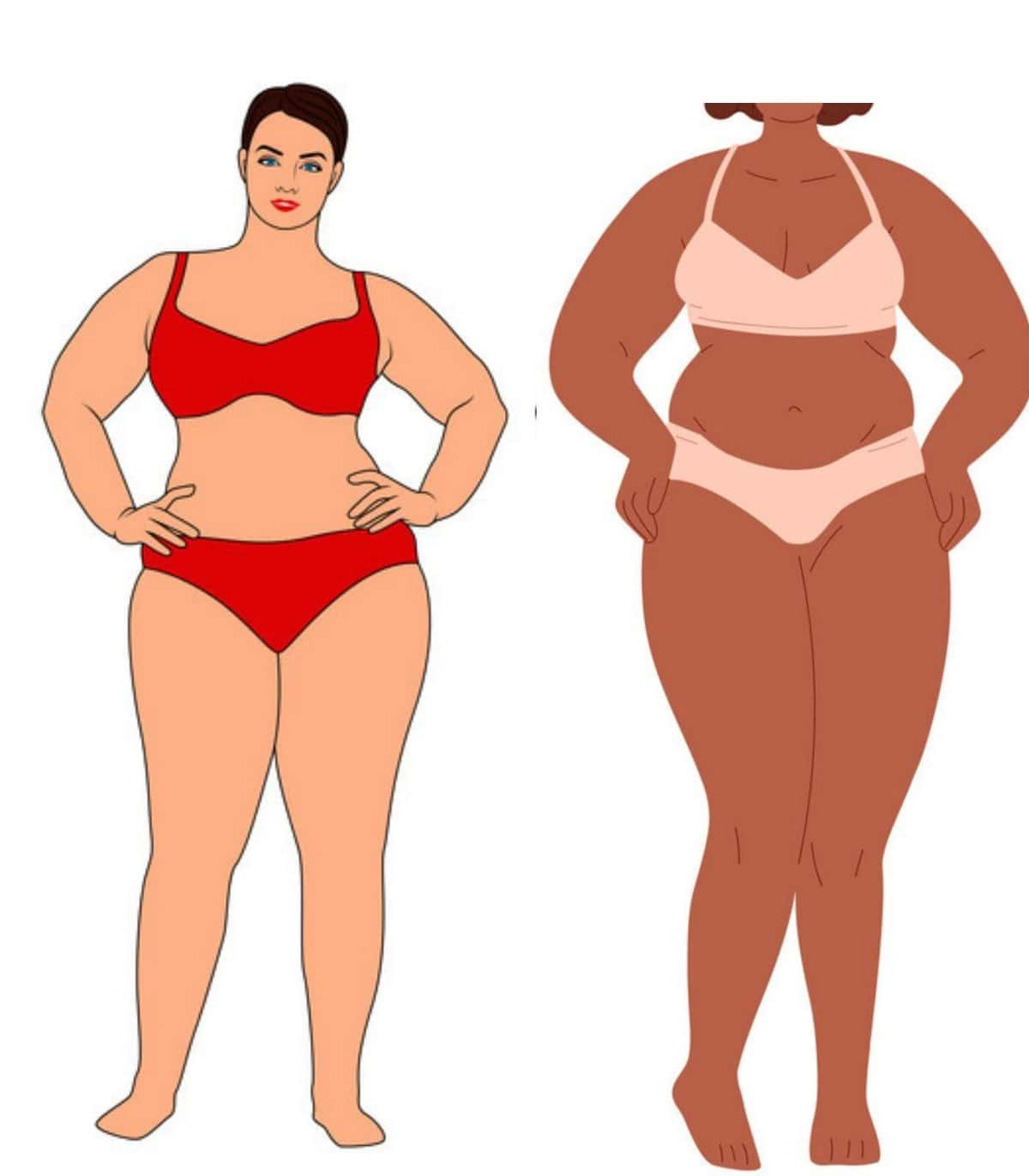 If you consider your shoulders broad but your hips aren't particularly narrower, chances are, you have a plus size apple or plus size hourglass body shape. Your shoulders, instead of looking angular, are rounded and soft-edged. In this case, honor your natural body shape by wearing rounded and soft-edged necklines.
Soft-edged necklines will trace the feminine, rounded shape that's inherent in your hourglass or apple figure.

Take note: this round shape is inherent to your body! It has nothing to do with body fats but everything to do with how your bones are shaped. And since bone shape cannot be changed, soft-edged clothing will remain your most flattering outfit whether you lose or gain fat.
If you need to wear pieces with hard-edged necklines (like V-neck), ensure that the length stops just above the hips if it's a top and just above the knee if it's a dress. Long shapes will drown the natural shape of your body and the fit would end up looking dull, or worse, unflattering.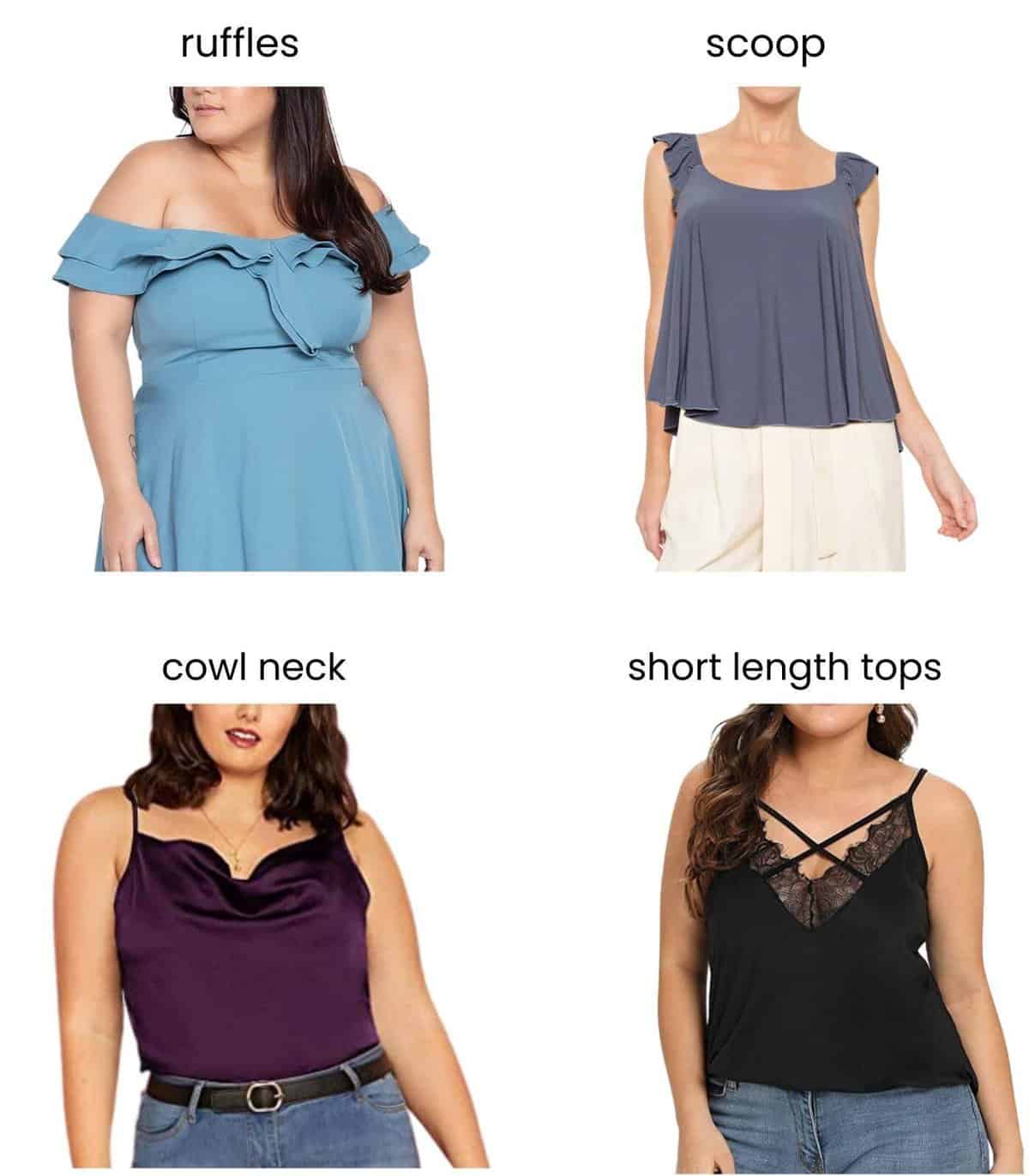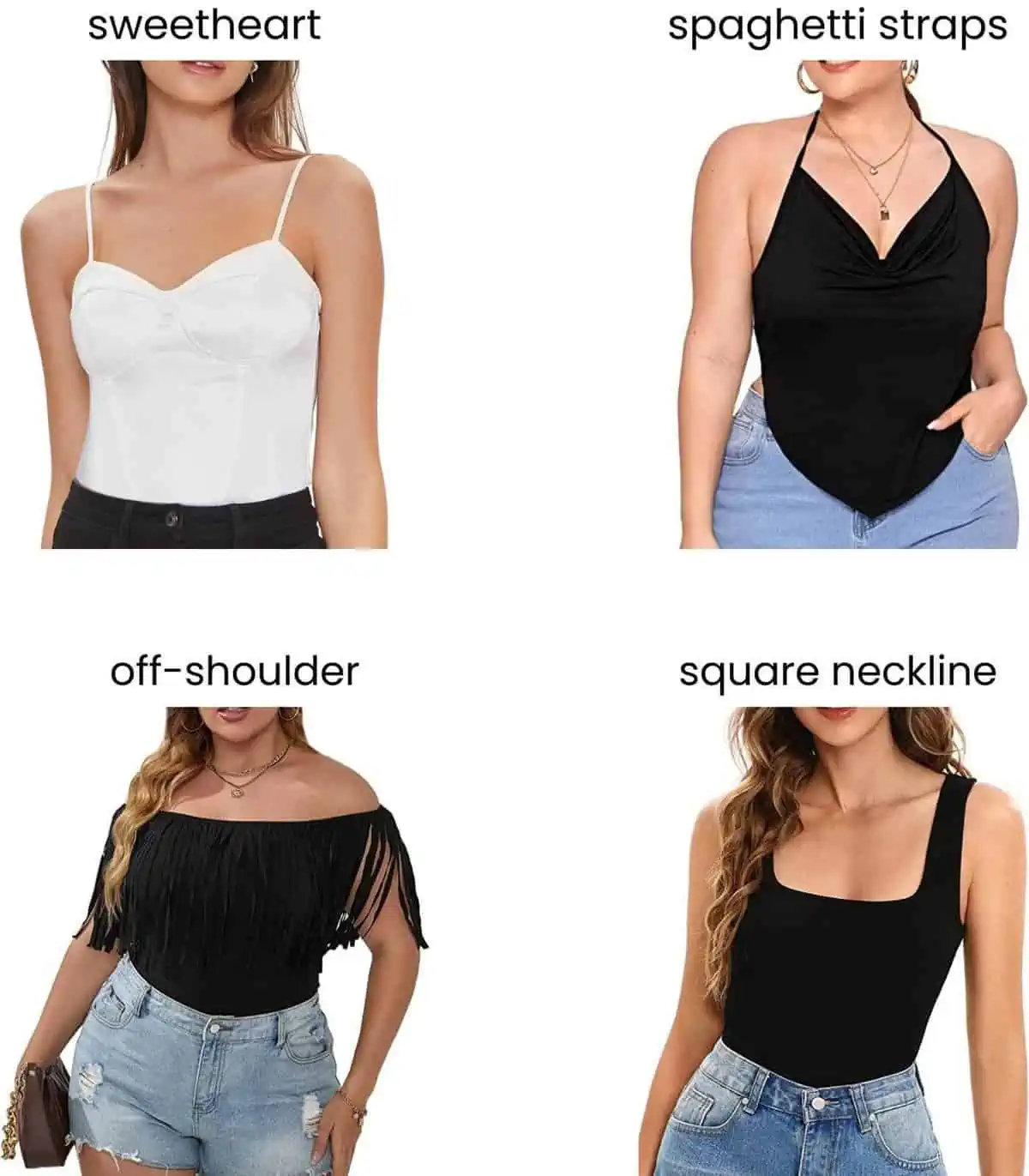 Examples of these necklines are the following:
ruffles
scoop
smock
sweetheart
horizontal necklines
cowl (narrow opening)
short tops that stop just above the hips (especially if the neckline is angular)
short dresses that stop right above the knees(especially if the neckline is angular)
spaghetti straps with straps close to each other
square necklines (You'd think that square necklines are angular so they're probably worn better by angular shoulders. However, because square necklines are made up of corners, they're too restricting for angular shoulders. They do, however, flatter rounded shoulders. See it for yourself.)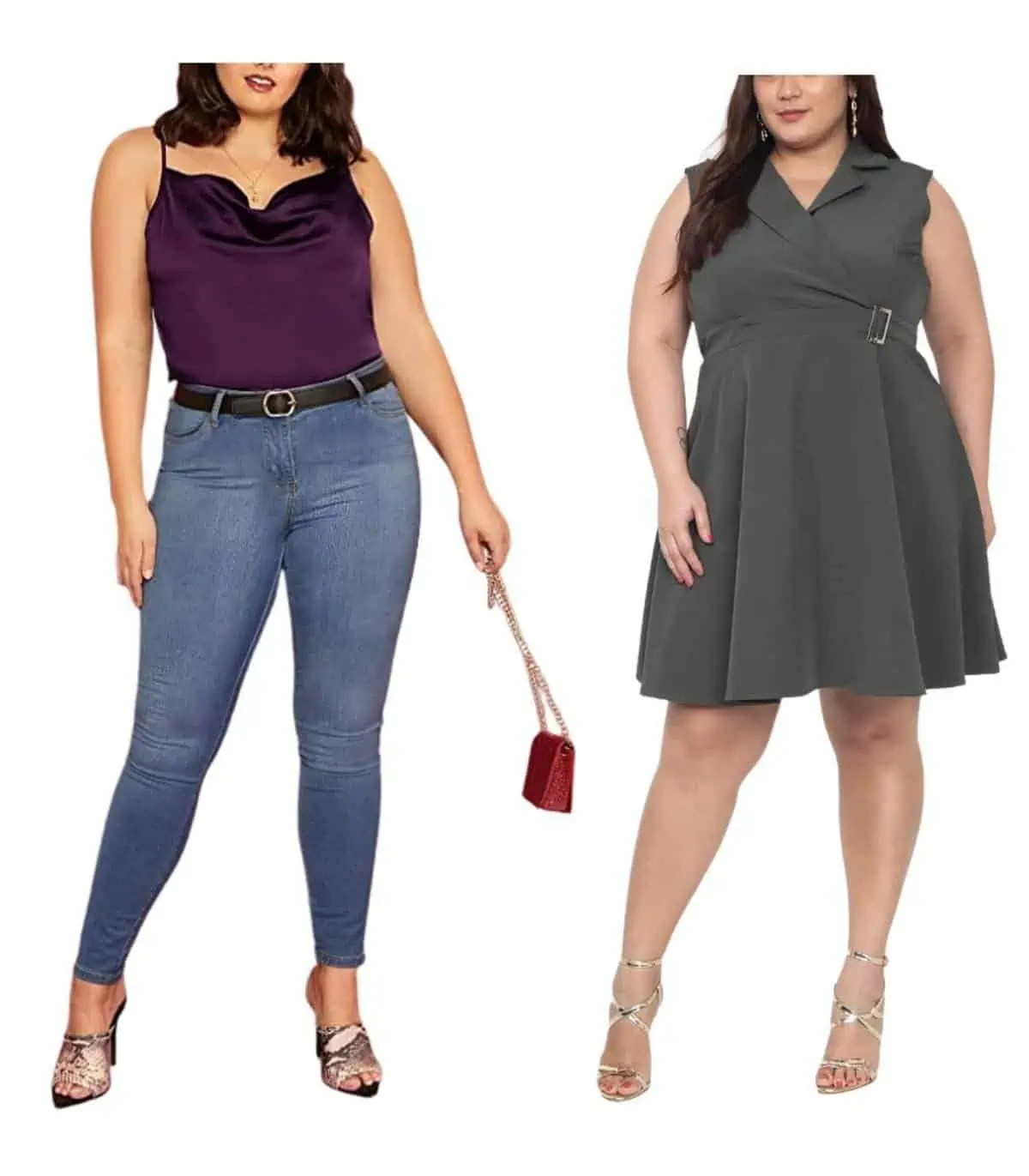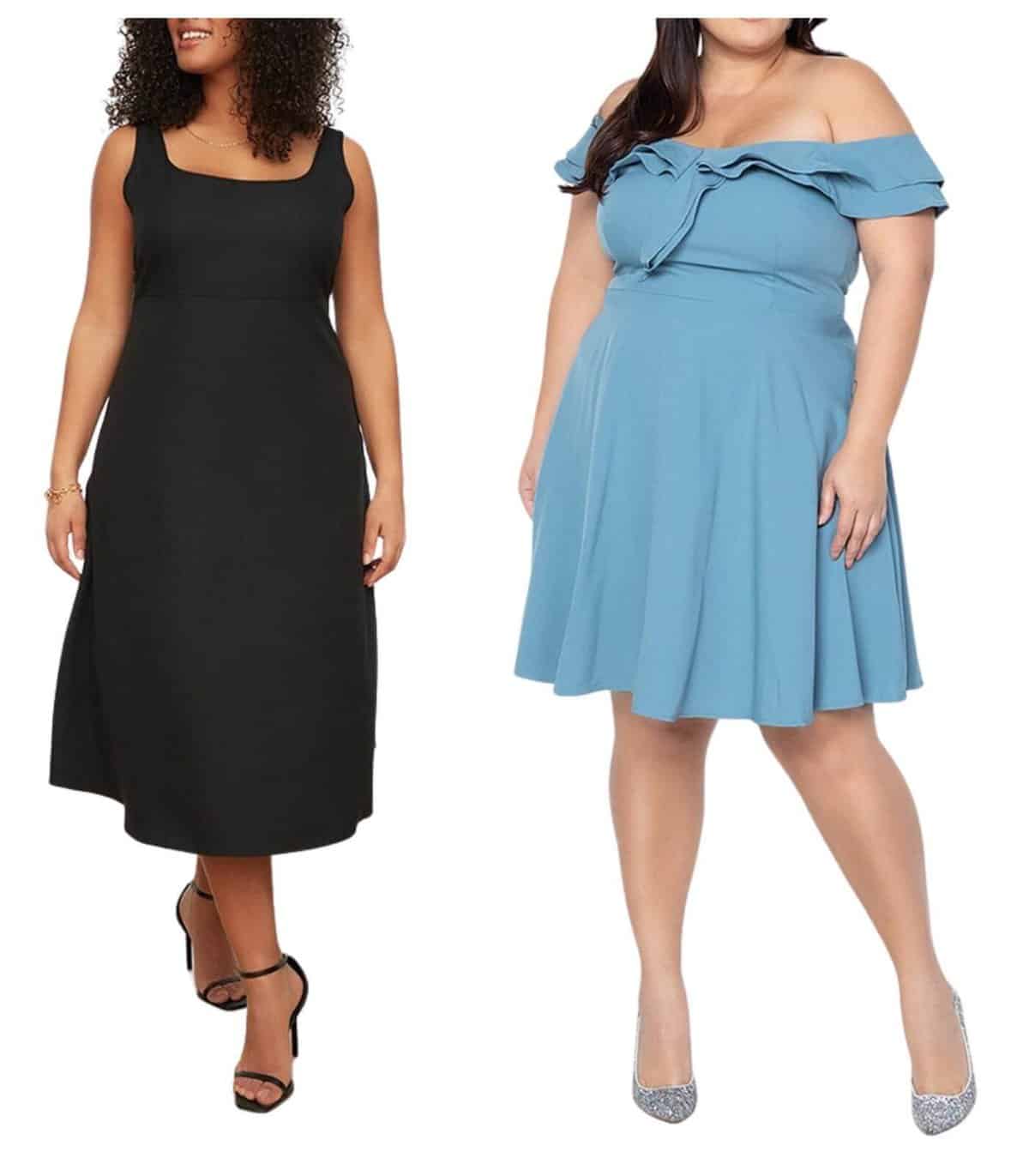 Note: You might notice that some of these designs (sweet heart, spaghetti straps, scoop) are flattering to both groups. This is due to the fact that these designs could be both wide and narrow on the shoulders depending on the tailoring and fabric stretchability.
And tailoring and fabric stretchability are factors that you just can't fully determine until an outfit arrives and you put it on.

Aside from the unpredictable nature of the fit and stretchability, there also isn't any foolproof guide in fashion. So pick what works for you and stick with it.

This guide, however, will increase your shopping success rate.
But if you need more examples on shoulder accommodation, head over to this article where I explain in detail the principles of accommodation for broad shoulders: A No-BS Guide to Dressing Broad-Shouldered Women.
If there's one thing to learn from this post it is this: Don't think of your broad shoulders as problem areas because they're simply not. Some designs look better on them than others. Therefore remembering those designs will serve you well in your next shopping adventure.