Yes, push-up bras are generally good for small breasts if your main goal is to get a deeper cleavage and give your breasts an extra volume. If you're asking the question for a medical reason, here's what we've found out from the claims and research done about the subject:
A book called Dressed to Kill by Sydney Ross Singer claims that wearing a bra causes cancer as it obstructs the flow of lymph fluid. A claim opposed by cancercouncil.com.au for the following reasons:
The author's observation didn't take into account the differences between these cultures in known risk factors for breast cancer, such as diet, weight, exercise, the age at which menstruation starts, pregnancies, and breastfeeding.

The suggested mechanism is inconsistent with scientific concepts of breast physiology and pathology. The breast lymph system does not drain into the main part of the breast. The lymph system drains out of the breast into the underarm lymph nodes; and bras do not prevent the circulation of blood and lymph from the breast.
There are no well-designed research studies that demonstrate that wearing a bra causes breast cancer. The single epidemiological study that investigated the possible link between bra use and breast cancer suggested that breast cancer might be less common among women who do not wear bras.

Therefore, the theory that wearing a bra directly causes cancer is yet to be proven. And it can only be proven if extensive research is to be done about it, which, so far, hasn't been. This is one of those times when you decide for yourself what you think would be good for you then hope for the best.
"What if I don't wanna risk it?"
If you feel like what the book says weighs more proof to you, you definitely have the option not to wear bras, let alone a push-up bra, which, in general, is usually more restrictive than a regular bra.
Wear a push-up bra only when you need it
You can, however, tread on a more balanced take on the subject by wearing bras only when you need them. For example, when you're at work and you don't like the thought of your nipples visibly jiggling under your officewear, definitely wear a bra.

But when you're at home, relaxing for the weekend with your significant other, it's a good time to set your girls free.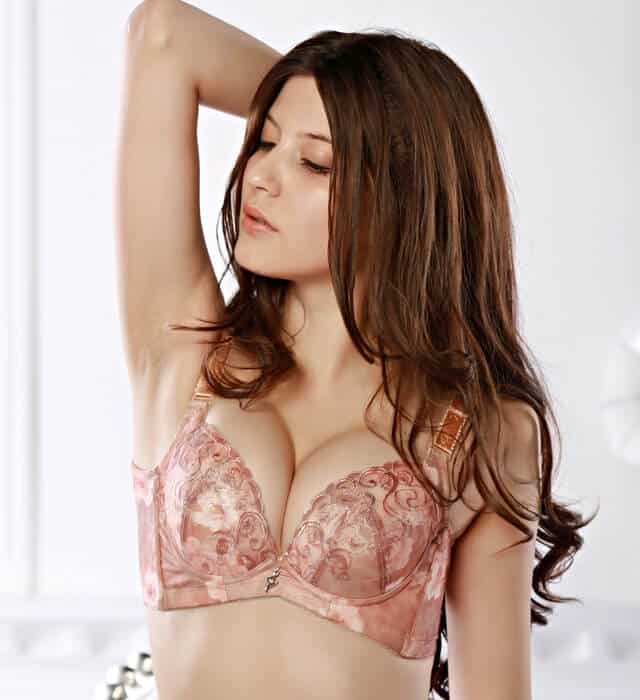 Lastly, if a fancy occasion (like a wedding) calls for you to wear a sexy dress with a plunging neckline, and you want to add an extra volume, don't shy away from a push bra, either. Wear a push-up bra, by all means! It's only a one day occasion.
Are push-up bras uncomfortable?
Compared to regular bras with minimal padding and some devoid of underwire, push-up bras could be uncomfortable for loads of reasons. But that doesn't mean it's impossible to find a comfortable one, either. I guess the direct answer is: it depends on your compatibility with the mechanism of a certain push-up bra.
Bombshell bra by Victoria's Secret for example. If you check the reviews on Amazon and Victoria's Secret website itself, around 80% of the reviews were positive. These reviews were raving about how "unbelievably uncomfortable it is to wear the entire day".

However, 20% of the reviews said the exact opposite: straps kept falling off, digging underwires, super tight padding, too much padding, etc.
When searching for the right push-up bra, be ready to face a series of trial and error before finding the right one. It'll be worth it in the end, though. Once you find what's best for you, hold to it and don't let it go.
When buying a push-up bra for small breasts, remember:
It doesn't have to be uncomfortable
A deeper cleavage and better lift don't mean you have to endure digging underwires and uncomfortable padding. Experiment until you find the best push-up bra for you.
Quality over quantity
It's more economical and smarter to invest in one expensive but high-quality push-up bra than buy 3 cheap and crappy ones.
There should be no gapping
Gapping for small-breasted women is common and acceptable with regular bras but it should never be the case for a push-up bra. If there's gapping, that bra ain't for you.
The straps shouldn't fall off
Straps are made to stay in place to hold the bra in place, not fall off. You shouldn't have to lift a finger to constantly fix it either. If you do, return it and ask for a refund.
Test it strapless
Do test the adhesiveness of your push-up bra by trying it on strapless. It would be a plus point if it has some sort of adhesive material in it like silicone or vinyl attached to the band and the cups which help hold the bra in place. Wardrobe malfunction isn't fun, especially in public.
Don't just buy any design; buy according to the occasion.
There are different types of bra styles. If you're only wearing your push-up bra in special occasions like wedding and parties where you're likely gonna be wearing bare-shouldered outfits, do get a strapless or convertible push-up bra with removable straps.
But if you're planning to wear it every day underneath a more covered garment like a T-shirt, it's better to get the T-shirt bra with built-in straps on it. T-shirt bras are specially designed to be seamless so it can be worn with tight clothing and drapey materials. This way, you avoid visible lines and textures from showing underneath your clothing.
What colors should you choose?
If this is your first time buying a push-up bra, it is wise to choose neutral colors. As neutral as you can get, the better. Lean towards nude, brown, white, gray, then black, navy blue and so on. You want your push-up bra to be as versatile as possible with whatever color of clothing you're wearing, and neutral colors (especially nude) do just that.
Push-up bra as swimsuits
Yes, it's push-up bra swimsuits do exist to give your breasts a lift even if you're out at the beach. It's important to take note though, that when soaked with water, it might add considerable weight on your bikini top and might feel heavy for you.

But this is usually something more of a struggle for large-breasted women. If you're an A or B cup, you might not feel the weight of the bra that much.

Is it okay not to wear a push-up bra?
Hell, yes! As much as it's okay to wear one, too. Choose what works for you. If you think that wearing one makes you feel sexier and more feminine, no shame in that.

And if you feel that you don't really wanna wear it and just feel like you have to because other women do, a push-up bra shopping store is not the place to be.
Does having small breasts matter to men?
The answer to this varies from man to man, otherwise, push-up bra and breast surgery wouldn't have been invented. While other men may say they prefer small breasts, there's also a good percentage of men who say they prefer larger ones.
What this means to you as a woman
This means to dress for yourself and not for the men. While it is in the nature of every woman to instinctively want to look attractive to the opposite sex (as with men), that doesn't necessarily mean you have to conform if you don't want to. Besides, there are tons of other ways to look sexy. Breast is only one of them. Personality goes a long way. Wear it with confidence and you'll show off something far better than a push-up bra.
You Might Also Like: