Reader's question: I'm planning to incorporate ruching into my daily wardrobe. There's something about ruching that makes a cheap garment look expensive. And who doesn't wanna look expensive, right? But while looking expensive is nice, I'd like to know: Will ruching make me look fat? I'm a US plus size 16 and apple-shaped so it'd be nice to camouflage some of my tummy fats. I saw it looks flattering on skinnier ladies but with my body type and size, now, would it?
Does ruching make you look fat? No, ruching does/ will not make you look fat regardless of your body shape and size. In fact, fashion designers use ruching to camouflage tummy fats. Whether you're a plus or regular size, rely on ruched garments to give your figure a slimming effect.
There are rare times, however, when ruching won't work on your favor. Instead of camouflaging your love handles, it accentuates them. And we'll discuss that in this in-depth article. Here's everything you need to know about how a properly placed ruching will slim you down regardless of your body type and size.
First, what is ruching?
Ruching is a sewing technique that gathers a fabric or ribbon into a repeating pattern to produce pleats, ruffles, petals, or scallops. Here how a pleat ruching looks like on a dress and a bathing suit.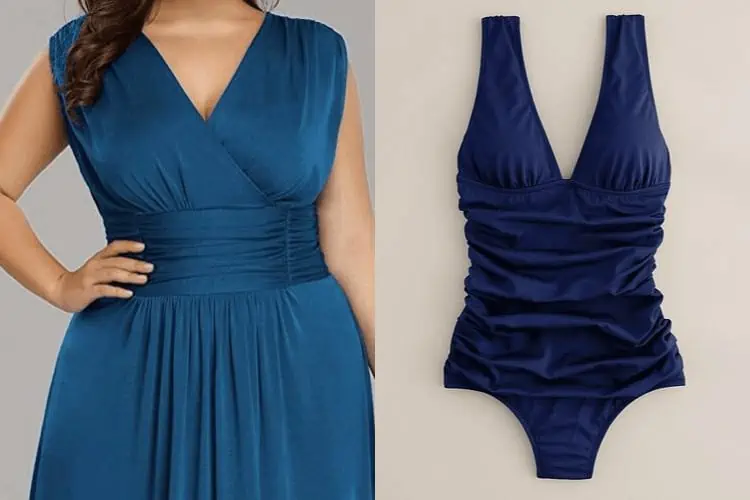 When installed on garments, a ruching is usually situated in the midsection— tummy, hips, and waist. But some are also on the bust.
The result creates a pleasing intricate detail with a hint of extravagance. Because of this, the use of ruching does not stop at clothing; it extends to hats, pillows, blinds and other decorative objects.
How does ruching make you look slimmer
Ruching slims down the figure by hugging and accentuating the narrowest part of your waist.

But wait, won't form-fitting garments only highlight my tummy fats?

Not with a ruched garment, no. Because of its textured layer of fabric, it provides enough room for the lumps of tummy fats to settle without being noticeable.

The result is the illusion of an hourglass figure with a smaller tummy.
Ruching in swimsuits
In swimwear, a ruching is often installed on swimsuits with tummy control panel.
When control panel and ruching works together, they create an efficient yet comfortable tummy tuck for plus size women who are looking to camouflage their midsection.
While common in one piece swimsuits, ruching is also present in high-waisted bikinis.
If you wanna take a detour from the traditional one piece but don't wanna overexpose by wearing the traditional bikini, pick a ruched high waisted bikini instead. It's more adventurous than a one piece in terms of coverage but more modest than the traditional bikini.
How to choose a ruched outfit based on your body type
When we think of ruched garments, we immediately think of bodycon dresses that fit from torso to hips. But ruching does not always have to be form-fitting all the way through your body.
Would a ruched bodycon dress look good on any body type? If the ruching is well made, sure, no doubt about that.

However, if you want to expand your wardrobe beyond the infamous bodycon dress, the following ruched variations are your options. I've classified them according to body type.
Apple
If you have an apple body type, you wanna look for ruched wrap dresses. What makes wrap dresses so flattering to apple-shaped bodies is its diagonal ruching.
Ruched or not, a piece with a diagonal visual effect will always look good on an apple because it downplays the tummy fats. If diagonal line is paired with ruching though, (like the above dresses) then expect to look like a million dollars.
Pear
Shoulder emphasis and hip camouflage are your primary goal if you have a pear body shape. Therefore, apart from the ruching on the midsection, you'll look even better with extra embellishment/s at the shoulders.
Can you guess why this dress would look flattering on a pear-shaped lady?

First, the dress's large frill sitting on the right shoulder would add volume and enhance the narrow shoulders of a pear body.

Second, the ruchings were strategically placed. The horizontal ruching situated on the middle would further slim down the waist, while the vertical ruching at the hips would ensure that the hips are toned down. (Remember: Vertical line is elongating as well slimming.)

The result? A flattering and balanced proportion.
The same principles apply to this dress. Notice the puffed shoulders? That would enhance the shoulders while the diagonally placed buttons would downplay the hips.
Rectangle
If you're a rectangle lady, your main goal is waist definition. This is easy to achieve by wearing ruched blouses and dresses that hug the waist and flare at the bottom. This way, a contrast is made between the waist and the hips.
Inverted triangle
Nothing flatters an inverted triangle figure like a dress with a plunging V-neckline and an A-line bottom.
If your goal is to add a dash of femininity to your outfit without completely concealing the shoulders you've worked so hard to sculpt, V neckline dresses are your best choice.

Lastly, if you want to add volume to your hips, you can never go wrong with an A-line dress. In fact, it's so versatile that any body type can wear it and look flattering.
Hourglass
Hourglass ladies have the most balanced figure of all body types. Therefore, they usually have no issues balancing their proportion so they can wear anything they like and expect to look impeccable.
If you're an hourglass, just make sure that the material is stretchy enough to accommodate your curvy figure and the bust area supportive enough for your ample breasts.
Are there instances when a ruching could make you look fat?
Yes, there are indeed instances when a ruching could the wearer look fat but they are rare. When that happens, it often has a lot to do with the sewing quality.
If, for example, a ruched bathing suit is specifically promised to be tummy-slimming but ended up looking bulky and bulgy on your tummy, then it is the brand's fault.
What to remember when shopping for ruched pieces
The elasticity of material: For the ruching to smoothly make room for the bits of fats that you wanna camouflage, the elasticity of the fabric is crucial. A percentage of at least 3-5% spandex should suffice. If the material composition isn't written in the product description, read the customer reviews or ask the seller. Better safe than sorry.
Ruching is best worn in solid colors because they emphasize the ruching's intricate weaves whereas wearing prints would only subdue them and defeat the purpose of wearing a ruched piece in the first place. This is why it's rare to see printed ruched pieces, and when you do, the prints are carefully placed so the print and ruching don't cancel out each other.
I hope this article Answeared your questions. 🙂
You Might Also Like: