Real talk: Every woman has one part of her body that she isn't too keen to show off—especially when sporting a swimsuit. The good news? Fashion designers came up with techniques on how to camouflage each "problem areas".
Note: This article wasn't written to make women feel flawed and unattractive. This was written to answer the question that women around the world ask every time they wear a swimsuit. These so-called "flaws" or "problem areas" exist just as much as "assets". And what is fashion but showing off your assets while hiding your problem areas so you can make the most out of your outfit, feel your best, and look your best? That said, here's how to hide flaws in a bathing suit:
Let's start with the most common issue:
1. How to camouflage your belly bulge.
To camouflage your tummy fats, wear a one-piece with tummy control panel. A tummy control panel is like a shapewear built within the swimsuit to tuck in the tummy fats and shape the waist. Think of it like a corset, only more comfortable and lightweight.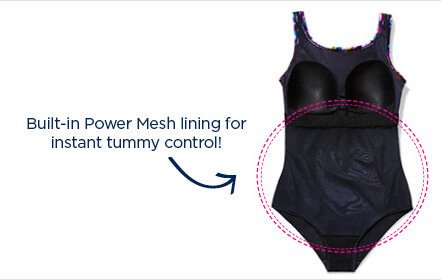 Where to buy: You can buy these swimsuits for cheap but Miraclesuit and Swimsuits For All are among the brands that specialize in tummy-slimming swimsuits. When it comes to style, their pieces were designed to be universally flattering to all body shapes. They also mostly focus on plus size women.
On the other hand, if your love handles aren't so prominent or you find tummy control too restrictive for your liking, then ruched swimsuits are a great alternative. Ruching usually goes together with tummy control but one can exist without the other.
2. Flabby arms and broad shoulders
If you have flabby arms, chances are, you also have broad shoulders and vice versa. Luckily, you can kill two birds with one stone by wearing a plunging V-neckline.
Doing so draws the attention to the middle of your chest thus downplaying your arms and shoulders. The deeper the plunge, the more minimizing it is for your arms and shoulders.
Does this mean you have to show off your cleavage? Not necessarily. Although that's one way to do it. But you don't have to.
This one-piece, for example, does just that.
Another way to downplay your arms and shoulders is to wear handkerchief tops.
The downward arrow at the midsection directs the eyes' focus to the bottom— away from the shoulders. If you're an inverted triangle, this is especially effective in balancing out your proportion.
Broad-shouldered women with big arms should avoid horizontal lines on their shoulders because they broaden
There's an exception though: If your top is loose-fitting (flouncy) around the shoulders and arms, then it should look flattering because the flounce would only "swallow" the bulk of your shoulders.
This is exactly what makes flouncy off-the-shoulder tops flattering on any body shape and size.
3. How to hide your cellulite
If your cellulite resides in your tummy, buttocks and upper thighs, hiding them is straightforward enough—wear high-coverage bathing suits like swim dresses, high waisted bikinis, or swim skirts.
What if you wanna wear a cheeky bikini instead? Or what if your cellulite are scattered all over your body? In this case, use a self-tanner.
Have you ever noticed that cellulite are more noticeable on fair skin than on dark ones?
Tanning your skin, therefore, will camouflage your cellulite.
Personally, I'm okay with my cellulite showing when I'm wearing a bikini so I never bothered with self-tanners. I do, however, camouflage them a little by wearing bikini bottoms with bold prints. Bold, printed bottoms catch the focus while de-emphasizing my cellulite. Not as effective as self-tanners but takes zero effort.
4. How to hide scars and varicose veins
If you want something totally hidden, skip the self-tanner and go for a waterproof body concealer. Body concealers totally hide scars, bruises, varicose veins, even tattoos while blending with your skin color.
And unlike tanners, you don't have to slather the substance all over your body.
5. How to hide hip dips
Hip dips are the inward depression just below your hip bone, along the side of your body. While they're usually more noticeable in body types with higher and/ or wider hip bones like pear and hourglass, all body types have hip dips.
If you think yours are too noticeable for your liking, your best bet is to wear bottoms with embellishments at the hips. They'll fill the void and even enhance your hips.
A-line swim skirts and dresses also create the same effect.
6. Disproportionately large hips
Generally, having wide hips is a great thing because they enhance the curves and creates an hourglass silhouette.
However, if you have a pear body type, you might find that, in some swimsuits, your hips and buttocks could look disproportionately larger and wider than your upper body
If this is the case, the easiest way to balance your silhouette is to ensure that your top always outshines your bottom. You can do this by wearing a printed top and dark and solid-colored bottom.
Do you have to follow this rule all the time? Not necessarily. As long as your top is more highlighted than your bottom, then your proportion should look balanced. If you want an in-depth guide on how to dress a pear body in a swimsuit, refer to this article if you're a plus size and here if you're a regular.
FREQUENTLY ASKED QUESTIONS:
To camouflage a certain body part, you need to highlight another. Therefore, knowing how to hide flaws in a bathing suit is as important as knowing how to enhance the parts that you wanna show off. Therefore, I've compiled a list of the most common questions women ask when camouflaging their problem areas and enhancing their assets.
Which prints/ patterns will camouflage my tummy fats?
We've talked about tummy control panels. But note: The prints of your bathing suit can also make or break your outfit.
To hide your tummy fats, opt for pieces with diagonal and vertical lines situated on the midsection. These guiding lines will distract the eyes from the bulge of your tummy while also de-emphasizing your width, thus making you look slimmer.
This also means that horizontal lines are better avoided unless you wanna widen a part of your body (your hips for example).
Horizontal patterns, as opposed to diagonal and vertical, are width-enhancing.
How do I enhance my waist curve?
To enhance your waist curve, look for hourglass-patterned swimsuits. It could be in the form of hourglass cutouts, prints, and colors. This one-piece, for instance, creates the illusion of a slimmer and curvier waist due to its hourglass-shaped pattern at the sides of the waist.
If you look at Miraclesuit's designs, you'll see that most of them feature hourglass prints and patterns. This isn't a coincidence.
Want more examples of tummy-shaping swimsuits? Read this guide.
How do I enhance my booty?
If you don't mind showing skin, cheeky bikini bottoms are your best bet. They make the booty look more toned and less saggy.
However, if you prefer a more modest option, then go for full coverage bottoms with embellishments at the sides of the waist like ruffles and strings. A-line swim skirts and swim dresses also help.
Avoid boyshorts as they'll only slim down your buttocks and hips.
How do I make my bust look bigger in a swimsuit?
Wear ruffled and voluminous bikini tops. They won't highlight your cleavage but they create the illusion of a fuller bust.
Opt for a triangle bikini top. It covers the bust but shows off some cleavage to trick the eyes to see a bigger bust.
I'm bored with one piece swimsuits. Can I wear something else?
Wear high-waisted bikinis! They're sexier than one-piece swimsuits but more modest than traditional bikinis.
All the tips I shared above are universally flattering to any body type. However, if you want a more in-depth swimwear guide specific to your body type, pick your body shape below: