Sharp, angular, narrow, masculine, intimidating. These are the adjectives that come to mind when we think of a Dramatic body type. Some Dramatic women dislike their body types for being "too masculine" and even try to hide their angular features with fake curves. But in this article, I'm gonna show you that there's zero need for that. Dramatics are just as beautiful as Romantics. You just need to stop dressing as Romantic to bring out your true beauty, not subdue it. Here's how to dress a Dramatic Kibbe body type, the best outfit, hairstyle, makeup, and accessories.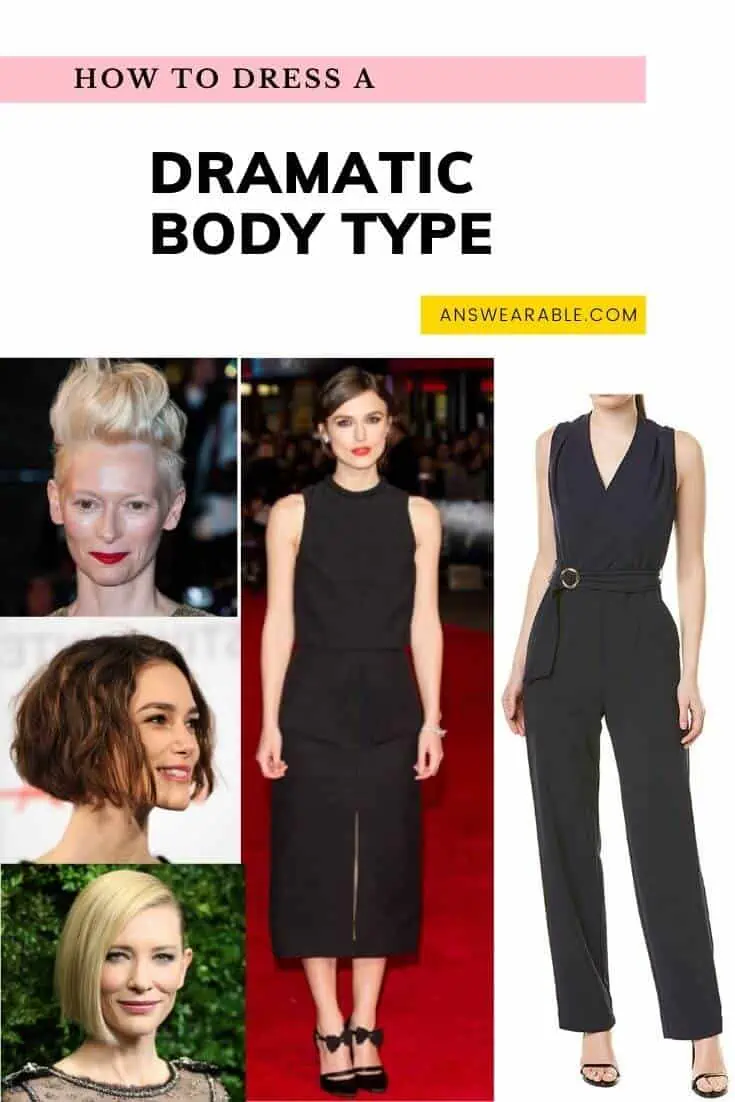 What makes a Dramatic body
If you're a Dramatic body type, then most of your answers are mostly A to all four sections of the Kibbe test:
Skeleton (vertical line, shoulders, limbs, hands, and feet),
Body Flesh (bust, waist, hips, arm and thigh flesh)
Facial Bones (nose, cheekbones, jawline)
Facial Flesh (eyes, lips, cheek flesh)
You might get an answer or two that isn't A but the rest of your answers fall under A.
What this means: This means everything about you is narrow, angular, narrow and therefore Yang (masculine) dominant.
Confused about what's Yin and what's Yang? This article should help: Yin vs Yang Examples of Kibbe Body Types.
Dramatic body type example
Let's take a look at Cate Blanchett (a Kibbe-verified Dramatic) in a swimsuit.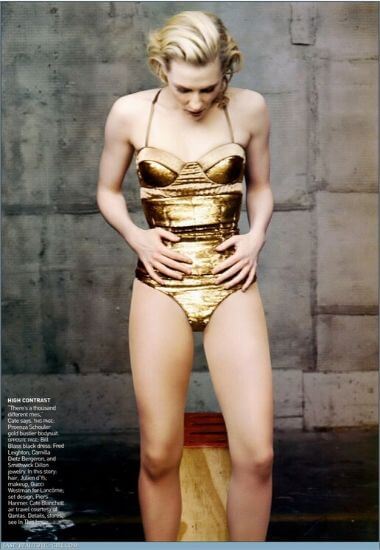 As you can see, she has a Dramatic skeleton— sharp and dominant shoulders, long vertical line, long and sinewy limbs. Her Body Flesh (bust, waist, hips) has no defined curves and therefore straight.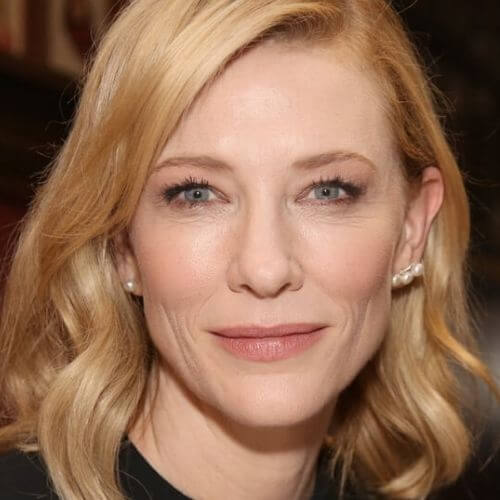 If we look at her facial flesh, we can see her closely spaced, almond-shaped eyes, taut cheek flesh, thin and straight lips. As of her facial bones, she has pretty high and prominent cheekbones, a sharp nose, and a square jawline. Overall, she's no doubt a pure Dramatic. Everything about her is angular, sharp, and narrow.
Other Kibbe-verified Dramatic celebrities
Olivia Culpo
Claire Danes
Tilda Swinton
Joan Crawford
Faye Dunaway
Keira Knightley
Cate Blanchett
Kathleen Turner
Anjelica Huston
Jamie Lee Curtis
Michelle Dockery
Katharine Hepburn
Kate Moss (possible)
How to Dress a Dramatic Body Type
To dress your Dramatic body type, you need to stick your lines. That means no rounded details, no fake curves, no forced softness as there's nothing in your body to complement them. Instead, you wanna follow your own lines— long, angular, sharp, sleek, narrow.
Note: The tips below follow the Kibbe styling principles for a Dramatic. However, note that they're only examples— treat them as such.

Draw inspiration from them, copy them if you will, but at the end of the day, you wanna find your own style and expression (while following the principles). That's how the Kibbe system is all about: To find your own unique expression.
The good thing is, the system makes this possible. Sure you're following a guide. And yet, there are so many different ways it could turn out completely different from the other Dramatics. It narrows down your options (enough to eliminate the clutter) while offering unlimited possibilities.
Here are examples of how to dress a Dramatic Kibbe body type.
1. Look for tailored and structured pieces.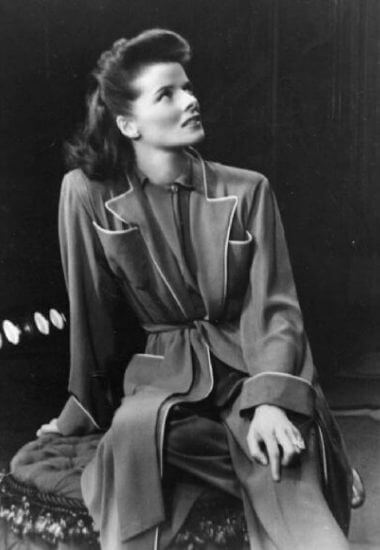 Nothing wears sleek and tailored pieces than a pure Dramatic. Think of Katharine Hepburn who, in the 1930s (when women's fashion had not yet been liberated) refused to wear skirts and anything "womanly" outside the set. When she did, you could count on her sporting a sharp-shouldered blazer on top of it. Menswear-inspired suits and slacks are her signature looks.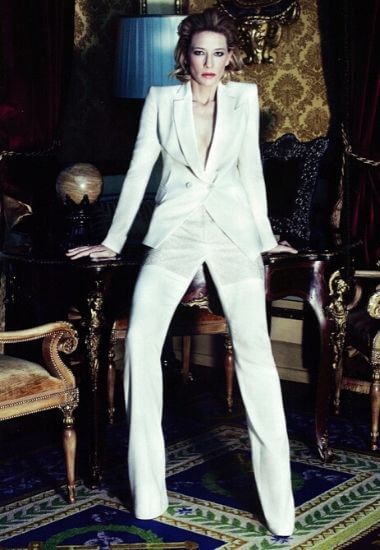 Cate Blanchett looks fantastic with a strong-shouldered blazer. It doesn't overpower her since she has the shoulders and bone structure to match such a Yang (masculine) outfit.
2. No waist and hip definition required.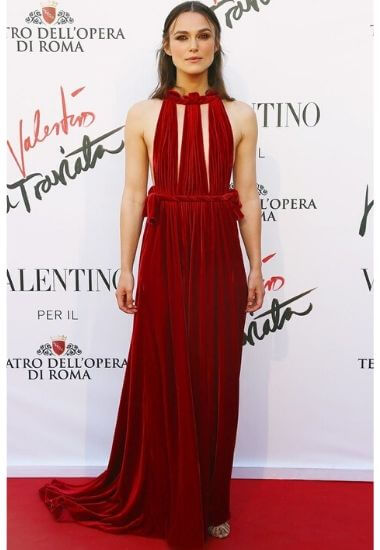 Some Dramatic women are obsessed with creating the "illusion of curves" and "hiding their masculine features" Big mistake.
While they may succeed in looking as curvy as Beyonce, their facial features will still reveal their undoubtedly Dramatic features. The result is a try-hard ensemble that looks anything but harmonious.
If you're a pure Dramatic, waist definition is not required. Take a look at Keira's outfit below and you'll see that they look harmonious to her whole figure even with zero waist definition.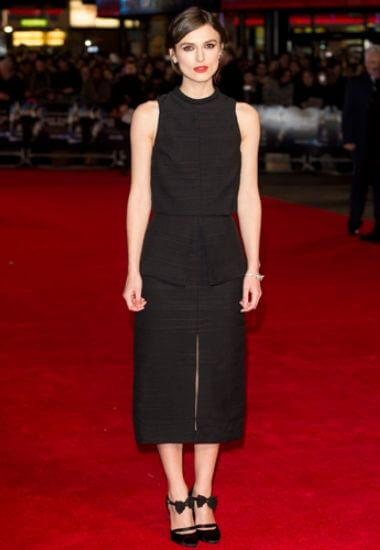 While with some outfits, a slight waist definition doesn't hurt. Generally, outfits that skim on the waist and hips are more flattering than the ones that are super tight and figure-hugging like bodycons.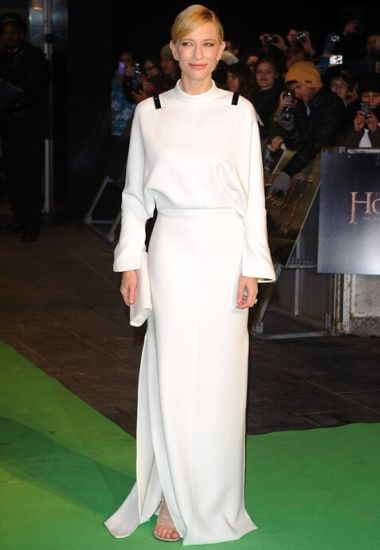 3. But you can also emphasize your waist.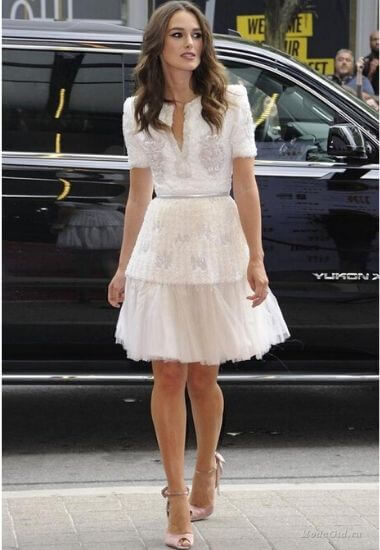 Dramatics can perfectly rock waist definition in their own way by wearing stiff fabric. Stiff fabrics show sharpness and angularity excellently. That's the feeling that you wanna invoke in your outfit when choosing an outfit for a Dramatic.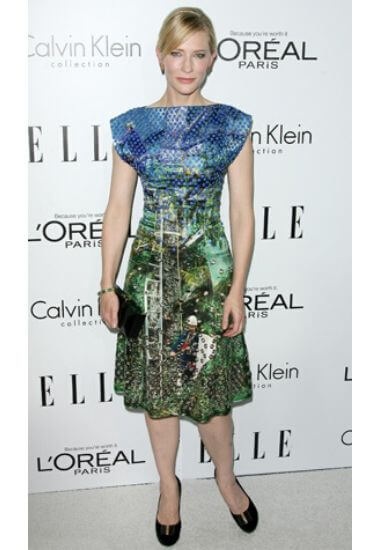 This is a perfect look to wear if you aren't used to the extreme Yang that a Dramatic figure requires. It adds a Yin element to it without breaking your lines.
4. Feel free to add one Yin element
Let's say that, despite your Dramatic body, you're quite fond of Yin details (lace, curves, colors, ruffles, etc). Don't let it stop you from breaking the rules a little. Feel free to add at least one Yin element in your outfit. Just make sure that the Dramatic elements remain dominant in your ensemble.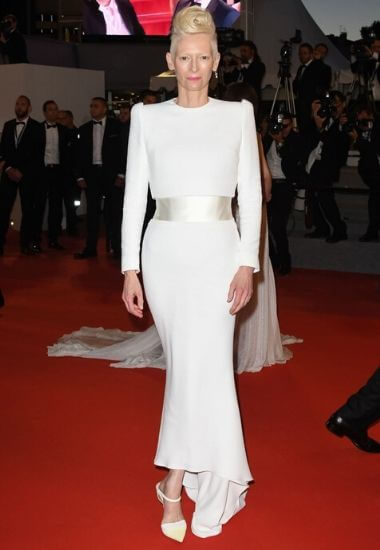 Tilda Swinton here is wearing a sharp-shouldered dress complimented with pointy-toed shoes. Due to the extreme waist-definition, this outfit is probably more Soft Dramatic than Dramatic. Nevertheless, it looks amazing on her since the softness doesn't overpower the Yang (sharp shoulders, long vertical line, pointy shoes).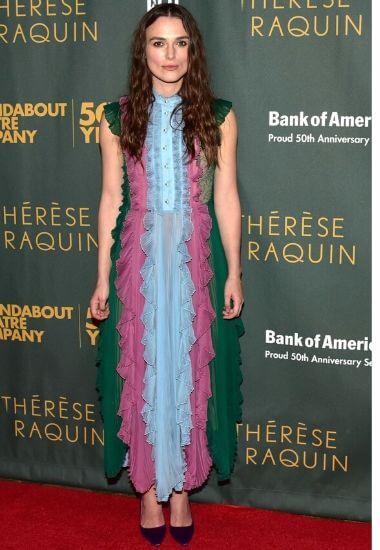 This outfit is all Dramatic (long vertical line, straight, pointy shoes) except the ruffles.
It has to be said that the ruffles aren't bulky and wide enough to disrupt the Dramatic build of the whole outfit.
5. Best casual outfit for Dramatic
Dressing a Dramatic is truly straightforward as long as you follow your line and stay true to it. Now that you've seen examples of Dramatic lines, let's translate how they'd look like into casual and everyday look. Here are some examples: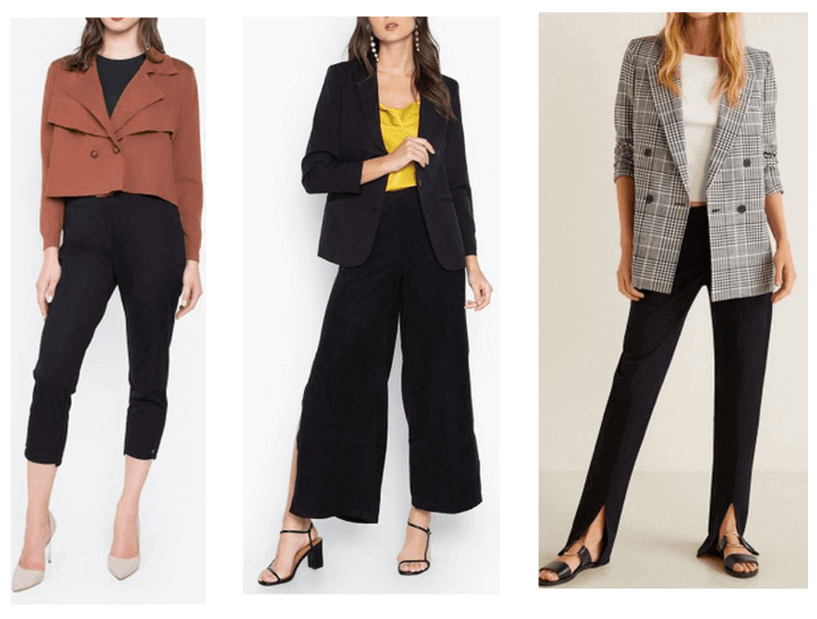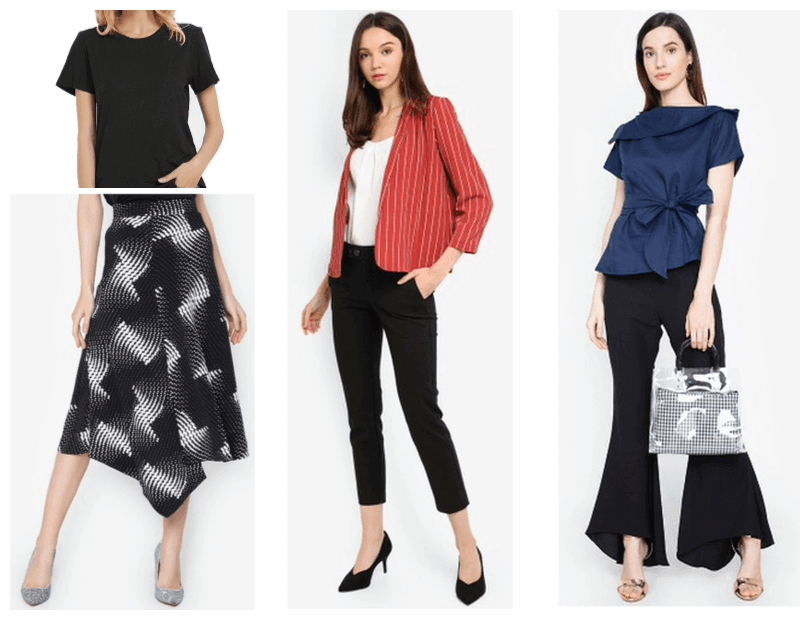 6. Best hairstyle for Dramatic
The best hairstyles for Dramatics are something defined and precise. The length and volume don't matter (it can be thin or thick, short or long) as long as the edges draw a precise and defined line. This is the opposite of an extremely wispy and messy hairstyle which looks great on Natural but not so much on Dramatic.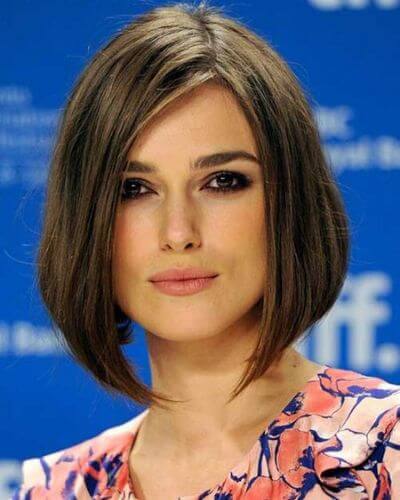 This isn't to say that you can't rock a messy and curly hairstyle. They look fantastic as long as they are more defined and angular than messy.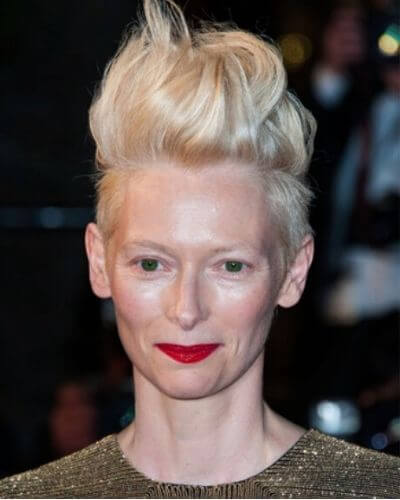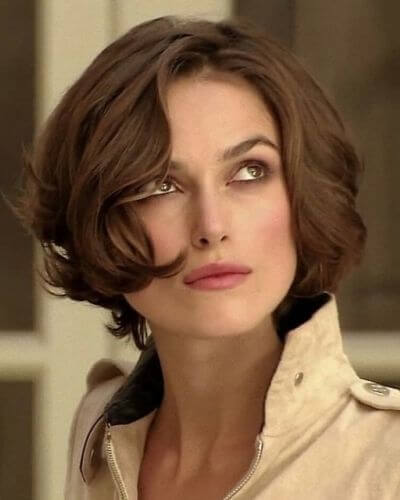 However, it's a different story when the edges are wispier than angular. Take a look at this example: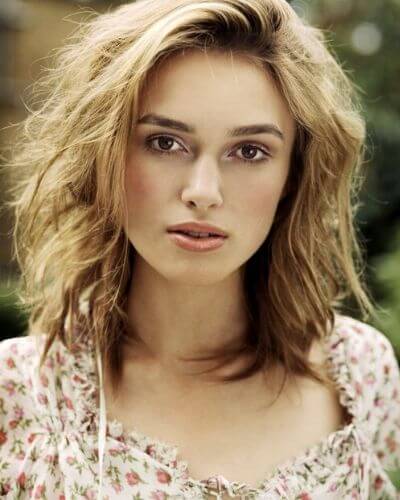 Here, Keira's hairstyle is wispier and barely has any definition and angles.
She doesn't look bad here but we can for sure agree that this isn't her best look. She does look better when her hair is more defined and angled like the previous examples.
7. Best accessories
Just like clothing, the best accessories for Dramatics are elongated and angular. Hence the following examples: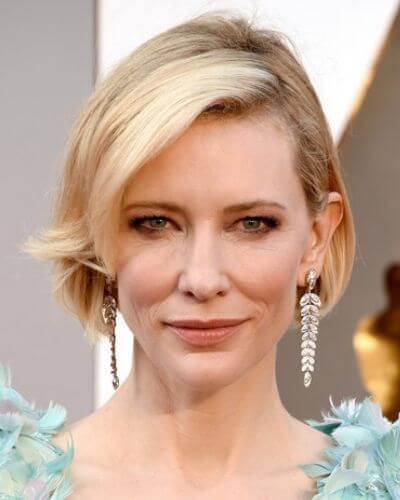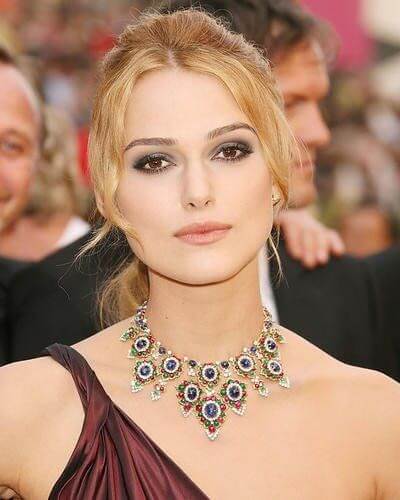 Although Keira's necklace in this example is rounded, its edges are still angular to compliment her Dramatic bones.
The same applies to bracelets, shoes, and handbags.
8. Makeup for Dramatic women
What happens when a Dramatic doesn't wear her lines?
This dress is Yin-dominant because of its puffy, rounded shoulders and short vertical line. Although the dress is long, Keira looks shorter in it because of the extreme puffiness.
I guess we can all agree that this isn't her best look. This dress just doesn't look harmonious with her sharpness and angles.
Note:
While Dramatics are usually tall, know that they can be any height. You can be 5'0 and still be a Dramatic.
Pure Dramatic Shopping Guide
Looking for an exclusive shopping guide for Flamboyant Natural? This article will show you how to shop for pieces from head to toe: from clothing, accessories, makeup, coloring, and prints.
You Might Also Like: