Dramatic Classic Shopping Guide: Head to Toe
This article will show you a Dramatic Classic shopping guide — from casual to formal outfits, accessories, makeup, and coloring.
Not sure how a pure Dramatic Classic looks like? This article will show you with pictures and examples. It will also teach you the Dramatic Classic styling principles.
The following were taken from the book Metamorphosis by David Kibbe, the image professional who created the Kibbe system.
Dramatic Classic Shopping Guide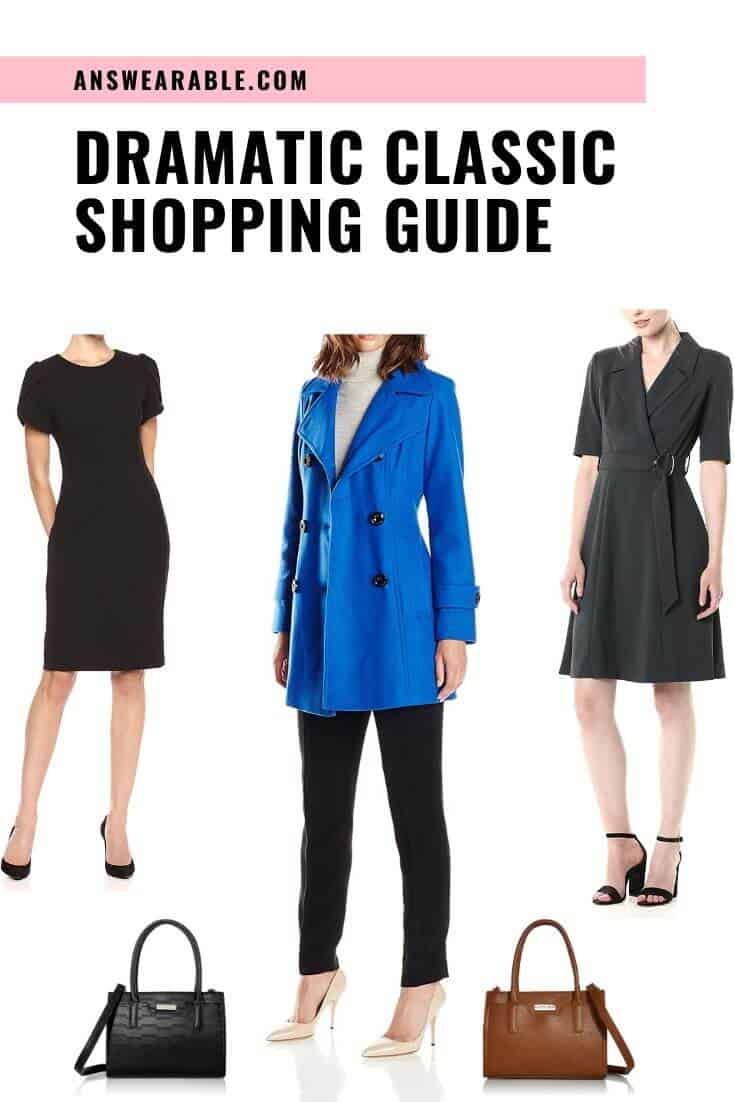 1. Dresses
Dramatic Classics' dresses should be tailored, sleek, and narrow, with sharp edges and crisp detail. Coatdresses, chemises, and slinky sheaths are all excellent.
Your waist may be defined with a wide, geometric belt (usually in a contrasting color to match accessories), or may be dropped low, or even eliminated. Elongated draping or sleek bias-cuts are also soft and elegant. Sharp or sculpted shoulders (with pads) are a must.
Avoid:
wide, unconstructed shapes
flouncy dresses with ornate and intricate trim
fussy detail such as shirring, gathers, silk flowers, bows, ribbons, etc
2. Separates
Use separates carefully. Separates can be extremely effective for you when well-planned in matched sets. An "ensemble approach" to your head-to-toe appearance is always necessary.
3. Jackets and blazers
Jackets are a mainstay of your wardrobe, and you should have them for every occasion, from daytime to glamour to casual. They should be crisp and tailored, with sharp shoulders and an elongated line.
If constructed, they should be very narrow and fall below the break of the hip. The shortest jacket that is sophisticated enough for you is cropped to rest at the top of the hipbone and has a very sleek, streamlined effect. Double-breasted jackets are also quite effective on you.
Avoid:
peplums
wide, boxy jackets
ultracropped jackets (boleros, waistcoats, etc.)
flouncy jackets that are nipped and tucked with gathers and trim
4. Skirts
Skirts should be straight and narrow. A few crisp gathers at the waist are usually needed to accommodate your hips. It is very important that your skirts are always flat from the hip to the upper thigh area.
Pleats should thus be stitched down at the top, so as not to upset your sleekly vertical line. Small slits are excellent, as is any tailored detail, such as pocket flaps, contrasting stitching, waistbands, etc.
Hemlines can range from one inch below the knee to the top of the calf. The latter will need a slit. Longer is, of course, perfect for evening.
A bias-cut skirt is possible, as is a straight skirt that has a bias-cut piece added to the bottom, gently flaring out. These hemlines are uneven and must be longer, in mid-calf range.
Avoid:
A-lines
fully, flouncy skirts
wide, unconstructed skirts
skirts with fussy detail (draping, shirring, and gathers)
5. Pants
Dramatic Classics' pants should be simple tailored styles with pleats. Man-tailored detail are best. The pants should be clean, sleek, and elegant.
Avoid:
fussy or ornate styles
tapered or pegged styles
wide, baggy, or unconstructed styles
6. Tops and blouses
Your blouses should be elegant and tailored, with sharp edges and crisp detail.
Stock-tie blouses are acceptable with a very tailored suit, but a more dramatic style is best when the jacket is not covering it. Fabric can be crisp and smooth (luscious cottons), elegantly shiny (charmeuse), or softly woven (challis).
Avoid:
frilly, ornate, flouncy styles with excess detail
unconstructed styles with no detail
7. Sweaters
Sweaters should be lightweight and elegant; silky and skinny-ribbed styles are excellent choices. Sweaters should be slightly elongated, with shoulder pads. Long cardigans with pads and jacket styles are very good for the dressy-casual look. Sleek and elegant beading is also stunning.
Avoid:
shapeless sweaters
fluffy knits with ornate trim
cropped sweaters and vests
thick, rough, or heavy knits that are bulky
symmetrical styles with plain detail such as crew-necked shetlands
8. Evening wear
The following are great choices for a Dramatic Classic's evening wear:
smooth fabric
beaded fabric
slinky sheaths
jacketed gowns
understated trim
angular necklines
shoulder emphasis
tailored dinner suits
tailored cocktail dresses
evening pants with jacket
long gowns with sharp shoulder emphasis
symmetrical shapes with clean, geometric detail
9. Shoes
The following are the best shoes for a Dramatic Classic:
angular
Italian-style pumps
tailored and narrow styles
"Two-toned" styles (Chanel, spectators)
Avoid:
heavy, chunky styles
overly delicate or strappy styles
plain pumps or simple symmetrical styles
10. Bags
Crisply tailored bags. Envelopes, clutches, box-shaped bags. Metallic evening clutches. Narrow to medium briefcases, constructed, with a frame.
Avoid:
overly delicate or ornate styles
large, unconstructed styles
11. Belts
Moderate to wide styles with large and geometric buckles. Wide self-belts. Contrasting-color belts (to match shoes and jewelry or hat)
Avoid:
waist-cinchers
overly ornate styles
delicate or narrow styles
12. Hats
Crisply tailored styles. Sharp edges and contrasting trim. Moderate to small size. Geometric and clean shapes.
Avoid:
unconstructed or floppy styles
fussy hats with ornate trim
oversized styles
severe styles
13. Hosiery
Sheer, silky stockings are best. In terms of color, blend in one tone between hemline, stocking, and shoe to keep your dominant vertical line sleek.
The exception to this is when you are working with sharp color contrast, head-to-toe, and your shoe or stocking color is in contrast to each other or to your hemline. Just be sure this color is picked up in several other places to avoid chopping up your look.
Textured stockings are elegant in geometrics (herringbone, etc.) when kept translucent.
Avoid:
opaque stockings
ornate stockings
lacy stockings
14. Jewelry
Dramatic Classics' jewelries should be sleek, elegant, and slightly chunky. Geometric shapes with sharp edges. Smooth circles that are crisp and oversized are also possible. Earrings should be on the ear or spray up (not down or dangly).
Necklaces should be crisply tailored and slightly chunky, and rest around the collarbone area. Moderate wrist cuffs are also possible. Remember: One elegant piece is quite effective on you!
Avoid:
overly ornate, intricate, or an antique jewelry
small, symmetrical pieces
heavy ethnic pieces
minimal jewelry
15. Hair
Your hair should be sculpted and sleek, a geometric shape with angular edges. Blunt cuts are best, although some layering is also possible depending on the texture of your hair. Hair length should be moderate to short, with very fine or thin hair being best served by a short, very sleek style. Long hair will need back-teasing and settling to retain a sculpted shape.
Likewise, if you perm or wave your hair, you'll have to be willing to set it for a very sculpted, marcelled effect. Asymmetric detail such as a sweep or dip is excellent.
Avoid:
wash 'n wear styles
ornate or lavish hair
cropped, boyish hair
overly layered styles
wild or "fantasy coiffures"
symmetrical styles with no angles
In general, avoid perms, waves, and processing.
16. Haircolor
Your haircolor should be rich and natural-looking. If you want to color your hair, choose a shade that is close to your original color. If you want a dramatic change, go slightly darker or brighter, not lighter.
Subtle lowlights are your best form of highlighting. You could choose a dramatic streak in the front of your hair if it is accented by the geometry of a dip.
Avoid:
Avoid trying to "soften" your haircolor. This will look very aging and tiring on you. You need richness and intensity. Highlighting is generally not for you unless it's very subtle and only adds richness. Also, artificial colors are not for you; they are contradictory to your understated Classic foundation.
17. Makeup
The best makeup for a Dramatic Classic face is a smoky face with sultry eyes, strong cheekbones, and a vivid mouth to complete your tailored chic look to perfection.
Matte colors are best; for evening add just a hint of sheer frost. Emphasize your beautifully chiseled angles with contrast and contouring.
Avoid:
overly ornate makeup with heavy glitz (unsophisticated on you)
watercolor-soft edges (very aging on you)
pale lips (not strong enough to balance your eyes)
all neutrals with no smoky colors (too matronly)
"no makeup" look (too washed-out)
Dramatic Classic Shopping Guide & Styling Techniques
Shape
Triangular, with the widest line at the shoulders, narrowing at the hemline. Symmetrical geometrics, which can be sharp or sculpted. Trim, tailored, taut, and crisp. Streamlined curves that are crisp and slightly chunky.
Avoid:
irregular shapes
ornate, intricate or delicate shapes
unconstructed or extremely boxy shapes
simple, symmetrical shapes without sharp edges or an elongated line
Line and silhouette
Your silhouette is always trim and tailored with sharp edges. Clean, sleek lines. Straight lines. Elongated draping. Strong, defined shoulder line with crisp edges. Strong vertical and diagonal lines.
Avoid:
clingy, ornate, intricate or flouncy lines
extremely severe lines without tapering
unconstructed, wide, boxy, or horizontal lines
plain, symmetrical lines without sharp or sculpted edges
Fabrics
High-quality fabrics in moderate weights. Matte-finished fabrics form the basis of your wardrobe, although you may certainly use shiny silks and the like as blouses or accents and may go ultrashiny (to the point of lamés and metallics) for evening.
Light textures (raw silk, crisp linens, etc.). Moderate piles. Pliable knits and wovens (heavy jersey, cashmere, gabardine, etc.).
Detail
Detail should be crisp, tailored, and geometric with sharp edges. Sharp or sculpted shoulder pads are a must in everything you own.
Cleanly tailored necklines: notched collars, crisp Mandarins, simple jabots or ascots, cleanly slashed necklines, geometric V's, asymmetric angulars, turtlenecks, and narrow cowls.
Sharp detail: pleats, crisp cuffs, peaked, notched, or cleanly streamlined lapels, double-breasted jackets, contrasting trim, epaulets, piping, or clean braiding. The waist may be crisply defined with a moderate to wide belt with a geometric buckle or may be dropped or eliminated altogether in a narrow chemise-effect.
Detail that includes sharp color contrast is excellent for a Dramatic Classic. For example: spectator pumps, contrasting buttons, lapel outlining). Sophisticated nautical-type detail is also striking when it is crisp and tailored.
Avoid:
minimal detail
animated, "perky" detail
wide, unconstructed, or bulky detail
ornate, intricate, or fussy detail including frills
plain and symmetrical detail without sharp edges
Accessories
Dramatic Classics' accessories should be simple, clean, and elegant. Here is another place to invest substantially. The quality will definitely show!
Color
Your use of color should be bold and sophisticated. Neutrals and deep colors are quite effective for you as they provide a background of simplicity to showcase your elegant use of line. Pastels can be equally effective if the fabric is very special, and you utilize them in head-to-toe sweeps.
Generally, think of blending intensities of your outfits to retain your strong vertical lines.
Contrasting trim is very striking on you, particularly in two-color combinations. The key is to pick up the accent color in several places, not just one. In this way, you don't break up your sleek silhouette, you merely accent it.
Avoid:
multicolor splashes
a mix 'n match approach to color
all neutrals or monochromatics with no bold accents
Prints
Prints should be geometric, slightly oversized, and bold in color contrast. Stripes, zigzags, slashes, and sleek asymmetrics also work.
Avoid:
ornate prints
flowery prints
irregular prints
soft, flowing prints
animated, "cute" prints
small, symmetrical prints