What is Upbra and Why Ditch Your Typical Push Up Bra
As it turns out, an Upbra and a push-up bra are different. They're both bras, of course. But if you ask any woman who has tried both, she's going to tell you there's a huge, huge difference.
What is Upbra: Upbra is a new and improved version of push-up bras. If push-up bra's only main purpose is to enhance the cleavage and provide extra lift, Upbra offers something far better. It has a built-in adjustable hook for the cleavage itself.
Nope, I'm not talking about the adjustable hook to hold the bra in place, but the adjustable hook for the cleavage, letting you adjust how much or how less cleavage you wanna show off.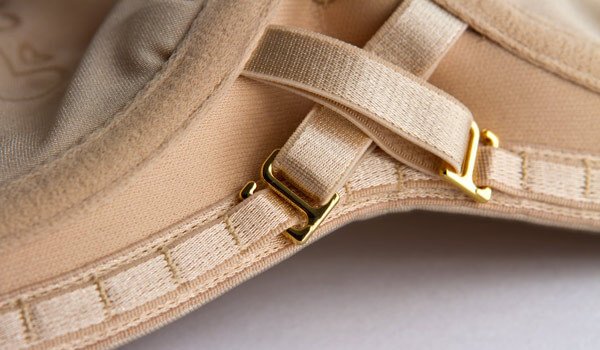 As you can see, there are 4 different levels of cleavage. The farther apart the hooks are, the higher the lift and the deeper and more defined your cleavage looks.
When adjusting your cleavage, pull the hooks in opposite direction, then hook them to the level of cleavage you want.
It's slip-resistant.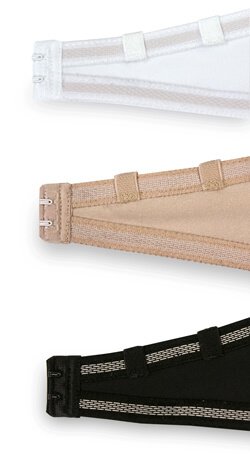 Upbra is designed to stick to your skin when worn strapless, hence, sparing you from constantly pulling up your strapless bra for the fear of falling off. Thanks to the vinyl attached within its cups and its band.
Vinyl works the exact same way as silicone but without the irritation.
It's super comfortable.
The wings of the bra are made of materials that stretch and conform to the shape of your body so it never pulls or digs into your back.
The shoulder straps lay flat against your shoulders, allowing a seamless look under clothing. And no, there are no painful underwires digging on your skin, either.
There's no gapping.
Gapping is a constant struggle especially for small-breasted women, but Upbra effectively remedies that problem. Here are some of the reviews about gapping:
Very pleased with this top. It feels so comfortable and it actually fit. I'm a small B cup and finding a top that fits snug without gapping makes me happy. Thank you.

Alaysia J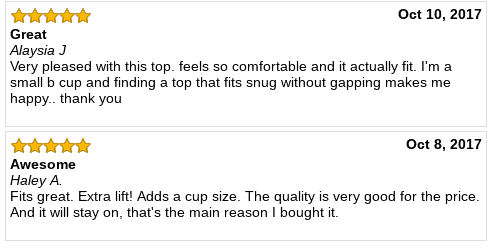 Upbra for small breasts
If you're a small breasted woman, Upbra could boost your breasts up to two cups larger. Therefore, a cup A lady will look like a cup B or C in it.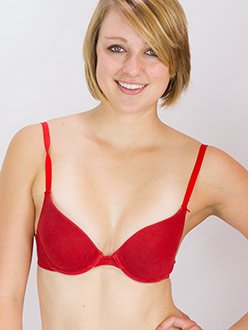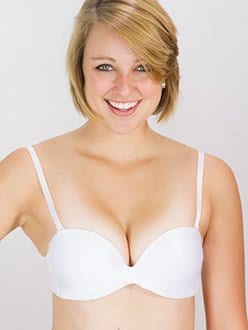 Upbra large breasts
Upbra isn't just for small breasted women, either. It's also for large breasted women who are struggling to find a bra that can support their weight without suffocating their chest.
Here's a before and after photo of Upbra in a woman with large breasts. It definitely makes the breasts look more youthful, firmer, and less saggy.
See more before and after photos here.
Where to buy Upbra
Currently, the only site that's authorized to sell Upbras is only Upbra itself. Click on the photo below to watch a video demonstrating how Upbra works:
It also shows how to adjust the cleavage and the transformation of each customer who has tried and liked it.
They even have a bra size calculator in the site so you can get the accurate measurement of your breast before placing an order. If it doesn't fit, there's a free return and exchange but ONLY for domestic orders.
Is Upbra safe to wear for women who have undergone breast surgery?
Yes. The carefully selected materials, the strategically placed padding, the vinyl that keeps it in place, the adjustable cleavage, all work together to make it every bit as possible to work on natural breasts as well as enhanced ones.
Types of Upbra
T-Shirt Bra
It's the classic bra design with straps attached. Because it's seamless, it hides lines, bumps, and textures under clothing. Therefore, it's the perfect bra when you're wearing form-fitting T-shirts and drapey outfits.
Strapless and convertible straps
Perfect for halter, tube, and off shoulder outfits when you don't want any straps to show. It clings to the skin far better than any regular push-up bras. Watch this video of a customer jumping up and down in a strapless Upbra.
You can also style the strap in a dozen different ways.
Upbra swimsuit
Luckily, Upbra has also extended its influence into the swimwear category. So if you're looking for that extra lift when you're at the beach, definitely give Upbra a try.
Currently, there are only 3 available colors for their swimwear: teal, black, and maroon.
The disadvantage of Upbra as a swimwear top
Because of the multiple layers of padding strategically positioned to acquire the best lift possible, it could get a bit heavy once soaked with water. To small-chested women, this isn't a problem, but for women with larger cups, this could be an issue.
If you're a large-breasted woman, it would be wiser to first buy the everyday bra first, wear it in the shower, soak it, then test its weight.
Feel the weight of the bra. Is it uncomfortable to carry that much weight or is it something you can manage? You can then decide from there if you wanna add an Upbra to your swimsuit collection.
Why is Upbra so expensive?
Currently, one Upbra costs around $84 to $89. Whereas with most of Victoria's Secret bras, you can already purchase for $30 each.
But considering what it can do for you: adjustable cleavage, enhanced breast shape with a much better lift and support, I personally think that investing in one durable Upbra is ten times better than buying 3 cheaper bras with subpar qualities.
Upbra on Amazon or eBay?
As of the date of this writing, December 6, 2018, I searched for Upbra in Amazon, but for the life of me, I couldn't find any Upbra whatsoever. So far, this seems to be the only site that exclusively sells Upbras. I'll update this as soon as I find some in other sites.
Is Upbra worth it?
You bet. Upbra is worth every dime. If this doesn't convince you to try it, I don't know what will. It literally has everything a woman could ever wish for in a push-up bra in terms of comfort, versatility, and function.